The best defragmentation software can help you defrag hard drive easily and efficiently. How to select a suitable defragmentation tool? MiniTool Solution offers some useful tips.
Tips for Selecting Defragmentation Software
To optimize your hard drive or just handle disk defragmentation easily and efficiently, you may need the best defragmentation software. Well, the problem is how to select a suitable defragmentation software.
Here we mainly focus on three aspects you need to take into consideration when selecting the best defragmentation software:
SSD or HDD: This is no doubt that there are many differences between SSD and HDD. Usually, Solid State Drives (SSDs) are more expensive and enjoy a faster booting speed than Hard Disk Drives (HDDs). So, you need to choose the top defragmentation software that matches your storage device, either SSD or HDD.
Deployment Target: Different defragmentation software may have different use scenarios, including general workstation as well as Server deployments.
Continuous Improvement: Generally speaking, the best hard drive defragmentation software can be well-suited with your storage devices. Bust some of them still keep a continuous improvement that can help you to minimize the damage for a hard drive in the first place.
According to the feedbacks of users and tests we have gathered, it is highly recommended that you try to use the top defragmentation software below.
The Best Defragmentation Software to Handle Disk Fragmentation
Let's see what differences are among the top 4 defragmentation software and their own key highlights.
CCleaner Defraggler
If you are a home user and small workgroups, Defraggler is a perfect solution to handle the disk fragmentation. As one of the best hard drive defragmentation software, this software provides a frequent series of updates that help you to optimize hard disk continuously.
There are key highlights below:
This best defragmentation software was developed by CCleaner, a part of the Avast Group of Companies, that offers a great many security and optimization tools for PCs.
You can select the specific folders or types of files that should be defragmented, especially for the larger size storage devices.
It provides Visual presentation of a hard drive. You can view the actual status of a drive before disk defragmentation, which helps you decide on when or if the defragmentation is necessary.
Auslogics Disk Defrag Ultimate
This software is well-suited for end-users and small companies that are looking to optimize storage space on HDDs within workstations.
There are key highlights below:
You can choose how to optimize a hard drive layout with the customization, including the access time for most frequently accessed files and a perfect layout for accelerating application load times.
A specific algorithm was designed to optimize SSD storage so that you don't have to purchase a separate program for HDD or SSD.
Condusiv Diskeeper
This software is suitable for an enterprise solution to improve Server fragmentation. It is compatible with HDDs and SSDs. Besides, it's also well suited for the larger deployments and Servers.
There are key highlights below:
With a technique known as DRAM, Diskeeper was designed to optimize storage devices in a different way than traditional defragmentation tools.
Users can perform a group administration via the network, especially for these large storage deployments.
Diskeeper enables contiguous data writes to storage with a capability that Condusiv calls IntelliWrite.
Gloarysoft Disk Speedup
This tool is targeted at home users and small workgroups with a good degree of customization for storage defragmentation tasks.
There are key highlights below:
Disk Speedup is a top free defragmentation software. It is also available for commercial usealongside additional tools in the Glary Utilities Pro solution.
A key value of this software is the boot time defrag option that can be enabled to optimize key Windows system files as the system is starting up.
It has the ability to perform defragmentation for multiple attached storage drives simultaneously.
Differences Among the Top 4 Defragmentation Software
In order to help you to make an easier choice, here is an intuitive picture you can refer to: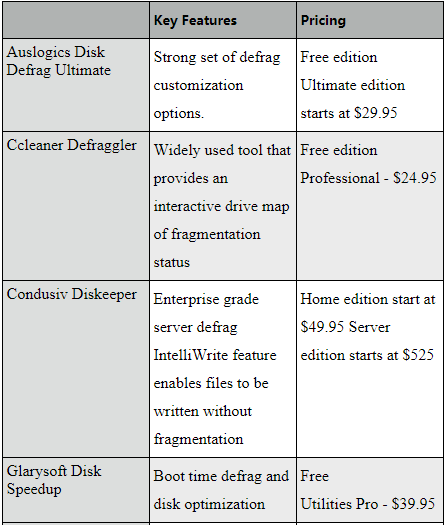 As shown in the picture, the top 4 defragmentation software bear their distinctive features. If you want to have free defragmentation, you can choose Auslogics Disk Defrag Ultimate, Ccleaner, and Speedup based on needs. Condusiv Diskeeper is a good choice for an enterprise solution, but it's also relatively expensive.