Are you looking for an FRP bypass tool to unlock FRP on Android devices? MiniTool Partition Wizard summarizes the top 8 FRP bypass APK tools for you. All of them work on Windows PCs. Choose one from them according to your demand.
What Is FRP Bypass Tool
FRP, short for Factory Reset Protection, is a phone data security feature that can keep your Android device safe once it is stolen or gets lost. Once the FRP is enabled, persons are asked to enter the Google Account ID and password after the factory reset. Otherwise, the phone is inaccessible.
The benefit is that it will prevent data loss if a phone is missing or stolen. However, if you forget the username and password, you will be stuck at the Google Account Verification page after resetting the phone. It is also annoying if you buy a second-hand mobile phone with the FRP lock on.
In these cases, you need an FRP bypass tool to bypass Google Account or remove the FRP lock on Android phones like Samsung, Motorola, LG, HTC, Huawei, etc. Which FRP unlock tool you should use? Here are some recommendations for you.
#1. DroidKit
DroidKit is a feature-rich program. It enables you to perform an FRP bypass operation on any Samsung phone and tablet. Moreover, it allows you to remove all types of screen locks, remove all junk, recover lost data, and repair system errors on Android devices.
Tips:
It only removes the FRP lock on Samsung devices.
This FRP bypass utility works on operating systems like Windows Vista/7/8/10 and macOS. With a clean interface, it helps you find the FRP Bypass option easily. To use this FRP bypass APK on PC, you can follow these steps.
Step 1: Download DroidKit from its official website and then install it.
Step 2: Launch the tool and click on the FRP Bypass option.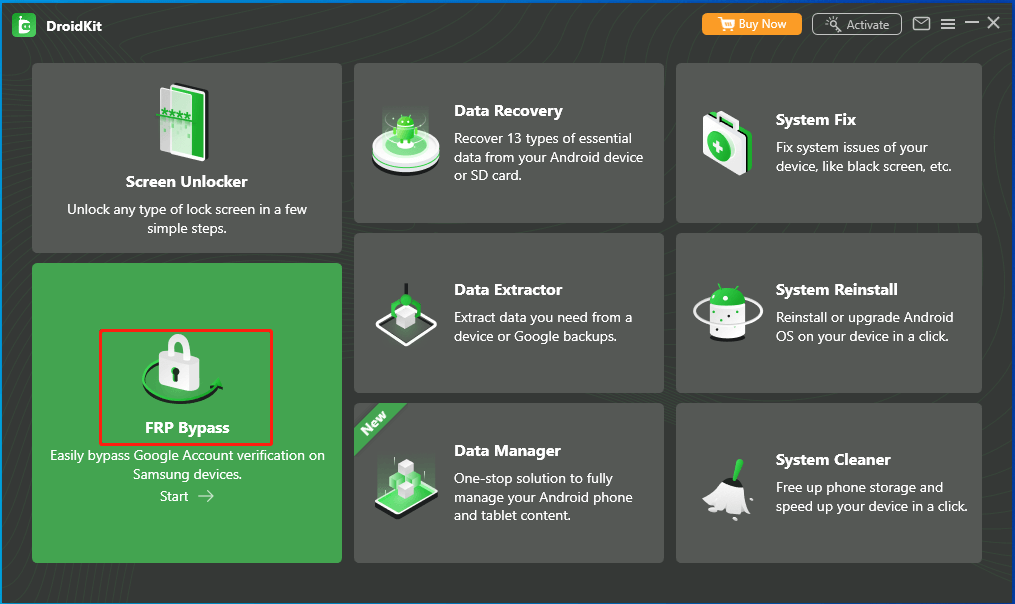 Step 3: Connect your phone to the PC via a USB cable.
Step 4: Click the Start button.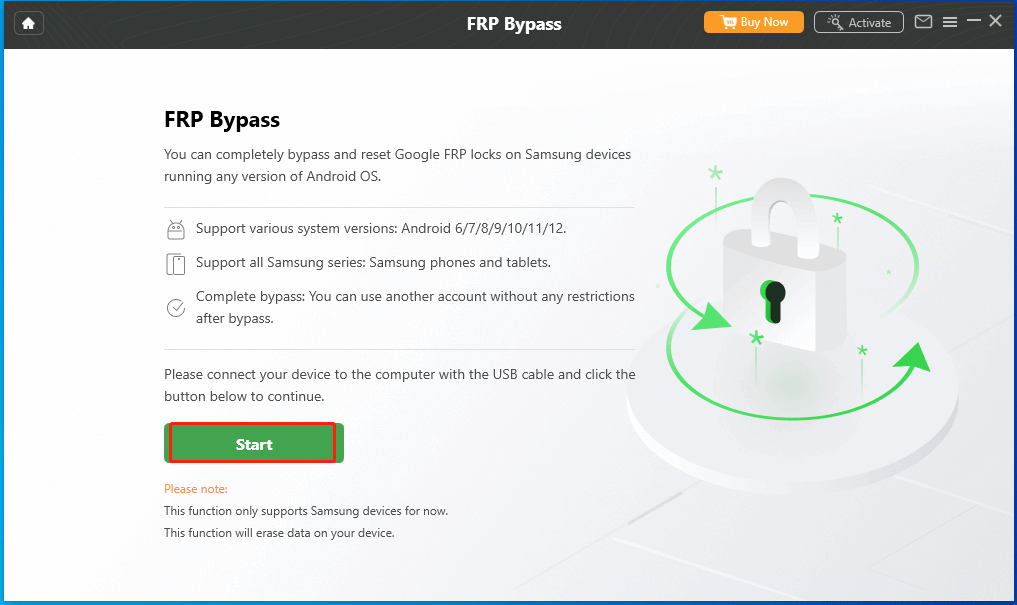 Step 5: After the "configuration file preparation is done" message appears, click on the Start to Bypass button to begin the process.
Step 6: Choose the right system version in the next window and click Download Now.
#2. WooTechy iDelock for Android
WooTechy iDelock for Android is an FRP bypass tool that allows you to remove FRP and all forms of screen locks like face ID, fingerprint, PIN, and pattern. You are able to get into your Android device within a few clicks. Nevertheless, it currently only removes FRP from Samsung devices.
As it is user-friendly, you can easily work on it even though you don't have technical skills. How to download this FRP unlock tool and use it to remove the FRP lock? Here's the guide.
Step 1: Click here to download WooTechy iDelock on your PC or Mac and then double-click on the setup file to install it.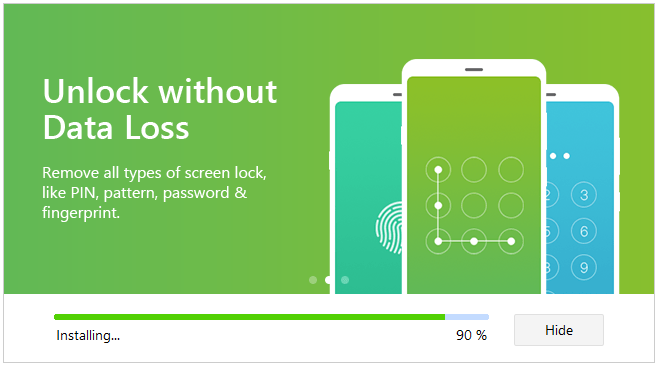 Step 2: After installation, click on the Start Now button to launch it.
Step 3: Click on Remove Google Lock (FRP) in the main interface and then choose a mode (either the standard or the advanced one). Here, we choose the Advanced Mode.
Tips:
To use the Standard Mode, you need to pay for it.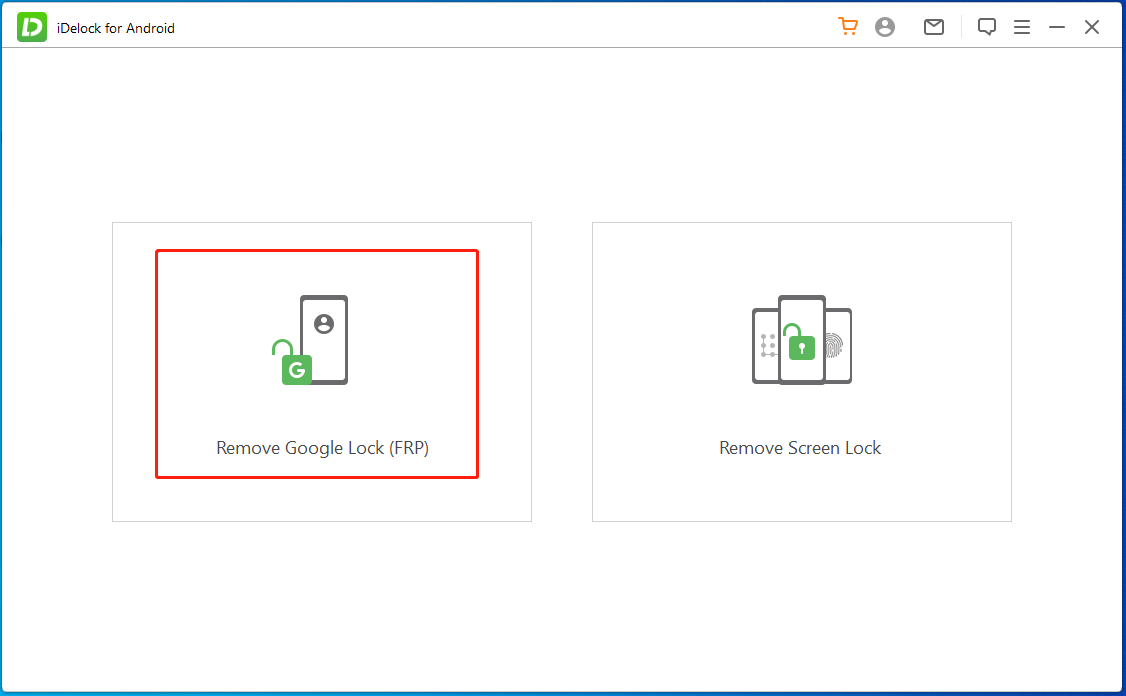 Step 4: After clicking on the Start button, it will ask you to connect your Android device to the PC via a USB cable.
After executing that, WooTechy iDelock will prepare the correct data installation package by automatic.
Step 5: Tap on the Download button to download the package and then extract it.
Step 6: Then this FRP bypass tool will unlock your device. You can reset the Android device and log in to a new Google account after the process ends.
#3. Easy Samsung FRP Tool
Easy Samsung FRP Tool is one of the most popular FRP bypass tools for PCs. It is free of charge and can remove the FRP lock on different Android devices. However, it comes with some drawbacks. For instance, it might pose threats to your device because you are required to turn off antivirus programs on your device before using it.
Additionally, not all Samsung devices are supported and its privacy safety is not guaranteed. Since the operating steps are complex, many users fail to finish the process.
#4. FRP Bypass APK
FRP Bypass APK is also an FRP unlock tool that can erase the Google factory reset protection. It is compatible with common Samsung devices running different Android versions. According to user reports, it can bypass the FRP lock on their Samsung devices in a short period of time.
Tips:
This FRP bypass tool APK may not work with some old or the latest Samsung models.
However, some users also claim that it is difficult to use FRP Bypass APK. Hence, it has a high failure rate. What's worse, it doesn't guarantee the security of your device after bypassing.
#5. FRP HiJacker By Haggard
FRP HiJacker By Haggard is an FRP bypass tool Samsung, which means that it is used to remove the FRP lock on Samsung devices. It is free to use and is popular with plenty of users. However, its download is not safe and can cause malware infiltration. What's more, the chance of removing the FRP lock is not as big as other FRP bypass tools offered in this post.
#6. D & G Password Unlocker
Different from the above FRP bypass tools, D & G Password Unlocker also works on devices like Xiaomi, HTC, Motorola, and other Android phones besides Samsung. It is easy to use even for new beginners. You just need to download and install it on your PC, and then connect your Android device to the computer. After that, follow the on-screen instructions to remove the FRP lock.
#7. GSM Flasher Tool
FSM Flasher Tool is a great option to erase the FRP lock. It helps you bypass FRP within a few minutes. To remove the FRP lock, simply download and install this FRP unlock tool to your computer, connect the target device to the PC, and follow the prompted instructions to finish the process.
Also read: How to Transfer Apps from Android to Android? [Top 4 Methods]
#8. FRP Unlocker App
This tool allows you to unlock the FRP on devices including LG, Nokia, Samsung, Motorola, and Sony. It is one of the best FRP bypass tool APKs online. You can directly download it from its official website without any other software. It also doesn't require much setup after downloading.
All you need to do is to connect the target Android device to your computer and click talkback. After that, wait for the finish of the process.
If you are going to download FRP tools, this post deserves your attention as the top 8 FRP bypass tools are offered.