Out of some reason, you may need a fake email address. If you want to get one easily, fake email generators can offer you a favor. In this post, MiniTool Partition Wizard would share a fake email generator list with you.
Why Do You Need a Fake Email Address/Generator
Websites and online services often ask for a valid email address to register, access, view, or receive content. However, some sites keep sending you spam. At this time, using a temp/fake email address is a good way. The disposable email is also referred to as temporary email, temp mail, fake-mail, disposable email, or throwaway email.
As fake emails don't require a password and work like a regular one, they are used by plenty of users. In addition, they can protect you from spam and Internet scammers. If you need to receive important information, never use disposable mail. Temporary mails are usually needed in the following cases.
Test the functionality of email part of the developed applications.
Keep your personal data and privacy from suspicious websites and services.
Protect your personal mail from unwanted messages and junk mail.
Register social media like Facebook, Twitter, Instagram, etc.
On any non-trustworthy places on the Internet.
Why do you need to use a fake email generator? Here are 4 reasons for that.
It can be used on any website for verification purpose: Some websites require verification for the registered email.
Fake email address generator can help you sign up anonymously.
It enables you to use temporary mail without any verification.
It can reply to an email or forward an email without exposing personal information.
generator.email
The email generator from generator.email can help you sign up for a site/social network, confirm emails, confirm your account, create test accounts, create temp mails, create fake emails, and generate email ID. You can select a domain name from the drop-down menu or look for other available domains. To ensure that you won't lose access to your mailbox, it is recommended to add your own domain.
Tips:
1. You can use the email generator only if the domain is active.
2. You are able to change the email address by writing any username or creating a new one.
How to use this fake email generator to create fail email address? You just need to navigate to the generator.email site and then press on the Generate new e-mail button. Then it will automatically generate new email addresses. You can get the mail address by clicking on the Copy button and then pasting it to the target place.

emailfake.com
The email generator from emailfake.com lets you generate fake email address by choosing a username and domain. It allows you to create an unlimited of fake email addresses. The created email address can be used to register on any website or receive a confirmation email during its validation time (231 days).
You can do the following things with the fake email generator from emailfake.com.
Create new mailboxes
Receive email
Hide yourself from spam
Hide real mailbox from scammers
Anonymous on the Internet
Generate fake email
Register new domain name
Register on the sites
To create a fake email address via this email generator, move to the emailfake.com. Write username and write or search domain to create fake email addresses. Alternatively, you can also directly choose an email address from the drop-down menu. Then copy the address by clicking the Copy button.

fakemailgenerator.com
This fake email generator enables you to create temp email address and receive and send fake emails. You are able to create fake email addresses with the 10 different domain names offered by the generator. It's worth noting that it has country-specific domains.
To create fake email addresses via this email generator, navigate to its website. Search an available name in the box and choose a domain name from the drop-down menu. Then you can get the email address by clicking Copy.

email-fake.com
Like generator.email, email-fake.com also offers you three options (Copy, Generate new email, and Refresh). To get new emails, you need to click on the Generate new email button or tap the Refresh button. Then copy the address by clicking Copy and paste it to the destination.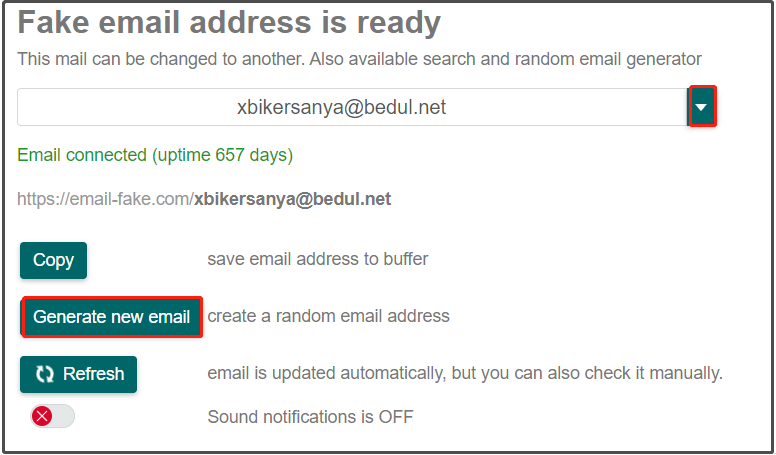 tempmailo.com
Email address on tempmailo.com will automatically refresh in 15 seconds. The old emails are only kept for 2 days. This email generator is just for receiving emails. Furthermore, only text and html messages are allowed.

Are you looking for a fake email address generator? Here's a fake email generator list for you.