iOS jailbreaking is a way to get more access to customize or manage iOS devices. To perform an iOS jailbreak, you need some jailbreak tools. Here, MiniTool Partition Wizard tells you how to jailbreak iOS 15 with third-party tools on Windows.
Before you jailbreak iOS 15 with the methods below, you should learn the possible risks behind jailbreak. First and foremost, you might brick your device due to the iOS jailbreak operation. It means that your iPhone will be stuck, so you can't use it until you recover it.
Jailbreaking may invalidate the device's warranty. Then, Apple won't offer you any repair services. In addition to that, the iOS jailbreak process will bring other security challenges to your iPhone. You'd better think twice before starting to jailbreak iOS 15.
To download Android ISO, please refer to this post: Free and Safe Download Android x86 ISO (32 & 64 Bit) on Windows
How to Jailbreak iOS 15 with Checkra1n
Built based on the Checkm8 exploit, Checkra1n is one of the most stable jailbreak tools. It works with any devices based on A5 to A11 chipsets. Before jailbreaking iOS 15 with Checkra1n, you should prepare a USB drive with 2GB capacity at least and ensure your PC runs Windows 7 or above.
Step 1: Click here to download the Checkra1n ISO.
Step 2: Tap here to download Rufus.
Step 3: Insert the USB drive into your PC and then run Rufus.
Step 4: In the prompted window, click the Select button to find and open the downloaded Checkra1n ISO file on your computer.
Step 5: Leave other options as default and click Start to begin the process. If you are prompted with any requests, just follow them to confirm the operation.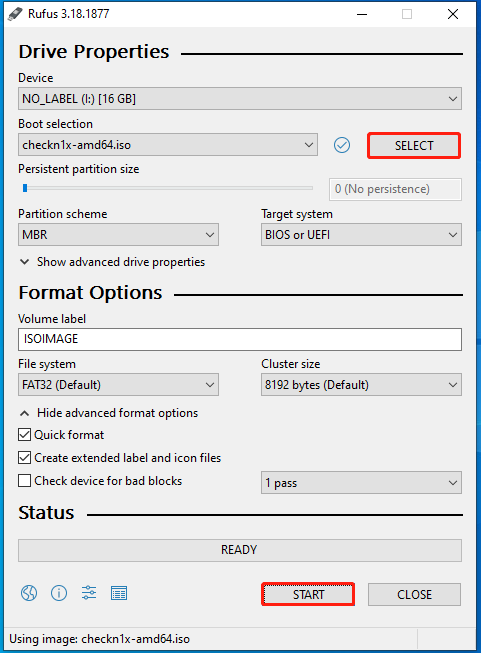 Step 5: After the process completes, click the Close button. Unplug the USB and then reinsert it to your PC.
Step 6: Restart your PC and enter its boot menu. If you fail, try entering the BIOS/UEFI and change system boot entry settings so that you can enter the Linux Checkra1n environment.
Tips:
The way to access boot menu varies according to the brands and models of computers. If you run a HP laptop, you can refer to this guide. For Lenovo computers, follow this guide to enter the boot menu. If your computer Acer, use this tutorial. To enter the boot menu of Asus PCs, follow steps offered by this post.
Step 7: Set the USB with the Checkra1n ISO as the first boot and save the changes.
Step 8: After launching Checkra1n, connect the iPhone to the computer, and then choose Options and press Enter to continue.
Note:
If you see a connected reminder after connecting the iOS device, select Start and press Enter. Then enter the DFU mode by following the on-screen instructions.
Step 9: Select Allow Untested iOS/iPadOS/tvOS versions option and press Enter.
Step 10: Choose Skip All BPR check and press Enter.
Step 11: Click the Back button at the bottom right corner of the window and press Enter.
Step 12: Hit Startand press Enter to jailbreak iOS 15.
How to Jailbreak iOS 15 with Unc0ver Jailbreak
Unc0ver jailbreak, a semi-untethered jailbreak tool, allows you to break locks enacted by iPhone developers. At present, unc0ver is only compatible with iOS 11 – iOS 14.3, which means that it doesn't support iOS 14.4 onwards. It is hopeful that unc0ver will support iOS 15 in the future. It works with Windows and Mac devices.
Tips:
You'd better back up your important data on the iPhone before starting the jailbreak operation.
Make sure you don't have any Over the Aie updates on the phone. Otherwise, they may cause problems during the jailbreak process.
The steps below are only available for the iOS 14.4 jailbreak or other previous iOS versions' jailbreak.
Step 1: Click here to download the IPA file of unc0ver. You should check your iOS version and then download a suitable unc0ver jailbreak version.
Step 2: Click here to download the latest version of Cydia Impactor and then install it on your computer.
Step 3: Connect your iOS device to your PC and run Cydia Impactor.
Step 4: Cydia Impactor will detect your mobile device.
Tips:
If necessary, you need to unlock your mobile phone.
Step 5: Drag and drop the downloaded IPA file to Impactor. Then enter your Apple ID and password as required, and press Enter. After that, Impactor will install the application on the PC.
Step 6: After the installation process ends, unplug the iPhone from the computer and open the newly-installed unc0ver application.
Tips:
If you receive the "Unverified Developer" error, head to Settings > General > Profile and Device Management. Choose your email address and click the trust button. Then open unc0ver on your device.
Step 7: Tap the jailbreak button.
How to Jailbreak iOS 15 with Taurine
Step 1: Manually download AltServer on your computer and open it.
Step 2: Connect your iPhone to your computer.
Step 3: Click the AltServer icon on the computer, and then put your mouse on Install AltStore and choose your preferred iPhone or iPad in the sub-menu. Then the AltStore icon will appear on your iPhone home screen.
Step 4: Move to Settings > General > Device Management, and then tap your Apple IDand trust the developer certificate.
Step 5: Go to Safari and move to the taurine website on your iPhone. Find and choose Install via AltStore. Confirm the operation by clicking Open in the pop-up window.
Step 6: Back to the home screen of your iPhone and click on the jailbreak button to launch taurine. After that, your device will respring and a Cydia icon will be shown on the screen.