I am trying to access Dropbox for the first time on it. When I try to log in it gives me an error. "Sign in Failed. The operation couldn't be completed. (dropbox.com error 400)".

--from the Dropbox forum
What is error 400 Dropbox? Dropbox error 400 something went wrong is a form of runtime error. It occurs when Dropbox fails at runtime or is being loaded up. You may get this error when you upload any files to Dropbox, sign in, export a file, or synchronize Dropbox with another service.
Why Does Error 400 Dropbox Occur
There are different causes of the Dropbox error 400 something went wrong. For instance, issues with graphics drivers, virus infections, or conflicting programs may lead to this issue. Besides, this issue can be caused by corrupt installation, Microsoft runtime issues, or outdated Windows.
How to Fix Dropbox Error 400 Something Went Wrong
There are several methods given below to fix error 400 Dropbox. You can try them one by one.
Method 1. Rename the File
When you upload a file to Dropbox, the "Dropbox error 400 something went wrong" may occur. You can try renaming the file that you want to upload. You can rename the file to a shorter name and then upload that file to Dropbox again.
Method 2. Update Drivers
You can follow the steps below to update your drivers to the latest version.
Step 1. Right-click the Windows icon and select Device Manager.
Step 2. In the pop-up window, right-click your driver and select Update driver. Then follow the on-screen wizard to finish the process.
Step 3. Repeat the above steps to update more drivers. Once done, restart your computer.
Method 3. Relink Dropbox
To get rid of Dropbox error 400 something went wrong, you can relink your Dropbox to the browser and device.
Step 1. Go to dropbox.com and sign in to your account.
Step 2. At the top right-hand corner of the page, click your avatar and select Settings.
Step 3. Then click Security. You can view web browsers and devices linked to your Dropbox account. Click the X icon to unlink them.
Step 4. Once done, go back to the client you have unlinked. Then sign in to your Dropbox account to re-link it.
Method 4. Clean Up Disk
The error 400 Dropbox can be caused by low available storage space on your computer. You can try fixing it by cleaning up your computer disk space. Follow the detailed steps below.
Step 1. Search Disk Cleanup in the Windows Search tool.
Step 2. In the pop-up window, select the drive that you want to clean up. Click OK.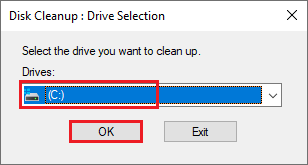 Step 3. In the next window, select files to delete and click OK.
Besides, you can use MiniTool Partition Wizard to increase storage space.
Method 5. Reinstall Dropbox
Besides, you can try reinstalling Dropbox with the following steps.
Step 1. Press Win + R to open the Run dialog box. In the box, type appwiz.cpl and press Enter.
Step 2. In the prompted window, find and right-click Dropbox and select Uninstall. Follow the uninstall wizard to complete the process. Then reboot your PC.
Step 3. Once done, search %LOCALAPPDATA% and open it.
Step 4. In the pop-up window, locate the Dropbox folder and delete it.
Step 5. Then refer to the above steps and delete the Dropbox folder in the following locations.
%appdata%
%programfiles(x86)%
%programfiles%
Step 6. Once done, go to the Dropbox official website to download and install Dropbox.
Step 7. Open the Dropbox app and sign into your account.
Method 6. Perform a System Restore
In addition to the above methods, you can perform a system restore to fix error 400 Dropbox with this guide: How to Restore Computer to Earlier Date in Win10/8/7 (2 Ways). Besides, you can go to Settings > Update & Security > Windows Update > Check for updates to check if there are any updates available for the system and update Windows.
Conclusion
Getting Dropbox error 400 something went wrong solved? In this post, we have learned some methods to fix this issue. Hope your issue can be solved successfully. If you have any suggestions or better ideas, you can leave a message in the comment zone below.