What are the causes of the "oops something went wrong Crunchyroll" issue? We summarize some possible reasons for this error. For instance, internet connection issues like a poor internet connection, and cache files and data may lead to this error. Besides, this problem may also be caused by antivirus software or too much anime in the "Play" queue.
How to repair the "oops something went wrong Crunchyroll" issue? You can try the following methods to solve your problem.
Fix 1. Relog from Crunchyroll
You can try re-logging from the Crunchyroll account to fix Crunchyroll oops something went wrong. Follow the detailed steps below.
Step 1. Go to the Crunchyroll source and click the Settings icon. Then select Log out.
Step 2. Then re-input your credentials into the username and password section and login into your account.
Step 3. Wait until you are back in Crunchyroll and then check if your issue is fixed.
Fix 2. Check the Internet Connection
An unstable internet connection may cause lots of issues. Therefore, it's necessary to have a stable internet connection. For the best streaming experience, you need to have an internet speed of at least 3Mbps.
Fix 3. Clear Cache and Data
You can try fixing the "oops something went wrong Crunchyroll" issue by clearing the temporary data and then restarting the Crunchyroll app.
Step 1. Open your browser. Then go to Settings > Privacy and security > Clear browsing data.
Step 2. In the prompted window, click the Advanced tab and select All time for the Time range option. Then select all options and click Clear data.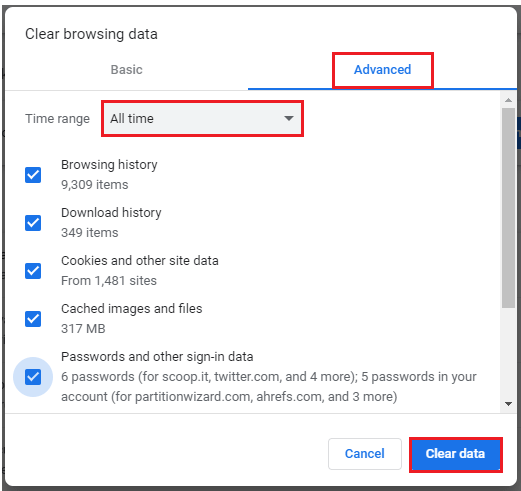 What Is Cached Data? How to Clear Cache Android, Chrome, etc.
Fix 4. Disable Browser Extension
You can refer to the steps below to temporarily disable the extensions.
Step 1. Launch your browser and then click the Extensions icon. Then select Manage extensions.
Step 2. In the pop-up window, disable all the extensions by turning the toggle off. Once done, check if the problem is solved.
Fix 5. Disable Antivirus
Since the "oops something went wrong Crunchyroll" error can be caused by antivirus programs, you can try to disable antivirus to fix this error. You can disable or remove the third-party antivirus software and then turn off Windows Defender and Windows Firewall. You can refer to this post.
Fix 6. Clear Crunchyroll Watch Queue
The "Crunchyroll oops something went wrong" error may be caused by an overfilled watch queue. To fix this issue, you can follow the detailed steps below to clear the Crunchyroll watch queue.
For Browser:
Step 1. Go to Crunchyroll.com and log into your Crunchyroll account.
Step 2. Click the Menu icon and select Queue.
Step 3. Go to My Queue and select All of the shows and delete them.
For App:
Step 1. On your device, launch the Crunchyroll app and go to My Account.
Step 2. Click My Lists and select the shows you want to remove. Then click Remove from Watchlist.
Fix 7. Update the Crunchyroll App
Sometimes, the outdated Crunchyroll app can lead to some app issues. You can try updating the Crunchyroll app to fix the issue. If updating is not working, you can uninstall the Crunchyroll app and then reinstall it.
Wrapping Things Up
Now, this post comes to an end. Getting your issue solved successfully? You can try the fixes listed in this post one by one. Hope your problem can be solved successfully. If you have any suggestions or better ideas, you can leave a message in the comment area below.