High CPS (clicks per second) is required to get good game performance. To know the exact clicks per second, you can perform a CPS test via online CPS testers. In this post, MiniTool summarizes 7 free online CPS testers.
CPS (short for clicks per second) test is also called click speed test.  You can measure the number of clicks per second you can click with the help of a CPS tester. Well, this post lists 7 free online CPS testers for you.
#1. CPSTEST.ORG
This website offers you a free all-in-one CPU test tool. To be specific, this CPS tester allows you to perform a Click speed test, Jitter click test, Kohi click test, Roler speed check, typing test, Spacebar CPS test, Right click CPU test, etc.
To test your clicks per second with this tool, you just need to navigate to the cpstest.org website, and then tap Click Speed Test in the left panel or top toolbar.

Choose an option under the expanded menu or in the right panel. Based on your demands, you can select 1 Second clicker, 2 Second clicker, or even Manual Click Test.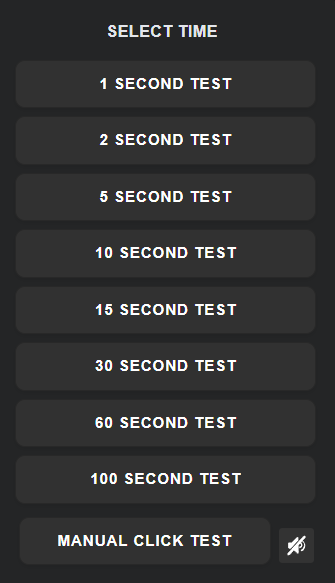 Start clicking in the CLICK HERE TO STARTPLAYING window. To get a high score, you need to click as many times as possible before time's up. After the time ends, it prompts you with a window showing your score. If you don't satisfy with the result, click TRY AGAIN to challenge yourself.
Tips:
If you want to improve your score, you can refer to the given tips at the bottom of the webpage. You just need to scroll down the page.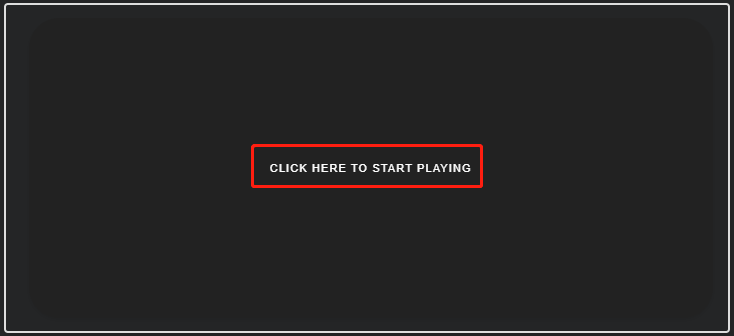 #2. Arealme.com
Like CPSTEST.ORG, Alrealme.com also offers you a multifunctional CPU tester. It enables you to conduct various tests such as CPS test, reaction test, typing test, Spacebar CPS test, short memory test, aim test, scroll test, mouse test, and so on.
After you move to the website, choose a test type from the given options, click on the Start button, and follow the on-screen instructions to finish the operation. For instance, we select the CPS test. Then pick the time that you would like to click from the provided options.

Click Start to continue.

Then click as fast as you can in the prompted green box. The light green window shows you the result as you click. After the CPS test completes, click OK on the prompted window to see the result.
Tips:
Likewise, you can click Try again after each attempt if you are not satisfied with the result. If you are pleased with the score, you can share it on social media like Twitter and Facebook.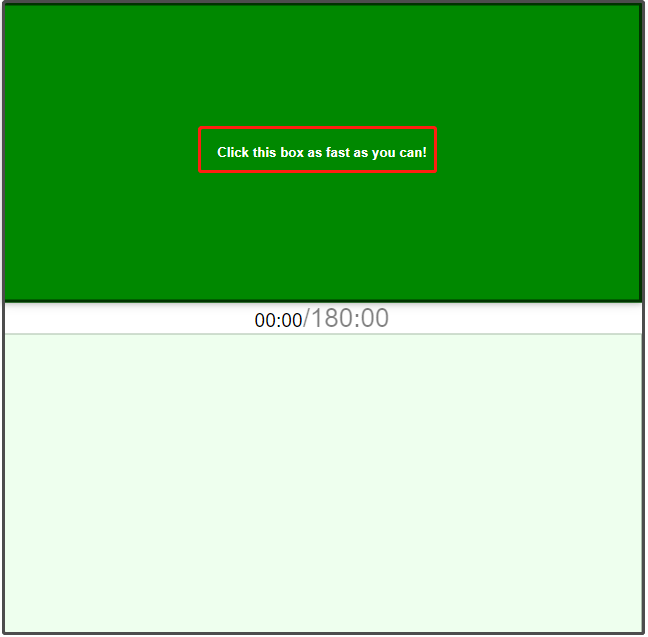 #3. CPSTEST.Pro
The CPS tester offered by cpstest.pro allows you to perform right click CPS test, manual click test, and other tests. To start a click speed test via this tester, go to the cpstest.pro website on your browser and then choose a CPS test type.
You can select either the Play Classic CPS Test or Play CPS Challenge Mode option. Then follow the prompted instructions to finish the CPS test.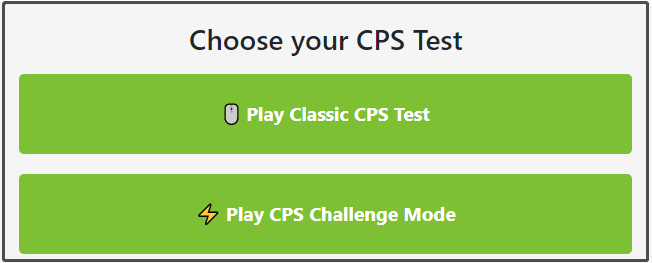 #4. CPSTEST.io
You can also perform a click speed test online on cpstest.io. To be specific, it enables you to conduct a Kohi Click Test, Jitter Test, Butterfly Test, Spacebar Test, etc. To test your clicks per second, head to this website and choose the number of seconds you want to click in the right panel. Then click in the box where there's a "CLICK TO START TEST" message.
Tips:
If necessary, you can switch to Dark Mode. To do that, simply toggle off the status button at the upper left corner of the webpage.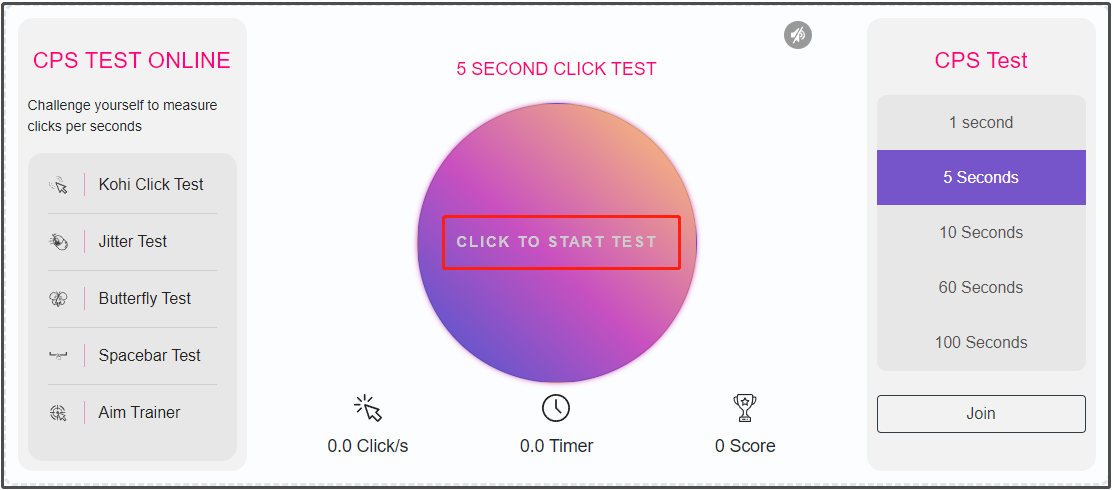 When time's up, you will be prompted with a window displaying the test score. To get higher scores, click Try Again to test once more. You are allowed to share the result on social media like Facebook and Linked in.
Tips:
Most professional gamers can do 8-12 clicks per second.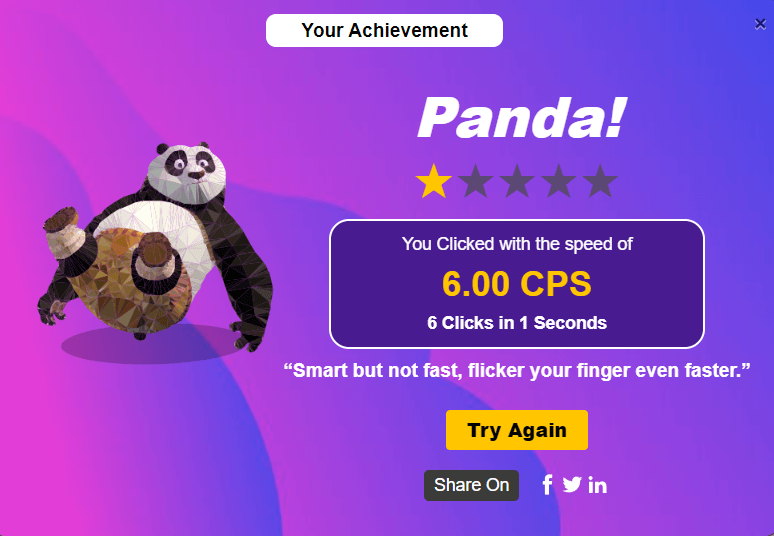 #5: RapidTables.com
RapidTables.com provides you with a free online CPS tester, helping you perform a click speed test with ease. After going to this website, choose or type the test time and then click on the "+" button to start the process. You should click as quickly as you can to get a high score. After the test time ends, the result will be shown under the Clicks section.
Tips:
To try again, click the X button to reset the values. Then repeat the process described before.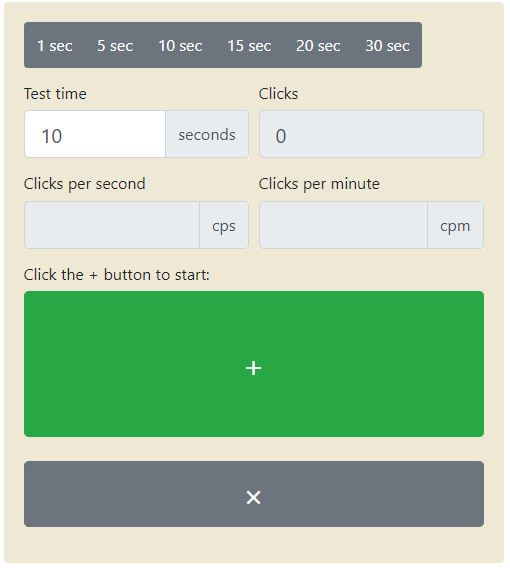 #6: ClicksPerSecond.com
ClicksPerSecond.com is another website that offers you a CPS tester. In addition to CPS test, it is also capable of conducting Spacebar CPS tests, Scroll tests, Jitter click tests, and Kohi click tests. Navigate to this site, choose a test time, and then click START TEST.
Tips:
The default test time is 5 seconds.

After the process finishes, it will tell you the result in a pop-up window. You can try again or do other challenges.
#7: ClickSpeed Test.com
It is also available to conduct a CPS test on the clickspeedtest.com. Actually, it also allows you to perform Kohi Click Tests, Jitter Click Tests, etc. Move to this website and choose a test time at the top section of the webpage.
You can test clicks per second or in 5/10/60/100 seconds. After selecting the test time, start clicking in the Click Here to Start Playing box. Once the test process ends, you will get the result. To keep testing your click speed, tap the Restart button to continue. You can share the result on the social media too.

Further reading:
To test the speed of your storage devices, you can use MiniTool Partition Wizard. It can be used as a USB speed tester. It is capable of performing an SD card speed test to help you find the fastest SD card.