If you want to get BetterDiscord on your PC, you can pay attention to this tutorial. Here, MiniTool gives you a brief introduction to BetterDiscord and then shows you how to download and install BetterDiscord step-by-step.
What Is BetterDiscord
BetterDiscord is an extension of the Discord app, which helps you improve Discord's capabilities and functionalities. It is made to solve the Discord customization issue permanently. For instance, it can be used to create or download custom themes, including backgrounds, chat bubble design, UI placement, and customizable text.
Actually, BetterDiscord is a collection of Discord themes and plugins. It comes with a plugin loader and plugin API. After you install BetterDiscord on your computer, you can access a range of customized appearances for servers, emotes, and other useful features.
Tips:
BetterDiscord plugins can improve the functionality and user experience of the app through JavaScript. Themes allow you to completely customize your client with CSS.
BetterDiscord is an unofficial mod for Discord and it violates Discord's Terms of Service. Therefore, you should be cautious while using it. Your account can get banned due to extensive usage. The good thing is that you don't have to worry about the safety of BetterDiscord because it's a safe application.
How to Download BetterDiscord
Before you download BetterDiscord, check if your network is fast and stable. Otherwise, the BetterDiscord download process will be interrupted.
Step 1: Navigate to the official website of BetterDiscord.
Step 2: Click on the Download button to start the download process.

Step 3: Wait for the finish of the BetterDiscord download process. It may take you 30+ minutes.
How to Install BetterDiscord
Once the BetterDiscord download process ends, you can install it by following the steps below.
Step 1: Go to the position where the downloaded BetterDiscord setup file is located.
Step 2: Find and double-click the BetterDiscord-Windows.exe file to run it.

Step 3: In the pop-up window, check the I accept the license agreement option and click the Next button.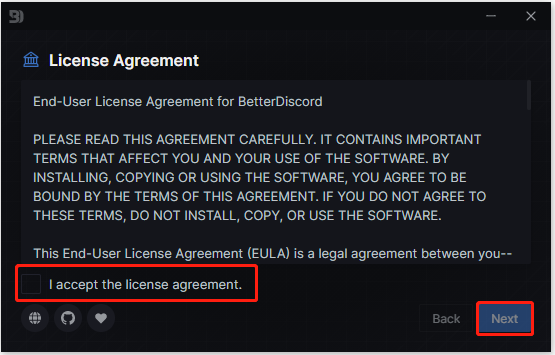 Step 4: Here, you need to choose an action from the given options. In this scenario, we select Install BetterDiscord and click Next.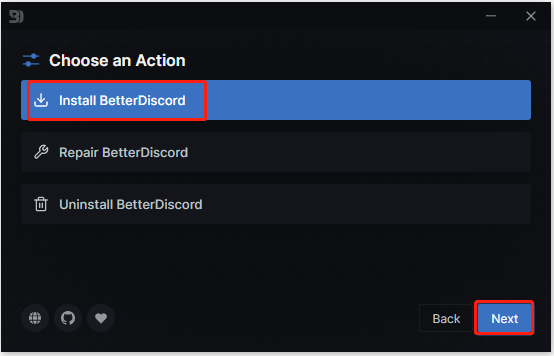 Step 5: Select a Discord version in the next window. Then click Browse to find the corresponding folder.
Step 6: Click Install to execute the operation.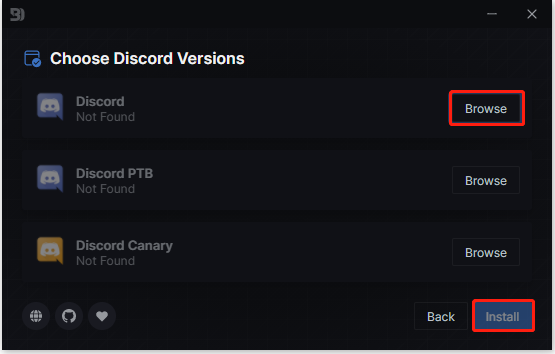 Step 7: If you want to install BetterDiscord themes, open the Discord client after installing BetterDiscord.
Step 8: Download the needed theme on the official website of BetterDiscord.
Step 9: Move the downloaded theme to the themes folder.
Step 10: On Discord, choose the Settings menu > Themes menu and open the theme folder > pick the downloaded theme.
Bonus tip: If you are looking for a partition manager for Windows PCs, MiniTool Partition Wizard is an ideal choice. It helps you create/format/extend/move/resize/delete/copy/recover partitions, migrate OS to SSD/HDD, copy disk, wipe disk, recover data, etc. It can even be used as a PC optimizer, computer cleaner, SD card formatter, USB speed tester, SSD optimizer, and so on.
Get this multifunctional software by clicking the above button!