What Causes Task Sequence Error 0x800700a1
Task sequence error 0x800700a1 usually occurs when there is a problem with the computer hardware. It is usually accompanied by a message: task sequence has failed with the error code 0x800700a1. The error message indicates that the operating system image cannot be applied.
What causes error 0x80700a1? The following are the reasons:
Not enough space: If there is not enough free space on the destination drive, the image creation will fail because there is not enough space to accommodate all the files in the source drive.
Unsupported configuration: If the target computer uses an unsupported configuration (for example, UEFI boot with MBR), the image will fail.
Unpartitioned HDD: Partitioning allows multiple file systems to exist on the same physical storage device. If not partitioned, the task sequence will have difficulty finding its path.
Bad Sectors: If your hard drive is damaged, some parts of it may be inaccessible.
Hard drive corruption: If the hard drive gets corrupted due to a virus attack or hardware failure, the image will not work.
How to Fix Task Sequence Error 0x800700a1
Here we summarize several ways to fix the task sequence error 0x800700a1. You can try them one by one. Before that, you should try to remove all peripheral devices. If it doesn't work, try the following methods.
Fix 1. Run a Virus Scan
As mentioned above, virus infection may cause the task sequence error 0x800700a1. So, you can run a virus scan to fix it.
Step 1: Type Windows Security in the Search box, and then click the best-match result to open it.
Step 2: Click on Virus & threat protection and click on Scan options.
Step 3: Select Full scan and click Scan now. Then follow the on-screen instructions to remove the virus or malware.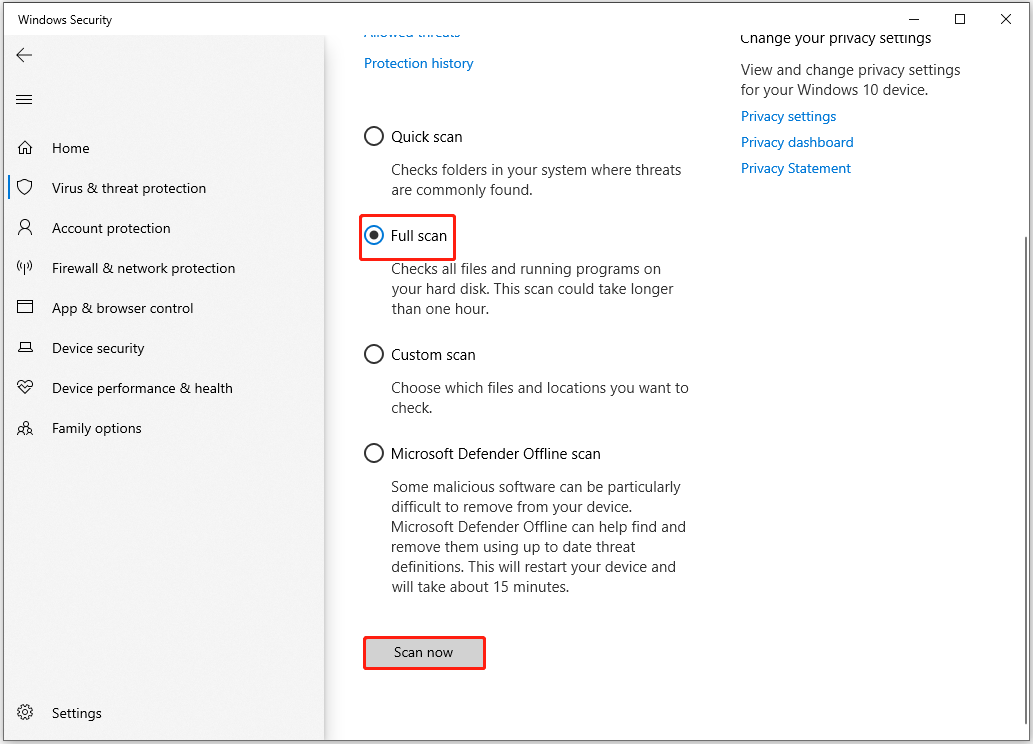 Fix 2. Check Hard Drive for Bad Sectors
The task sequence error 0x800700a1 may caused by bad sectors. So, you should check if your hard drive has bad sectors. To do that, you can take advantage of third-party free disk partition software -MiniTool Partition Wizard.
Its Surface Test feature can help you check bad sectors on the hard drive. Besides, it can deal with a lot of disk and partition matters. For example, it can be used to test disk speed, copy hard drives to another one, data recovery, etc.
Here we will show you how to check the hard drive for errors.
MiniTool Partition Wizard FreeClick to Download100%Clean & Safe
Step 1: Download and install MiniTool Partition Wizard on your PC. Then launch it to enter its main interface.
Step 2: Select the drive and click on Surface Test from the left pane.
Step 3:Click on the Start Now button in the pop-up window. After that, this tool will scan the whole drive immediately and show you the test result.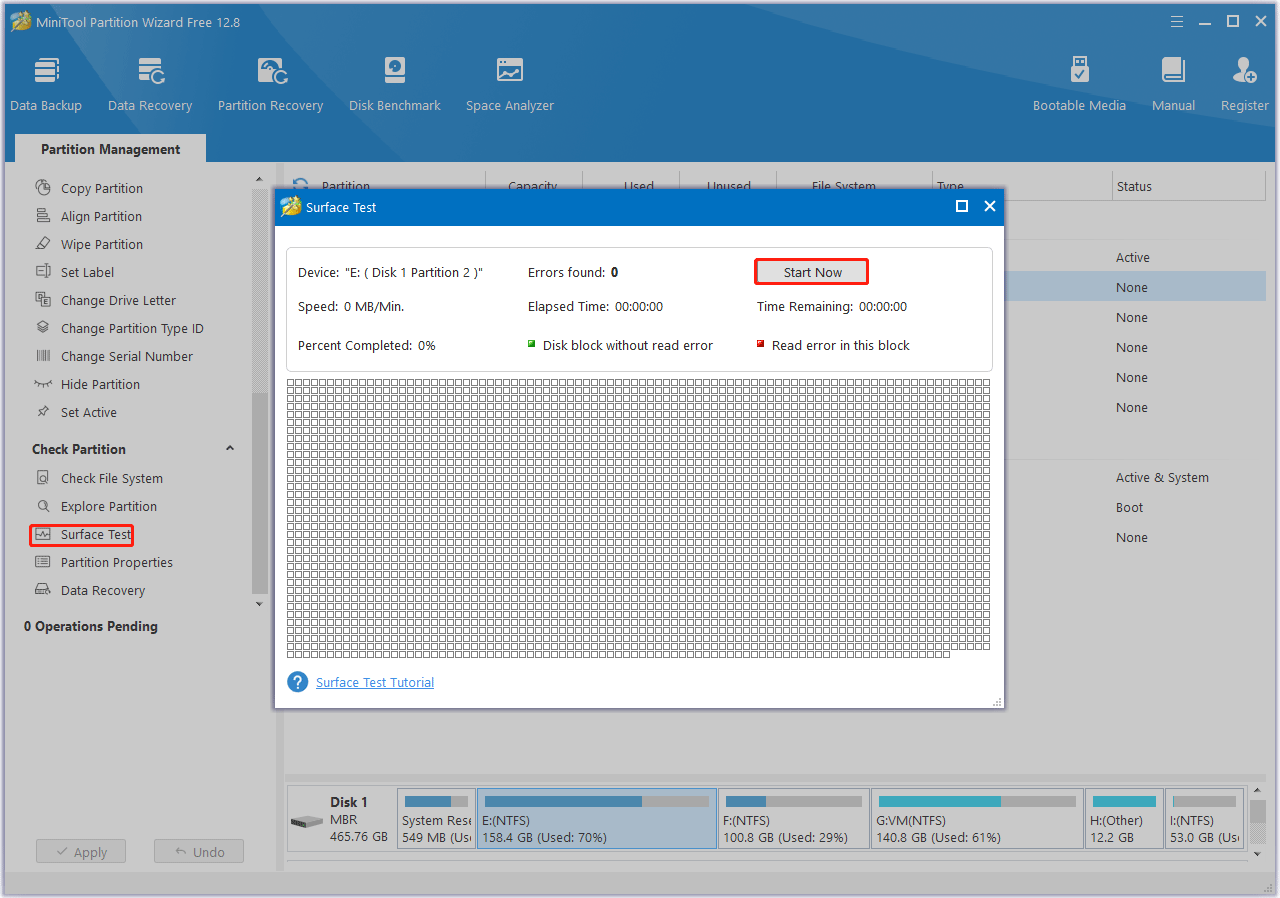 Step 4: When the hard drive error test process is completed, the bad sectors on the hard drive will be marked with red color. In this case, you can either use this bad sector repair guide or consider replacing it with a new one.
Fix 3. Partition Hard Drive
You can try to partition the hard drive correctly. The steps are as follows.
Step 1: Press the Win + R key on the keyboard. Then input cmd to open the Windows Command Prompt tool.
Step 2: Then input diskpart and hit Enter to open the Windows Diskpart utility.
Step 3: Input each command as follows and click enter.
list disk
select disk * (select the hard drive you'd like to partition)
create partition primary size=* (specify a partition size in MB)
assign letter=* (set a drive letter for new partition)
format fs=ntfs quick
exit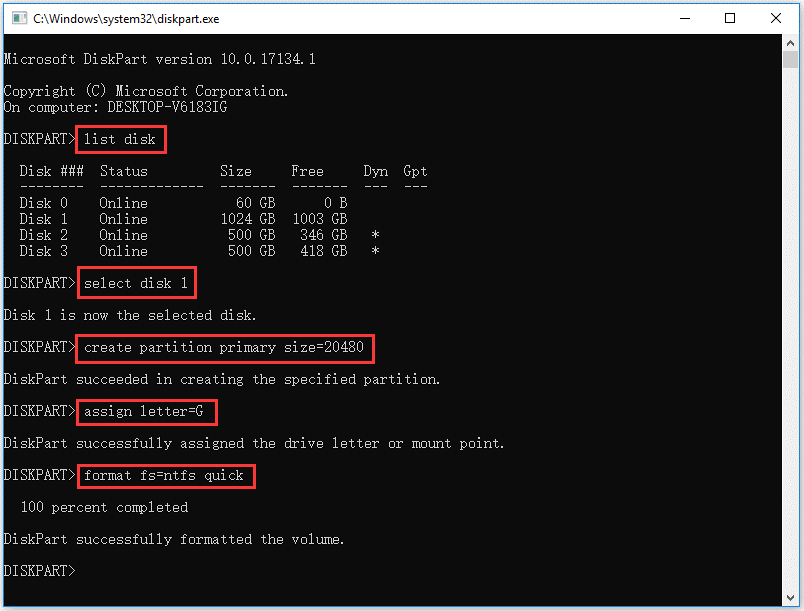 If you are unable to use this utility to partition the hard drive, you can read this post to learn more ways to do that.
Bottom Line
When faced with the task sequence error 0x800700a1, you can try three methods shared in this guide. If you have any other solutions to this error, you can leave them in the following comment zone.