What's the best
Samsung SSD health checker
on Windows 11/10/8/7? A lot of users are looking for a Samsung SSD tester to check Samsung SSD health. Now, this post from
MiniTool Partition Wizard
shares some SSD health check tools for you.
Samsung is a well-known computer hardware manufacturer that provides a series of excellent SSDs, such as the Samsung 970 EVO Plus, Samsung 860 Pro, Samsung 980, etc. Sometimes the Samsung SSDs may get corrupted or slow down as time goes by. So, a lot of users want to find a Samsung SSD diagnostics tool to check Samsung SSD health.
Here's a true example from
How do I check the health of my Samsung SSD? I've got a Samsung SSD on Windows that's giving CHKDSK errors. How do I check my health?

https://superuser.com/questions/884073/how-do-i-check-the-health-of-my-samsung-ssd
When Do You Need to Check Samsung SSD Health
When do you need to check Samsung SSD health? After analyzing extensive user reports, we found that Samsung SSDs can get corrupted or slow down due to improper removal, virus infection, and accidental strikes. If you are facing one of the problems below, you may need a Samsung drive health checker.
Your computer always crashes abruptly.
There are bad sectors or file system errors on the SSD.
The Samsung SSD is running slowly.
It takes a long time to save files on the SSD.
…
Best Samsung SSD Health Checker for Windows 11/10/8/7
What's the best free Samsung SSD diagnostics tool for Windows 11/10/8/7? There are 3 feasible options and you can choose one according to your preference.
# 1. Use MiniTool Partition Wizard
MiniTool Partition Wizard is a multifunctional and free partition manager & SSD health checker. It can help you check SSD performance, check bad sectors, analyze disk space, repair file system, migrate OS to SSD, recover lost data from SSD, rebuild MBR, extend/resize/move partitions, and more.
Let's see how to check Samsung SSD health using the MiniTool software.
MiniTool Partition Wizard FreeClick to Download100%Clean & Safe
Step 1. Launch the program to enter its main interface, select the SSD from the disk map, and click on Disk Benchmark from the top toolbar.
Step 2. Select the drive that you want to check from the drop-down menu and click on Start to start checking the SSD performance. Wait for the scanning process to complete. Once done, you can check the reading and writing speeds.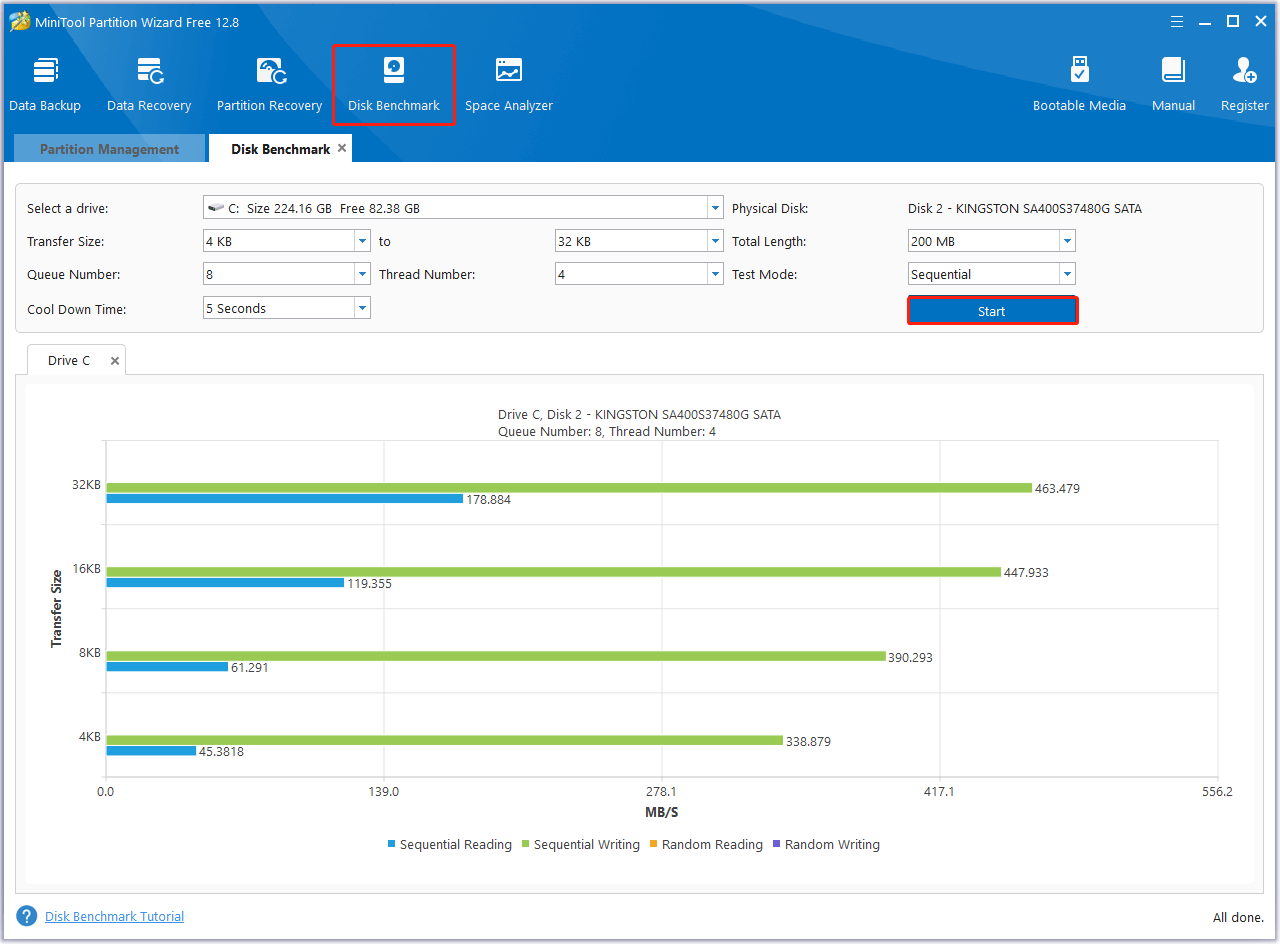 Step 3. If you want to check bad sectors on the SSD, you can click on Surface Test from the left panel and then on Start Now. If any blocks are marked with red color, it indicates the SSD is faulty.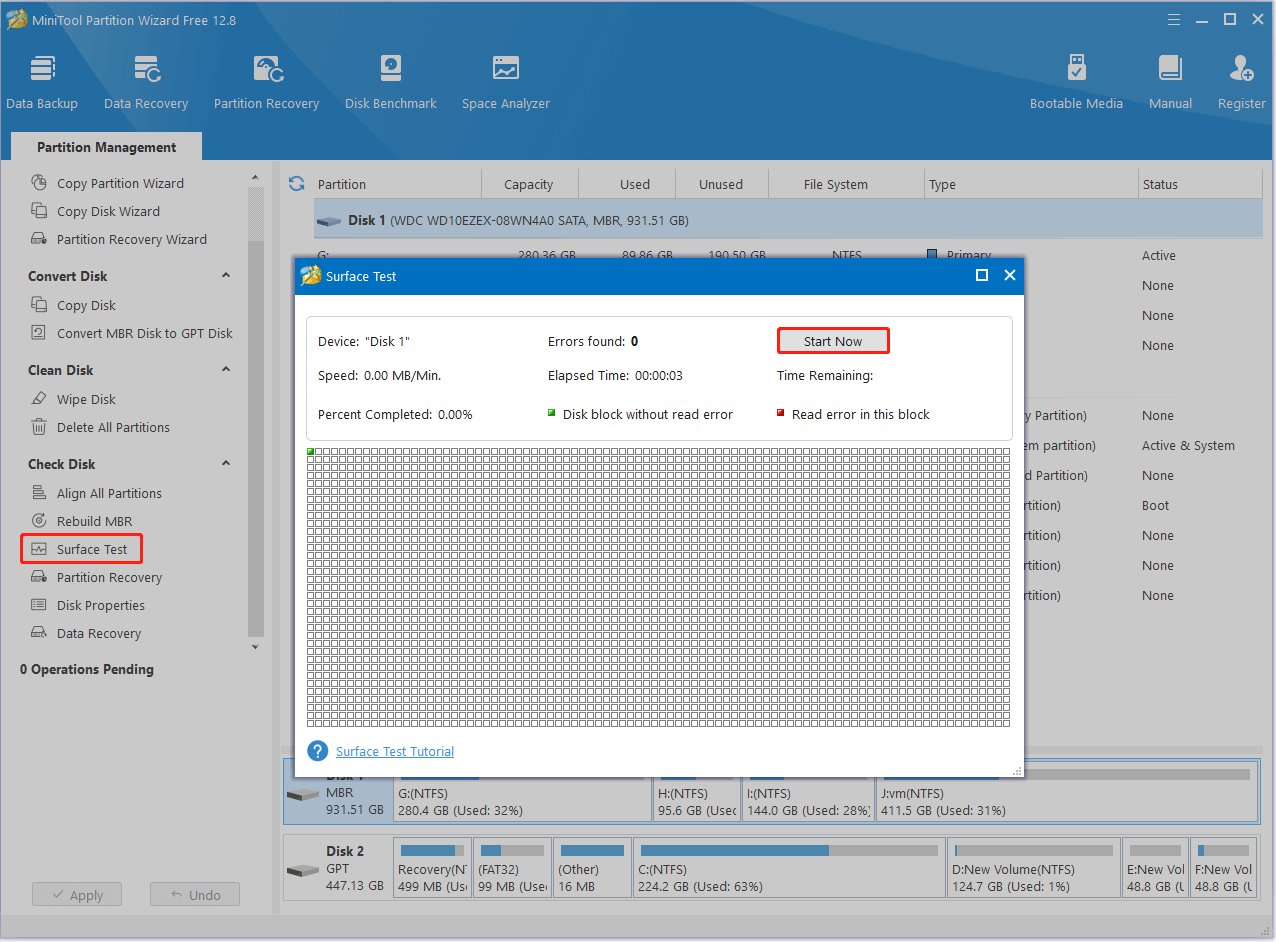 Step 4. To repair file system errors, you can select the SSD drive, click on Check File System from the left action panel, select the Check & fix detected errors option, and click on Start to begin the repair.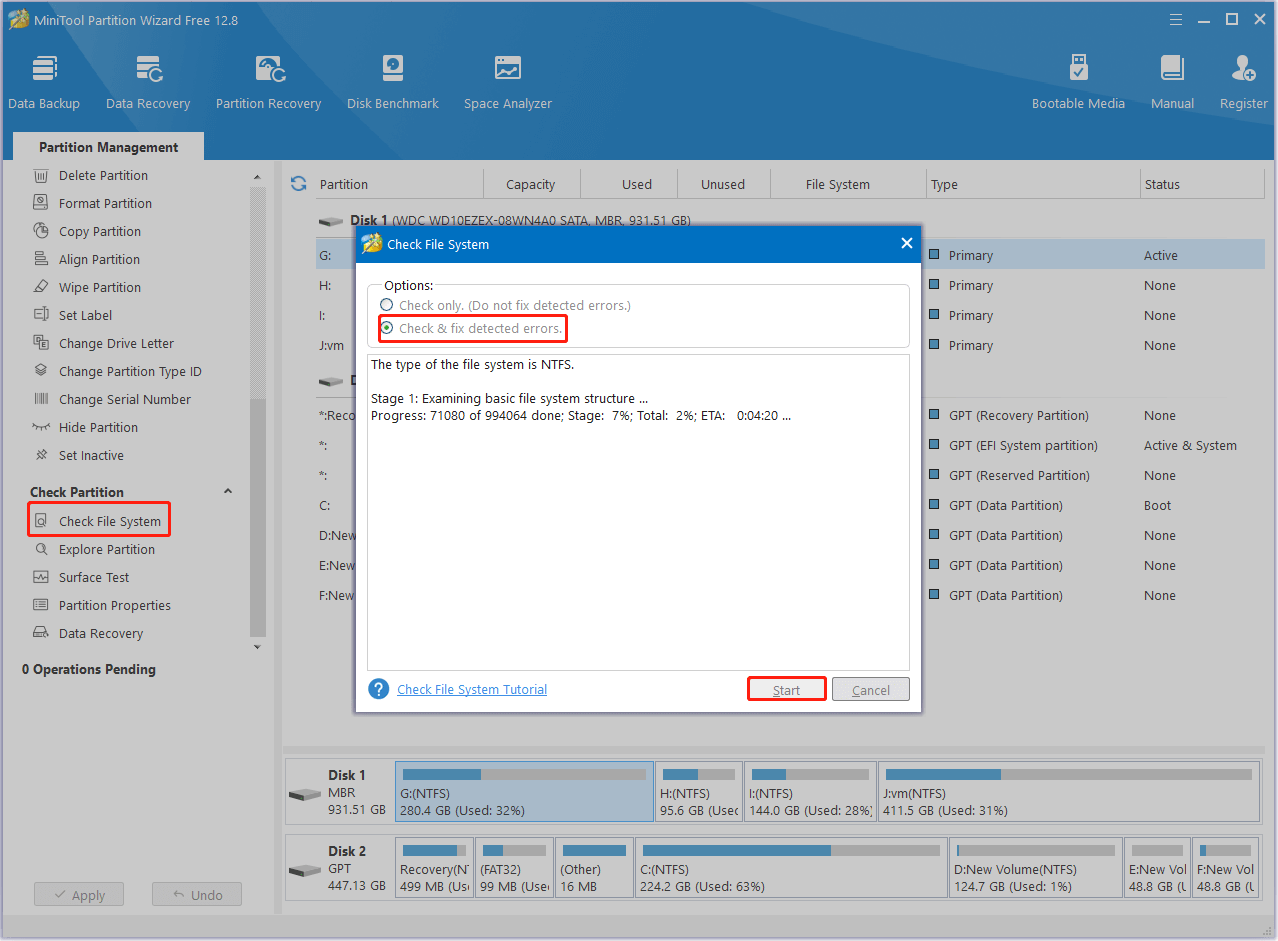 # 2. Use Samsung Magician
Samsung also released a Samsung SSD tester called Samsung Magician. It is a practical suite of SSD optimization utilities that can check drive health, customize your SSD, diagnostic scan, secure erase, and maximize performance. Here's a quick guide for you.
Step 1. Download the program from its official website and follow the on-screen instructions to install it.
Step 2. Launch the app to get its main interface, click on the Status tab and check the SSD health and temperature.
Step 3. To check the performance, go to the Performance Benchmark option and it will show the read and write speeds. You can also select the S.M.A.R.T. button to check more details about the SSD health.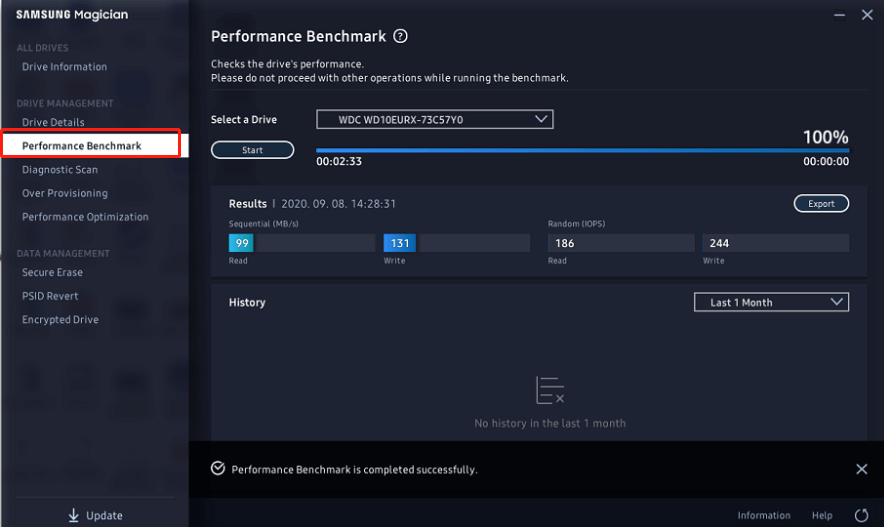 Sometimes, however, this software also runs into various issues, such as "Magician is unable to find a Samsung SSD", "Samsung Magician this drive is not supported", etc. Under these situations, you can use an alternative like MiniTool Partition Wizard.
# 3. Use SMART
In addition, you can use the SMART utility to check the reliability and health of your Samsung SSD in Command Prompt. It's also a Samsung drive health checker that can detect if the SSD drive is failing. For that:
Step 1. Press the Win + R keys to open the Run dialog box, and then type cmd in it and press Ctrl + Shift + Enter keys together to open the elevated Command Prompt window.
Step 2. Type the following command and press Enter. Then you will see the current health status of your SSD.
wmic diskdrive get status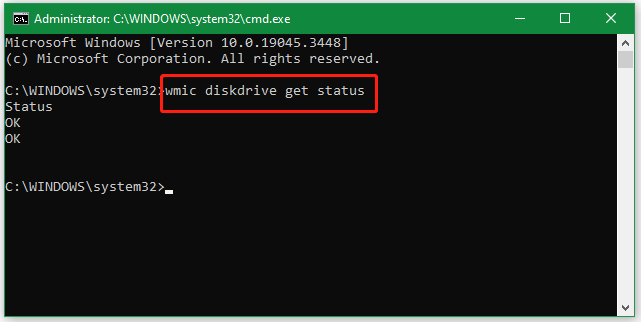 What's the best Samsung SSD health checker? Now, I believe that you make your best choice according to the above comparison. If you have any other opinions about the topic, please share them with us in the following comment area.