Do SD card speeds matter
for cameras, phones, tablets, and consoles? This post from
MiniTool Partition Wizard
gives you the answer and shows you how to see the SD card speeds.
Do SD Card Speeds Matter?
SD cards are mainly used in phones, tablets, digital cameras, game consoles, and media players. Do SD card speeds matter? In most cases, they do matter. In addition, compared to the read speed, the write speed of an SD card is more important.
Why Do SD Card Speeds Matter for Cameras?
In general, the sequential read and write speed matter for a camera. The sequential read speed of the SD card mainly affects the preview and export of the photos. The sequential write speed affects the camera's continuous shooting and video recording.
A high-speed writing card can make the camera continuously shoot more pictures and shorten the waiting time after the camera shoots continuously, especially if you use the RAW format.
In addition, a card with a high writing speed can withstand high bit rate video shooting. However, if you use a card with a low writing speed to shoot a high bit rate video, the video shooting may be suddenly interrupted or even not allowed.
Tips:
Neither reading nor writing speed affects the quality, look, color, style, etc. of your photos or videos.
Why Do SD Card Speeds Matter for Phones, Tablets, and Consoles?
In general, SD cards on phones, tablets, and consoles are mainly used to run apps and games. In this case, the random read and write speeds (especially the random write speed) matter for these devices. The random write speed will affect the app and game launch and running speeds.
How to See the SD Card Speeds?
Some SD cards only mark the sequential read speed. How to see the sequential write speed and random read/write speeds? The way is to find the speed class markings on the SD card. The speed class stands for the actual minimum sequential write speed.
The SD card speed class markings and their minimum sequential write speeds are shown in the following picture.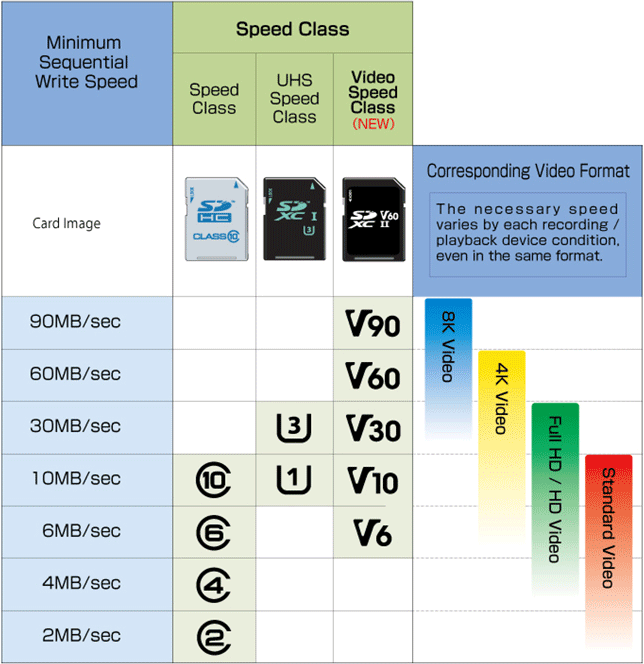 Tips:
In most cases, you will see more than one speed class markings on an SD card.
How to see the random read and write speeds of an SD card? There are also Application Performance Classes for SD cards. The Application Performance Class markings and speeds are shown in the following picture.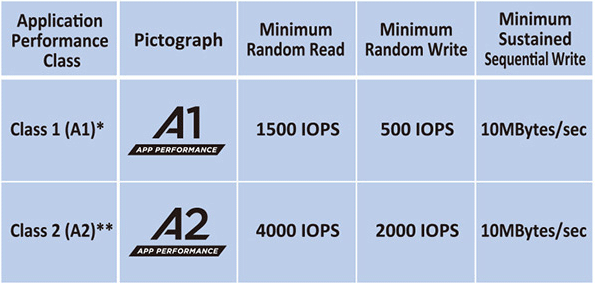 Tips:
Most SD cards won't display the Application Performance Class markings. If you want to find an
A1 or A2 SD card
, you need to search for them dedicatedly.
Q1. Should you get the fastest card?
Which card is the fastest? Faster SD cards are likely to appear every year. You just need to buy an SD card that is fast enough for your device. Therefore, you need to see what the device manufacturer recommends.
Q2. For cameras, is it important to have a large SD card storage capacity or a fast speed?
Generally speaking, the capacity needs to be considered only after the SD card read and write speed requirements are met. Fortunately, for ordinary users and entry-level camera users, there is little difference between using ordinary cards and high-speed SD cards.
Bottom Line
MiniTool Partition Wizard is a functional tool. It can format SD card FAT32, fix SD cards, and recover data from SD cards. It can also migrate OS and clone hard drives. If you have these needs, you can download it to have a try.
MiniTool Partition Wizard DemoClick to Download100%Clean & Safe