How to Check Windows License Key
How to check Windows license type? Well, you can find out the Windows license type by running a command in Command Prompt or PowerShell. Here's how to do that.
Step 1: Type cmd in the search box and click Run as administrator under the Command Prompt app.
Step 2: In the elevated Command Prompt window, type slmgr -dli and hit the Enter key.
Step 3: After some time, the Windows Script Host window will appear. You can find out the Windows license type of your computer from that window.
How to tell your Windows license type? Pay attention to the information behind the Description field in the Windows Script Host window. For instance, if you see "VOLUME" like the picture below shows, it means that your Windows license type is Volume.
If it's from the RETAIL channel, it indicates that the Windows license type is Retail. Correspondingly, if you see the word "OEM_DM channel" in the Description field, it means that the Windows is activated with the OEM license.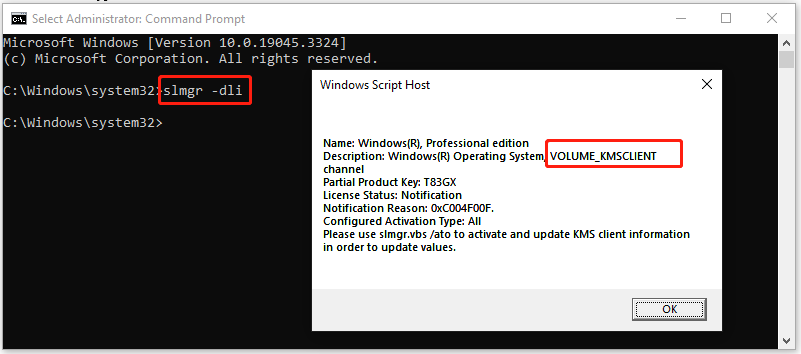 How to check Windows license type? The detailed steps have been shown to you. Just follow the given steps to complete the operation.
3 Common Windows License Types
If you don't know Windows license type, this section is worth reading as it explains three common Windows license types in detail.
Retail license: It refers to the license you obtain when buying a copy of Windows 10 from your local store or an online retailer. If your license type is Retail, you can transfer the product key to another computer. Retail Windows can be transferred and activated to another computer but only assign to one computer at any time.
OEM (Original Equipment Manufacturer) license: It refers to the license that a manufacturer installs on new devices. Therefore, this license key isn't transferable and you can't use it to activate another installation.
Volume license: Designed for a large business, education, or government scenario, it allows organizations to use one master product key to activate any installation of Windows 10. Volume licenses are usually sold in bulk, but this has a limit. Once the limit is exceeded, the product key is no longer valid on another PC.
Bottom Line
MiniTool Partition Wizard is an expertized partition manager for Windows computers. You can find the specifications of your hard drive or partition by using this partition software. Simply right-click on the target drive or partition and click Properties. Then you will find a series of information about your hard drive.
MiniTool Partition Wizard FreeClick to Download100%Clean & Safe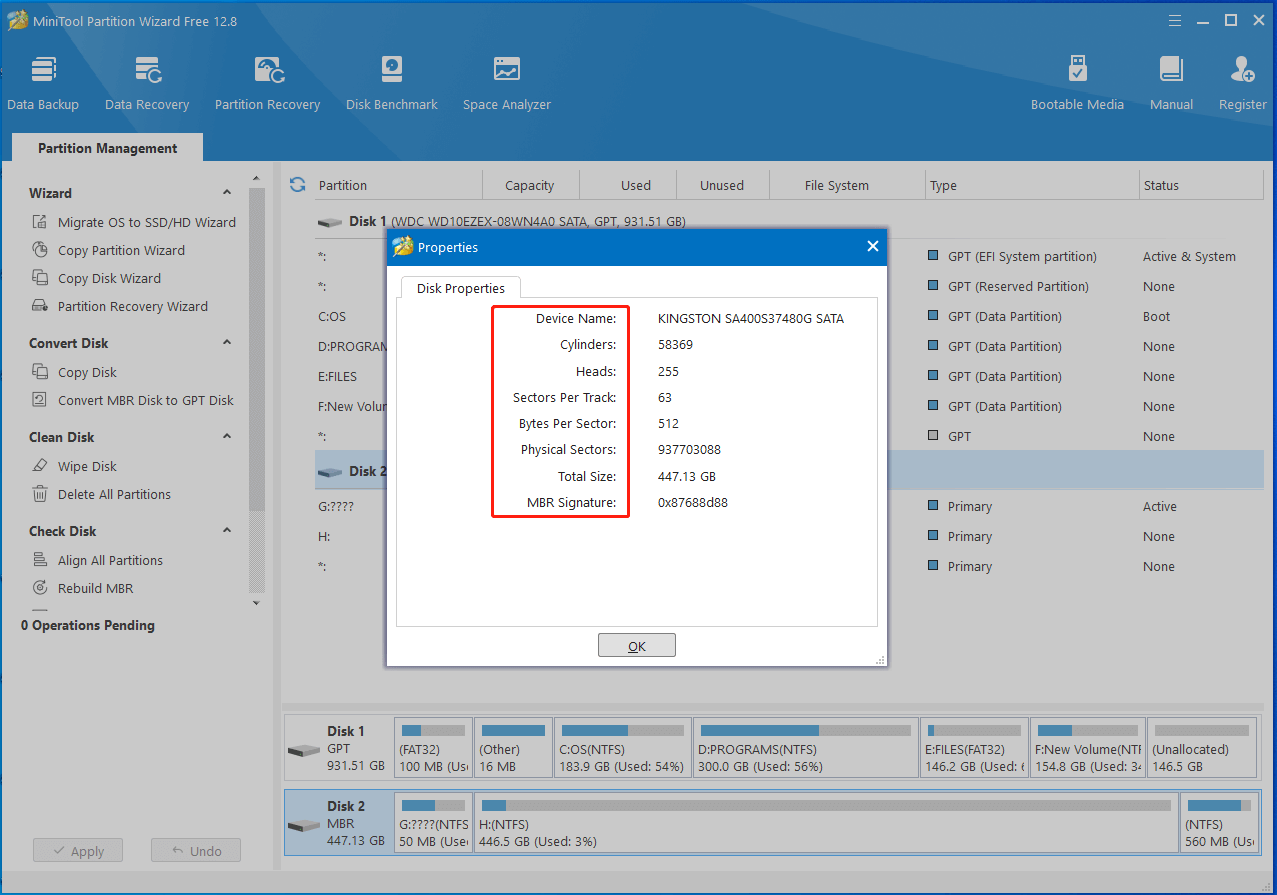 Based on your demands, you can format/extend/shrink/move/merge/split/delete/wipe/recover partitions, migrate OS to SSD/HDD, copy disks, change cluster size, convert MBR to GPT (and vice versa), rebuild MBR, etc. via MiniTool Partition Wizard.
With many powerful features, it is used as a PC cleaner, PC optimizer, SSD optimizer, SD card speed tester, duplicate file finder, SSD cloning software, USB data recovery tool, file deleter, SD card formatter, and so on.