Have you ever encountered the Windows activation error code 0xc004f014 on your PC? If you have, you come to the right place. This post of
MiniTool Partition Wizard
tells you why this error occurs and how to fix it.
What Causes Windows 10 0xc004f014?
The Windows 10 activation error code 0xc004f014 occurs when a new license key is placed to upgrade Windows in OEM systems. It means that the Windows activation mechanism failed to validate your product key and connect to the activation server.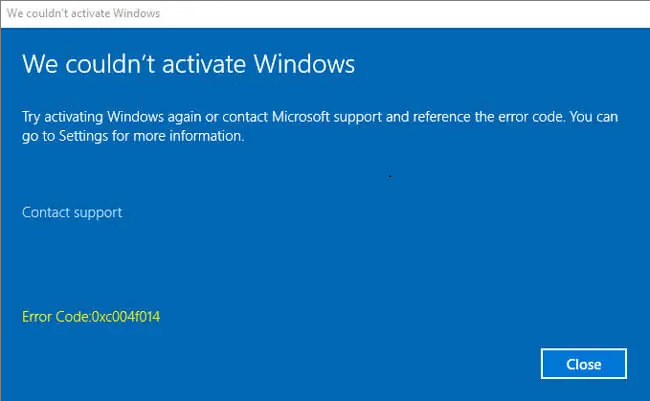 The Windows activation error code 0xc004f014 may be caused by various reasons. Here, we summarize some possible causes, such as:
Hardware changes
A different product key or version of Windows was used during the repair
Bad product key
A used PC
Internet connection issues
Fortunately, there are some methods that you can try to fix this problem. Before trying the following methods, you should verify the product key and ensure that your internet connection is properly set.
Method 1. Run Troubleshooter
To fix Windows 10 0xc004f014, you can use the activation troubleshooter that can help you diagnose and resolve common activation issues.
Step 1. Press Win + I to open Settings. Then click Update & Security > Activation.
Step 2. If you see a message showing that Windows can't activate, click Troubleshoot.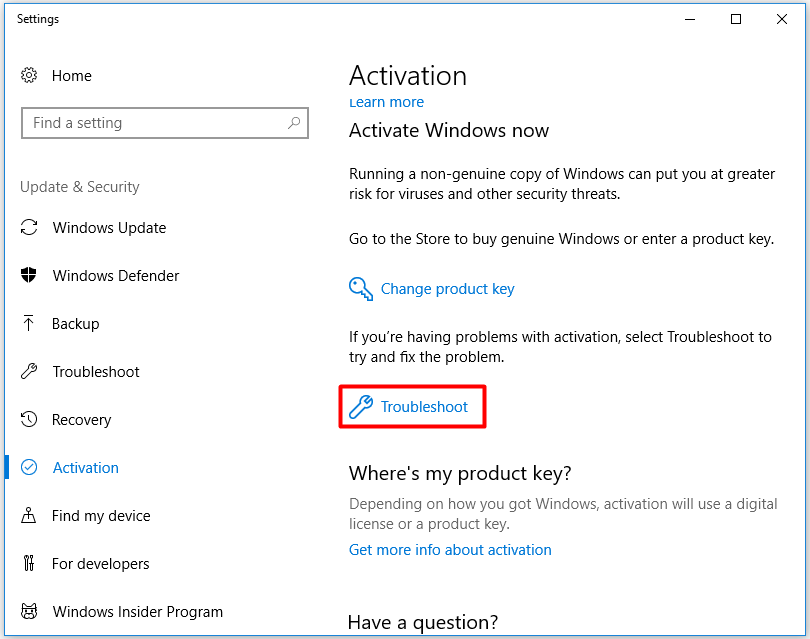 Step 3. Then the troubleshooter will scan your system and try to fix problems. You can follow the on-screen wizard to complete the process.
Method 2. Use Default Product Key to Activate Windows
You can use a default key to temporarily activate Windows, then change it to your original product key. Here's how to do that:
Step 1. Press Win + R to open the Run command box. Then type slui.exe 3 and press Enter to open the Windows Activation window.
Step 2. In the pop-up window, enter a default key for your edition of Windows 10 and click Next.
Step 3. Wait for the process to complete. Then you may see a message saying that Windows can't activate right now. This is normal because this way will only work if you have a Valid Activation Key.
Step 4. Open the Run dialog box again, type slui.exe 4 and press Enter.
Step 5. In the next window, select your region and click Next. Then you will see a toll-free number and an installation ID on the screen.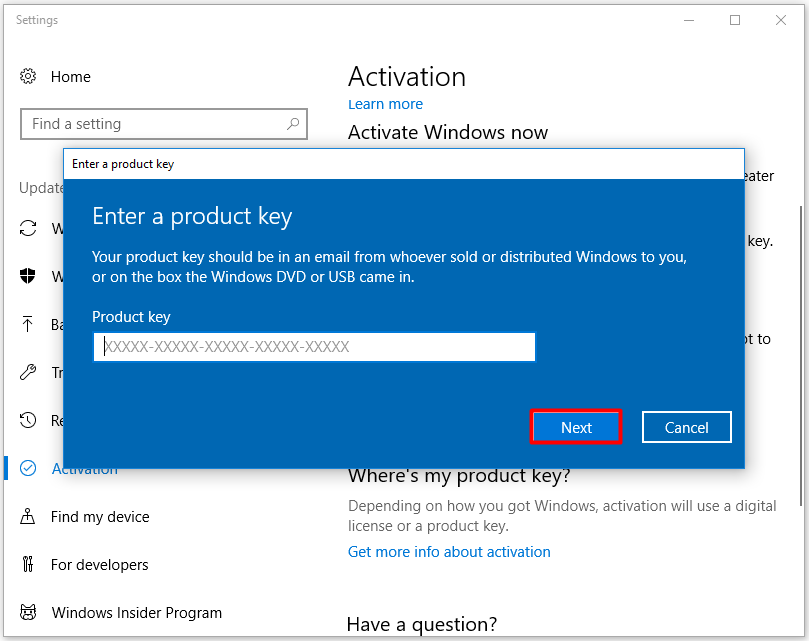 Step 6. Call the number and follow the wizard to provide the installation ID and get a confirmation ID.
Step 7. Then enter the confirmation ID in the boxes and click Activate Windows. follow the on-screen instructions to complete the process successfully.
Step 8. Once done, reboot your computer. If it works well, you will see a message saying that Windows is activated.
Method 3. Use Command Prompt to Change Your Product Key
Another way to fix Windows 10 activation error code 0xc004f014 is to change your product key using Command Prompt. Follow the detailed steps below.
Step 1. In the Run command box, type cmd and press Ctrl + Shift + Enter to run Command Prompt as administrator
Step 2. In the command window, type slmgr.vbs -ipk <your product key> and press Enter.
Tips:
Replace "your product key" with your actual product key without brackets.
Step 3. You may see a message saying that your product key has been installed successfully.
Step 4. Then type slmgr.vbs -ato and press Enter. This will activate your Windows using your product key.
Step 5. You should see a message saying that your Windows has been activated.
Method 4. Contact Microsoft Support
In addition to the above methods, you can contact Microsoft support for further assistance. They can help you verify your product key, check your activation status, and troubleshoot any other issues that may prevent you from activating your Windows.
Conclusion
You can try the above methods to fix the Windows 10 activation error code 0xc004f014. Is this post helpful for you? Do you have other nice methods to fix this activation issue? You can feel free to share them with us in the following comment part.