When encountering the Windows activation error, you must want to know how to fix it easily. In this post, I'll summarize some common Windows activation errors and provide useful solutions to fixing them. Additionally, explanations for what happens when Windows is not activated and why your Microsoft product key is not working will be offered.
What does activation mean? To be specific, Windows activation is used to:
Verify whether your copy of Windows is genuine or not.
Detect whether the number of devices running this copy exceeds the limit that Microsoft Software License Terms allow or not.
After installing a Windows system, you'll be asked to finish the activation process: find out if your operating system (OS) is activated and linked to your Microsoft account. To be honest, linking the digital license to Microsoft account is crucial. Why? It is because this will allow you to reactivate Windows via Activation troubleshooter when important hardware change is made.
The Windows activation error occurs frequently to stop users from activating Windows successfully. Why did this happen? How to fix windows activation error? What happens if Windows is not activated? Questions like these will be answered in the following content.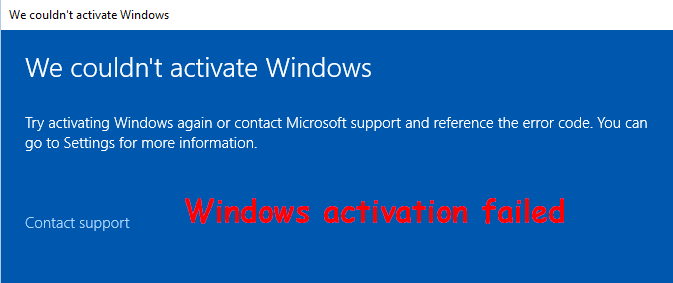 Popular Windows Activation Errors
In this part, several common Windows activation errors will be introduced. Then, I'll share with you how you can fix Windows activation error.
Windows Activation Error 0xC004C003
The most possible causes of error code 0xC004C003 are Windows 10 upgrade and fresh install. It's easy to run into 0xC004C003 error while you are trying to activate Windows.
0xC004C003 Windows 10 not activated after upgrade: this error may occur when you haven't finished Windows 10 upgrade correctly. Performing an in-place upgrade is an easy fix on this occasion.
Microsoft error code 0xC004C003: this error could be caused if the activation server is busy. The solution to fix it in this case is very easy: just wait for a while (maybe a couple of hours) and try to activate Windows 10 again.
0xC004C003 after hardware change: a hardware change could also lead to 0xC004C003 error code. Please contact Microsoft ASAP if you are suffering from this.
0xC004C003 Windows 10 product key not working: you'll see this if your digital license or product key isn't valid. Please make sure you have a genuine copy of Windows. (This copy of Windows is not genuine.)
Should I Upgrade To Windows 10 – How To Decide?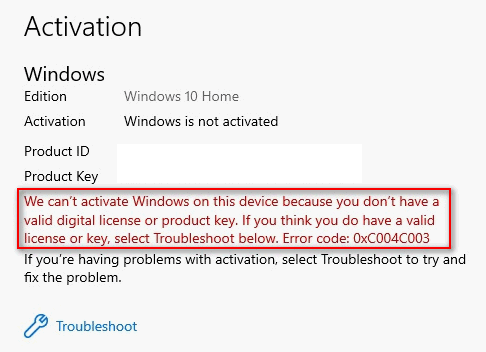 Here are some useful solutions to fixing error 0xC004C003.
Solution 1: make sure you upgrade to Windows 10 using Windows Update.
Windows Update should be your first choice if you'd like to upgrade Windows 7 or Windows 8.1 to Windows 10.
Advantages of upgrading using Windows Update:
It will convert your valid license key to a Digital entitlement.
You'll be allowed to reinstall Windows 10 on your PC when necessary, without using a product key.
3 steps to upgrade OS via Windows Update:
Reinstall your previous Windows version.
Make sure the version is activated.
Navigate to Windows Update and follow the instructions to finish the upgrade.
Solution 2: perform an in-place upgrade.
It's a good idea to upgrade to a new version of Windows with files, settings, and applications kept intact.
Revert to the previous version of Windows.
Make sure which updates are necessary for the upgrade of Windows 10 and install them all.
Check whether the current version is fully activated or not.
Get Media Creation Tool and run it.
Choose Upgrade this PC now. Then, click Next.
Select Download and install updates. (This step is not mandatory, so you can skip according to needs.)
Wait for the download and check process to finish.
Select Change what to keep and decide the files you want.
Click Next and Install.
Wait patiently.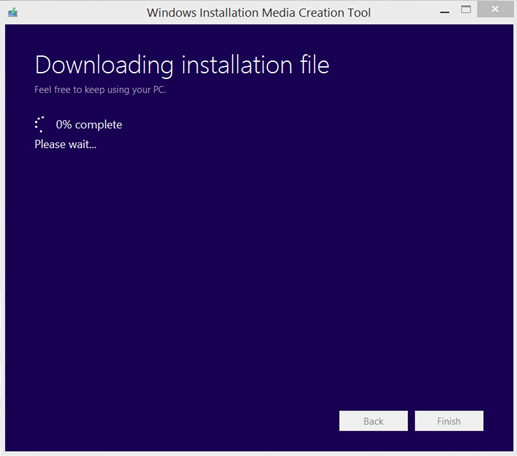 Solution 3: execute slmgr.vbs command.
You may be unable to reach the Windows activation servers since there are too many Windows 7 and 8.1 users are upgrading their OS to Windows 10. The activation servers will refuse the connection when they get overloaded.
As mentioned earlier, you can wait for a couple of hours and then try to activate your system again. Alternatively, you can force Windows 10 to activate by following these steps:
Click on the Cortana search box on the taskbar. (What if taskbar is not working?)
Type cmd into it.
Right click on the Command Prompt app and select Run as administrator.
Type vbs –rearm into the Command Prompt window and press Enter.
Wait a few minutes for the command to execute.
Reboot your PC.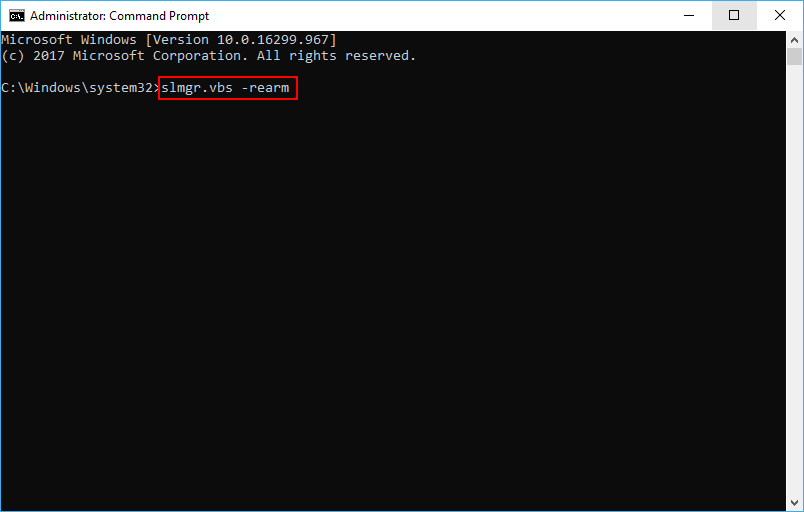 Note:
Please be advised that you may encounter the Windows Script Host access is disabled error after hitting Enter. In this case, you should fix the
Windows Script Host error
and then try to execute slmgr.vbs –rearm again.

Additionally, you can try to activate Windows 10 by:
Contacting Microsoft after a hardware change
Checking your product key to make sure it's valid
Checking the Internet connection
Updating BIOS
If you find your PC not booting after BIOS update but don't know how to deal with it, please read this page:
Windows Activation Error 0xC004F074
You may encounter the 0xC004F074 error after you have finished upgrading your system to Windows 10.
The 0xC004F074 error will appear whenever the Key Management Service (KMS) fails to be contacted during the activation process.
The Windows 10 KMS error code may also occur after you have downloaded a compromised Windows upgrade from the pirated software websites. (This could be very dangerous; I advise you to update from the authorized sites only.)
Here are some useful solutions to fixing Windows 10 activation error 0xC004F074.
Solution 1: activate by phone.
Hold Start + I buttons to open Settings.
Navigate to Update & Security and click on it.
Select Activation in the left panel.
Choose to Activate by phone.
Start Product Activation Wizard.
Open the menu and select Settings.
Choose Change PC Settings.
Click Activate Windows.
Choose options like Activate, Activate by phone or Contact customer support for help.
Follow the instructions to activate your Windows by using the phone.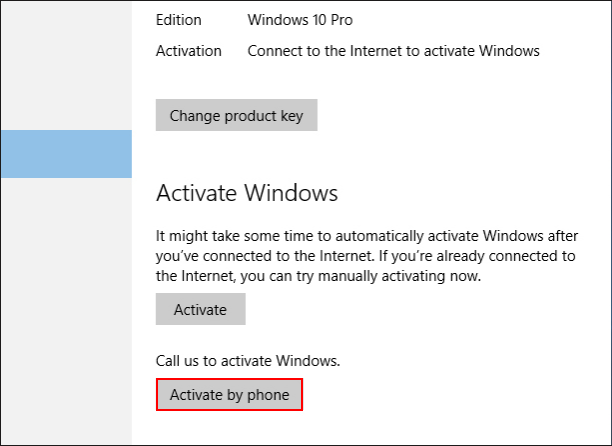 Solution 2: run System File Checker.
Run Command Prompt as administrator (the method is introduced in the previous section).
Type sfc/scannow command and hit Enter.
Wait for the SFC scan to finish.
Reboot your Windows device.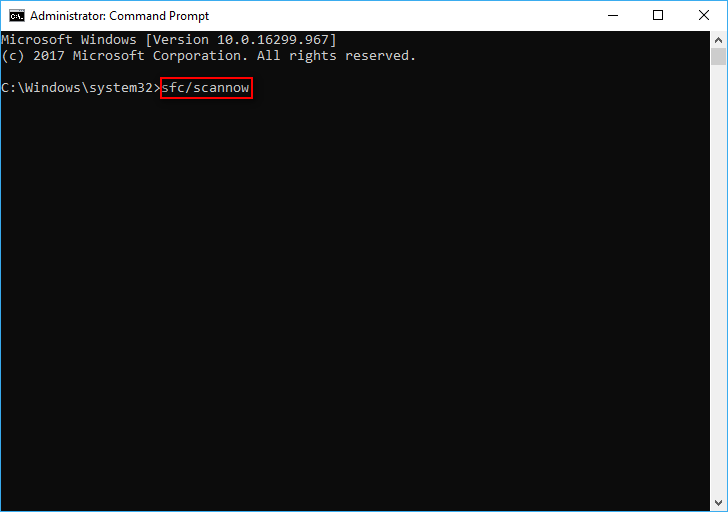 Solution 3: run Slui 3 command.
Hold Start + R buttons to open Run.
Input Slui 3 into the textbox and hit OK.
Write in your product key (Windows 10 activation key,) and hit Next.
Click on the Activate button.
Restart your device.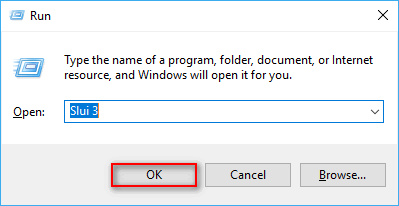 That's how to activate Windows 10 in settings.
Solution 4: run Troubleshooters.
Open Settings window (refer to solution 1 in this section).
Choose Update & Security.
Shift to Troubleshoot in the left panel.
Select Windows Update in the right panel.
Hit Run the troubleshooter and wait.
Check if the activation error occurs again.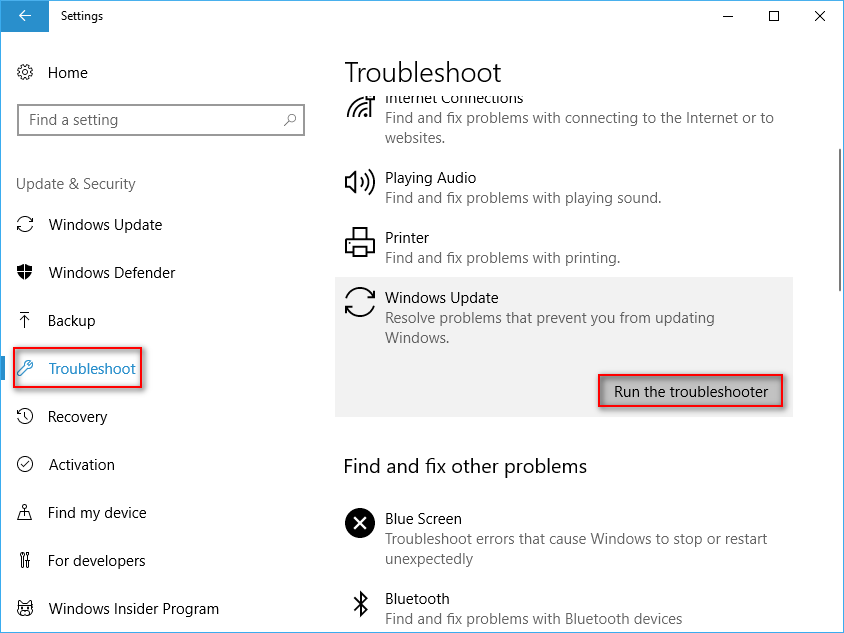 If the problem persists, please run Activation Troubleshooter as well:
Repeat step 1 and step 2.
Shift to Activation in the left panel.
Click on the Troubleshoot button under Activate Windows now section in the right panel.
Wait for the troubleshooting process to finish.
Reboot your device to see whether the error occurs or not.
Additionally, you can try solution 3: execute slmgr.vbs command (mentioned in error 0xC004C003 part) or contact Microsoft Support for help.
Popular Windows Activation Errors
One: Windows activation error 0xC004F050.
There are many causes of this error:
The activation servers are busy.
The license is not signed properly.
The license validity interval was expired (the product key is invalid).
Windows isn't upgrade after a reinstall if you are using the free upgrade offer.
…
Click to learn how to fix error code 0xC004F050.
Two: Windows activation error 0x803F7001.
Causes of this error:
The device doesn't have a valid digital entitlement.
You performed hardware upgrade or replaced a piece of hardware in your computer.
The Slui 4 responsible for activating Windows is not working on Windows 10.
Click to learn how to fix Windows 10 activation error 0x803F7001.
Three: Windows 10 activation error 0x8007007B.
The most possible reason for causing this error is the activation servers are being overwhelmed since there are too many upgrades. You may see 0x8007007B in the following error messages:
Activation Error: Code 0x8007007B.
Windows 10 Activation error 0x8007007B.
Windows can't activate right now. 0x8007007B.
A problem occurred when Windows tried to activate. Error Code 0x8007007B.
Contact your system administrator to get a product key. Error code: 0x8007007B.
Error code 0x8007007B. The filename, directory name or volume label syntax is incorrect.
How to fix error 0x8007007B when activating Windows 10?
Four: 0x80072F8F Windows 10.
There are three easy ways to fix 0x80072F8F error.
Way 1: fix date and time (you have to make sure the settings of Date and Time are correct on your PC).
Press Start + I buttons.
Select Time & Language. Then, Data & time will be selected by default.
Find Set time automatically and Set time zone automatically options in the right side panel; turn the toggles of them to On.
Shift to Region & language option in the left side panel.
Look at the Country or region section and make sure the country selected is where you live.
Close Settings app and restart your PC.
Way 2: modify MediaBootInstall in Registry Editor.
Press Start + R to open Run.
Type in regedit and hit Enter (you can also click on the OK button).
Navigate to this path: HKEY_LOCAL_MACHINE/Software/Microsoft/Windows/CurrentVersion/Setup/OOBE.
Find MediaBootInstall in the right side panel and change the value to 0.
Close Registry Editor and reboot computer.
Open Command Prompt.
Type slmgr /rearm and hit Enter.
Wait for the operation to complete.
Reboot the computer again.
Way 3: contact Microsoft support.
In addition to the Windows Activation, the 0x80072F8F error code will also appear in Windows Update and Microsoft Store. Definitely, there are many other errors that may occur during the Windows activation process.
Please get help with Windows activation errors by looking at this page, which lists more errors and the solutions to fix them.
Please note: you can use the MiniTool Partition Wizard to manage disks, partitions, and files reasonably. Besides, it can help you fix some disk errors quickly.
MiniTool Partition Wizard FreeClick to Download100%Clean & Safe
What Happens When Windows Is Not Activated
Windows XP
It was the first operating system on which Windows activation is required. If you ignore the activation process for 30 days, the system will stop you from using Windows anymore. You can do no more than system boot, make backups (the professional backup software you need), and activate.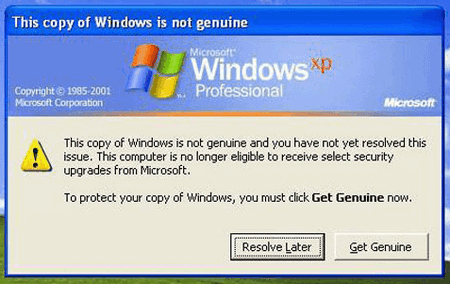 If you see GPT protective partition on Windows XP, here's your way out:
Windows Vista
If you ignore the activation message for 30 days, the system will shift to Reduced Functionality Mode (RFM).
You're not able to access advanced features like ReadyBoost or BitLocker (BitLocker drive encryption recovery).
Meanwhile, you are not allowed to play any Windows games.
What's more, you'll be logged out of the system automatically after one hour of use.
Window 7
The Windows 7 activation error: Activate Windows Online Now will be kept in the system tray.
From day four through day 27, the Activate Now message will show up every day.
From day 28 to 30, the message will appear every four hours.
After day 30, you will get the Activate Now message every hour, and you'll see a notice saying that your Windows version is not genuine each time you launch the Control Panel.
Windows 8
An Action Center tooltip will appear in the Desktop Mode if you didn't activate Windows 8; you can ignore it.
The activation message will appear every time when you open the PC Settings screen.
The Personalize section (including lock screen wallpaper & apps, start screen color & background, and account picture) in settings will be disabled. You'll see the message: You need to activate Windows before you can personalize your PC.
A full-screen activation request will occur every couple of hours.
Windows 10
Windows is not activated Windows 10 pro.
A watermark will show up in the bottom-right corner of your screen if you didn't finish the activation process.
The Windows isn't activated. Activate Windows now link will be provided for you at the bottom of the Settings app.
You're not allowed to change your desktop wallpaper in the Settings app. Also, you'll see the message: You need to activate Windows before you can personalize your PC.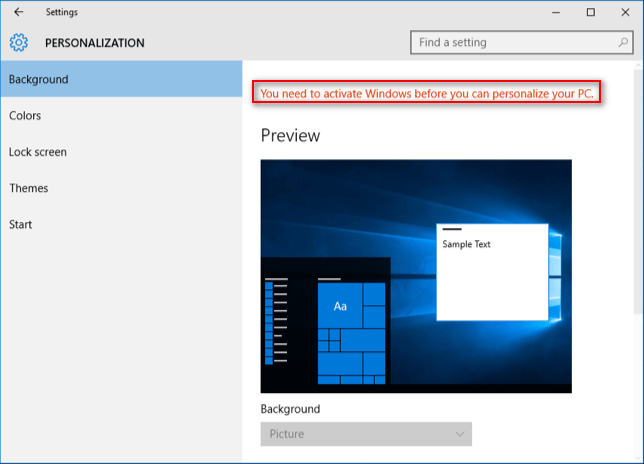 Here's how to activate Windows 10.
Warm Reminder
The Windows activation error is a common problem for Windows users. It often occurs if you haven't finished activating your Windows or didn't start the activation process at all. Additionally, you'll also need to activate Windows when Your Windows License Will Expire Soon.
It is highly recommended that you activate your copy of Windows quickly by using corresponding methods. If you keep ignoring the activation prompts, you'll be bothered by the activation error messages all the time; what's worse, you are not able to enjoy the full performance of your Windows computer.
Windows Activation Error FAQ
What does error code 0xc004c003 mean?
The error code 0xc004C003 is closely related to the Windows activation process. When it occurs on your computer, it means the specified product key is actually in use. The root reason for causing this is: the certain MAK has been blocked on the activation server.
What does error code 0xC004F074 mean?
The error code 0xC004F074 means that the Key Management Service (KMS) on your device could not be contacted while activation is in progress. You will get this error whenever Windows is unable to reach the specific activation service/system administrator; it will also occur when KMS is unavailable.
What will happen if I don't activate my Windows 10?
If you don't active the Windows 10, you can still use most of the features in it. Luckily, there are not many restrictions. The most obvious difference between an activated Windows 10 and an unactivated one is: Windows will ask you to complete the activation now and then.
How long can you use Windows 10 without activation?
In fact, you are allowed to use Windows 10 on your computer for one month; during this period of time, it doesn't have any restrictions. When the time is up, the restrictions will take up and you will see some notifications like Activate Windows now.