Do you know the differences between Ubuntu and Windows? MiniTool shows you Ubuntu vs Windows from 8 aspects. Keep reading to learn them and you can decide whether to use Ubuntu or keep using Windows.
Brief Introduction to Windows and Ubuntu
Windows is an operating environment developed by Microsoft and introduced on November 20, 1985. After years of development and perfection, this software is relatively mature and stable, and is still the mainstream operating system of current personal computers.
It has good man-machine interaction, supports much application software, and has strong hardware adaptability. Currently, its flagship product is Windows 10, released on July 15, 2015.
Ubuntu, released by Canonical Ltd., is an open-source operating system based on Debian GNU/Linux. It was first introduced in October 2004 and was rated the best Linux distribution in 2005. Its latest release is Ubuntu 19.04.
Many people want to know the differences between Ubuntu and Windows. This post will show you Ubuntu vs Windows in detail. In addition, if you want to know Linux vs Windows, you also need to read this post. After all, Ubuntu is the best Linux distribution.
Ubuntu vs Windows
When we talk about Ubuntu vs Windows, we can't just say one's advantages and don't mention the other's advantages. Therefore, in this part, I will introduce Ubuntu's advantages and Windows advantages (equivalent to Ubuntu's defects) as well.
Note: When touching upon specific features, I will mainly focus on Ubuntu vs Windows 10.
1. Cost
Ubuntu is an open-source operating system, whose source code can be obtained arbitrarily. It means that you can get it for free. In addition, you can go through Ubuntu's source code to learn about the inner workings of a cool OS. At the same time, it also allows you to innovate and modify it. In this way, you can make the best contributions you can to it.
As for Windows, it is closed-source and not free. If you build your computer by yourself, you should pay for Windows. If your computer is running an old version of Windows and you want to upgrade it to Windows 10, you should also pay for Windows 10 because the free upgrade that Microsoft offered a couple of years ago has run out.
Windows 10 will cost you $119.99 for the Home edition and $199.99 for the Professional edition. However, there is a case exception: if you plan to buy a new computer, this computer will come with Windows 10. But, to some extent, we still can't say it is totally free.
2. Hardware Requirement and Compatibility
In this part, I will touch upon two factors: hardware compatibility and hardware requirement.
Apparently, Windows has wider hardware compatibility, because it has the largest group of computer users. However, newer versions of Windows may be not compatible with older device drivers, resulting in that it always forces you to update your hardware.
Different from Windows, Ubuntu, relying on the Linux kernel, adheres to the principle that compatibility should never be broken. Therefore, if a hardware device was working once on a Linux-based operating system, it will work forever.
As for Windows vs Ubuntu hardware requirement, please see the following chart.

The required hardware to run Ubuntu or Windows is quite similar, but there are lightweight alternatives (Lubuntu and Xubuntu) that use fewer resources. However, these lightweight versions will lack some features compared to Ubuntu.
3. Software
In this part, I mainly focus on software compatibility and software resource usage.
In general, Windows has wider software compatibility. For example, Microsoft Office and Visual Studio can't work well in Ubuntu; only a small part of games is available for Ubuntu.
Of course, you can find alternatives for those applications you are used to in Windows. For example, you can use LibreOffice to substitute Microsoft Office, GIMP to substitute Photoshop, etc.
Tip: Almost all Ubuntu's applications are free and it has thousands of free and open-source applications. If you switch from Windows to Ubuntu, you can choose alternative applications from them.
However, as for gaming, it is still the area where Windows is definitely better than Ubuntu. Although you can still play games on Ubuntu, these games are unlikely to run faster in Ubuntu than in Windows. In addition, it's highly unlikely that a new popular game will support Ubuntu.
As for resource usage, Windows will use more resources than Ubuntu. For example, Windows 10 may use almost double the amount of RAM as Ubuntu. This may be vital if your computer has low RAM.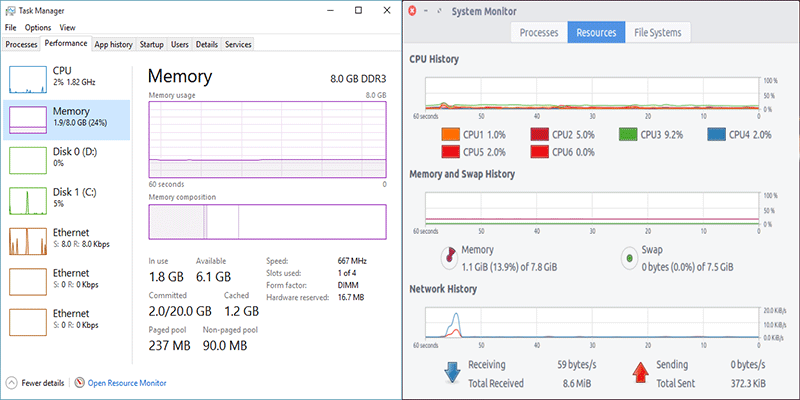 When the OS uses small resource, more resource will be released to run programs. Therefore, apart from games, almost every software runs faster in Ubuntu.
4. UI Customization
Ubuntu is customizable from the moment you install it. It has more customizable options than Windows.
Windows 10 allows you to change the color theme, the cursor and icon themes, the wallpaper, and start menu colors. However, Ubuntu allows you to personalize virtually every single element of your UI/UX, from your notification sounds, popup style, fonts, system animations, and workspaces.
In Windows 10, Microsoft just provides you some modes from which you can choose and personalize your computer. However, in Ubuntu, you can personalize your computer without restriction. For example, the position and the items in the taskbar can be rearranged; the Start menu button can also be removed from taskbar; and the font family in Ubuntu is awesome.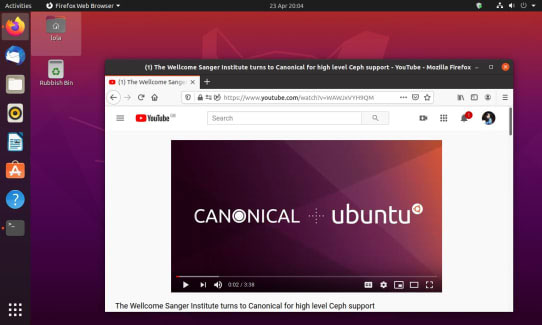 5. Security
In general, Ubuntu is more secure than Windows for the following three reasons:
(1) Ubuntu's user community is smaller than Windows's. The more popular the operating system is the more people are interested in writing malicious software for it, because the attackers can profit more when their viruses penetrate a greater number of PCs.
(2) User accounts within Ubuntu have far fewer permissions than in Windows. If you want to make a change to Ubuntu such as installing an application, you need to enter your password to do it, which makes it much more difficult to execute malware or a virus inside Ubuntu.
Likewise, to do damage on Linux-based operating systems, an attacker needs to gain root privilege.
(3) It is an open-source software. Since the majority of the source code that is being executed is freely available, there are a lot of advanced users who will try to patch the vulnerabilities just a few minutes after it is announced.
6. Privacy
As for privacy, Ubuntu is far more privacy-focused than Windows 10. Most Linux distributions will not collect your data at all. Even if there are some features with privacy risks, for example, sending your search queries to Amazon in an attempt to show relative shopping data, you can disable it.
In addition, because the source code of the operating system is freely available, it can be freely reviewed on the user's behalf. In a word, the free will of the user in an open-source software is far greater than that in a closed-source software.
As for Windows, it doesn't take privacy seriously. In Windows, the majority of privacy-intrusive behavior cannot be disabled, even though there are plenty of options available to be turned on and off on the user's behalf.
Of course, it cannot be said that the above privacy settings are completely unfavorable. For example, the keystrokes on the keyboard are recorded to improve the spelling and other grammar-related things; Cortana learns about the way you talk and sends usage data to Microsoft so that they can use this data to improve the way Cortana works.
Anyway, Ubuntu is far more respectful to its users' privacy.
Microsoft Compatibility Telemetry is a technology related to privacy. Click the following post to know how to disable it and to fix the high disk usage problem caused by it.
7. Operating Habits
In Windows, ordinary users are basically operating under the pure graphical interface, relying on the mouse and keyboard to complete all operations. Therefore, the user is easy to get started. Besides, its user community is mainly ordinary user and game player.
While in Ubuntu, all operations can be done with just the keyboard, because it has both the graphical interface operations (requiring a distribution with a desktop environment) and the full command line operations.
Therefore, getting started is more difficult and requires some learning and guidance. After installing Ubuntu, you should learn how to use Ubuntu in forums. But once skilled, it is extremely efficient. Its user community is mainly programmers who have pursued the UI, researchers, and technical personnel.
Another reason why you may like Ubuntu lies in its updating way. Unlike Windows always popping up annoying updates messages, Ubuntu will not pop up these annoying messages when you launch an application, because Ubuntu fetches the updated versions of the operating system itself and every other installed application as a scheduled task.
On the other hand, Ubuntu has no forced updates like Windows has and no automatic restarts after updates like Windows has.
8. Support
When you have a problem with Windows, you can get critical support and services provided by Microsoft, get help online or from a local PC repair shop.
If you have a problem with Ubuntu, you should go to be seeking out help online. There are dozens of forums, hundreds of chat rooms and even more websites dedicated to helping people learn and understand Linux. You can find Linux support easily.
Further Reading:
When it comes to Ubuntu vs Windows, many people would like to mention live CD feature of Ubuntu and think it as Ubuntu's advantages.
Ubuntu live CD allows you to load a complete Ubuntu version from a CD or a USB drive, rather than loading from a hard disk drive. With this feature, you can take Ubuntu with you everywhere, try out Ubuntu before installing it, and troubleshoot Windows PCs.
However, there is a similar feature in Windows – Windows to go. Windows to go allows you to install Windows into a USB drive and boot it from the USB drive.
Compared with Windows to go, Ubuntu live CD has only one advantage: it is free. Windows to go feature is only built into Windows 8/8.1 Enterprise, as well as Windows 10 Enterprise, Education, and Professional.
Some Tips on Using Ubuntu or Windows
After reading the comparison, you can decide whether to use Ubuntu or Windows. Of course, some of you may want to use both of them. No matter what decision you make, here are some tips for you.
1. WSL or Dual Boot
If you want to use both Ubuntu and Windows, you can try Windows Subsystem for Linux (WSL) or dual boot.
WSL provides a Linux-compatible kernel interface developed by Microsoft (without Linux code), on which user-mode binaries from Ubuntu can run. It allows you to use Ubuntu on Windows 10 like an app.
This feature is better than emulating Ubuntu with a virtual machine. But it still needs a high-performance computer and it can't run all Linux software, such as those graphical user interfaces.
If your computer performance is not very good, you can consider dual boot of Ubuntu and Windows.
2. Back up Computer and Manage Disk
If you want to use WSL or set up dual boot, you should back up computer regularly in case of computer crash or other data loss situations. If you want to switch from Windows to Ubuntu, you should also back up your computer.
As for disk clone software, MiniTool Partition Wizard is recommended. You can use its Copy Disk feature.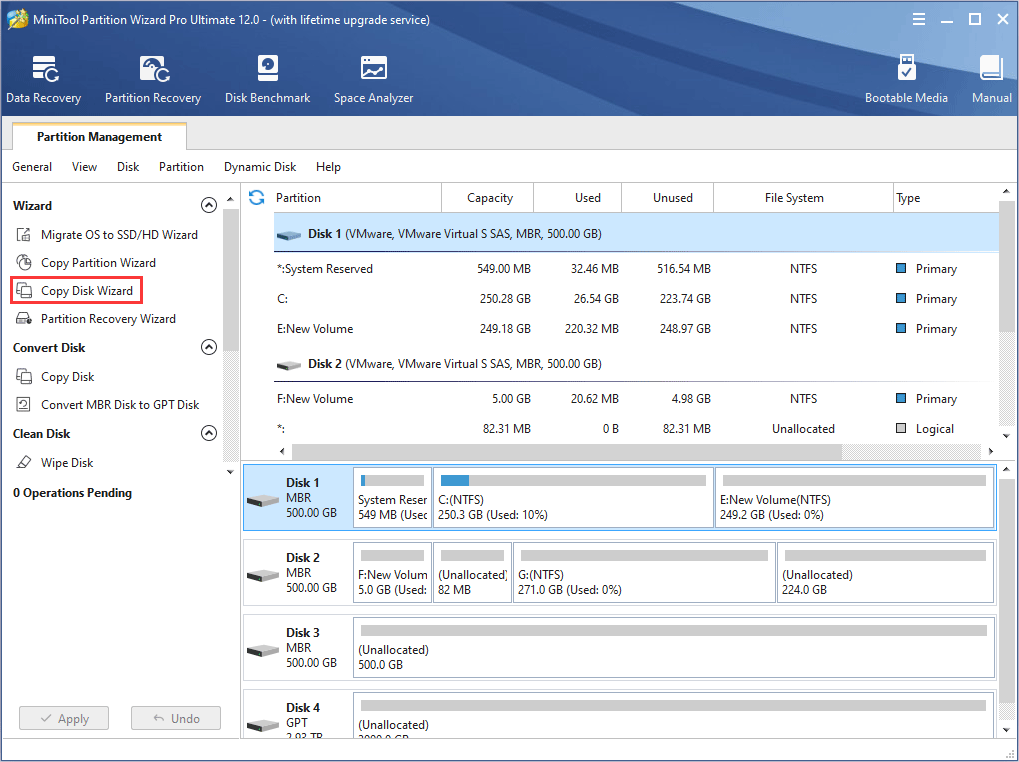 In addition, MiniTool Partition Wizard can also help you manage partitions better to speed up computer performance, especially when you decide to make a dual boot.
Do you want to know Ubuntu vs Windows? This post will tell you their differences. Click to Tweet
Bottom Line
Do you have any problems with Ubuntu vs. Windows? Do you have problems in backing up computer? If so, please leave a comment below or email us at [email protected]. We will reply to you as soon as possible.
Ubuntu vs Windows FAQ
Which is better Windows or Ubuntu?
From aspects like cost, hardware compatibility, UI customization, privacy, etc., Ubuntu is better than Windows. However, from aspects like easiness for use, support, game experience, etc., Windows is better.
What is the difference between Ubuntu and Windows?
Their differences range from cost, hardware compatibility, UI customization, operating methods, etc. For example, Ubuntu is free while Windows is not; Windows is compatible with more hardware, while Ubuntu is inferior to Windows in this aspect; and other difference.
Is Ubuntu lighter than Windows?
Ubuntu is certainly lighter than Windows, because it doesn't add many small features as Windows does. On the other hand, some users might think that Ubuntu is not easy to use because some features are missing.
Is Linux really better than Windows?
This depends on your needs. But first, you should know the differences between them.