Some users don't know how to resize Ubuntu partition when they find the partition size is unreasonably. This article will show you how to resize Ubuntu partition under Windows.
What Is Ubuntu
Ubuntu is a kind of Linux operating system, and it is developed by Mark Shuttleworth on the basis of Debian. This operating system is developed to make it easy to use personal computer.Meanwhile, it also offers server edition for enterprise.
Users who have used Ubuntu know Ubuntu computer can be used once it opens instead of costing much time to install browser, media player, office suite, and other commonly used software, which promotes the ease of use of the system.
Besides, this operating system provides users with many drives of hardware device. Therefore, Ubuntu is preferred by many Linux fans and has become the best Linux operating system.
However, after you use it for a while, they may find the Ubuntu partitions on the device are unreasonable and want to change the sizes of the partitions. Under this situation, many users don't know how to resize partition Ubuntu as Ubuntu operating system is different form Windows and some Windows disk partition resizer cannot be used in Ubuntu.
Since Ubuntu and Windows are different operating system platforms, the simplest way to resize Ubuntu partition is that you can resize the Ubuntu partition under Windows if your computer is dual-boot.
It is recommended to use reliable third-party tools to resize Ubuntu partition as Windows built-in Disk Management is much limited when you use its Extend Volume or Shrink Volume to resize partition. See: Why Extend Volume Grayed out and How to Quickly Fix It
Ubuntu Resize Partition
Why Do You Choose MiniTool Partition Wizard Free Edtition
As is known to all, there are many excellent partition managers on the market to help Windows users to resize partitions if there is insufficient space and manage disks and partitions. However, most of them do not support this feature.
Luckily, nowadays, dual booting Linux with Windows is always suggestible for the beginners. For this kind of users, they can resize Ubuntu partition under Windows operating system with a third-party partition manager.
You can choose MiniTool Partition Wizard Free Edition to resize Ubuntu partition or Windows partition as this partition manager won't damage data on related partitions, and you can manage Windows partition and Ubuntu partition at ease with just one partition manager.
How to Resize Ubuntu Partition with MiniTool Partition Wizard?
Note: MiniTool Partition Wizard can only resize FAT and NTFS partition. NTFS data partition can be identified and used in both Windows operating system and Ubuntu, so you can resize a NTFS partition of Ubuntu with MiniTool Partition Wizard.
Here is a tutorial:
Step 1. Download MiniTool Partition Wizard Free Edition by clicking the following button. Install it on your Windows operating system and launch it to get the main interface.
MiniTool Partition Wizard FreeClick to Download100%Clean & Safe
Step 2. This software will list all partitions on your computer. Then, you need to select the Ubuntu partition that you want to change sizes, and click Move/Resize Partition option from left action panel. You can see from the following image.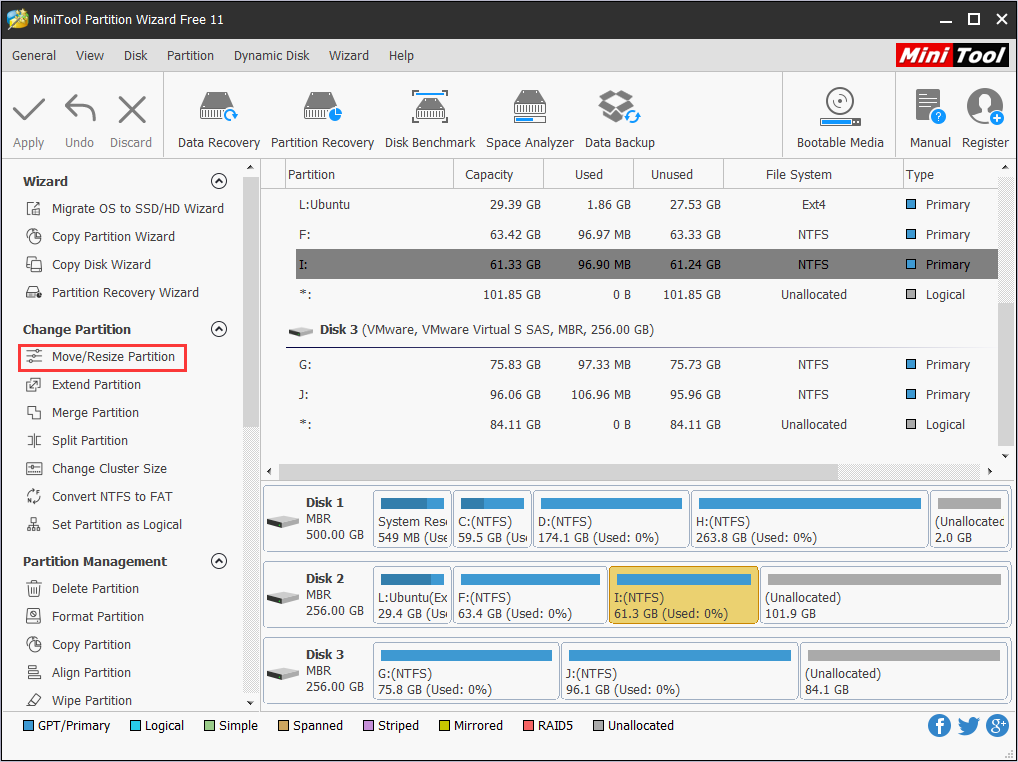 Step 3. In the following interface, drag the partition handle rightwards or leftwards to extend or shrink partition. Then, click OK to go back to the main interface.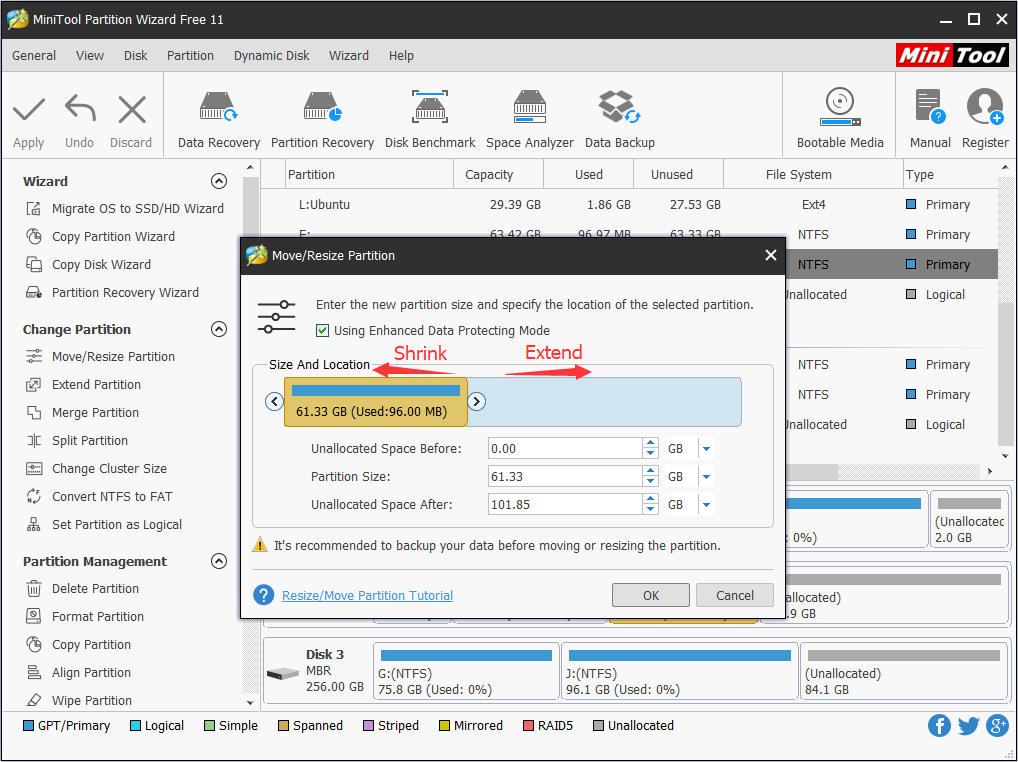 Step 3. Next, click Apply to perform the pending operation.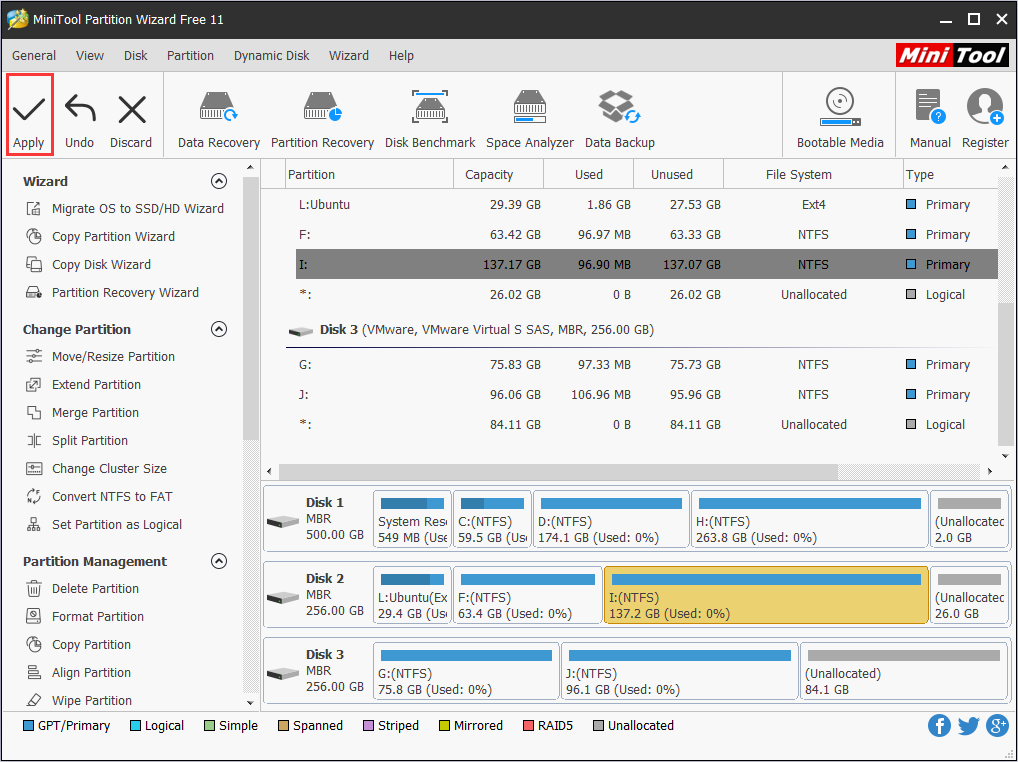 Note: If you want to complete Ubuntu extend partition task under Windows but there is not unallocated device space, you can use MiniTool Partition Wizard's Extend Partition feature to extend partition by taking unused space from another partition.
MiniTool Partition Wizard is an excellent professional partition magic for Ubuntu increase partition size! With this tool, I successfully resized my Ubuntu partition under Windows. Are you looking for an Ubuntu partition resizing tool? Try this one.Click to Tweet
Verdict
You see, it is not impossible to resize partition sizes in Ubuntu. If you are an Ubuntu and Windows dual-boot user, you can resize Ubuntu easily with MiniTool Partition Wizard under Windows.
If you have any question about Ubuntu resize partition with MiniTool Partition Wizard, you can leave a message on the following comment zone and we will reply as soon as possible. If you need any help when using MiniTool software, you can contact us via [email protected].