What is the best WD clone software? MiniTool Partition Wizard offers most flexible way to clone western digital hard drive as well as clone operating system from WD hard drive. Get the partition magic now!
I just wanted to know what the best software for cloning an hdd is. Either free or not I'm willing to get any. I tried to search the net but there are too many to choose from, so I want your suggestions if any of you guys are using cloning software.–from Tomsguide
Why Clone WD Hard Drive?
As we all know, WD hard drives enjoy a high reputation around the world. Numerous of users are using WD hard drives as their storage devices, and many users want to upgrade their hard drives to WD hard drives (navigate to About Western Digital to know more about WD hard drives). In fact, no matter you are working with WD hard drive or you want to upgrade to WD drive, you may need WD cloning software in the following cases:
Hard drive backup. Data safety is always the first concern when we use computer. And one of the most effective ways we can select is to clone WD hard drive as a full backup. This way is very useful when you need to use the backup copy immediately, avoiding the complex steps of restoring compared with disk image backup.
Hard drive upgrade. This can be divided into 3 aspects: the hard drive capacity is too small, the hard drive is outdated, and the hard drive is going to fail. To be specific, we tend to store all kinds of data on our hard drives; hence the hard drive is easy to run out of disk space if we are employing a small drive. With the rapid development of hard drive field, the new released hard drives offer incomparable performances. To enjoy the new technology, we need to upgrade our hard drive by cloning. And, if one of our hard drives is going to fail, we need to clone hard drive to prevent data loss in time.
Multiple installations. For computer systems administrators, installing and maintaining an organization's computers are important. Usually, computers in one organization have the same configurations, and cloning hard drive from a ready computer can save administrators a lot of time in installing OS and necessary applications repeatedly when they have got a lot of bare computers to deal with.
Knowing the reasons that lead us to clone WD hard drive, here we recommended 2 pieces of Western Digital cloning software to help us clone WD hard drive easily, quickly, and safely.
Note: What if the clone fails and WD data recovery is needed? Please resort to MiniTool Power Data Recovery ASAP!
The Best Free WD Cloning Software
Although there is a lot of disk cloning software we can get online, the one that offers top performance at the lowest price is always the best choice. And the following 2 pieces of free Western Digital cloning software do meet this requirement.
Want to know the best part? Just keep reading.
1. MiniTool Partition Wizard
MiniTool Partition Wizard is an all-in-one disk partition manager that can keep your hard drive being used in the best condition. For instance, it can fix some issues like "low disk space warning", "virtual disk service error", "Windows was unable to complete the format", convert FAT to NTFS, and more… After years of development, MiniTool Partition Wizard has been upgraded to V10.2, with more useful features and more stable performance.
As one of the best cloning software 2017, it offers the best feature to clone WD hard drive, which is called Copy Disk. Copy Disk employs sector-by-sector copy method; hence you don't need to worry about the boot issue after the cloning. How can we actually use it? First of all, download this freeware from the official site and install it on computer. Then, follow the detailed guidance below.
MiniTool Partition Wizard FreeClick to Download100%Clean & Safe
Before you do:
Prepare a hard drive that is ready for cloning WD hard drive and connect it to your PC normally. If there are important files on the drive, transfer them to another location beforehand. Then launch MiniTool Partition Wizard to its main interface.
Step 1. Select the source disk and choose Copy Disk feature.
Launch MiniTool Partition Wizard to its main interface. On the main interface, click the disk icon of the source disk, and then choose Copy Disk from the action panel on the left side.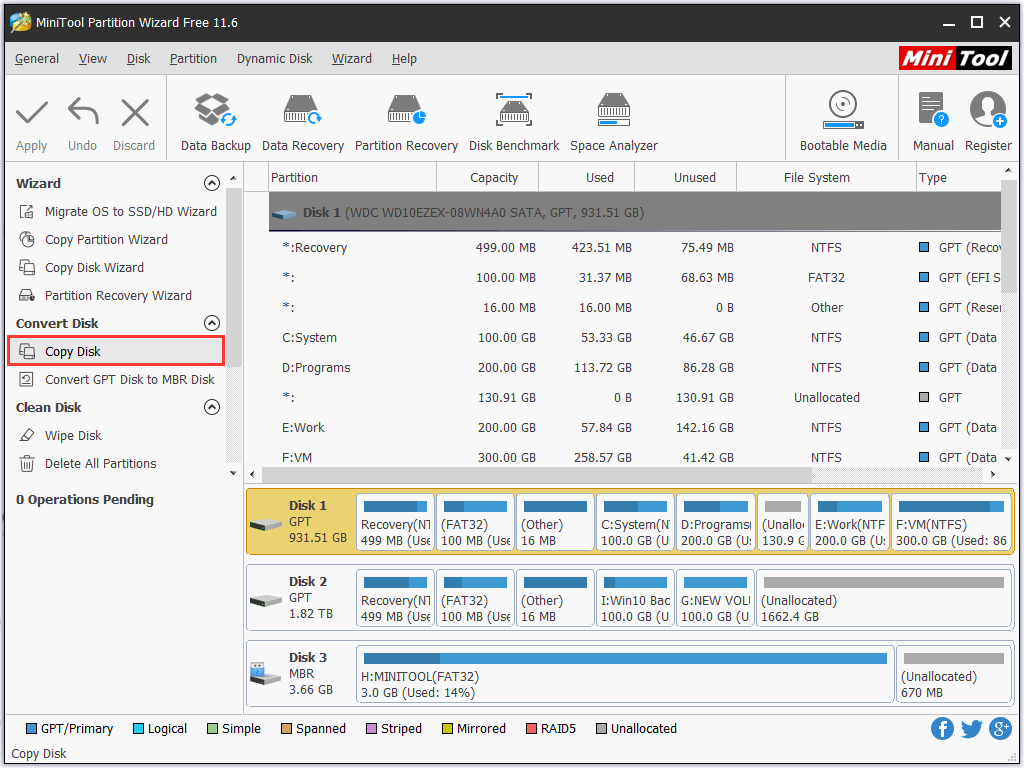 Step 2. Select target disk.
In the pop-up window, select the disk you have just connected as the target disk. Then click Next to continue. Please note that the target disk should be a basic disk and all data on it will be destroyed.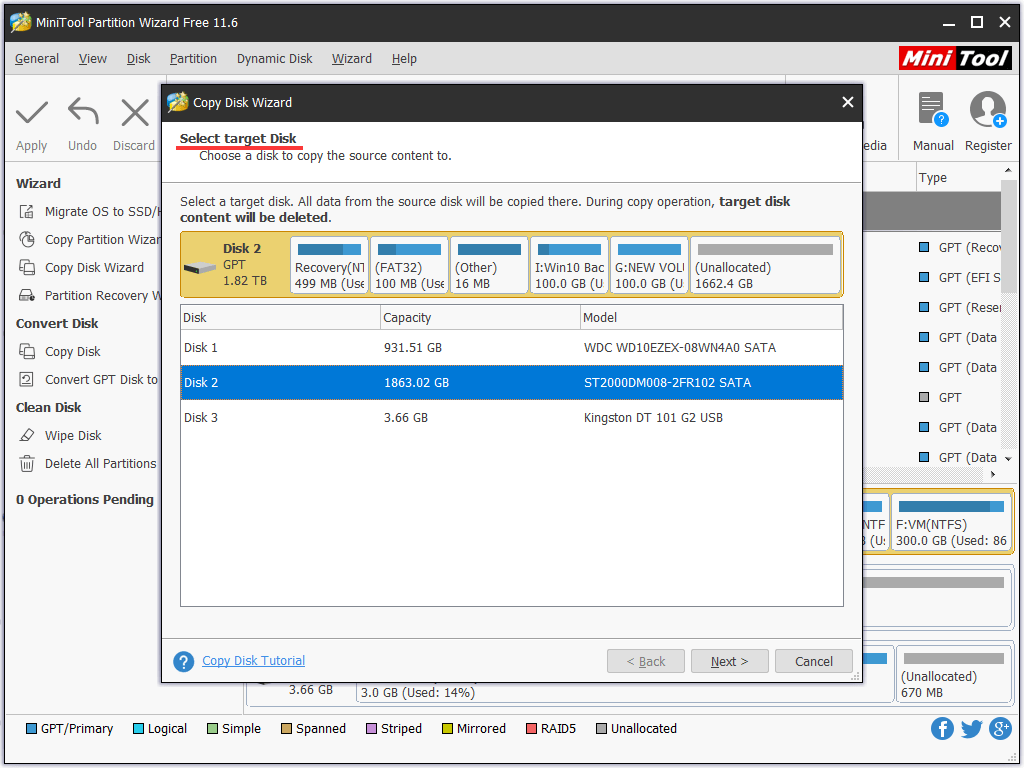 Step 3. Review changes.
Here you can have a preview of what is going to happen on your target disk. However, you can also change some copy options according to your own needs before you click Next.
Fit partitions to entire disk: fulfill all disk space on the target disk according to partition size ratio.
Copy partitions without resize: keep the original partition sizes. Only available when the target disk is not smaller than the source disk.
Align partitions to 1MB: improve the performance of the target disk if it is an SSD or advanced format disk (*appears only when you are cloning an MBR disk).
Use GUID Partition Table: turn the target disk into GPT disk which is helpful when the target disk is larger than 2TB (*appears only when you are cloning an MBR disk and requires payment if you are cloning the system disk).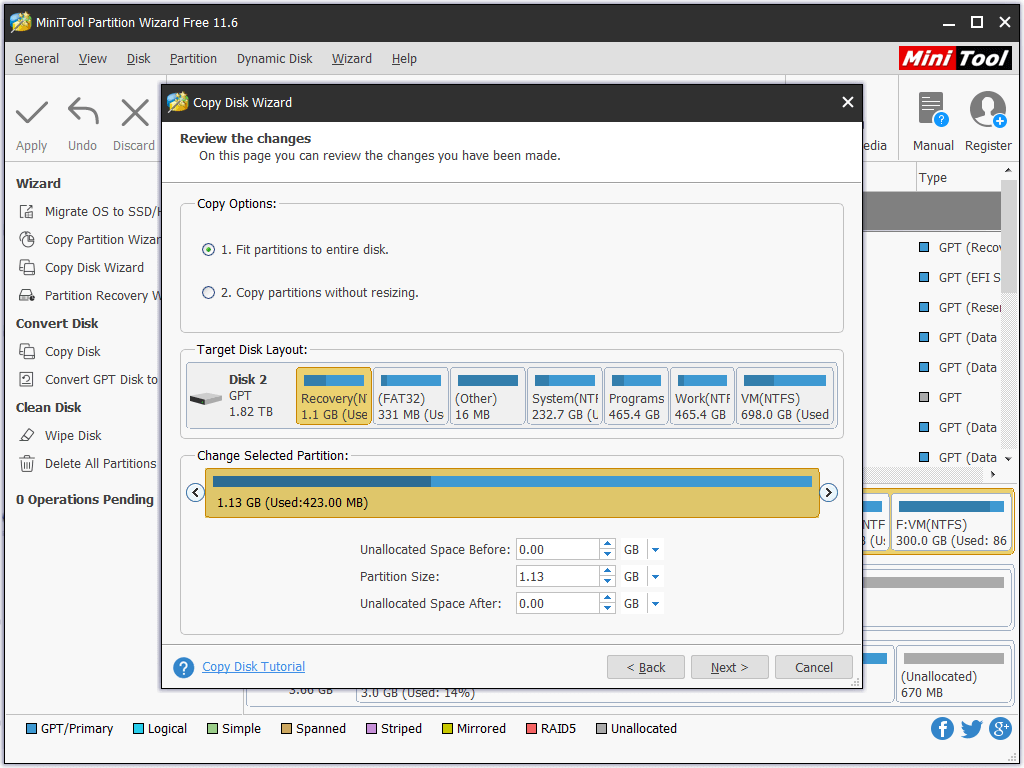 Step 4. Read notice.
Now you will receive a message telling how to boot from the target disk. If you are cloning system disk, keep this in mind and click Finish.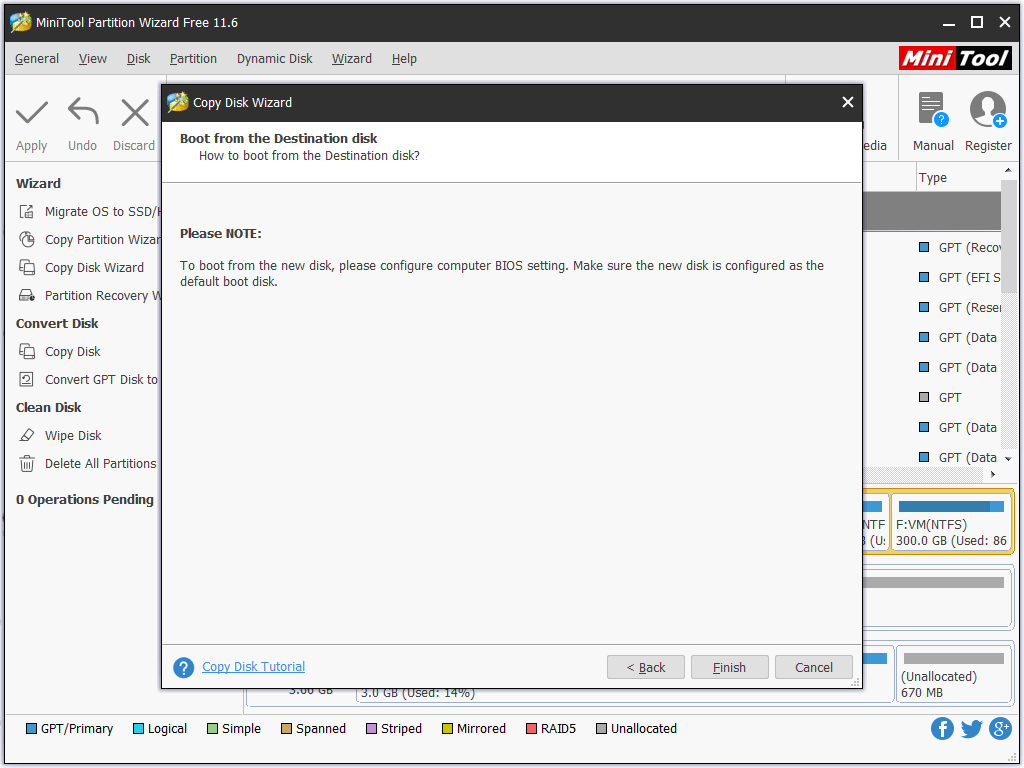 Step 5. Confirm the cloning.
At last, click Apply button at the top left corner to start cloning WD hard drive. If you are cloning the system disk, MiniTool Partition Wizard needs a reboot to finish his job.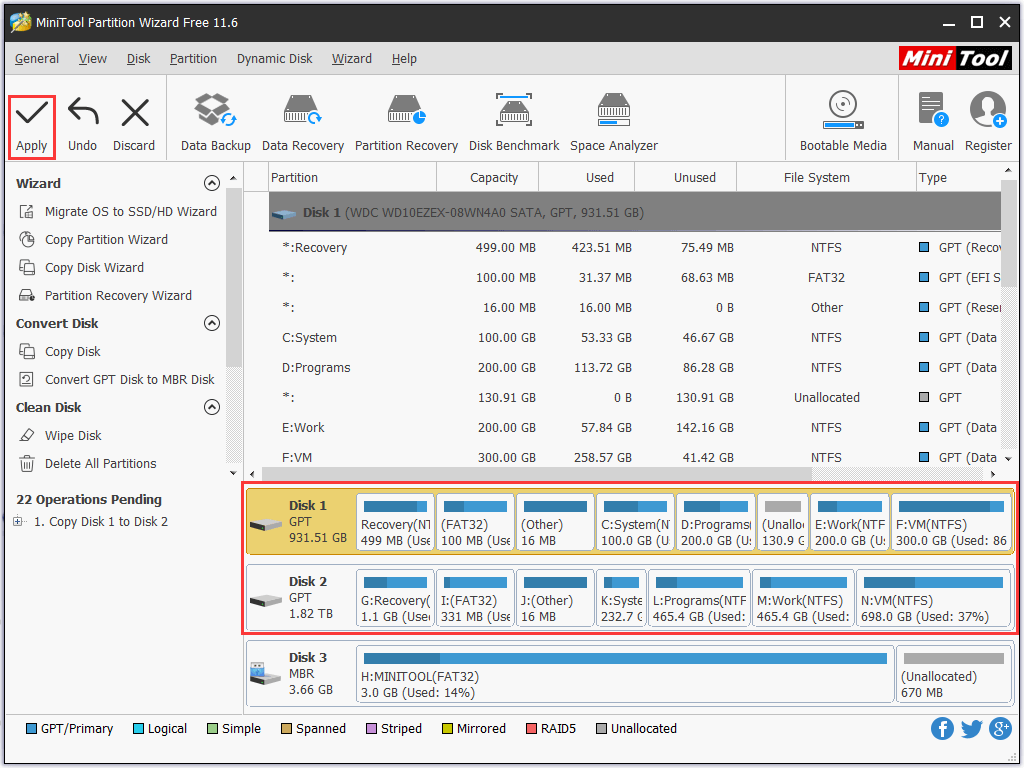 Wow! I used MiniTool Partition Wizard to clone WD hard drive successfully. It is so easy to use, and works great! Best WD cloning software I have ever used.Click to Tweet
MiniTool Partition Wizard FreeClick to Download100%Clean & Safe
More You Need to Know about MiniTool Partition Wizard
Now you know how to use MiniTool Partition Wizard as WD cloning software. If you think this is the only reason to choose MiniTool Partition Wizard, probably you are wrong. Here is more information you need to know about MiniTool Partition Wizard:
Copy Disk not only helps to copy basic disks (both system and non-system disk) but also helps to copy dynamic disks (non-system disk). In addition, you can choose to copy from MBR to MBR, from GPT to GPT, and from MBR to GPT.
From the menu bar, you can find another feature called Migrate OS to SSD/HD, which offers two ways to migrate OS. The first way is to copy the system required partitions only, and the second way is to copy the whole system disk (same with Copy Disk). There is one point you need to pay attention to: Migrate OS to SSD/HD only works with the currently running OS. If you want to clone another system to WD hard drive, you should first of all boot computer from that system to do the cloning.
2. MiniTool ShadowMaker
MiniTool ShadowMaker is the second recommendation for WD cloning software, which is also free for users to use at present. In fact, MiniTool ShadowMaker can be regarded as WD backup software as well as WD cloning software. Why? Although it is a professional system backup software that is quite helpful in Windows backup, it offers Clone Disk feature under Tools to help users carry out hard disk clone. So you can download this free backup software as Western Digital cloning software.
MiniTool ShadowMaker TrialClick to Download100%Clean & Safe
Let's take a close look at how MiniTool ShadowMaker performs on hard drive clone.
Before you do: Connect a hard drive to your computer for hard drive clone. Make sure it can be formatted because the cloning process will format all parititons on it. Otherwise, transfer important files to a safe location in advance.
Step 1. Choose a computer to manage.
After installing and launching Minitool ShadowMaker, you will be asked to choose a computer to manage. Usually, we choose This Computer unless we are doing remote control.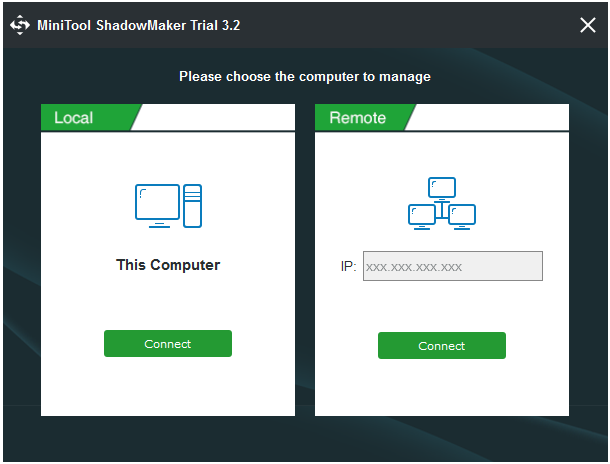 Step 2. Find Clone Disk function under Tools.
When you see the main interface, navigate to Tools and select Clone Disk function.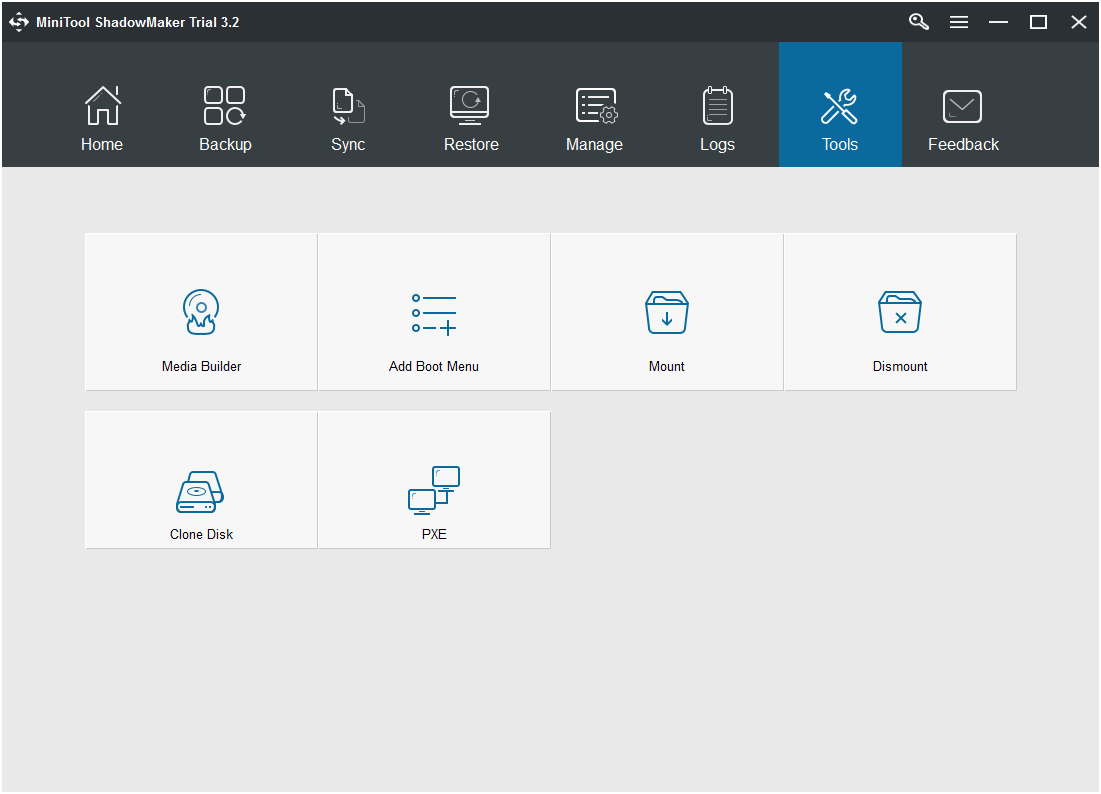 Step 3. Select source disk and target disk.
Click the two disk icons to select the source disk and the target disk. Please note that data on the target disk will be destroyed, so it is also very important to have a backup of the data on the target drive. Then click Yes to confirm the clone.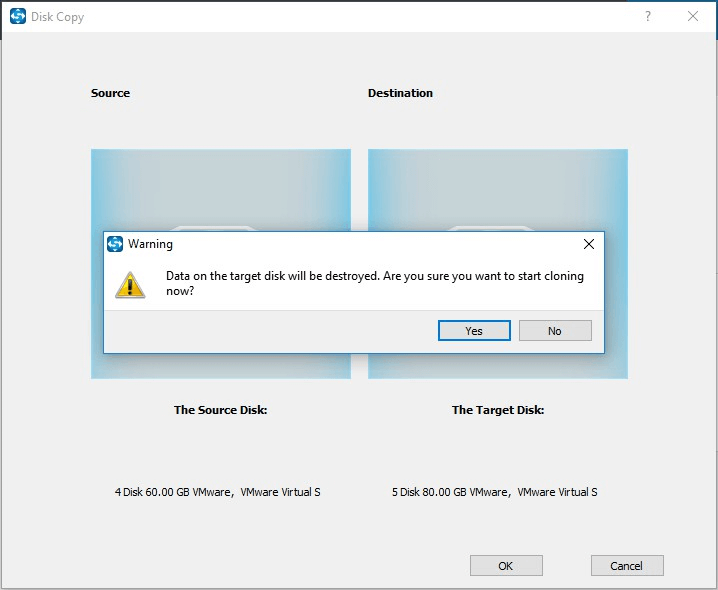 Step 4. Wait until the copy process is finished.
After your confirmation, MiniTool ShadowMaker will start the cloning process. Please wait patiently until it finishes.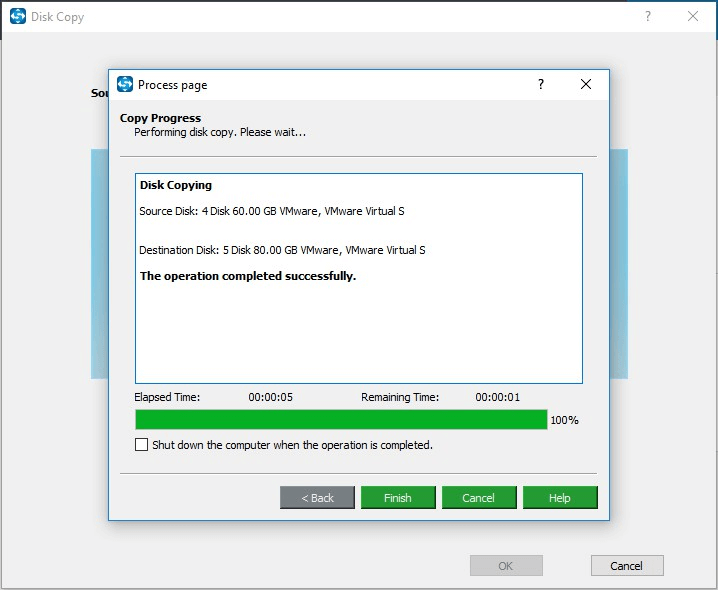 Tip: Different from MiniTool Partition Wizard, MiniTool ShadowMaker does not need a rebooting even though you are cloning the system disk, that's why we think it is a recommended hard drive cloning software.
When it has finished the cloning, it will give you the following message (image attached). This means that you get two exact same drives. So you had better disconnect one in case that any mistake can happen. If both hard drives are connected to your PC, one of them will be marked as Offline by Windows. Our suggestion is to shut down PC and disconnect the drive you don't need.

I used MiniTool ShadowMaker to clone my WD hard drive, and it works great, without interrupting my works. So you guys may also need this hard drive cloning software.Click to Tweet
About Western Digital
Western Digital Corporation is commonly referred to as Western Digital and is often abbreviated as WDC or WD. Western Digital is an American computer data storage company and one of the largest computer hard disk drive manufacturers in the world, along with Seagate Technology.
Hard Drives of WD
By now Western Digital has produced a series of hard drives, and these drive names are based on colors that signify the characteristics of the drive:
Green drives (have been discontinued) were energy efficient, with slightly slower performance.
Blue drives offer average performance and are most suitable for home use.
Black drives are cost-effective and offer high performance.
Red drives are designed for 7*24 NAS use, with great compatibility.
Purple drives are designed for 7*24 surveillance data storage.
Gold drives are designed for datacenter use.
Advantages of WD Hard Drives
Remember what we say at the beginning? "Numerous of users are using WD hard drives as their storage devices, and many users want to upgrade their hard drives to WD hard drives." Why do we say this? According to users' feedback, WD hard drives can keep years of good working, with lower temperature and lower noise. Besides, it is not so expensive compared with other manufactures'. In a word, WD hard drives bring high price-performance ratio to users. In this aspect, hard drive cloning software is useful for WD cloning.
Summary
Here comes to the end of this post. Reading here, I guess you know how to use the best free WD cloning software to clone hard drives when there is a necessity. Hope the two programs are helpful to you. If you have any questions or suggestions on how to use MiniTool software to clone WD hard drive, let us know by typing your questions in the comment section below. Or you can contact us via [email protected]. All ideas are welcome.