Are you using a traditional hard drive but find the computer runs slowly? Are you about to clone a hard drive to an SSD but the SSD is smaller? Here, hard drive cloning software - MiniTool ShadowMaker or MiniTool Partition Wizard will help you to clone HDD to smaller SSD easily and successfully.
Can I Clone Hard Drive to Smaller SSD
Disk cloning has become a good way to transfer all contents including system, settings, programs, and data from a hard drive to another disk. In today's era, disk cloning is public demand and you are required to do disk cloning in many cases, for example, upgrade your disk, make a backup and more.
In general, many users decide to clone a hard drive to SSD or migrate OS from HDD to SSD because of the fast read-write speed of SSD so that Windows can boot up in a few seconds.
Then, a question comes up: what if the disk capacity of an SSD is smaller than a traditional HDD? This is bothering the majority. Let's see a true case:
"I am attempting to upgrade several computers from HDD to SSD and would like to use a stand-alone cloner to do so. The problem is that all of the SSD's are of smaller capacity than the HDD's and the cloners that I have found do not allow for this. Does anyone know of a stand-alone cloner that would allow me to do this?" tomshardware
Are you facing the same situation? Is it possible to finish the disk cloning from a large HDD to smaller SDD? Actually, it can be done with ease. Here, let's focus on the effective methods now.
How to Clone Hard Drive to Smaller SSD
Based on user feedback, it is not easy to clone a large disk to a smaller one. In the software market, you will find there are many types of hard drive cloning software, however, most software only supports cloning a small disk to a larger one. Well then, is there any available tool for this job?
Of course, MiniTool Solution Ltd. has released two programs including MiniTool ShadowMaker and MiniTool Partition Wizard. Right now, let's see some detailed information.
Note: Prepare an SSD in advance. Note that MiniTool Programs can work only if the used space on your HDD is equal to or less than the capacity of the SSD. For example, HDD is 1TB and its used space is 200GB, then, it is OK to prepare a 500GB SSD.
Clone HDD to Smaller SSD Using MiniTool ShadowMaker
Is MiniTool ShadowMaker suitable for you to clone a disk from large to smaller? Maybe this is the thing you want to know.
At first glance, you can find it is a good piece of Windows backup software mainly for important files, Windows OS, partition or disk on your computer.
As a matter of fact, it also offers you a powerful feature called Clone Disk, enabling you to transfer the entire system disk or data disk to HDD or SSD although the hard drive is smaller than the original disk in Windows 10/8/7.
Right now, download the Trial Edition of this SSD cloning software from the following button to start to clone HDD to smaller HDD or directly use its Professional Edition for cloning.
MiniTool ShadowMaker TrialClick to Download100%Clean & Safe
Step 1: Connect the SSD that has enough disk space to your computer. Then, double-click on the program icon and then enter the main interface. 
Tip: MiniTool ShadowMaker only allows you to control a PC on the same LAN. If you have a need, type a correct IP in the textbox and click Connect to continue.
Step 2: Then, perhaps you will ask where the cloning feature is. Please navigate to Tools tab located in the toolbar, and then click Clone Disk module to start to clone large HDD to smaller SSD.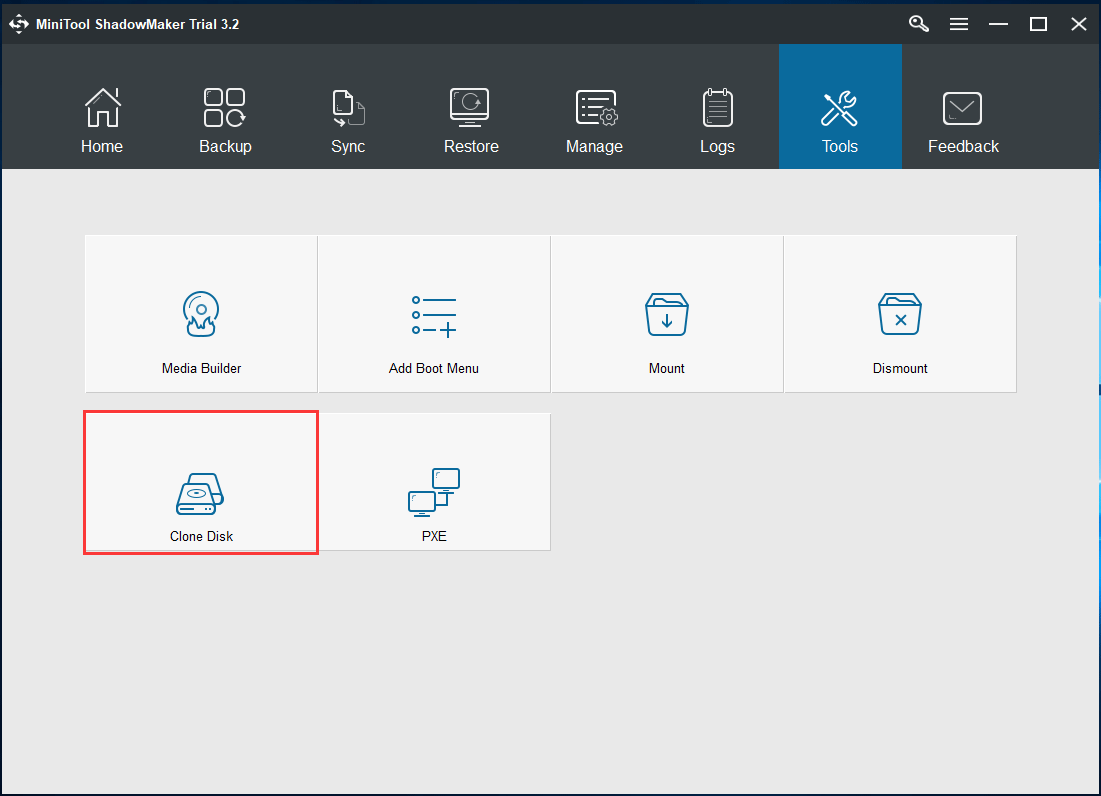 Step 3: After that, for a hard drive cloning, it is necessary to choose the large source disk and the smaller target disk.
Tip:
1. MiniTool ShadowMaker allows cloning a system disk or a data disk to another hard drive. Relatively speaking, it is common to choose a system disk as the source disk.
2. Select the SSD you have connected to your PC as the target disk to save the copy.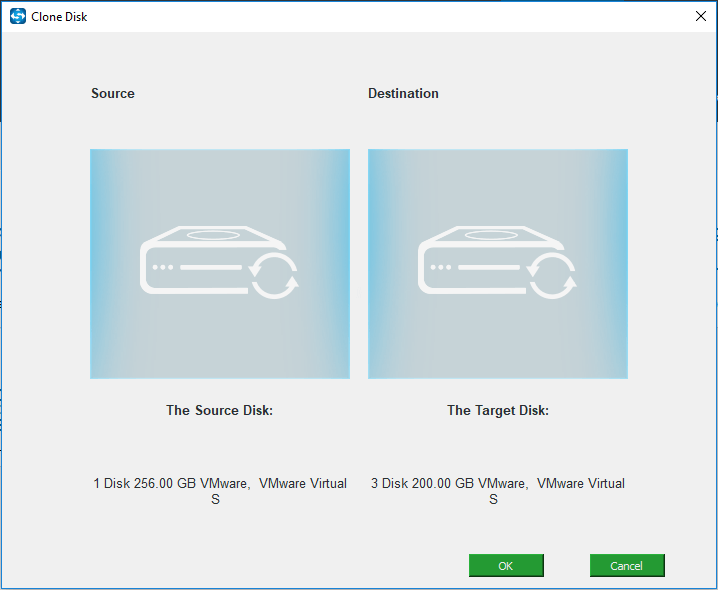 After the selections, Click OK to continue. A warning will appear, saying all target disk contents will be deleted. Well then, ensure that no important files are saved on the SSD or use MiniTool ShadowMaker to make a backup at once.
Step 4: In the process page, all the information about the cloning will be listed including the source disk, destination disk, cloning elapsed time and remaining time.
If you can't wait for the cloning to complete, click the button Shut down the computer when the operation is completed in advance. Conversely, please wait patiently.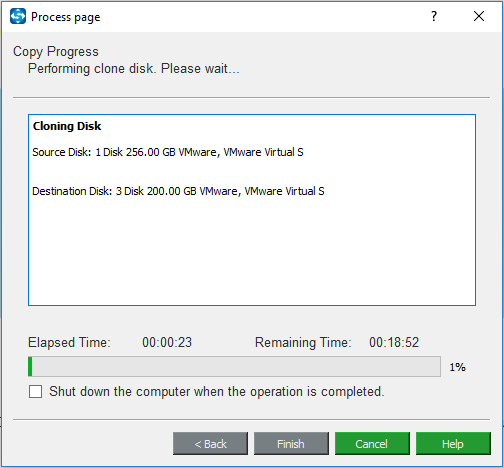 Tip: After some time, the copy operation will be finished. Then, you will receive some information as shown below: please remember to disconnect either the original hard drive or the target hard drive. Once both the original and target disks are connected to the computer, Windows will mark one disk as offline.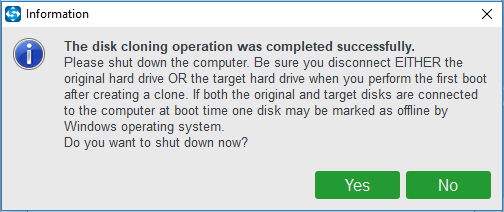 There are some details that you should know:
To replace large HDD with smaller SSD, for a laptop, you can shut down it, remove the source disk, and then put the smaller SSD containing system disk copy to the original location. Then, boot your laptop to enjoy the good performance of SSD.
If you use a desktop and want to use both the large HDD and small SSD, just enter BIOS to change the boot order so as to boot your computer from the SSD.
Are you searching for a way to clone HDD to smaller SSD? Just get MiniTool ShadowMaker Trial Edition and install it on Windows 10/8/7. Besides, you can also share this professional cloning software to Twitter so that it can help your friends out.
MiniTool ShadowMaker TrialClick to Download100%Clean & Safe
Clone Large HDD to Smaller SSD via MiniTool Partition Wizard
In addition, MiniTool is also the developer of MiniTool Partition Wizard which is specially designed to cope with many disk issues, for instance, low disk space warning, the Format did not complete successfully issue, can't read from the source file or disk error and so forth.
Besides, it can also be a piece of hard drive cloning software. With its powerful features, you are able to perform a cloning operation in the most user-friendly way. What's more, it supports mainstream operating systems including Windows 10/8/7, etc.
To clone HDD to smaller SSD, get its Free Edition from the following button first and foremost, install it on your PC and have a try. If you want to clone your system disk, use its Pro Edition due to the edition limitation.
MiniTool Partition Wizard FreeClick to Download100%Clean & Safe
Step 1: Run MiniTool Partition Wizard to its main interface, you can see many useful functions displayed. To clone to smaller SSD, here use its Copy Disk function and the following interface shows you how to get it: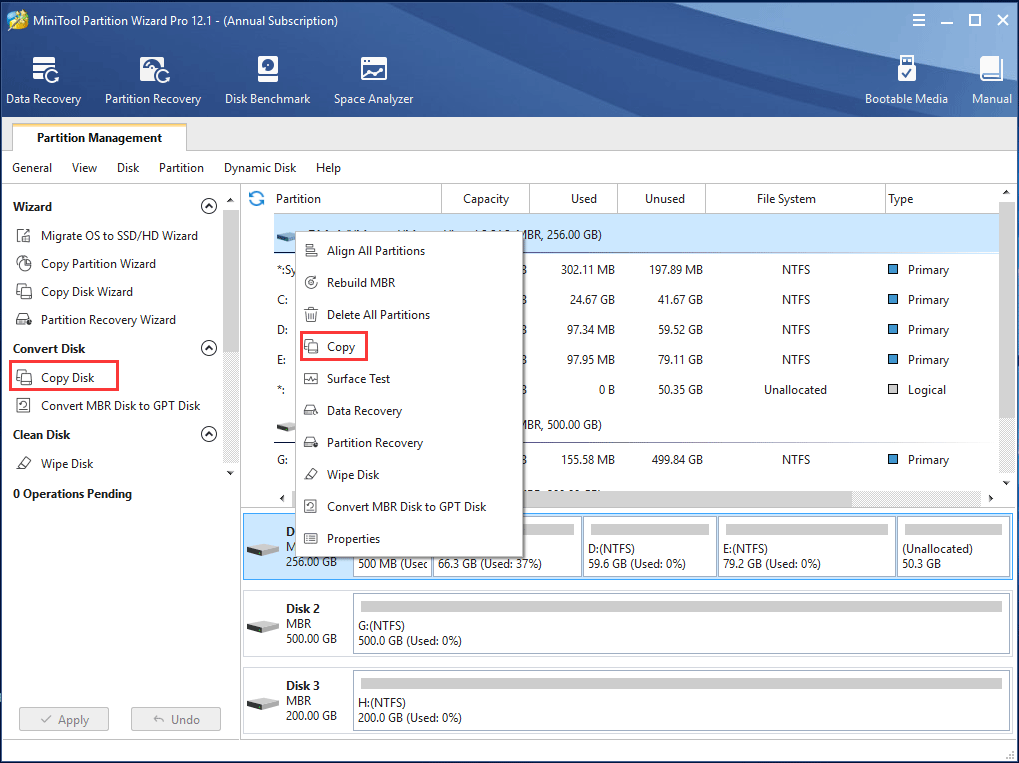 Step 2: Select a target disk and here it should be the smaller SSD connected to your PC. Then, click Next to proceed. A warning will appear and tell you the process will destroy all data on the SSD. For a successful cloning operation, click the Yes button. Please make sure no important data is put in this SSD.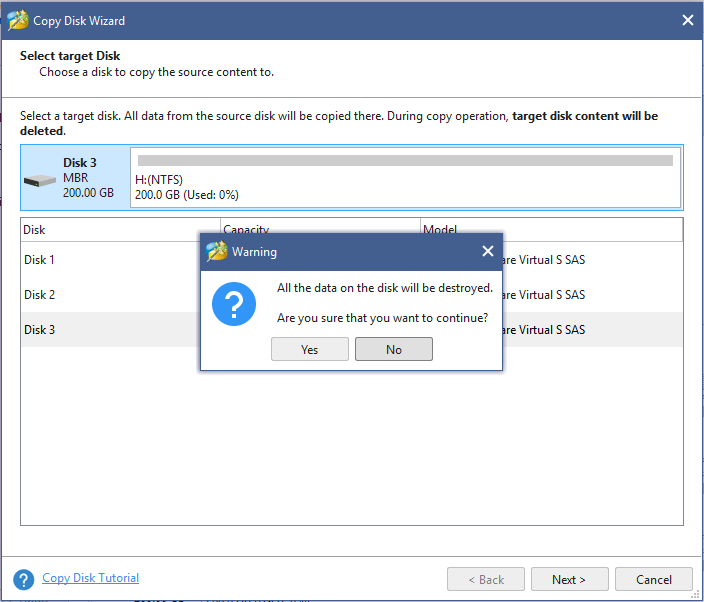 Step 3: Then, there are two copy options listed in the following interface. But you are only allowed to choose Fit partitions to entire disk when you choose to clone to smaller SSD. This is the thing you should pay attention to.
Besides, for the target disk SSD, we suggest checking Align partitions to 1MB to improve performance. Moreover, if you attempt to clone system disk to the SSD with GPT partition style, Use GUID Partition Table for the target disk is helpful.
Step 4: The following page will show you how to boot from the destination disk. If you are cloning the system disk, pay more attention to this notice.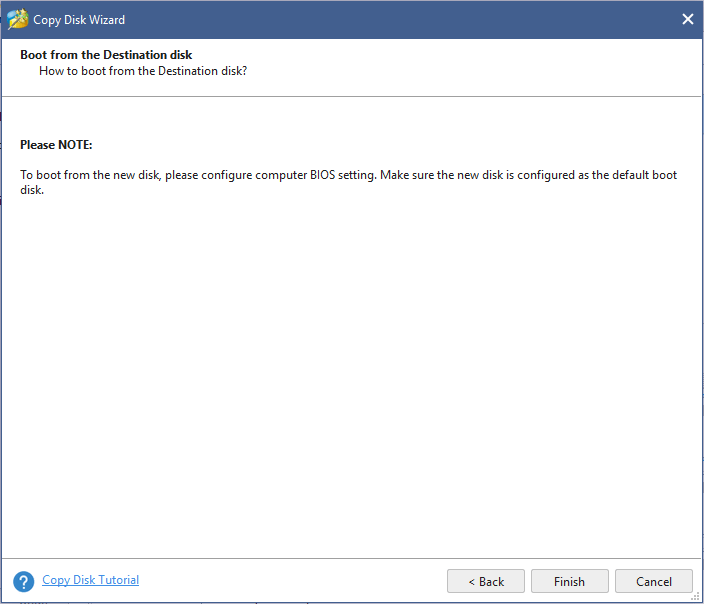 Step 5:  MiniTool Partition Wizard will return to its main interface. Here, you can preview all the changes you are going to make to the smaller SSD. Just make a confirmation, then, press Apply to bring all operations into effect.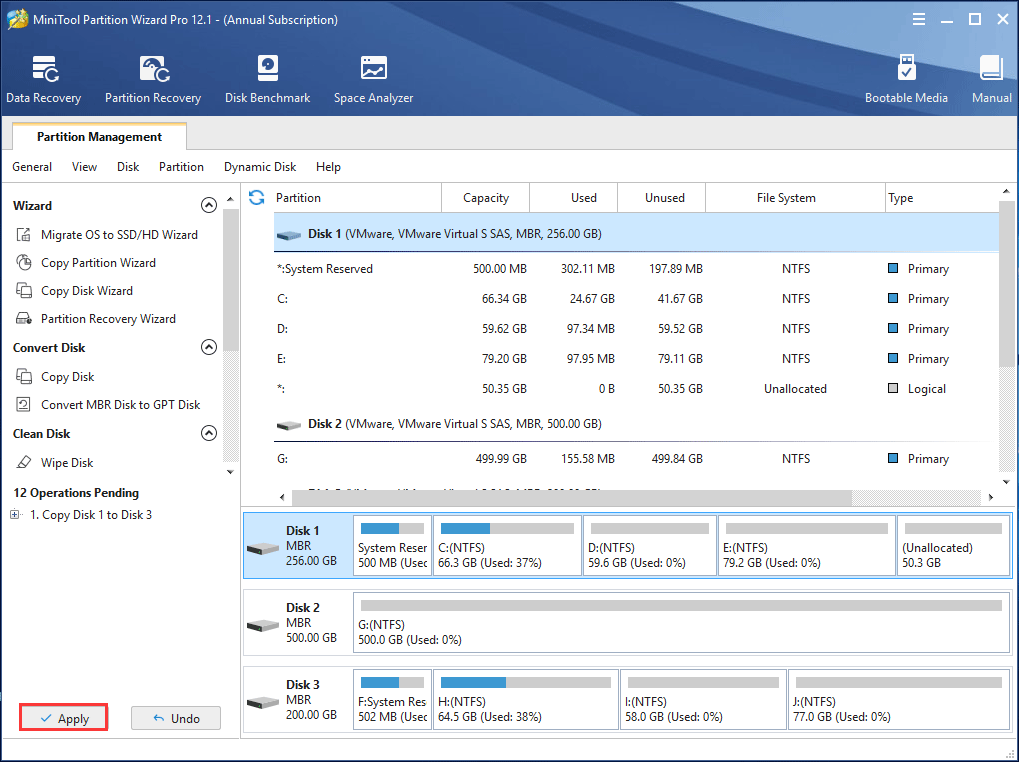 To clone HDD to smaller SSD, in addition to the Copy Disk feature of MiniTool Partition Wizard, Migrate OS to SSD/HD Wizard is still available. After clicking it in the toolbar, you are required to choose one migration way:
If you want to replace your system disk with another hard disk, A can help to copy all the partitions on the system disk.
If you decide to only move operating system from HDD to smaller SSD, choose B.
Then, begin the migration according to its instructions. This post – How Can You Migrate Windows 10 to SSD without Reinstalling OS gives you more information.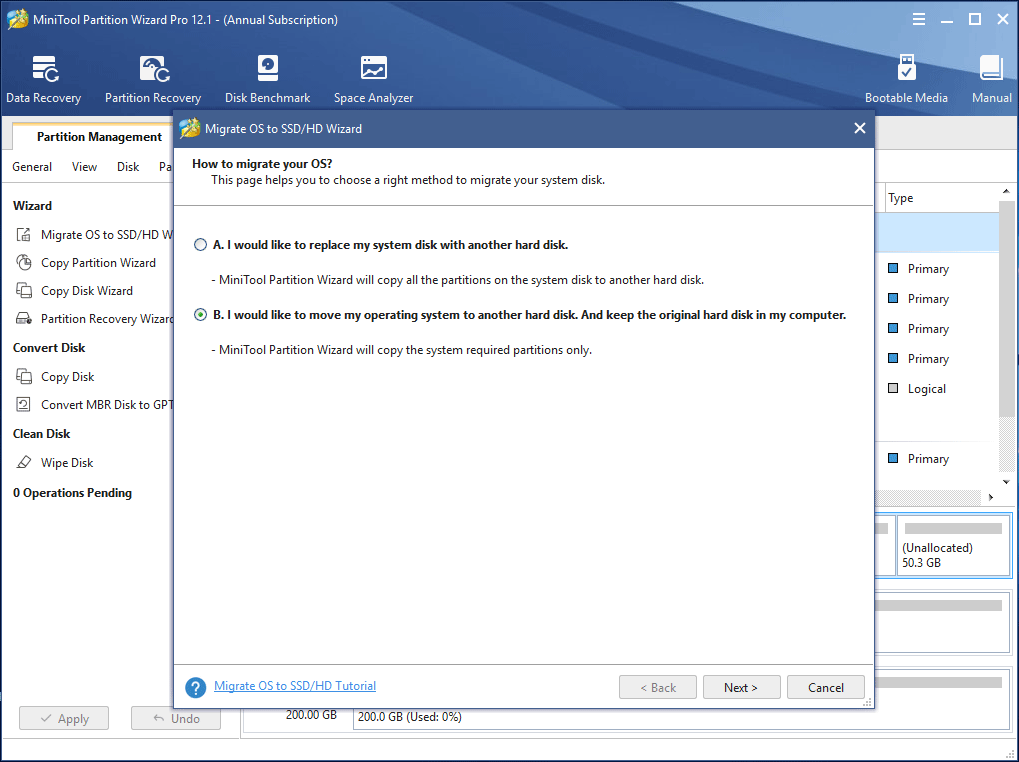 MiniTool ShadowMaker VS Partition Wizard
In the second part, we have walked you through how to clone HDD to smaller SSD by means of MiniTool programs. In all probability, you feel curious about which one you should use. Let's see some details.
MiniTool ShadowMaker enables you to clone a hard drive which can be system disk and data disk to smaller SSD. This feature is powerful to transfer all disk data to another hard drive. Note that, this PC clone software only allows cloning the entire disk.
MiniTool Partition Wizard has two helpful functions: Copy Disk is suitable for the entire disk cloning including system disk and data disk. This is the same as MiniTool ShadowMaker. Besides, this tool offers you an additional feature to only move system required partitions from HDD to SSD. But you need to pay for the Pro Edition for these features.
Both of them support booting your computer from the target disk after disk cloning. Which one do you prefer? Just get the appropriate tool based on your needs to begin the cloning and then enjoy the fast read-write speed.
MiniTool ShadowMaker TrialClick to Download100%Clean & Safe
"MiniTool Programs – MiniTool ShadowMaker and MiniTool Partition Wizard are both useful for me and my friend to clone HDD to smaller SSD. After the cloning, our computers can run fast."Click to Tweet
Buy the Right SSD
Knowing the way to clone HDD to smaller SSD, it is necessary for you to choose the right SSD for disk cloning. Here are the top sellers on Amazon for you to choose from:
Product Name
Intel 660p Series (1TB) SSD
Corsair MP500 (480GB) SSD
Samsung 860 EVO (250G) SSD
Samsung 970 EVO NVMe (500GB) SSD
Adata SU800 SATA (1TB) SSD
Brand
Intel
Corsair

Samsung

Samsung

Adata
Capacity
1TB
480GB
250GB
500GB
1TB
I/O Speed
Up to 1,800MB/s
Up to 3,000MB/s
Up to 550MB/s
Up to 3500MB/s
Up to 560MB/s
Pros
Very good NVMe performance most of the time.
Extremely affordable.
5-year warranty.

Black printed circuit board.
Copper strip technology.
High-Performance.
NVMe-Enabled.

Good overall performance.
Outstanding endurance rating.
Samsung Magician software.
Hardware-Based encryption.
Package with DRAM cache and cloning.
5-year warranty.

Affordable (relatively) NVMe drive.
Excellent sequential reads
Available in up to 2TB capacity.
Almost 50% shorter file transfer times.
5-year warranty.

Adata SSD Toolbox.
Acronis Data Migration.
Fair pricing.

Cons
Slows to 100MBps writing during very long transfers.

High initial pricing.
Low warranty terms.
Lack of progress for the E7 controller.

Expensive.

Slows to just over 600MBps after cache is exceeded.
Occasionally trails 960 Pro.
Lower capacities could be cheaper.

Micron 384Gbit 3D TLC NAND.
Low throughput.
High latency.
Low notebook battery life.

Rating Star
Bottom Line
Above is all the information about the cloning from large HDD to smaller SDD, including the reason for cloning to SSD, ways to clone HDD to smaller SSD and the difference between two great hard drive cloning tools developed by MiniTool Team. Hope you can benefit from this article.
If you have any problems during the process of using our software, please let us know by writing your issues in the following comment section. Or, you can contact our support team via [email protected]. Besides, all suggestions are welcome. We will reply to you as soon as possible.
Clone HDD to Smaller SSD FAQ
Can I clone a larger HDD to a smaller SSD?
Of course, you can clone a larger HDD to a smaller SSD, provided that the target SSD has enough space to hold the original content of the HDD.
How do I clone my hard drive to a smaller SSD for free?
You can use MiniTool ShadowMaker to easily clone your hard drive to a smaller SSD for free. Just get it, use the Clone Disk feature, choose the source & target disk, and start the cloning.
Can I clone a 1TB HDD to a 500GB SSD?
If your 500GB SSD has enough disk space to hold the content of the 1TB HDD, you can perform the cloning operation.
Can I clone an HDD to SSD?
MiniTool ShadowMaker is a professional hard drive cloning software that allows you to easily clone HDD to SSD.