The all in one gaming PC is a great option for people who want to find a computer with desktop-grade performance and less spatial impact. What makes the best all in one gaming PC? MiniTool will explore this question and offer you some recommendations.
What Is the All In One Gaming PC
If you want to get space savings, power, and flexibility from a desktop, the all-in-one (AIO) computer is an ideal choice. As implied by its name, most critical components of all in one computers are hidden in a single enclosure at the back of the display.
Hence, these computers usually occupy less space than premium PCs, and they contain the same no-fuss attributes of a prebuilt machine. All in one computers are ideal for the home office, providing various features ranging from 10-touch displays to 5K resolution.
Tip: AIO PCs are very expensive.
In recent years, AIO computers have become more and more popular with gamers. A lot of all in one gaming PCs come into being. What's the best all-in-one computer for gaming? To obtain the detailed information, keep reading the post.
Also read: Chromebook Recovery Utility: How to Create and Use It
Things to Be Considered Before Purchasing AIO PCs
Convenience should be a standard for the best all-in-one computer. So, you should check if it has extra ports or wireless functionality while buying it. In most time, keyboards, mice, and webcams are included.
However, ports are required if you would like to add a speaker set, a secondary display, or an HDD rack to all in one computers. Compared with built desktops, all in one computers especially for gaming are a bit of overpricing.
Another factor you should take into account while buying an all in one PC is its application. Where would you like to apply it to? Enterprise, picture design, or gaming? You can pick a suitable one according to your demand.
Best All In One Gaming PCs
Here are plenty of all in one gaming PCs on the market, which makes customers confused. What is the best all in one computer for gaming? We would like to recommend you some high-rated AIO gaming computers here.
HP Envy 34 Curved All in One
HP Envy 34 Curved All in One has sleek lines, a slim figure, a robust built-in sound bar, and the designated scheme. It is an impressive all in one gaming PC. It contains a resolution of 3440 x 1440 that enables you to execute multitasks or view a chunk of a timeline.
Note: The RX460 graphics card isn't powerful enough to play the latest games at this resolution.
In addition, this model includes the latest Intel Core i7 and DDR4 RAM helping you streaming through the newest professional applications to edit pictures or videos. To sum up, it is an excellent candidate for the luxurious business or home PC.
CUK Bionic G32 VR Ready
CUK Bionic G32 VR Ready is a best all-in-one computer that packs a high-end RTX 2070 and i7-8700K into a massive monitor. With this all in one gaming PC, you can play any games and execute almost all the tasks.
This best all-in-one computer includes the 32GB DDR4 with a memory speed of 2666MHz. It comes with a 2512GB flash memory solid state drive.  It may cost you $2000 or more.
Dell XPS 27 Touch
Though the Dell XPS 27 Touch looks like other cheap all in one computers on the market, it still ranks on the list of best all in one gaming PCs because of some features. To be specific, it has a 27-inch screen with the 4K UHD resolution and touchscreen functionality.
The i7 processor, 64GB DDR4 RAM, and the integrated sound bar make Dell XPS 27 Touch stand out from the all in one gaming PCs. The sound bar is considered as one of the best built-in speakers in the business.
ASUS Zen AiO Desktop PC
ASUS Zen AiO Desktop PC comes with the Intel i7-8750H processor that can offer hyperthreading to the device. The Nvidia GTX 1050 GPU next to the CPU helps you execute tasks and allows you to play some games on this machine.
The embedded 8GB DDR4 RAM enables you to get by without any issues. On the aspect of storage, this model has a 128GB M.2 drive for the operating system, general media-related tasks, as well as applications and games. For the storage backup, there is a 1TB hard drive in the machine.
Thanks to the ultra-thin bezels and chrome-like stand, ASUS Zen AiO can sit on the desk elegantly. This all-in-one computer provides you with a crisp 1080p resolution and features the 10-point touch technology enabling you to use the device without a mouse and keyboard.
Microsoft Surface Studio
Microsoft Surface Studio is built for designers and creators with its unique 4500 x 3000 touch display. Besides, you can fold the screen down to the desk. This intuitive functionality enables you to express your ideas or concepts in multiple ways.
This model packs an Intel i7 6820HQ, a GTX 980M, and an abundance of DDR4 memory. These components often come with cream of the crop laptops, which improves performance ratings.  
The Surface Studio is one of the most innovative computers and it has the potential to change the professional PC market. In one word, it is one of the best all-in-one computers.
Lenovo Yoga A940
Lenovo Yoga A940 contains the 8th-generation chips and Radeon RX560 graphics. Besides, it includes 100% Adobe RGB support and Dolby Vision, a set of Dolby Atmos speakers, a port, and a stylus included in the box.
This model offers 32GB DDR4 RAM running at the speed of 2666MHz. As for storage space, it has a 1TB 5400 RPM and 256GB PCIe SSD. More importantly, it has a reasonable price.
What Makes the Best All In One Computer for Gaming
Most all in one computers on the market don't contain upgradable components. Given to that fact, you usually need to use the selected package until it goes out of work or has upgrades. Therefore, it is recommended to get the best CPU and GPU within the budget.
Like laptops, you are allowed to add RAM sticks or change the storage drive on the all in one computer. You can do that by yourself or with the help of certified technicians or stores. What you need to note is that the operation has risks.
How to change or upgrade the storage drive without data loss? MiniTool Partition Wizard helps. The Copy Disk feature of this program enables you to migrate all the data from the old drive to the new one.  To upgrade the drive, you need to prepare a new drive with a larger capacity and download & install MiniTool Partition Wizard.
The tutorial below shows you how to upgrade the drive.
MiniTool Partition Wizard DemoClick to Download100%Clean & Safe
Step 1: Connect the new drive to your computer.
Step 2: Launch MiniTool Partition Wizard and go to its main interface.
Step 3: Right-click on the disk to upgrade from the disk map, and click the Copy option on the pop-up menu. Alternatively, you can also click on the original disk and click Copy Disk in the action panel.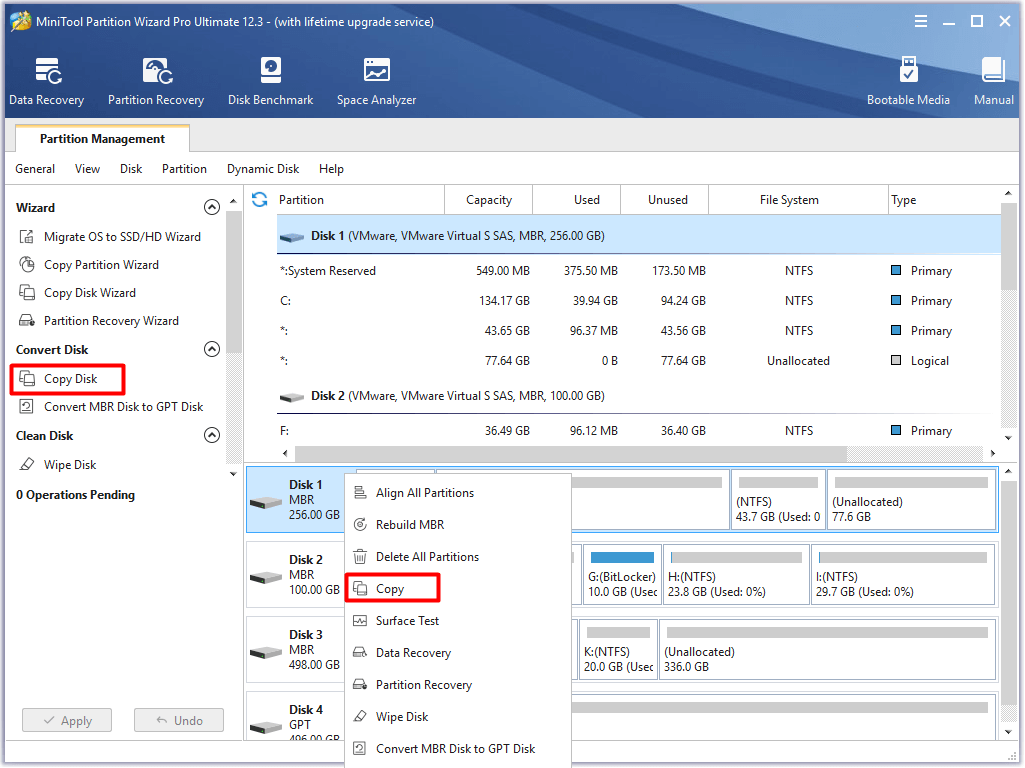 Step 4: In the next window, choose the newly connected disk from the listed disks to hold the data on the original drive. Then, click Next to continue.
Tip: You will receive a warning window after clicking the Next button. All the data on the selected drive will be destroyed during the copy process. Click Yes to confirm the process.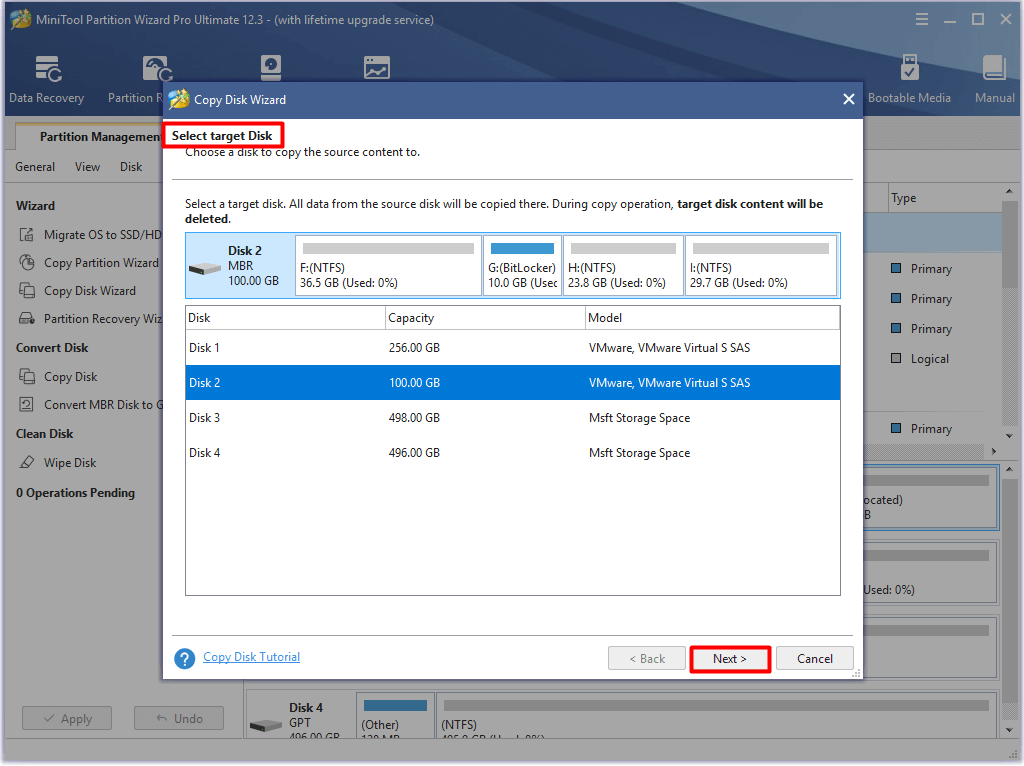 Step 5: In the Review the changes window, pick copy options based on your needs and then change the location and size of the selected partition under the Change Selected Partition section. After that, click the Next button.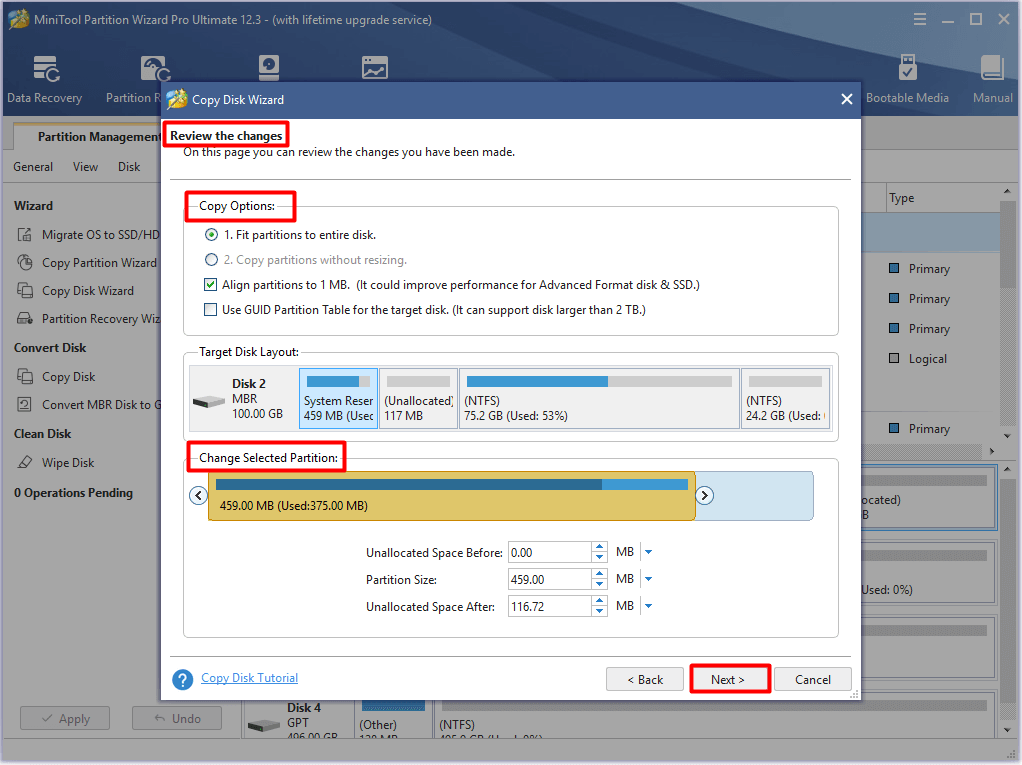 Step 6: Click Finish and Apply to save and execute the changes you've made.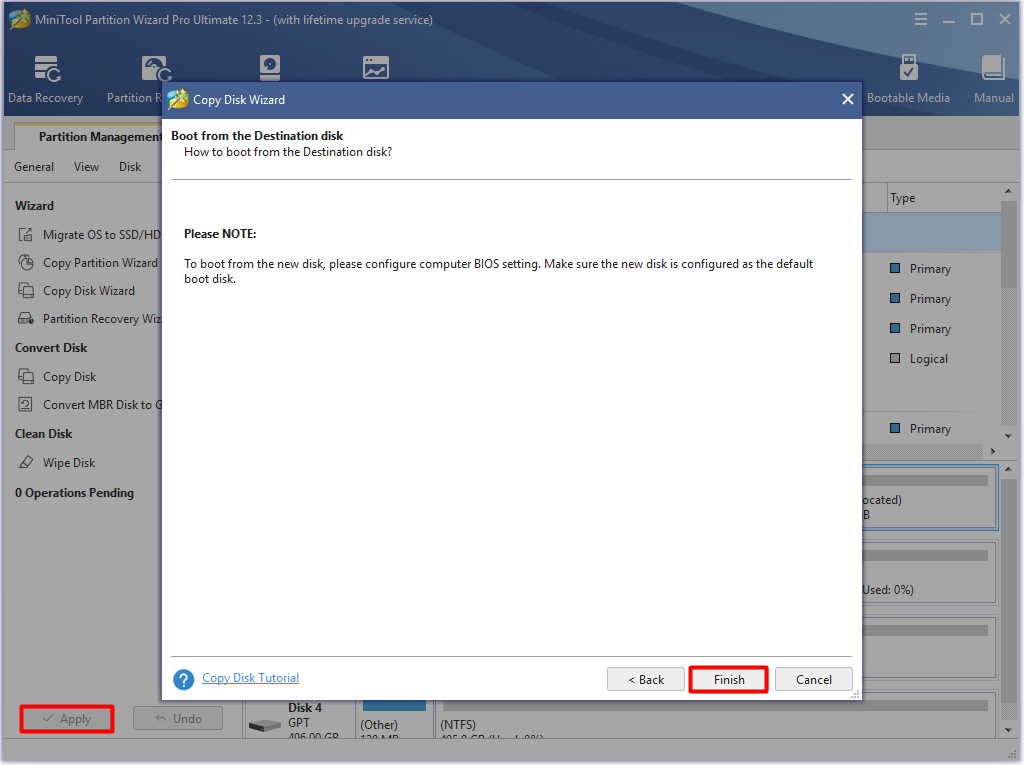 Further reading:
In addition to copying disk, the Migrate OS to SSD/HD feature of MiniTool Partition Wizard also enables you to back up all the data on the original drive. As a professional partition manager, it allows you to rebuild MBR, recover missing data, convert MBR to GPT, check file system, and wipe disk.
Thanks to the powerful features, MiniTool Partition Wizard is regarded as the best duplicate file finder, top SSD health checker, PC optimizer, and junk file cleaner, and so forth.
Are you still looking for a best all in one gaming PC? This post introduces 6 best all in one gaming PCs. You can pick one from them. Click to Tweet
Conclusion
This post offers you an overview of all in one gaming PC including its definition, features, shopping advice and recommendations, and some extra information. Hence, you will have a complete understanding of all in one gaming PC after reading the post.
Is this post helpful for you? Do you have ideas on all-in-one computers? You can write your thoughts in the following comment area. If you have any issues while using MiniTool Partition Wizard, please send us an email via [email protected]. We will back you as soon as possible.
All In One Gaming PC FAQ
Are all-in-one PCs bad?
No, they aren't. All in one computers can save space and limit the number of wires. Besides, they have more flexibility than traditional desktops. Though they have some drawbacks, they are still a good option for a person who want a PC with desktop-grade performance and less spatial impact.
What's the most powerful all-in-one PC?
Here, we list the best all-in-one computers according to their features.
Best overall: HP Envy 32
Best for illustrators: Microsoft Surface Studio 2
Best for budget: Acer Aspire Z24
Best AMD Ryzen AIO PC: HP Pavilion 24
Best for Mac lovers: Apple iMac with Retina 5K Display
Can a HP all-in-one run Fortnite?
Not, it can't. Actually, you can't play games on it at all. Even if you can play games, it runs extremely slow.