If you are planning to install and play Grand Theft Auto V on your computer, don't miss this article. Here, MiniTool Partition Wizard displays both minimum and recommended GTA 5 PC requirements. If your computer cannot meet the requirements, you can also follow the instructions in the article to upgrade PC specs.
Grand Theft Auto V Overview
GTA 5, short for Grand Theft Auto V, is an action-adventure game developed by Rockstar North and published by Rockstar Games. As the fifth main entry in the Grand Theft Auto series, GTA 5 was firstly released in September 2013 for PS3 and Xbox 360. Now, it is also available on PS4, Xbox One, and Microsoft Windows. Besides, its PS5 and Xbox Series X/S versions are scheduled to release in late 2021.
This game can be played from either the third-person or first-person perspective. In the game, players need to control their characters to commit heists and many missions involve shooting and driving gameplay. Although there are some negative comments about the depiction of violence and women, this video game has won many praises for its multiple protagonist design, open world, presentation, and gameplay.
GTA 5 has attracted a lot of game lovers since its release and is considered as one of the best video games ever made. Many players are asking on the forum: can my PC run GTA 5?
If you want to install and play it on your Windows computer but have the same problem, just keep on reading.
GTA 5 PC Requirements
In order to run a game on a certain device, you have to make sure the device meets the minimum requirements of the game at least. To enjoy a game with a better gaming experience, you had better satisfy the recommended system requirements as much as possible.
Rockstar Games has also unveiled the system requirements of GTA 5 PC version, both minimum and recommended. The detailed information is listed below.
GTA 5 Minimum Requirements
OS: Windows 10/8.1/8 64 Bit, Windows 7 64 Bit Service Pack 1, Windows Vista 64 Bit Service Pack 2 (NVIDIA video card recommended if running Vista OS)
Processor: Intel Core 2 Quad CPU Q6600 @ 2.40GHz (4 CPUs) / AMD Phenom 9850 Quad-Core Processor (4 CPUs) @ 2.5GHz
Memory: 4 GB RAM
Video Card: NVIDIA 9800 GT 1GB / AMD HD 4870 1GB (DX 10, 10.1, 11)
Sound Card: 100% DirectX 10 compatible
HDD Space: 65 GB available space
GTA 5 Recommended Requirements
OS: Windows 10/8.1/8 64 Bit, Windows 7 64 Bit Service Pack 1
Processor: Intel Core i5 3470 @ 3.2GHZ (4 CPUs) / AMD X8 FX-8350 @ 4GHZ (8 CPUs)
Memory: 8 GB RAM
Video Card: NVIDIA GTX 660 2GB / AMD HD7870 2GB
Sound Card: 100% DirectX 10 compatible
HDD Space: 65 GB available space
Can My PC Run GTA 5?
As mentioned previously, GTA 5 minimum requirements must be satisfied to make the game playable on your PC. Therefore, in case you encounter certain problems while installing or playing the game, you had better figure out whether your PC can run GTA 5 in advance.
To answer the question, you need to check your computer specifications and compare them with the mentioned GTA 5 system requirements. If you don't know how to check your PC specs, you can refer to the following guide.
Step 1: Press Windows + R to bring up Run dialog.
Step 2: Type dxdiag in the empty box and click OK button to open DirectX Diagnostic Tool which is a built-in program in Windows.
Step 3: Under the System tab, you can check your OS (Operating System), Processor, and Memory.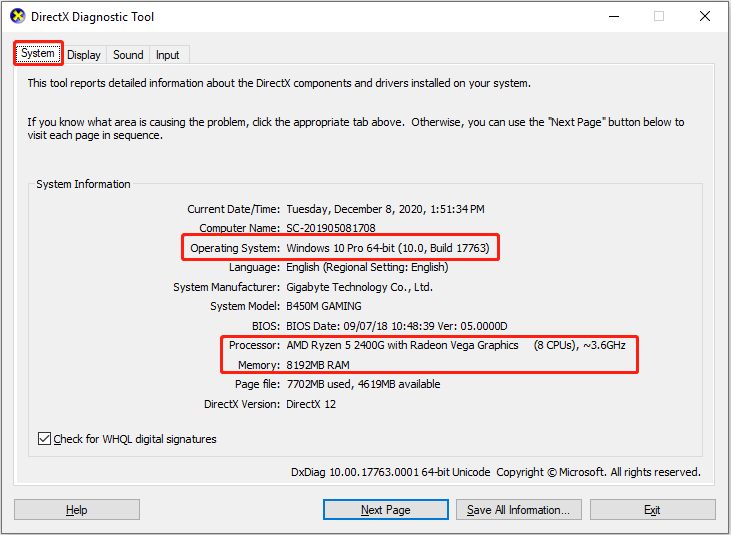 Step 4: View your video card under the Display tab and the sound card under the Sound tab.
Step 5: Now, press Windows + E to open File Explorer and click This PC. Under the Devices and drives section, you can view the storage space of the disk.
Alternatively, you can also make use of another powerful built-in tool System Information which enables you to view the full PC specs.
You just need to invoke Run window, input msinfo32, and press Enter key to open it. The information of OS, Processor, and Memory is listed in System Summary category. As for the video card, sound card, and disk space, you can view the corresponding part under the Components category.
Note: You should also pay attention to the System Type here which indicates the bit version of your OS.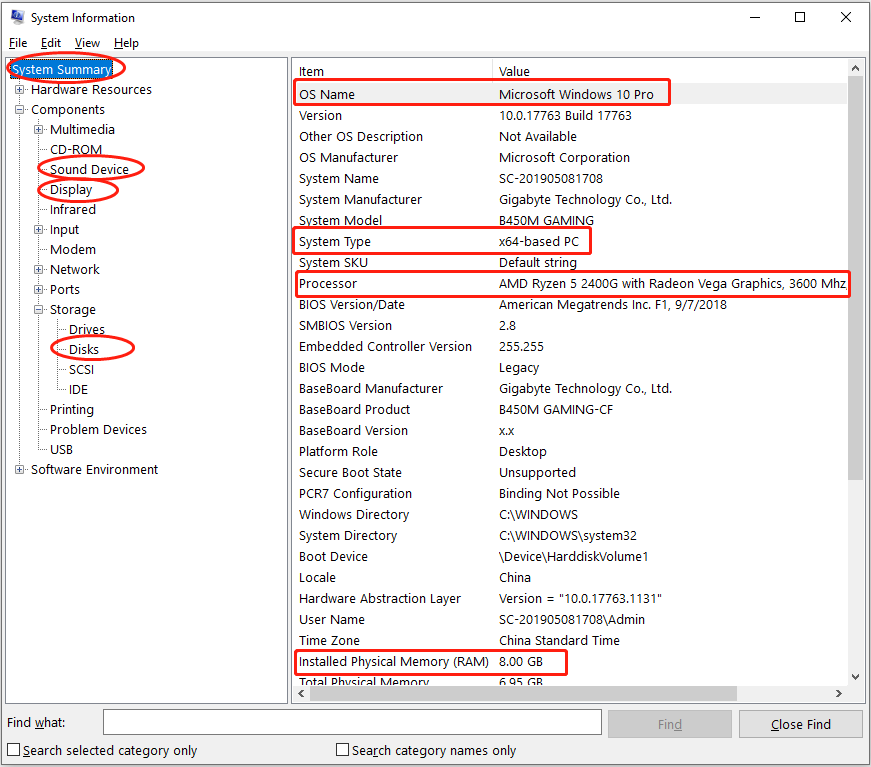 After obtaining your computer information, you should be able to determine whether you can run Grand Theft Auto V on your computer.
Can my PC run GTA 5? You can check GTA 5 system requirements here.Click to Tweet
What to Do If GTA 5 System Requirements Aren't Met
If you are sure that your PC supports GTA 5, you can visit the official website to download the game and install it properly to start your gaming. But what if your PC cannot meet GTA 5 requirements? Do you have to give up this excellent game? Of course, not.
Some users recommend getting a brand-new gaming computer, but it is unrealistic and unaffordable for ordinary users who just want to play the game in their spare time. Instead, you can upgrade the PC specs to the required standard.
In the following contents, some tips about hardware upgrades based on GTA 5 minimum requirements are displayed. Let's check the details.
Upgrade Operating System to 64-bit
GTA 5 can run on multiple versions of Windows, but it can only support the 64-bit version of operating system. So, to make the game run on your computer, you need to make sure you are using a 64-bit system. Otherwise, you might need to upgrade your system from 32-bit to 64-bit by reinstalling your Windows.
As system reinstallation may cause data loss for your system partition and even the whole disk, you are highly recommended to back up your data with a reliable third-party program in advance. MiniTool Partition Wizard is a powerful disk manager, and you can use this utility to clone your disk to an external hard drive.
Step 1: Install MiniTool Partition Wizard on your computer and register to the Pro Ultimate edition. Connect the prepared external hard drive to your PC.
Note: The external disk should be large enough to hold the data you are planning to transfer and can be formatted.
Step 2: Launch the program, highlight your system disk, and click Copy Disk from the left action panel. When you get a new window, select the external hard drive as the target disk, and click Next to continue.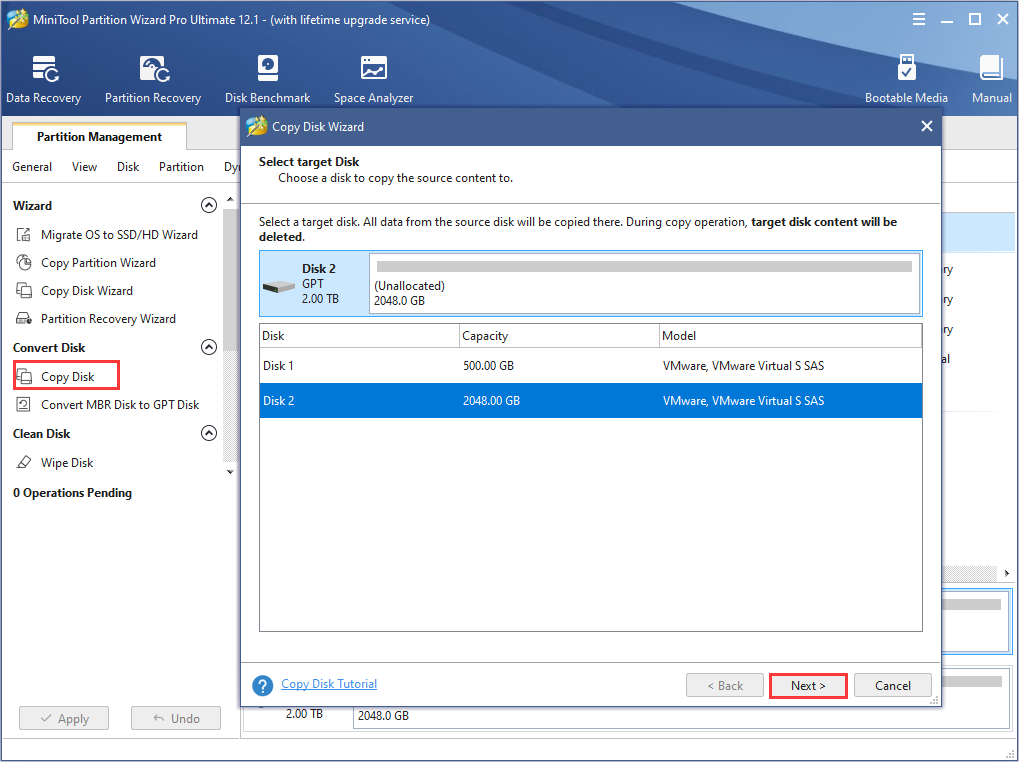 Step 3: Choose copy options and configure the target disk/partitions as your needs. Then, click Next.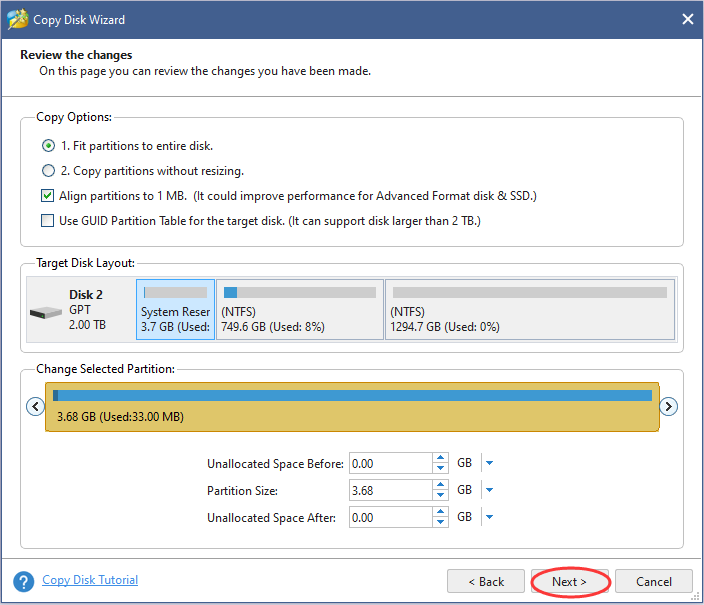 Step 4: Read the note on how to boot from the destination disk and click Finish button. When you go back to the main interface, click Apply button to start the cloning process.
After backing up your data, you can reinstall your Windows with the 64-bit version without any worries. If you use Windows 10 Media Creation Tool, don't forget to select 64-bit (x64) for Architecture while creating installation media.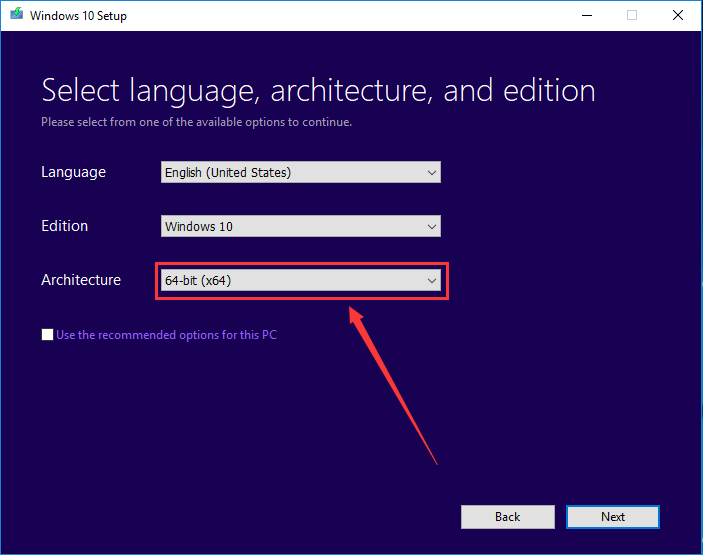 Upgrade CPU and GPU
CPU and GPU are two necessary components for a computer, and importance should be attached to them if you want to play GTA 5 on your PC. For CPU, you need to use Intel Core 2 Quad CPU Q6600, AMD Phenom 9850 Quad-Core Processor, or equivalent. For GPU, you can use NVIDIA 9800 GT, AMD HD 4870, or equivalent.
If your CPU/GPU fails to meet GTA 5 requirements or you want to get better gaming experience, you can get a better CPU/GPU and replace the original one. If there's a need to upgrade your CPU or GPU, the following guides might be helpful for you.
Go for More Memory
To play GTA 5 properly on a computer, 4GB RAM is required and 8GB RAM is recommended. The common RAM size you can find in everyday computers nowadays is 8GB, and some lower-end models may come with 4GB. Only a small percentage of PCs are equipped with only 2GB RAM.
Generally speaking, 4GB is enough to run GTA 5. You will need more RAM only if you plan on multitasking by running a lot of programs at one time. That is to say, if you prefer running other programs in the background while playing the game, you might need to upgrade your RAM to 8GB or more.
If there are available slots, you can keep the original RAM in and then add another small RAM to increase the RAM size. Otherwise, you might need to purchase an 8GB or larger RAM to replace the original one, which will cost more. As for the way to install RAM on a PC, you can refer to this guide.
Spare Hard Drive Storage Space
According to the official statement, you will need about 65 GB free space to save the installation, user profiles, updates, and other gaming data of GTA5. If there's no individual partition that has enough free space, you might need to take some measures to free up your disk.
Alternatively, you can also use MiniTool Partition Wizard to extend the partition where you want to install the game by taking free space from other drives. Here's a simple guide for you.
Step 1: After installing the free utility, launch it to get the main interface.
Step 2: Select the target partition and choose Extend Partition from the left pane.
Step 3: In the pop-up window, select a drive from the drop-down list of Take Free Space from and drag the slider rightward or leftward to determine the size of free space to be taken. Click OK button to continue.
Tip: If needed, you can repeat the operation to take more free space from another drive.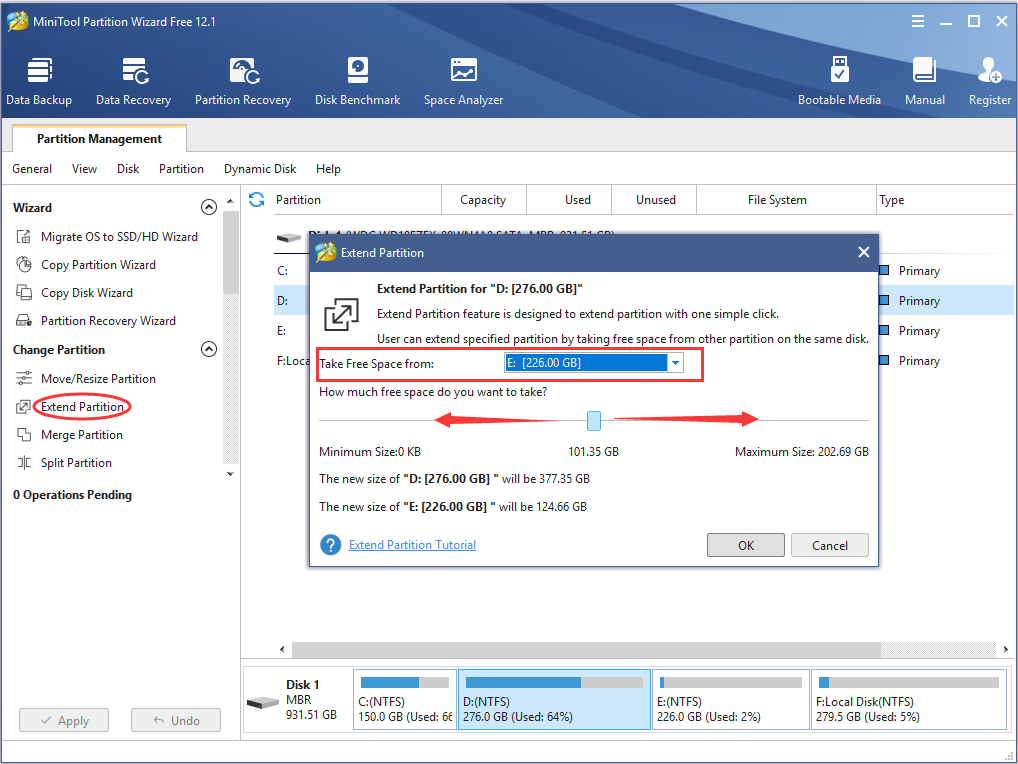 Step 4: Click Apply button to execute all the pending operations.
If your computer fails to meet GTA 5 PC requirements, you can refer to this guide to upgrade the hardware of your machine.Click to Tweet
Bottom Line
This article has introduced the minimum and recommended system requirements of Grand Theft Auto V and shown you how to upgrade related hardware if the requirements are not satisfied.
If you have any ideas or suggestions towards this topic, you can feel free to leave a message in the following comment zone. For any problems related to MiniTool software, you can contact the support team via [email protected].
GTA 5 PC Requirements FAQ
Can we run GTA 5 in 4GB RAM?
The answer is Yes. To make GTA 5 playable on a computer, 4GB RAM is required. If you want to get better gaming experience, you can go for 8GB or more.
Can i3 run GTA 5?
Yes, you can run GTA 5 on core i3 only if the other factors meet the system requirements of the game.
How do I fix GTA 5 from crashing?
If GTA 5 keeps crashing on your PC, you can:
Extend the paging file size.
Change the graphics settings to normal
Update graphics card driver
Turn on VSync feature