Star Citizen error 10002 is a common problem that may occur when you are trying to launch the game or connecting the game server. What can you do when you are facing the problem? In this post, MiniTool Partition Wizard puts together 7 possible solutions and you can have a try.
About Star Citizen Error 10002
Star Citizen, developed and published by Cloud Imperium Games, is a multiplayer space trading and combat simulator video game. It has 4 playable modes including Hangar module, Arena Commander, Star Marine, and Persistent Universe, providing different experiences for players.
Recently, some players complain that they encounter an error code 10002 while they are attempting to connect to servers of Star Citizen or trying to launch Star Citizen through the game launcher. This error might come up with another error code 15006, and it's commonly accompanied by the following message:
ERROR – CIG services (CODE 10002)
CIG services connection failed.
Unable to connect to game network.
If the problem persists please check the internet connection.

The Star Citizen CIG services 10002 error could occur due to multiple factors, such as incorrect RSI entries, interferences from antivirus and firewall, corrupted installation data. If you are one of these unfortunate victims, don't panic. Here are some possible solutions to the issue that you can have a try.
Let's check these solutions one by one. Hope you can get out of the trouble with them and enjoy Star Citizen again.
Tip:
Considering that the CIG service might have taken the servers down for maintenance or updates, you can wait for a period of time and try launching the game again before starting the troubleshooting. Besides, you need to make sure your Windows and graphics card driver has been updated to the latest version.
Click here to see how to update graphics card driver properly
.
7 Solutions to Star Citizen Error 10002
Run the launcher as administrator
Use the new launcher
Clear incorrect RSI entries
Disable your firewall and antivirus temporarily
Allow Start Citizen through firewall
Use VPN
Reinstall the game to another drive
Fix 1: Run the Launcher as Administrator
If a game lacks administrator privileges, some of its normal operation requests will be restricted and this may lead to certain problems when you are opening or playing the game. So, if you receive Star Citizen error 10002, try running the game launcher as administrator.
Just right-click the launcher and choose Run as administrator. If you want to open it as administrator every time in the future, you can right-click the launcher and choose Properties. Under the Compatibility tab, check Run this program as an administrator and click Apply/OK to save changes.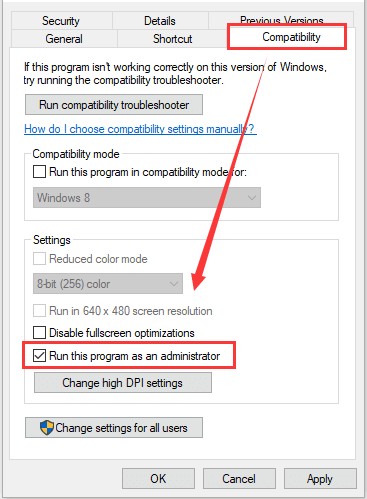 Fix 2: Use the New Launcher
According to the reports from players, they encounter the error code 10002 in Star Citizen when they are trying to download and play the public test universe (PTU) version of the game.
Actually, Star Citizen 3.0 comes with a new launcher, which means that you need the new launcher to download the 3.0 PTU. While, the old startup program can only load the PTU 2.6.3, and Star Citizen CIG services 10002 error could happen if you use it to download 3.0 PTU.
In some cases, the installed launcher may not be automatically updated to the latest version for certain reasons. If you see "PTU" anywhere on your launcher screen, then you are likely to be using the older launcher. At this time, you need to completely remove the older launcher and turn to the new one.
Here's what you need to do:
Step 1: Press Windows + R to invoke Run window, input %appdata% and click OK button.
Step 2: Under the Roaming folder, delete the rsilauncher folder.
Step 3: Input %localappdata% in the Run dialog and click OK.
Step 4: Under the Local folder, delete the StarCitizen folder
Step 5: Go to the installation path of the game and delete the entire Roberts Space Industries folder.
Step 6: Download the new launcher from the official website and install the launcher properly.
Fix 3: Clear Incorrect RSI Entries
It has been proven that the incorrect RSI server entries could also lead to the CIG services connection failed error. So, to get rid of the problem, you can try removing the incorrect RSI records by following the steps below.
Step 1: Press Windows + E to open File Explorer.
Step 2: Navigate to the path C:\Windows\System32\drivers\etc which is the default location where the Windows installation holds the RSI server entries.
Step 3: Switch to the View tab and check File name extensions.
Step 4: Right-click the hosts file and choose Rename. Add .old at the end of the file name and press Enter to save changes. This will make your Windows ignore the file and create a new one without incorrect entries.
Note: The administrator permission will be required to apply the change.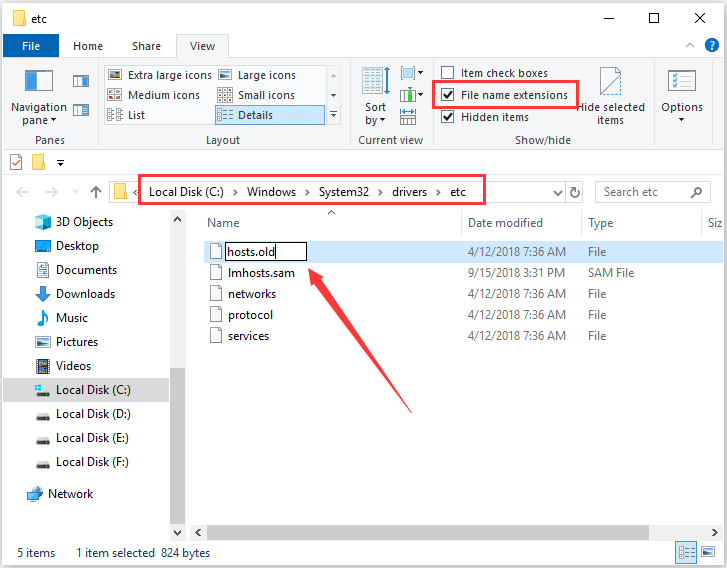 After that, you can try launching Star Citizen again to check if the error code 10002 is removed.
Fix 4: Disable Your Firewall and Antivirus Temporarily
As mentioned before, your firewall and antivirus might interfere with the connection between your Start Citizen installation and the game server and thus trigger the Star Citizen CIG services 10002 error.
It is true that the firewall and antivirus can protect your computer free from virus threats and other malicious attacks. However, they might be overprotective sometimes and affect some normal operations of the installed programs.
So, if you are using any firewall and antivirus applications, try disabling them temporarily when you run Star Citizen launcher, including the built-in Windows Defender Firewall and antivirus.
To disable Windows Defender firewall:
Press Windows + S, input control panel, and click the result to open it.
Navigate to System and Security > Windows Defender Firewall and click Turn Windows Defender Firewall on or off in the left pane.
Choose Turn off Windows Defender Firewall option for both private and public network.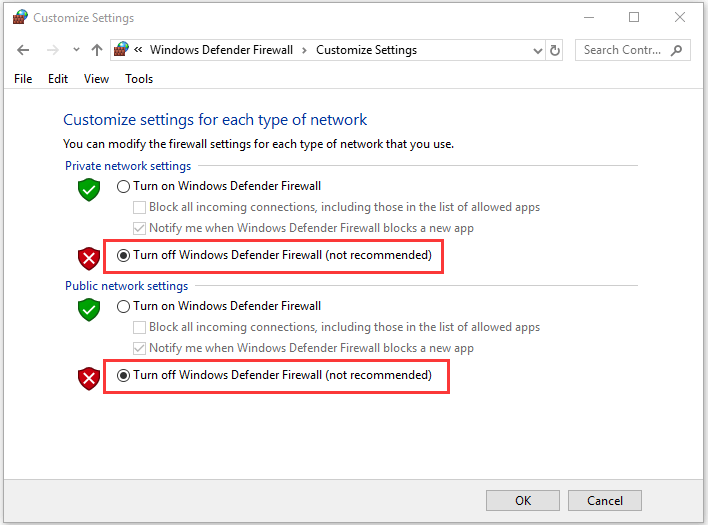 To disable Windows Defender antivirus:
Press Windows + I to open Settings.
Navigate to Update & Security > Windows Security and click Virus & threat protection in the right pane.
Click Manage settings under Virus & threat protection settings.
Toggle off the button under Real-time protection to disable it.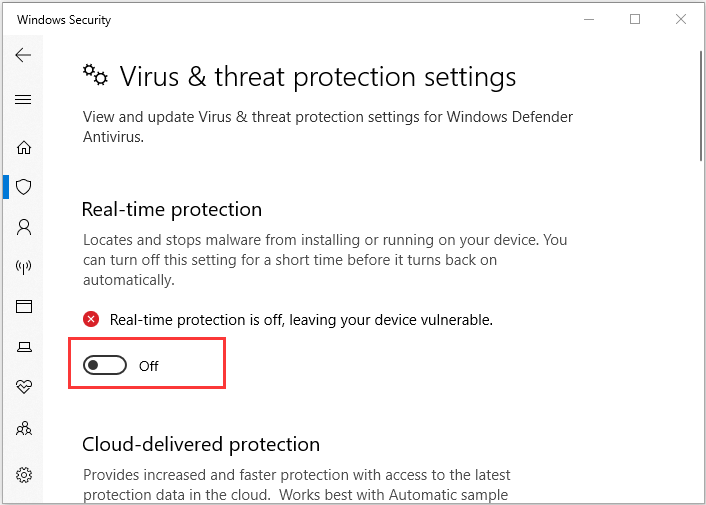 Fix 5: Allow Start Citizen Through Firewall
This is an alternative method of Fix 4. It might be a little troublesome to disable firewall and antivirus every time you launch and play Star Citizen, and keeping them both disabled during the process might put your computer system at risk.
Therefore, if you find that Star Citizen error 10002 disappears after disabling them, you can go to reenable them and then make changes only for Star Citizen, especially the 2 main executables RSILauncher.exe and StarCitizen.exe. If the error still exists, you can skip this fix and move on to the next one.
On the one hand, you need to allow Start Citizen through firewall. Just go to Windows Defender Firewall page in Control Panel and click Allow an app or feature through Windows Defender Firewall. When you get the following interface, click Change settings, check the boxes of both Private and Public for the mentioned executables, and click OK.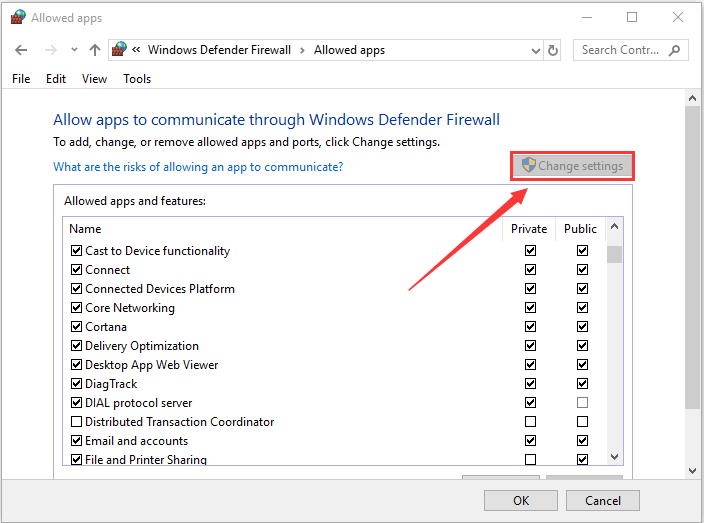 On the other hand, you need to add the game to the exception list of your antivirus. In the Virus & threat protection settings interface, scroll down to click Add or remove exclusions under Exclusions section and click Add an exclusion. Then, choose File to add the mentioned executables or choose Folder to add the whole game installation folder.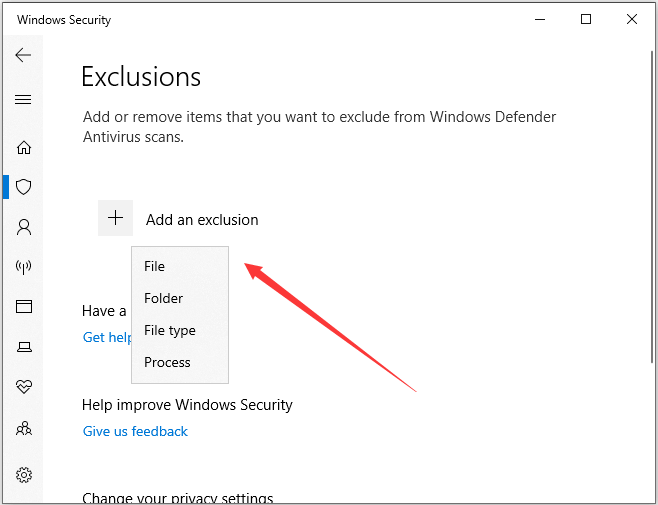 Fix 6: Use VPN
In addition, if you keep receiving Star Citizen error 10002, chances are that there is some inconsistency caused by your ISP (Internet Service Provider). To get rid of the issue in this case, you can use a VPN. If you don't know how to set up a VPN, you can refer to this guide: How to Set Up a VPN on Your Windows 10 PC [Full Guide].
Fix 7: Reinstall the Game to Another Drive
If all the above solutions fail to fix Star Citizen CIG services 10002 error for you, it's possible that the installation data of the game is corrupted or runs into some other issues. Some users have confirmed that reinstalling the game in another drive can fix the problem, and you can also have a try.
After completely uninstalling the game from your computer, restart your computer. Then, visit the official website of the game and download the game package you previously installed. Once you complete the installation on another drive, launch Star Citizen and it should run properly now.
It's worth mentioning that you need over 60GB free space on the desired drive to install and run the game properly. If there's no enough space on a single drive, you can enlarge a drive to meet the requirement by taking space from other drives on the disk.
For this purpose, you are recommended to use a professional assistant like MiniTool Partition Wizard which can help you extend a partition without data loss. You can click the following button to download and install it on your computer to have a try.
Step 1: After launching MiniTool Partition Wizard, right-click the drive you want to extend and choose Extend. To activate the feature, you can also choose Extend Partition from the left pane after selecting the target drive.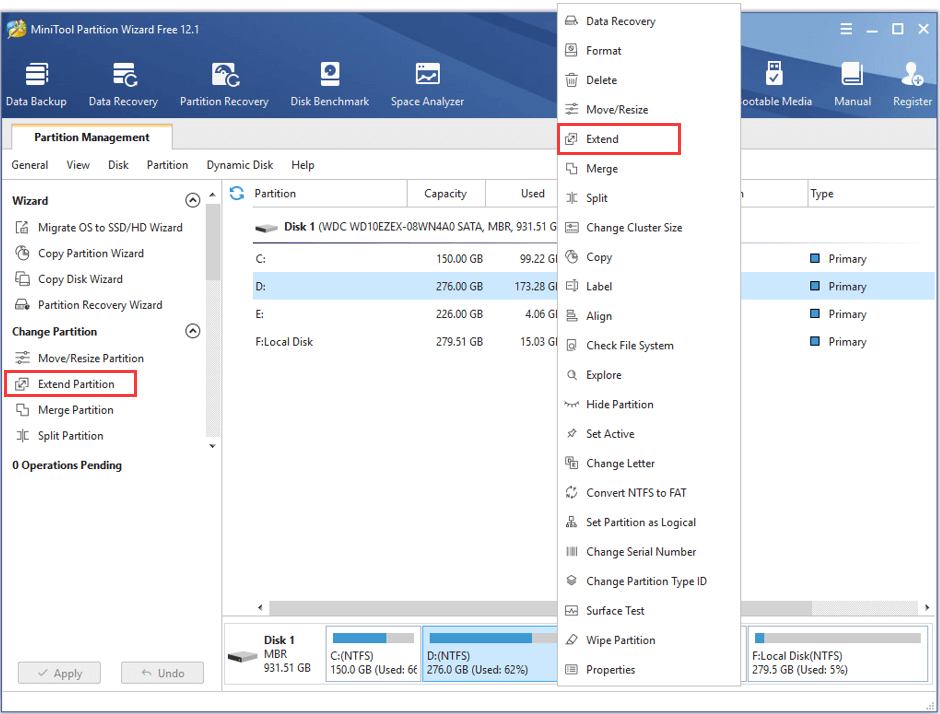 Step 2: In the pop-up window, expand the list of Take Free Space from and choose a partition or unallocated space. Move the slider rightwards or leftwards to determine the size of space you'll take, and then click the OK button to continue.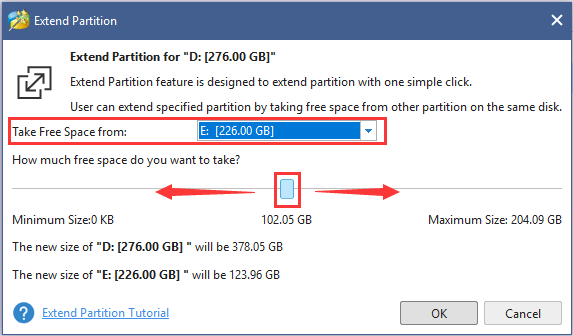 Step 3: When you go back to the main interface, click Apply button to execute all the pending operations.
Now, with more than 60GB free space, you should be able to reinstall your Star Citizen on this drive without problems.
Here are 7 possible solutions to Star Citizen error 10002. Come to get the detailed instructions.Click to Tweet
Bottom Line
We have introduced some methods to fix the error code 10002 in Star Citizen. If none of them works for you, you might need to contact the support team or forums to get further assistance. We will appreciate it if you share your ideas, experiences, and better solutions in the comment zone.
To get further information about MiniTool software, you can read the user manual or contact us via [email protected].
Star Citizen Error 10002 FAQ
How large is the Star Citizen install?
The file size of Star Citizen is about 40GB, but you'll need at least 60GB for its installation and 10-20GB additional space for the pagefile.
How do I reset my Star Citizen character?
For certain problems in Star Citizen, you might need to reset the character. Just go to the RSI website, login to your account, and report your problem and steps to reproduce it. Then, go to My Hanger > Settings > Character Reset and follow the instruction to complete it.
During the resetting process, you will be locked out of the game, and you need to wait for about 15 minutes before logging back into the game.