If you want to play Returnal on PC, pay attention to this full Returnal PC tutorial now. It discusses the availability, release date, and possibly required disk space of the Returnal PC version. Get the details from this post of MiniTool now!
Is Return on PC
Returnal, released for PS5 on April 30, 2021, is a third-person shooter roguelike video game. It is developed by Housemarque and published by Sony Interactive Entertainment. It is popular with gamers across the world. As of July 18, 2021, Returnal has sold copies of over 560,000, becoming one of the best-selling games.
This game attracts many gamers including those who don't own a PS5 console. Then they wonder if they can play Returnal on PC. It used to be a challenge to play a PS5-exclusive game on a PC, but now things have changed as Sony decided to bring games to PC. Is Returnal on PC? It currently is unavailable for PC yet.
Will Returnal Come to PC
According to multiple signs, Returnal will come to PC. Information about the Returnal PC port has leaked on forums and some platforms four times, but it is removed soon after.
In May, a new name called "Oregon" showed on the Steam Database, which was regarded as a code name for Returnal as it was tagged with keywords like "rogue-like", "sci-fi", "female protagonist" and the phrase "Tower of Sisyphus" indicating that it's Returnal.
Besides, a new update made to the entry for "Oregon" has added Returnal to the database. However, this edit was deleted a few hours later. Even so, plenty of screenshots of the listing were taken. This is the biggest clue for the possibility of the Returnal PC version.
Besides, Sony has announced its plans to expand its presence in both the field of PC and mobile. It keeps bringing PlayStation-exclusive games to platforms like PC. For example, games like Horizon Zero Dawn, Day Gone, Spider-Man, God of War, and the Last of Us have already come to PCs.
The Uncharted: Legacy of Thieves Collection PC port is available on October 19, 2022. This is the latest PlayStation game released for PCs. Which title will be available on PC the next time? As a lot of speculation points towards Returnal, it is very likely that it is the next game launching on PC.
From a tweet posted by Alexander Battaglia from Digital Foundry, it can be learned that Returnal will come to PC in the future. Actually, this is another footage of Returnal being run on PC. Here's what he said in his tweet.
"Returnal's presentation from GDC on its VFX and particle work is really cool – but I enjoy the bonus it has of once again confirming the PC version. Debug, readout!"
In September, the graphics menu for Returnal on PC was leaked in a video on YouTube, showing a multitude of options that gamers can choose from. Will Returnal come to PC? As you see, all these clues indicate that the Returnal PC version will be available someday.
Returnal PC Release Date
Learning from the above, you can see that Returnal will come to PC. Then many gamers want to know the Returnal PC release date. Nevertheless, the Returnal PC release date is unknown at present because there's no official announcement.
Even so, it can still be expected that the game would be released within a matter of months instead of years. That's because it already appeared in the Steam Database. It may be announced further down the line. If you want to enjoy the game before that, play Returnal on your PS5 console. To play Returnal on PC as early as possible, keep an eye on the Returnal PC release date by surfing the Internet.
At the same time, make your PC ready for the game. Once Returnal gets available on PC, you can pre-order it and then play the game on your computer. 
You may also like:
Graphics Settings of Returnal on PC
A video leaked on YouTube shows the options and customizations of the Returnal PC version. The video doesn't scroll through the entire list of options. Instead, it pauses on the game's graphics settings menu. While it was pulled by Sony quickly, some of the screen optimization settings of the Returnal on PC are still recorded. They are summarized as follows. You can take them as a reference.
Resolution scaling: Rendering the game at lower than native resolution for increased performance.
Dynamic resolution: Letting the game lower resolution automatically during demanding scenes.
DLSS: Nvidia's popular AI-based upscaling technique is included. To be specific, it includes options like Performance, Balanced, Quality, Ultra Performance, and Ultra Quality.
AMD FSR: AMD's upscaling technique is here too, offering the same options as DLSS.
NIS: Another Nvidia upscaling technique that doesn't demand an RTX graphics card.
In addition to the above image upscaling techniques, other graphics settings like unlocked framerate support and ray tracing for both shadows and reflections are also available on the Returnal PC version.
Except for the wonderful graphical quality, you will see the game scene on a large screen. Therefore, you can enjoy the game immersively. Simply put, you will have a good game experience if you play Returnal on PC. To do that, you should get enough free space on your computer. Get the details by reading the content below!
Tips:
Should you buy a PC or PS5 console to play games? You can make a wise choice after reading this post.
Get Enough Disk Space to Play Returnal on PC
Though the system requirements of Returnal for PC are not announced, you should prepare enough disk space on your computer in advance. As a general rule, video games require dozens of or even hundreds of GB of disk space. Here are some popular games and their required disk space.
Call of Duty: Modern Warfare Warzone: 175GB
Red Dead Redemption 2: 150GB
Forza Horizon 5: 110GB
Rainbow Six Siege: 85GB
Call of Duty Cold War: 82GB
Battlefield 5: 50GB
PUBG: 30GB
By referring to the standard of video game size, you can guess how much disk space you should prepare for Returnal on PC. As of 2021, the size of a AAA game ranges from 4GB to 100+GB.  On average, modern video games would take your computer 30GB to 50GB of space. Therefore, you should leave at least 30GB of free space on your hard drive.
What to do if you don't have enough free space? Well, you can increase disk space via several ways. A common method is to free up disk space by deleting files, folders, and applications on the hard drive. If you don't want to delete any data, extending the partition is a good choice. Another advantage of this method is that you won't have extra costs like you upgrade the hard drive to a larger one.
As for extending partitions, you can do that via tools such as Disk Management, Command Prompt, and third-party software like MiniTool Partition Wizard. When using Windows built-in tools, you may encounter errors like Disk Management Extend Volume greyed out and Windows 10 can't extend partition.
Hence, it is strongly recommended to use MiniTool Partition Wizard to expand the capacity of a partition. It boasts two features to help you do that. Importantly, it even enables you to extend a boot partition that Disk Management can't do. Download and install this Windows partition manager, and then launch it on your computer and follow the given steps to increase the partition size.
MiniTool Partition Wizard FreeClick to Download100%Clean & Safe
Option 1: Move/Resize Partition
To enlarge a partition via this feature, you need to ensure that the unallocated or free space is contiguous to the target partition. If necessary, move the location of the partition to next to the unallocated or free space by using the feature.
Step 1: After entering the main interface of MiniTool Partition Wizard, look at the disk map and find the target disk/partition if there is more than one disk.
Step 2: Right-click on the target partition and then tap the Move/Resize option. Alternatively, you can also highlight the target partition and click the Move/Resize Partition feature in the action panel.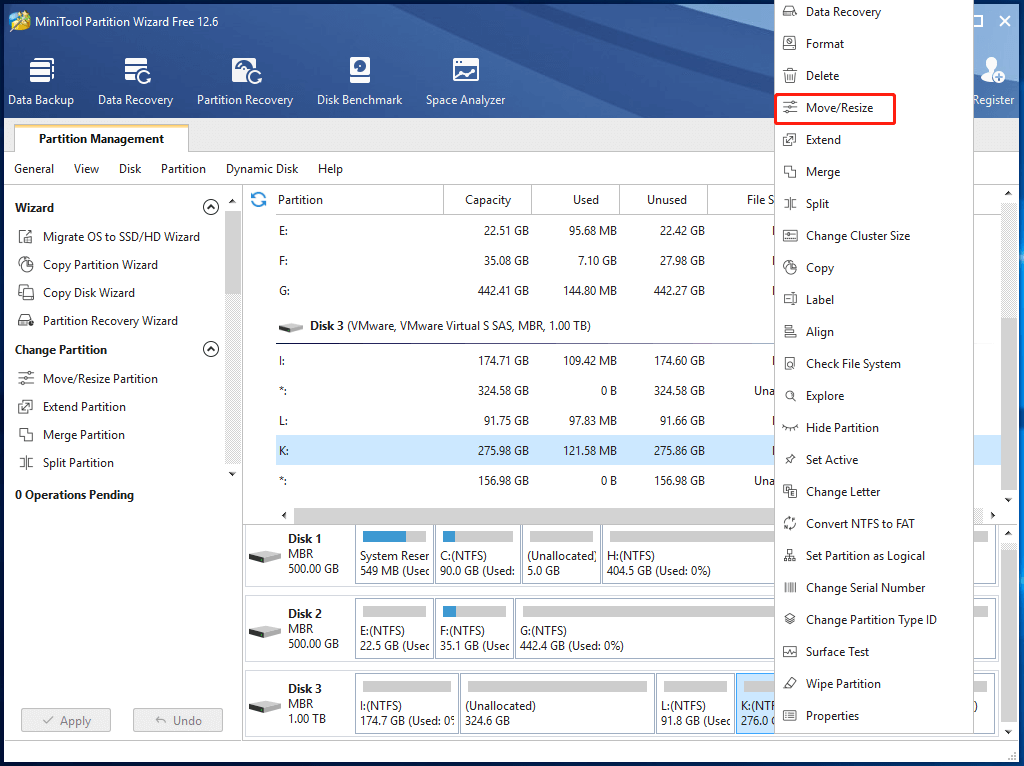 Step 3: Drag the arrow icon to occupy the unallocated or free space. Additionally, you can manually type the exact partition size and modify the unit of capacity in the corresponding field.
Step 4: Click OK to save the changes.
Step 5: Click Apply to execute the pending operation.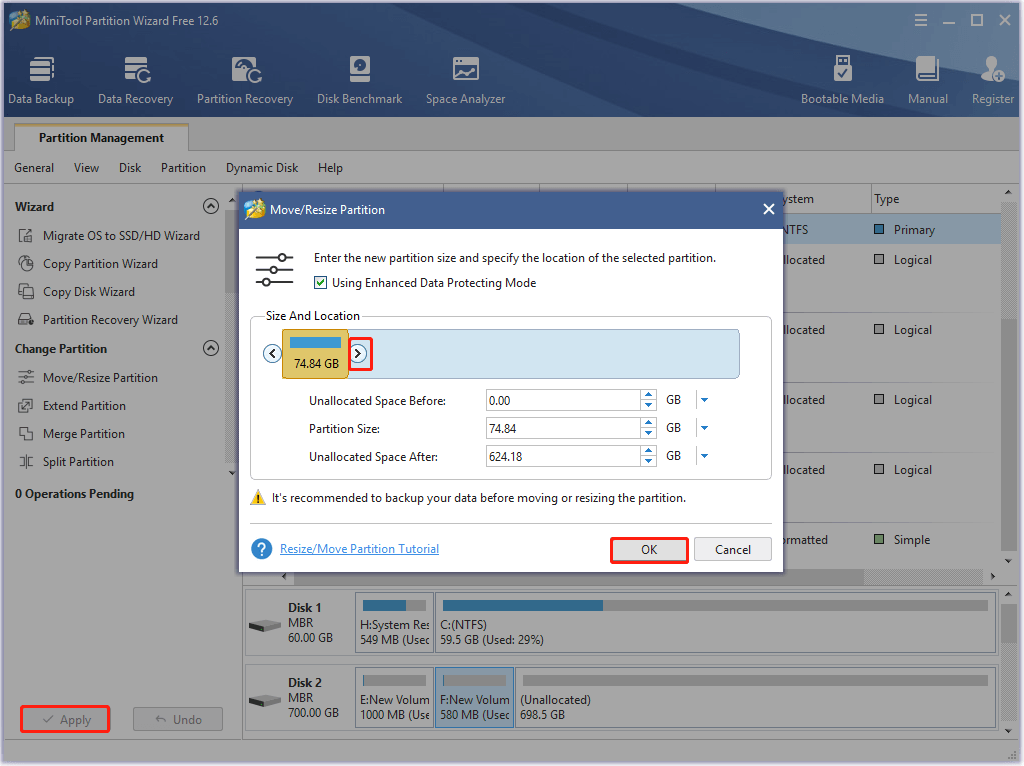 Option 2: Extend Partition
It is advised to use this feature if you are in one of the following cases.
There is no unallocated or free space on the disk.
Take space from non-contiguous unallocated or free space.
Step 1: Find and right-click on the partition to enlarge, and then click on the Extend option.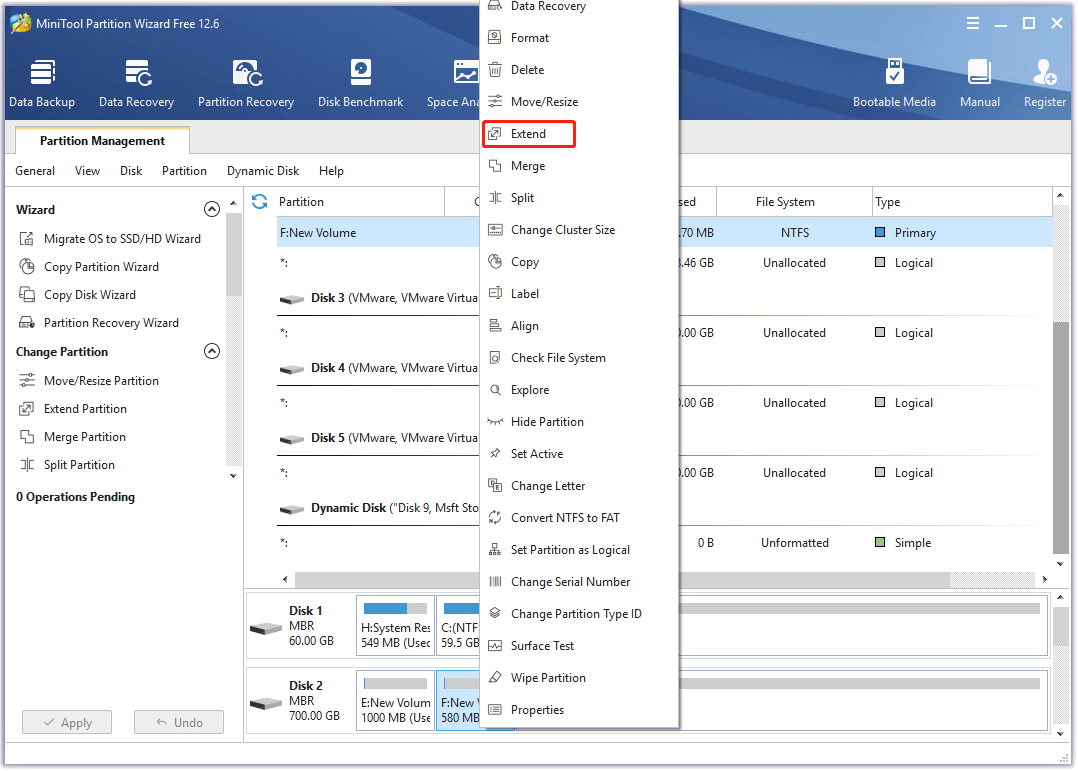 Step 2: From the drop-down menu, select a partition or unallocated space to take free space.
Step 3: Move the blue block to decide how much space you want to take from the selected place.
Step 4: After you click OK to save the changes, tap the Apply button to carry out the operation.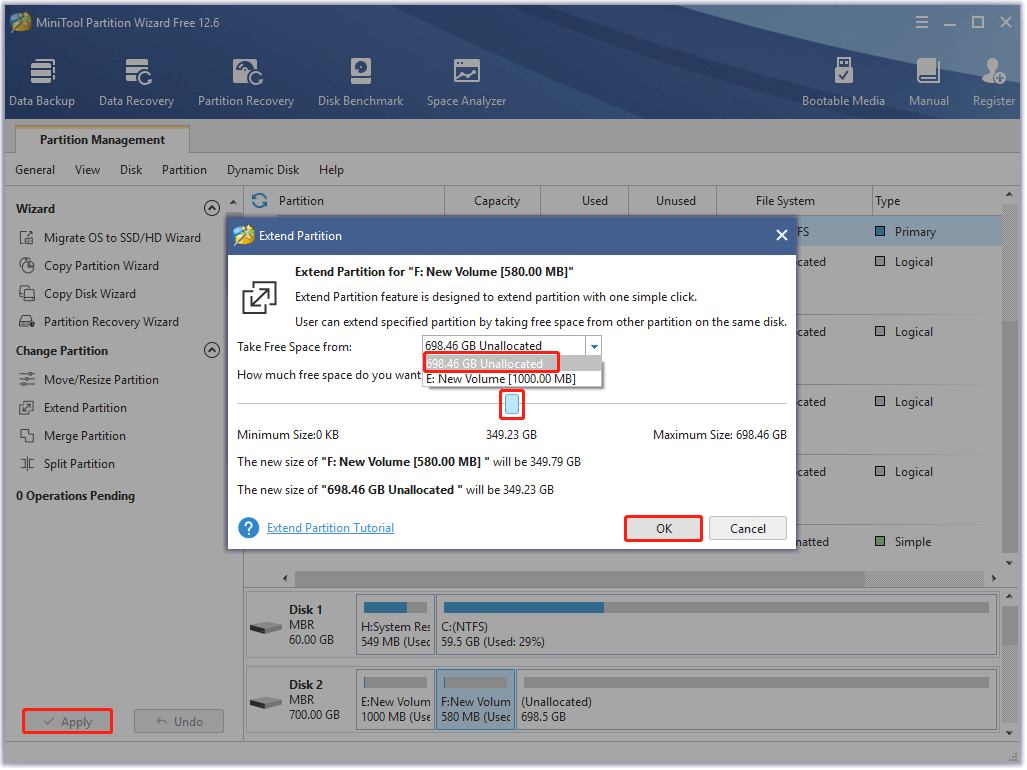 Is Returnal on PC? When will Returnal come to PC? If you are curious about questions like that, find the answers by reading this post!Click to Tweet
Conclusion
As more and more PlayStation-exclusive games come to PC, you may expect a Returnal PC port like many other gamers. If so, this Returnal PC guide deserves your attention. It reveals the possibility, release date, and estimated disk space of Returnal for PC.
If you encounter any issues while using MiniTool Partition Wizard, contact us by sending an email via [email protected]. We will make a reply as soon as possible.