If you are a game lover but not fond of heavy computers, you should consider a portable gaming PC. How to choose one? Don't worry. This post from MiniTool Partition Wizard puts together some popular portable gaming PCs. In addition, if you need to repartition your new PC, this post can also help.
Should I Buy a Portable Gaming PC?
A gaming PC usually comes with better performance than a normal PC. It is the best choice for game lovers, especially those who play graphically intensive games. However, many gaming PCs are too big, and such cumbersome machines would take desk space. Besides, they are not easy to move. If you don't like such a heavy machine, a portable gaming PC might be a better choice.
What is a portable gaming PC? Designed with compact and portable hardware, it is a small form factor gaming PC that has a relatively tiny footprint. Don't worry about the performance. Some portable gaming PC also comes with superior hardware, depending on your budget.
Recommended Portable Gaming PCs
If you don't know how to choose a portable PC for gaming, you can consider the following ones. In the following contents, the most popular small gaming PCs are listed.
Option 1: MSI Cubi 5 10M-207US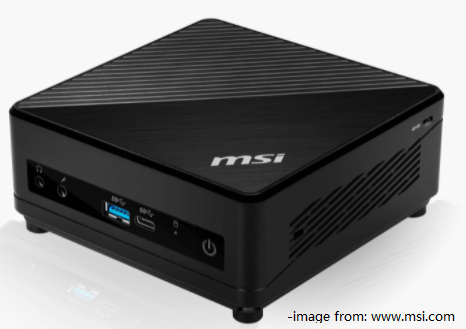 Operating System: Windows 10 Pro
Processor: Intel Core i5-10210U 4C/8T 1.6-4.2 GHz 6MB Cache
Graphics: Intel HD Graphics 620
Memory: 8GB DDR4 (1 x 8GB) 2666 MHz RAM, 2x DDR4 2666MHz SO-DIMM slots, up to 64GB
USB Configuration:1x USB 3.2 Gen 1 Type C, 3x USB 3.2 Gen 1 Type A, 2x USB 2.0
Wireless LAN:WiFi 5 (802.11ac) 433Mbps Dual Band 2.4GHz, 5GHz
Price: $749.99 on Amazon
Warranty: 3-year limited warranty
Tip: MSI Cubi 5 also provides other models that come with larger RAM and hard drives. If you don't like the 10M-207US model, you can search MSI Cubi 5 and look for other models.
MSI Cubi 5 10M-207US model is a nice portable PC for gaming for, home entertainment and commercial use. The portable 4.41 x 4.57 x 1.75–inch size takes only small space on your desk. Such a mini size and the support of standard VESA-mount enables you to mount the Cubi 5 case to the back of an MSI monitor, just as the following picture shows.
And it supports the external power switch. You can put the external power button on your desk, so you don't need to bend to power on your computer every time, which is quite convenient.
Both memory and storage devices are upgradable on this small gaming PC. It is equipped with additional slots. You just need to remove 4 screws at the bottom cover and then you can replace the memory cards, M.2 SSD, or the 2.5-inch HDD/SSD.
In addition, it supports dual monitors. You can connect two monitors at the same time to do more work simultaneously.
For more details, you can visit the official website of MSI or contact the vendor on Amazon.
Option 2: Intel NUC 11 Enthusiast Kit

Operating System: Windows 10, 64-bit
Processor: Intel Core i7-1165G7 Processor (12M Cache, up to 4.70 GHz)
Graphics:NVIDIA GeForce RTX 2060 Graphics
Memory: Up to 64 GBDDR4-3200 RAM
Storage: 2x M.2 2280 slots
Wireless LAN: Intel Wireless-AX 201, 2.5Gb Ethernet
Price: Start at $1,198 on SimplyNUC
Warranty: 3-year warranty
Featured with the new 11th Gen Intel Core i7-1165G7 processor and the NVIDIA discrete graphics card, Intel NUC 11 Enthusiast Kit is a nice small form factor PC for video editing, video rendering, graphics editing, gaming, and serious high-end business applications. It can support up to 4 displays.
You can get more information from retailers like SimplyNUC or Bhphotovideo.
Option 3: ZOTAC Magnus ONE Mini PC
Operating System: Windows 10 Home 64-bit
Processor: Intel Core i7-10700 (8-core 2.9 GHz, up to 4.8 GHz) processor
Graphics: ZOTAC GAMING GeForce RTX 3070 8GB GDDR6 256-bit
Memory: 16GB DDR4
Storage: 512GB M.2 SSD
USB Configuration:4x USB 3.1 Gen2, 4x USB 3.0 (1 Type-C)
Wireless LAN: WiFi 6 Killer AX1650, Bluetooth 5, Gigabit LAN, 2.5Gbps Killer Ethernet
Price: $1,999.99 on Amazon
Compared with MSI Cubi 5, ZOTAC Magnus ONE portable gaming PC has a larger size – 18.4 x 14.7 x 9.3 inches, but it is equipped with a higher-performance processor. And with the ZOTAC GAMING GeForce RTX 3070 graphics card, this small gaming PC can offer a wonderful experience for daily tasks, gaming, entertainment, content creation, etc.
It is also easy to upgrade the memory and storage. Its memory card can be upgraded to up to 64 GB. And it has an M.2 SSD slot as well as a 2.5-inch SSD/HDD slot.
In addition, it supports up to 4 displays, which should be good news for content creators, programmers, data analysts, and game lovers.
Option 4: CORSAIR ONE i140Small Form Factor Gaming PC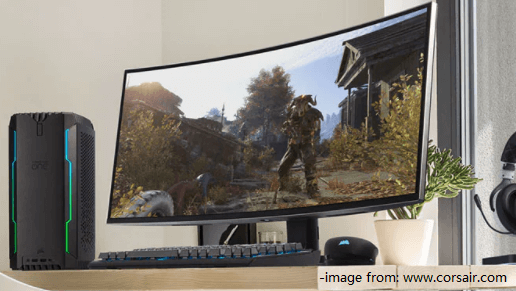 Operating System: Windows 10 Home
Processor: Intel Core i7-9700K processor
Graphics: NVIDIA GeForce RTX 2080
Memory: 32GB (2x 16GB) DDR4-2666 RAM
Storage: 480GB M.2 NVMe SSD + 2TB 2.5-inch HDD
USB Configuration:3x USB 3.1 Gen 1, 2x USB 3.1 Gen 2 (Type-A and Type-C), 2x USB 2.0
Networking: Gigabit Ethernet, 802.11ac, Bluetooth 4.2
Price: $2,799.99 on the official Corsair website
Warranty:2-year warranty
CORSAIR ONE i140 is a portable gaming PC coming with fast speed, compact outlook, and quiet design. Its small factor allows you to put the case on your desktop, instead of under it. It has built-in RGB light pipes which look cool and enable you to see your hardware. And you can use the CORSAIR iCUE software to personalize the system's outlook.
It is not too expensive as a gaming PC.
Option 5: MSI MEG Trident X Small Form Factor Gaming PC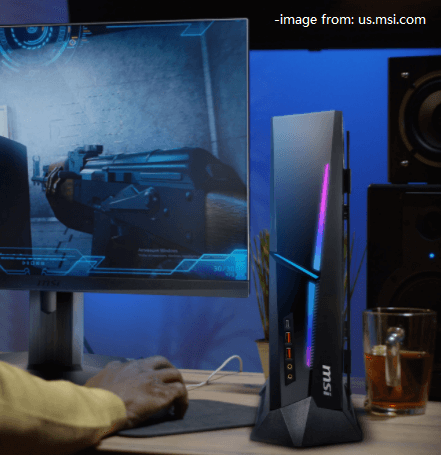 Operating System: Windows 10 Pro
Processor: 10th Gen Intel Core i9-10900K processor
Graphics: NVIDIA GeForce RTX 2080 Ti
Memory: 64GB DDR4 RAM
Storage: 1TB M.2 SSD
USB Configuration:1 x USB 3.2 Gen 1 Type-C, 3 x USB 3.2 Gen 1 Type-A, 1x USB 3.2 Gen 2 Type-A, 2 x USB 2.0 Type-A, 1X Thunderbolt 3 USB Type-C
Wireless LAN: Latest Wi-Fi 6 802.11ax standard, and speed up to 2.4 Gbps
Price: $3,899.99 on Amazon
Warranty:1-year parts & labor warranty
This should be one of the best small form factor gaming PCs you can find on the market.
At first, it is designed with a cool and fashionable outlook, as it shows in the above picture. All the components are packed in a 10 liters volume case, and you can see the stunning RGB lighting through the MEG Trident X's tempered glass side panel. By the way, its product dimensions are 15.6 x 5.1 x 15.06 inches.
In addition, it comes with high-end performance. This portable PC is designed for gaming. With the Intel Core i9-10900K processor and NVIDIA GeForce RTX 2080 Ti graphics card, you can enjoy most games fluently. And it has 2 M.2 2280 SSD slots and 2 2.5-inch SSD/HDD slots. You don't need to worry about the storage space for a long time.
The disadvantage might be the price. This portable PC for gaming is much more expensive than the above ones. If you don't plan to cost much on a PC, this may not fit you. However, if you value performance, you can take MSI MEG Trident X into consideration.
Resize Your Portable Gaming PC for Better Management
When you get a new PC, you might be unsatisfied with the disk storage space arrangement. Some vendors can repartition the hard drive for you, but usually, you will get only one partition that includes the operating system.
It is not recommended to store all the files in the system partition.
On the one hand, it could have a bad influence on the performance. When the system partition is full, your PC will get slower. On the other hand, it will be harder to search for a certain file or folder in a partition that stores too many files. In addition, if you delete system-related files by mistake, your computer might crash.
Therefore, you'd better repartition your new PC according to your needs before you start to use it. Don't worry, you can also repartition the PC if you have used it for some time. You just need a reliable and professional program for partition management.
Here I recommend MiniTool Partition Wizard, a partition manager which has a history of about 12 years. Now, let's see how to repartition your portable gaming PC with it.
Step 1: Download, install, and launch MiniTool Partition Wizard.
Step 2: To avoid data loss while shrinking the system partition, you'd better create a bootable USB flash drive with MiniTool Partition Wizard and then boot your PC from the USB drive.
Tip:
If you don't want to use the Bootable version of MiniTool Partition Wizard, you can
back up your system
before resizing the partition.
Step 3: Select your system partition and click the Move/Resize Partition feature. In the bootable MiniTool Partition Wizard, the drive letter might be changed and you'd better make sure you select the correct partition.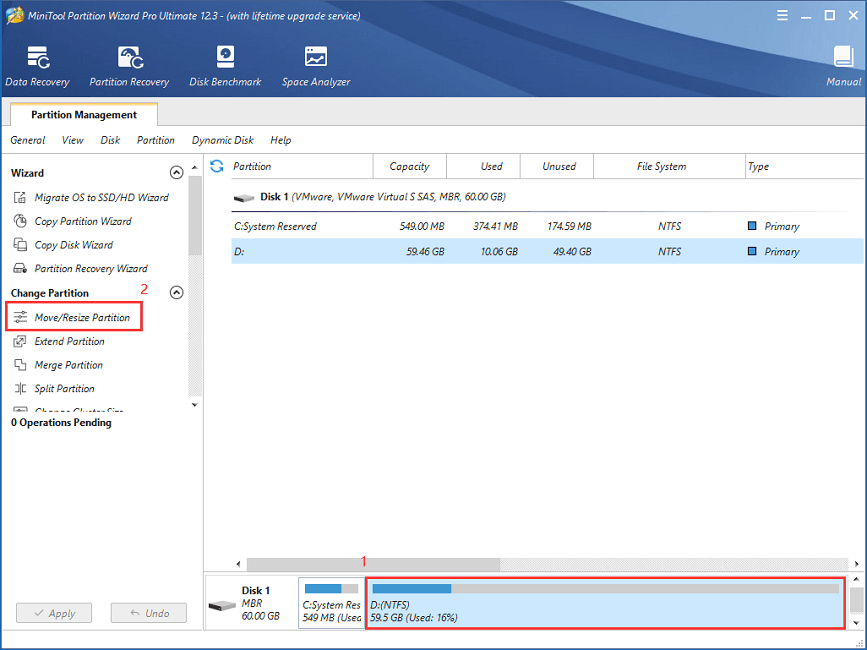 Step 4: In the pop-up window, drag the slider to shrink the system partition and spare unallocated space. Click OK to continue. Remember to leave enough storage space (at least 120GB) for your system partition.
Step 5: Right-click the spared unallocated space and click Create. In the pop-up window, specify the size, location, driver letter, and file system for the new partition. Then click OK to confirm the operation. If there is left unallocated space, repeat this step to create more partitions as you wish.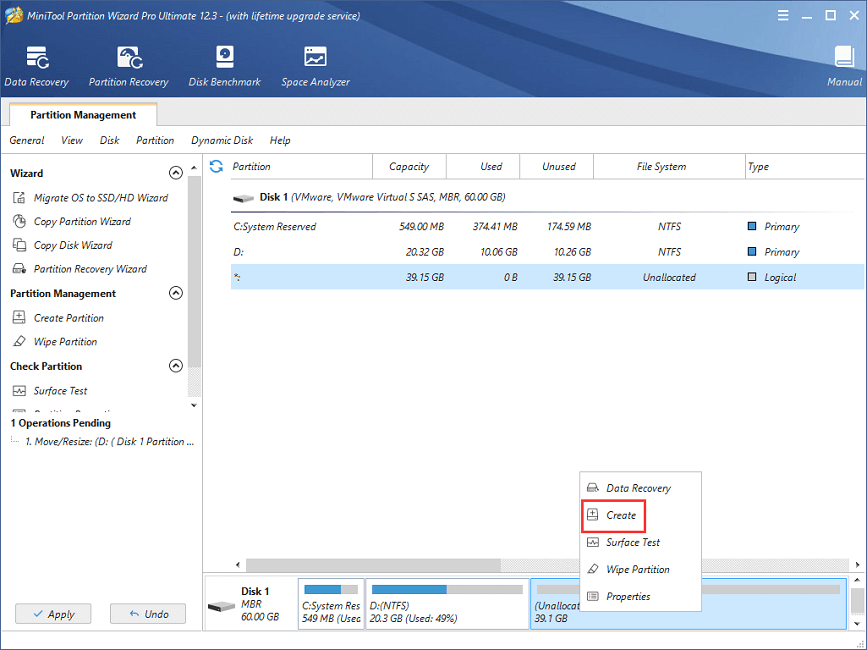 Step 6: Review the new partitions. If you are satisfied, click Apply to execute it.
Wait until the process is finished. Then disconnect your USB flash drive and boot your PC from the local hard drive. After that, you can access File Explorer and store your files in different partitions now.
Further Tip: Upgrade Your Hard Drive
A small form factor gaming PC is usually able to last 3-5 years, depending on the specifications. After a few years, you can simply upgrade the parts instead of replacing the whole PC.
For instance, you might install more and more games and updates with the use of your portable gaming PC, which makes the hard disk space smaller and smaller. The problem could even happen in a few months if your hard drive is smaller than 500GB.
Here are to solutions to this problem:
Are you looking for a portable gaming PC? This post might help.Click to Tweet
Bottom Line
This post introduced some popular portable gaming PCs. You can search them on the internet if you are interested. You can share your experiences by posting them in the following comment section. For any problems with MiniTool Partition Wizard, you can contact us via [email protected].
Portable Gaming PC FAQ
Is a mini PC good for gaming?
It depends on the PC specifications. There are some mini gaming PCs designed with more powerful processors and graphics cards. If you don't know which PC is better, you can consider the recommended portable gaming PCs above.
Are gaming laptops worth it?
How long will a gaming PC last?
Usually, a gaming PC can last 4-5 years. It cloud also vary from PC different specifications. After about 5 years, you might need to replace some parts of your PC to improve the performance.