Have tried to extend partition into non contiguous space but failed? Want to know how to extend partition to non contiguous space? With a free partition magic, you can easily extend partition to noncontigurous space. And, this article will show you the guide.
Question: How to extend a partition with a non-adjacent unallocated disk space? I need to extend the G: partition, see image attached.
This is a post we found online. It is not difficult to see that the situation is like this: due to some reasons like the partition shows a red bar or it receives a low disk space warning, etc., one wants to extend partition to non contiguous space but failed in Disk Management.
If your condition is same as above, then you have to keep reading this article. Well, here comes the question: how to extend partition to non contiguous space? In fact, this is really easy.
In this post, we provide you a free extend partition program. With it, this issue can be solved easily and safely.
The following parts will show you the detailed process.
Before all stating, there are things you should know: if the partition you want to extend is the system partition, we suggest you to look for some precautions first from this article: A Powerful Software to Increase C Drive Partition in Win 10/8/7.
How to Extend Partition to Non Contiguous Space via MiniTool?
MiniTool Partition Wizard is an all-in-one disk partition manger with many powerful features. It provides not only the basic functions like creating partition, deleting partition, formatting partition and so on, but also advanced functions like wiping partition, merging partition, copying partition and so on.
To extend partition to non contiguous space, it can be your professional assistant by using the feature Extend Partition. Luckily, this function can be used in the free edition. Now if you are willing to, please download and install it on your computer, then follow the steps below to extend partition into non adjacent space.
MiniTool Partition Wizard FreeClick to Download100%Clean & Safe
Step 1 – Open this tool and launch it to its main interface.
Double-click on the icon of this tool in the desktop or choose Open after right-clicking on its icon to open it. Then choose Launch Application to enter its main interface in which you can see the disk map here.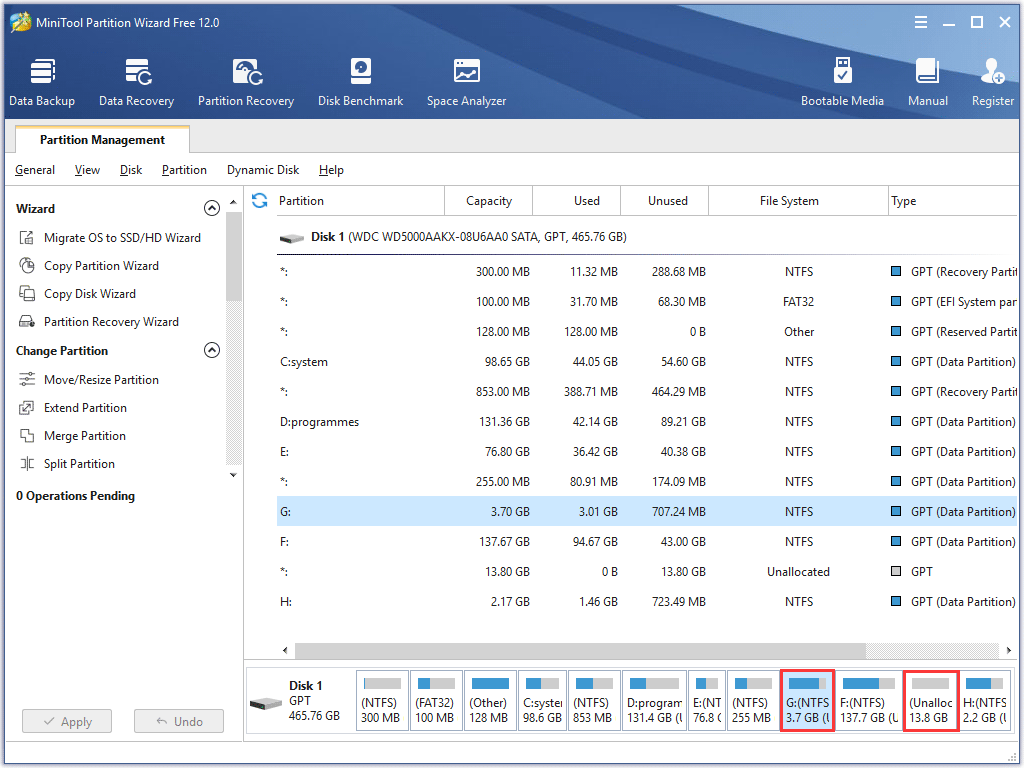 Step 2 – Select the target partition and click the related feature.
In the main interface, there are three ways to choose the feature to start extending the target partition. Select the target partition and choose one way to start:
Click Partition from the upper menu bar, then choose Extend from the drop-down list.
Click Extend Partition from the left action panel.
Click Extend from the pop-up menu after right-clicking on the partition
Choose any way as you like, they are just the same only the locations are different. Then a window will jump out.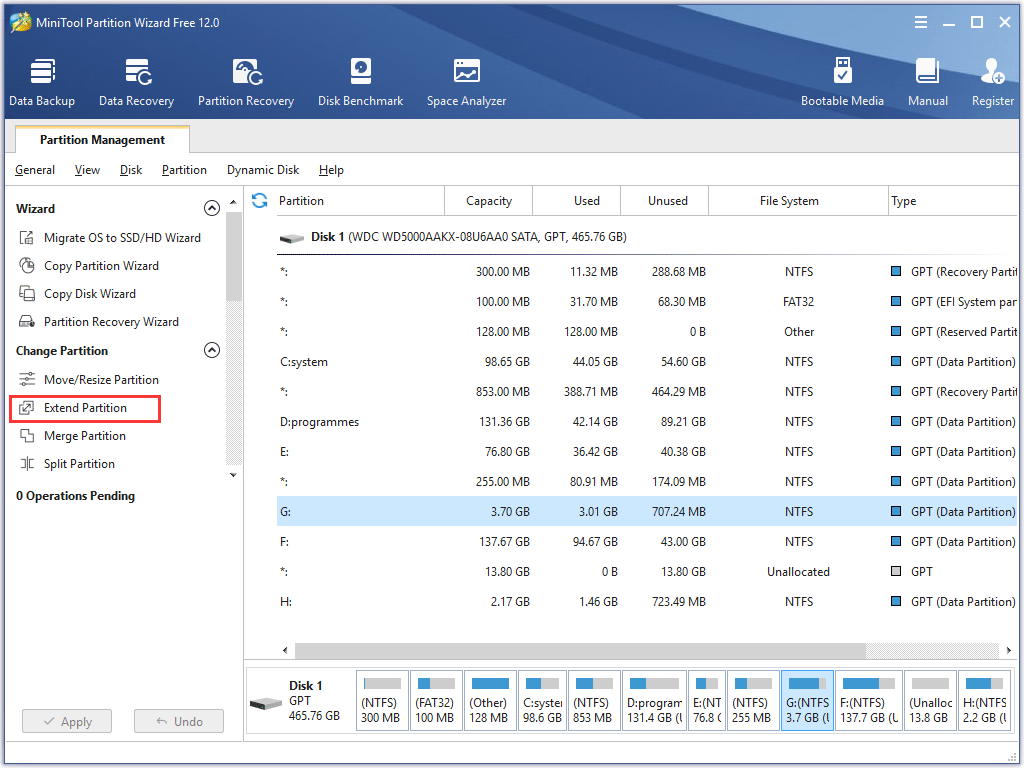 Step 3 – Extend the partition to the non adjacent space.
Set parameters in this window. Open the drop-down list of Take Free Space from and choose the non contiguous space to take free space from.
Tip: In fact, you can choose any unallocated space or partition from the drop-down list to extend the target partition regardless of its location.
You can decide how much space to take by dragging the sliding handle. After that, click OK to continue.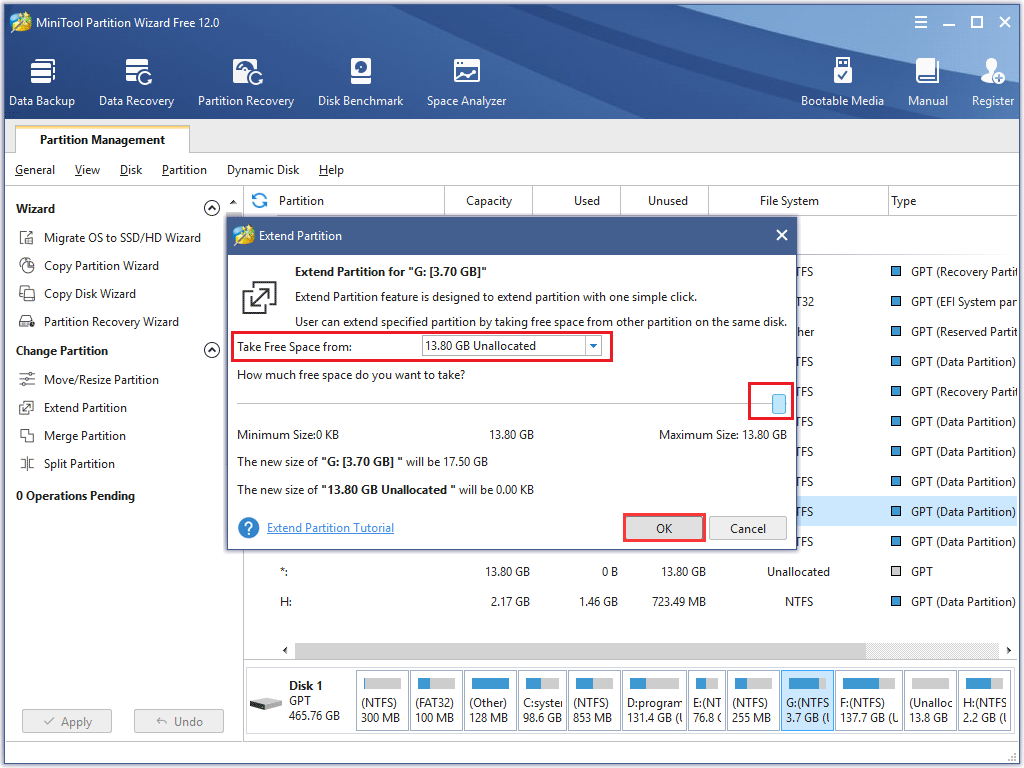 Here we decide to take all space of this non contiguous space.
Step 4 – Save the change.
You will then be returned to the main interface of the software after clicking OK and now you can preview the result of extending partition into non adjacent space. If you feel satisfied with this result, click Apply from the left upper to save the change.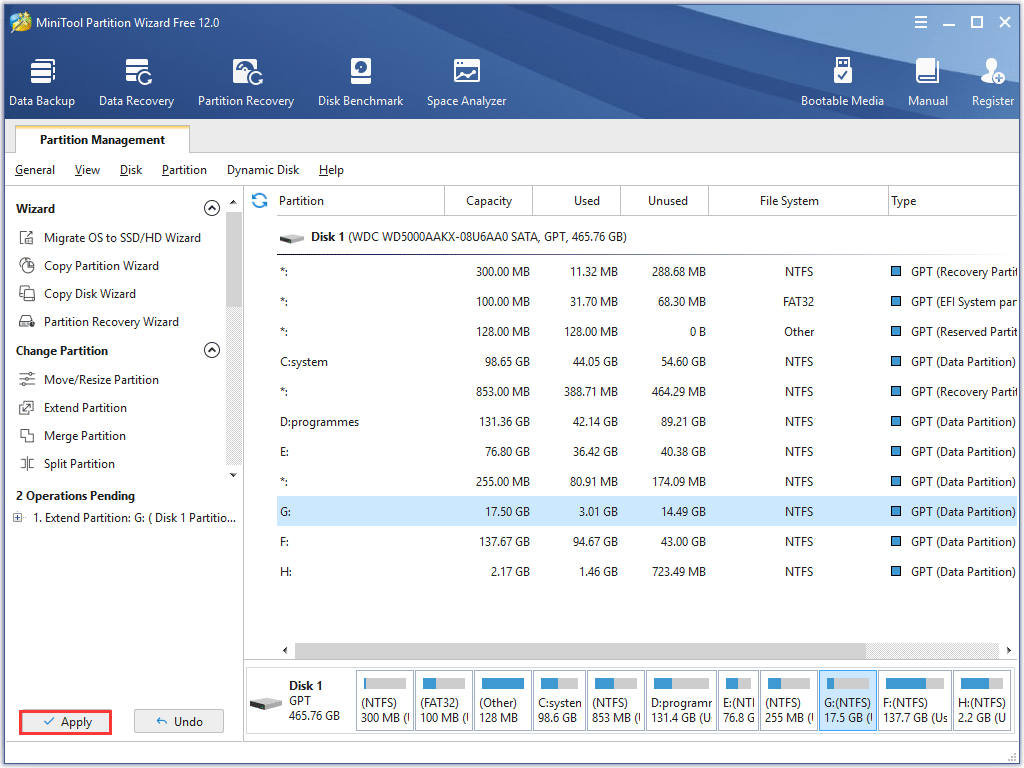 Why Disk Management Fails to Extend Volume to Non Contiguous Space?
Now since the trouble is solved, you might want to know why extend partition to non contiguous space but failed in Disk Management. That's because although Disk Management has the extend volume feature, it has conditions. You can only extend volumes to the allocated/free space which is next to the right of the target partition.
Except this condition, there are also some other requirements: the target partition has to be formatted with NTFS or is a RAW partition; otherwise, you will see extend volume grayed out.
Then how to make it successful?
If the file system of your volume is able to be extended and you still want to extend volume to non contiguous space in Disk Management, you can try these two ways:
1. Convert the partition (data partition instead of system and boot partition) to dynamic partition and then select extend volume option. You should note that some Windows operating systems don't support dynamic disk.
2. Delete the partition right behind the target partition (this operation will cause losing data). Please notice that the non contiguous space should be at the right side of the partition to be deleted.
In our opinion, to achieve the purpose in Disk Management is very troublesome, the limitations are hard to break through. On the contrary, MiniTool Partition Wizard can easily extend volume to non adjacent space without data loss. Besides, it is free. Why not choose it?
Bottom Line
Now, do you know how to extend partition to non contiguous space? There are various solutions to this issue, but if you want to complete it easily and without data loss, certainly using MiniTool Partition Wizard is the best way.
Also, if you have some other opinions about how to extend partition to non contiguous space, welcome to let us know in the comment zone. Meanwhile, if you have any problem, you can contact us via [email protected].