Some people reported that their SanDisk 64GB flash drive only showing 32GB after reformatting or creating a Recovery Disk. Do you know why? How to fix the vexing problem? Today MiniTool will provide you with detailed steps to fix the issue.
Here is a reader from SuperUser reporting the 64GB flash drive only showing 32GB issue.
I have a SanDisk Cruzer 64GB USB that I used a couple of weeks ago to create a Recovery Disk, and after using it I erased everything on it so I could store files for personal use. However, when I go to file explorer it shows that the 64GB USB only has 32GB of space. It is NOT a FAT32 Format, as I already tried reformatting to NTFS. When I tried reformatting it showed it could only be reformatted up to 32GB.

https://superuser.com/questions/1396435/sandisk-cruzer-64gb-showing-only-32gb-availible-space
Many people encounter the same issue as the report. When it comes to the 64GB flash drive only showing 32GB issue, some users intend to reformat the flash drive to NTFS but failed because it could only be formatted to 32GB. In fact, you can use professional software to fix the issue.
Why Is My 64GB Flash Drive Only Showing 32GB
Why is my 64GB flash drive only showing 32GB? There are several common reasons behind the error. For that:
This USB flash drive is used to create a Windows installation or a recovery disk.
The file system of your USB drive is FAT32 not NTFS.
Disk Management can only allow you to format an external hard drive to FAT up to 32GB. So, that's why you can't format a 64GB flash drive to FAT.
There are more than one partitions on the flash drive, which causes your Windows cannot recognize the second or more partitions.
Now, let's see how to fix the 64GB only showing 32GB problem based on the reasons.
How to Fix the 64GB Only Showing 32GB Problem
Here are 2 effective methods to fix 64GB flash drive only showing 32GB. You can convert the FAT32 flash drive to NTFS using a free tool. Or you can restore the 64GB flash drive to its full capacity using Diskpart.
Method 1. Convert the 64GB Flash Drive to NTFS
As mentioned above, Disk Management has a limitation in formatting more than 32GB flash drive. If your flash drive has been formatted to FAT32, you can try converting it to NTFS to fix the issue. Here it is highly recommended to use MiniTool Partition Wizard.
It is a trusted partition management tool that can help you convert FAT32 to NTFS without data loss. Besides, it can help you convert MBR to GPT, upgrade the hard drive, resize partition easily, etc. Here is a full guide to convert a flash drive to NTFS.
Step 1. Connect the 64GB flash drive to your computer and launch this program to get its main interface.
Step 2. Click on the Convert FAT to NTFS feature and then click the Start button to begin the conversion process.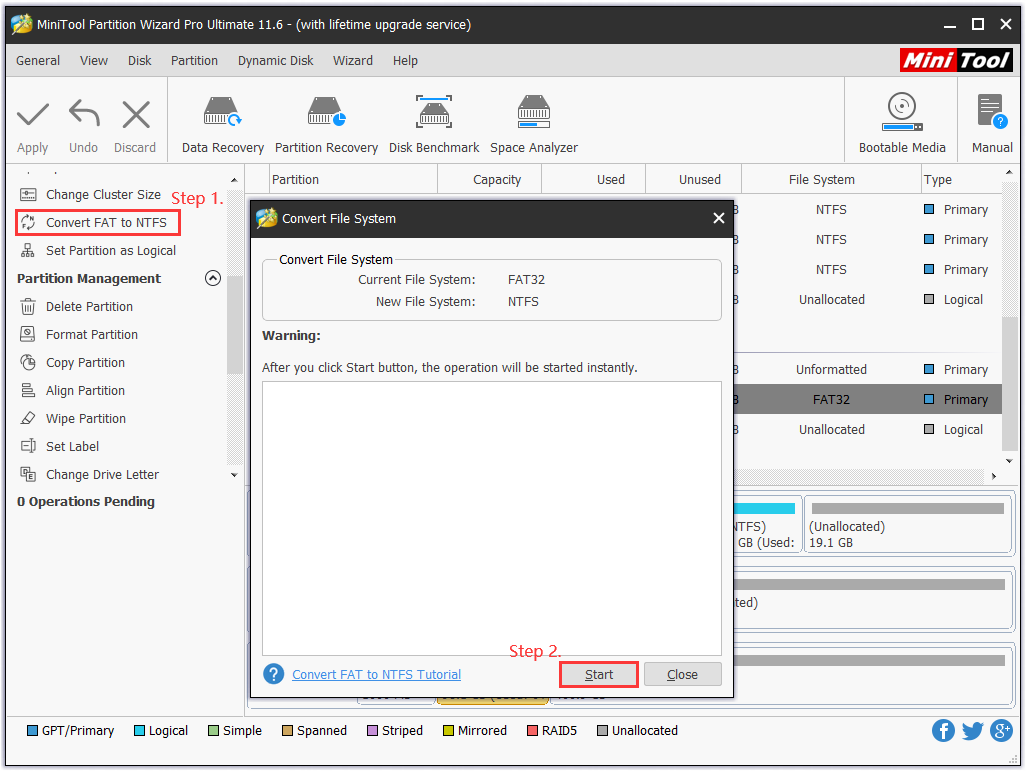 Step 3. Then you can continue using this powerful tool to resize your partition on the SanDisk USB drive.
Step 3. After the conversion ends, you can check if the SanDisk 64GB flash drive only showing 32GB is fixed or not.
Method 2. Restore the 64GB Flash Drive to Its Original Capacity
Alternatively, you can restore the 64GB flash drive to its original capacity using Diskpart. This tool allows you to format a 64GB drive, unlike Disk Management. Bear in mind that this operation will erase all the data on the dive, so please back up your USB drive beforehand. Then you can follow the steps below.
Step 1. Press Win + R keys to open the Run dialog box, and then type diskpart in the box and hit Enter.
Step 2. Then type the following commands in the command prompt and hit Enter after each command.
list disk
select disk * (replace * with the 64GB disk)
clean
create partition primary
format fs=ntfs quick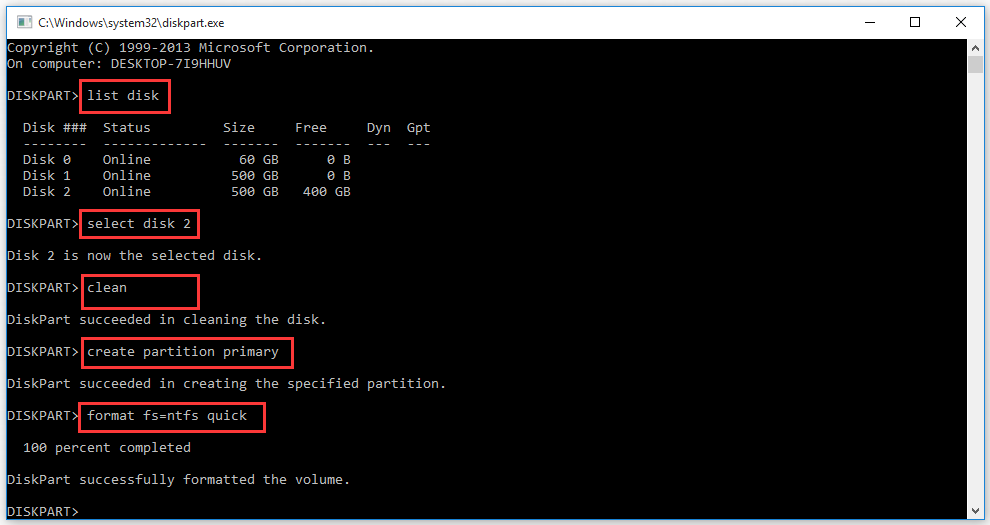 Now, your USB flash drive has been formatted with one NTFS primary partition. You can check if it shows 64GB storage capacity in File Explorer.