Microsoft made Windows 10 the only choice for new CPUs. Why did it that? This article not only shows the reasons for this item, but also displays the outcome brought by this item. Furthermore, a free all-in-one program MiniTool Partition Wizard is also introduced in this article to help you manage your hard drive better.
Windows Support Policy Change: Microsoft Made Windows 10 the Only Choice for New CPUs
Microsoft tried its best to make Windows 10 the only system supported by new CPUs. You may learn something about this item. Now, let's explain it in detail. 
Tip: This support policy change is much related to Intel Skylake buyers as well as users who have a plan to upgrade their CPUs or buy new PCs, so these people should pay more attention.
Terry Myerson, Microsoft's Executive Vice President for Windows and Devices Group, disclosed their new Windows support policy, which mainly includes 3 points: 
Point 1:
Windows 7 running on old versions of CPUs (older than Skylake but not include this processor) will continue to be supported for security, reliability, and compatibility until its extended support time (January 14, 2020) ends, and Windows 8.1 running on previous generations of CPUs will receive the same support through January 10, 2023. 
Point 2:
Through July 17, 2017, Skylake (the six-generation of CPU from Intel) devices on the supported list were supported by Windows 7 and 8.1.
But after this date, only the most critical Windows 7 and Windows 8.1 security updates are addressed for these configurations, and are made available only if the update does not risk the reliability or compatibility of the Windows 7/8.1 platform on other devices.
If these users want to get continuous support after the date, they need to upgrade to Windows 10 before the 18-month support period ends.
In addition, Windows 7 and 8.1 running on Skylake devices that are not on the supported list are not be supported even during the 18-month support period. For continuous support, they also need to upgrade their system to Windows 10 or downgrade CPUs. 
Point 3: New silicon generations (CPUs), such as Intel's upcoming "Kaby Lake" silicon, Qualcomm's upcoming "8996" silicon, and AMD's upcoming "Bristol Ridge" silicon, requires the latest Windows platform for support, which means new CPUs will support Windows 10 platform only, and you cannot downgrade the system to either Windows 7 or Windows 8.1.
Further reading:
A part of supported Skylake devices: Dell Latitude 12, Dell Latitude 13 7000 Ultrabook, Dell XPS 13, HP EliteBook Folio, HP EliteBook 1040 G3, Lenovo ThinkPad T460s, Lenovo ThinkPad X1 Carbon, and Lenovo ThinkPad P70.
For more supported Windows 7 and Windows 8.1 devices on Skylake platforms, please see Dell, Lenovo, and HP. Check whether your computers are supported by Microsoft with operating system.
Actually, even if your device is now not on the list, don't worry and keep a watchful eye on your OEM's website, because they will periodically update their list of supported systems when new supported models are released.
However, if your device is finally proved to be not supported, upgrade to Windows 10 or downgrade CPU before the deadline. From what Terry Myerson said we know both Windows 7 and Windows 8.1 should gradually give way to Windows 10 though Windows 8 was released just for 3 years and has similar kernel to Windows 10. Therefore, it can be said that Windows 10 will be the only system working on new CPUs.
Reasons for Microsoft Made Such a Change
Well, why Microsoft made such an unbelievable support policy change? What influences the change has brought? And what countermeasures can we take? Next, let's answer these problems in detail. 
Microsoft may officially say doing this is to offer its users better computing experience and take advantage of new capabilities in newly introduced CPUs.
This is true to some extent. For example, Windows 10 features new biometric authentication which makes it possible for you to log in to PCs through face or fingerprint detection, making Windows 10 more secure.
In addition, Terry Myerson also claimed Skylake when combined with Windows 10 enables up to 30x better graphics and 3x the battery life, and with the Intel Skylake vPro, biometric authentication data is stored in firmware at the chip layer rather than the drive, providing high-level protection. Nevertheless, does this mean running Windows 10 on old versions of CPUs cannot bring users good computing experience?
If so, why at the very beginning of time Windows encouraged all Windows 7 and Windows 8.1 users rather than those using new generation of CUPs to free upgrade to Windows 10? This is a question deserving for our deep thinking. 
Another reason from Microsoft is that Windows XP support has ended, and running Windows 7 on any modern CPUs, device drivers and firmware needs to emulate Windows 7's expectations for interrupt processing, bus support, and power states, which is challenging for WiFi, graphics, security, and so on.
Therefore, Windows 10 is better for new CPUs. However, from this statement, it is not difficult to see Microsoft didn't mention Windows 8 or 8.1 intentionally, which still can be regarded as Microsoft operating system (released in October of 2012). So, this does not explain why Windows 8.1 users also need to upgrade to Windows 10.
Actually, the following 3 reasons for this change are more reliable: 
Reason 1:
Until 2016, lots of enterprise users declined or hesitated to upgrade to Windows 10 (due to company policies, upgrade schedules, legacy application, peripheral compatibility, security, etc.), so Microsoft hoped to drive this part of people to do the upgrade via this way.
Reason 2:
From a survey of NETMARKETSHARE we know till December 2015, Windows 7 took up the most market share, up to 55.68%, Windows XP follows with 10.93%, Windows 8.1 with 10.3%, and Windows 10 was just with 9.96%, located in the fourth place.
And another investigation indirectly displayed that only a small part of Windows 7 and Windows 8.1 users have upgraded to Windows 10, and maybe lots of original Windows XP users contributed to the increase of Windows 10 market share.
Under the situation where Windows 7 and Windows 8 took up more than half of the operating system market share, Microsoft had to take countermeasures to unify its ecosystems to Windows 10. After all, they hoped at least one billion devices would be running Windows 10 in 2016.
Reason 3: Providing technical support and security updates for multiple older versions of operating systems would waste Microsoft much time and resources.
Hi, here are the reasons why Microsoft made Windows 10 the only choice for new CPUs.Click to Tweet
What Have Microsoft Support Policy Change Brought
For Microsoft
Some users may not upgrade or hesitate to upgrade their system to Windows 10 because of upgrade schedules, application/peripheral compatibility, security issues (Microsoft doesn't do well in security updates and Windows 10 may leak users' privacy), and more.
However, there are more and more Windows 7 and Windows 8.1 users upgrading their system to Windows 10, and naturally Windows 10 market share is increasing gradually. To see the change more intuitively, you can see the following picture.

For Windows Users
Definitely, users who have upgraded or plan to upgrade to Windows 10 get promised security or technical support coming from Microsoft, as well as experience a lot of amazing features that are only seen in Windows 10, like biometric authentication, and Xbox Streaming.
However, they have to cost extra time to do the upgrade if they were previously running Windows 7 or Windows 8.1. And during this process, they may meet different kinds of problems, for example, Blue Screen Errors Appear during Windows 10 Upgrade, or important data get lost after the upgrade as they forgot to make a backup in advance. All these issues are troublesome. For those who are using Skylake but insist on running Windows 7 or Windows 8.1, they have to replace the Skylake with older CPU, which is an unnecessary cost.
In addition, once Windows 10 becomes the only choice for new CPUs, users who hope to run Windows 7 or Windows 8.1 on new computers have to turn to desktop and configure each part of the computer by themselves.
Necessary Program for Windows 7, Windows 8.1, and Windows 10
No matter which decision you make, upgrade to Windows 10 or continue to use Windows 7/Windows 8.1, you'll need to prepare the following program – MiniTool Partition Wizard.
This free all-in-one disk partition manager can help you solve some upgrading problems, like Windows 10 Upgrade Couldn't Update System Reserved Partition. In addition, it is also a tool that works well in disk partitioning, including copy disk, convert disk from MBR to GPT, convert dynamic disk to basic, check and fix file system, convert FAT 32 to NTFS, as so on.
Recover Lost Data and Partition via MiniTool Partition Wizard
The Data Recovery feather and Partition Recovery feature built-in MiniTool Partition Wizard is quite useful when you find your important data is lost or some partitions are no longer on your hard disk.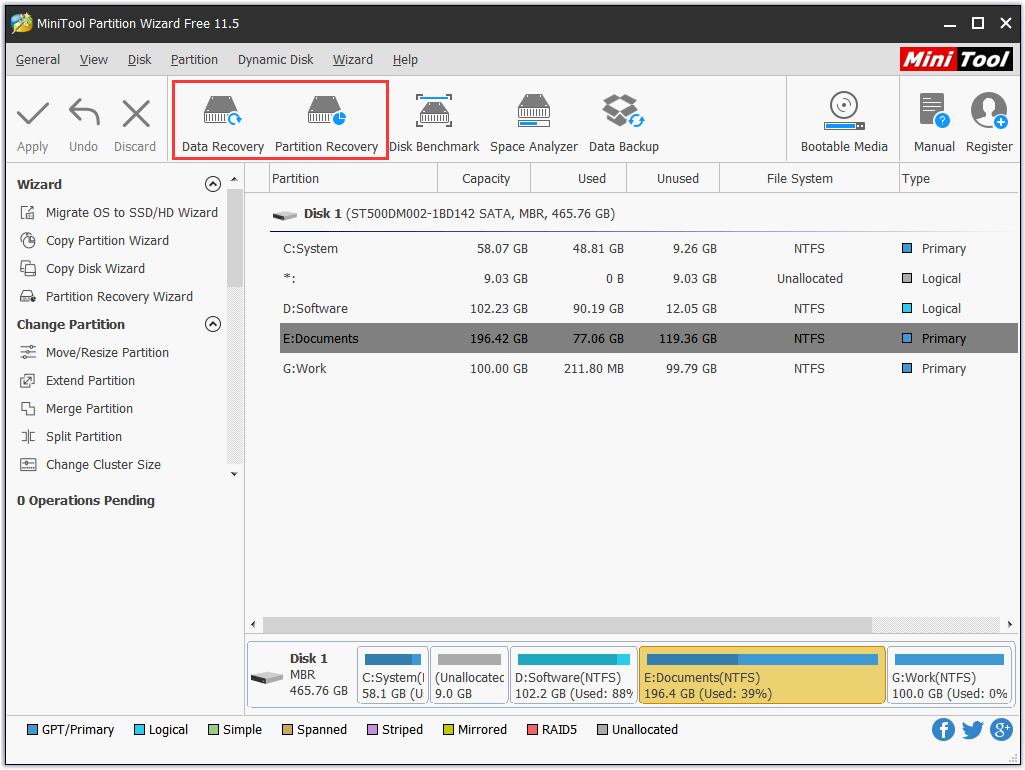 Note: You can recover the lost data due to different kinds of logical errors, such as mistaken deletion, accidental formatting, system reinstallation or upgrade, and virus attack.
To know how to use MiniTool Partition Wizard to recover lost data and partition, you can read the following recommended article.
Final Words
Finally, I hope this post could be useful for those who are running Windows 7 or 8.1 on Skylake devices or planning to purchase new PCs or interested in this topic.
Absolutely, if you have any doubts about the operations of MiniTool Partition Wizard, please leave your message following this article, or contact us via [email protected].