A large number of people want to get a uTorrent free download for Windows 10/11. Where to get the free download uTorrent? How to install it? This post of MiniTool explains these questions in detail.
What Is uTorrent
uTorrent is a proprietary adware BitTorrent client released in 2005, September 18. Since its release, this software has attracted a large number of users around the world. It allows users to download and share large torrent files like movies, TV shows, software, and videos easily.
In addition, this client is available for many platforms, including Microsoft Windows, macOS, Linux, and Android. The uTorrent download package contains multiple languages such as English, Albanian, Arabic, Belarusian, Brazilian, Bengali, Bulgarian, Chinese, etc.
More importantly, it is a free and lightweight client that won't drain too many resources of your computer. The uTorrent free download package just requires about 1.28MB of space to install on Windows.
It's easy and friendly for beginners to use even if you don't have any prior knowledge about torrenting. After you install uTorrent, it will automatically download and configure all .torrent files. In a word, uTorrent boasts the following several benefits:
Small and convenient: With a small size installation package, uTorrent can download and share many types of large torrent files easily.
Multiple languages: This client support many languages, which attracts a large number of fans around the world.
Schedule downloads: You can schedule the downloading tasks according to your time.
Contain many detailed stats: You can view the size of torrent files, upload and download speeds, seeds and peers, and the estimated time the file will be ready.
So, how to get uTorrent downloaded and installed freely for Windows 10/11? Let's keep reading.
How to Download and Install uTorrent for Windows 10/11
How to download and install the uTorrent computer program for free? Here's a full guide for you.
Step 1. Click here to visit the free downloading uTorrent page, and then scroll down to the uTorrent Classic section and click on Free Download. Then select a location to save the uTorrent free download package.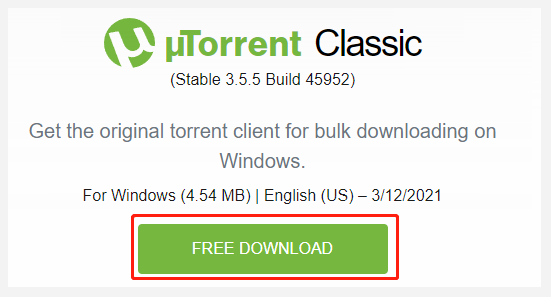 Step 2. Once downloaded, double click the uTorrent.exe file and click on Yes in the User Account Control window to run the free torrent downloader.
Step 3. You will be welcomed to the uTorrent Setup wizard. Click on Next. Then it shows you a warning to check for scams during the free downloading uTorrent process. Click on Next to continue.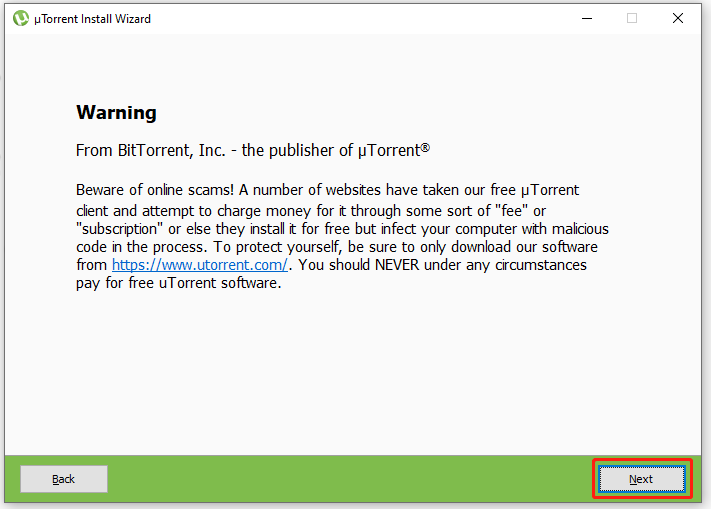 Step 4. Click on Agree in the License Agreement and Privacy Policy window.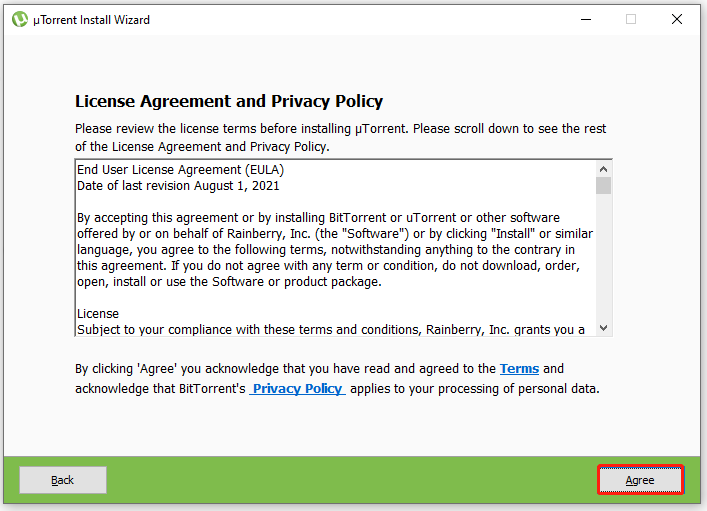 Step 5. Select the Install Options. Here you can leave these boxes checked and click on Next.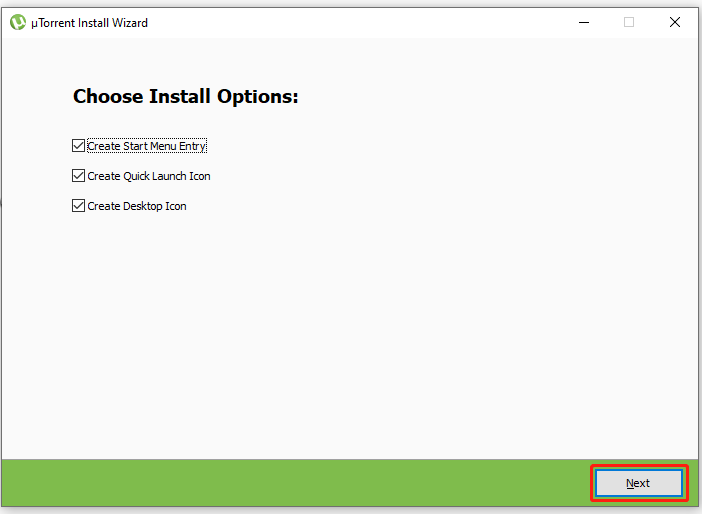 Step 6. Configure uTorrent according to your demands and click on Next.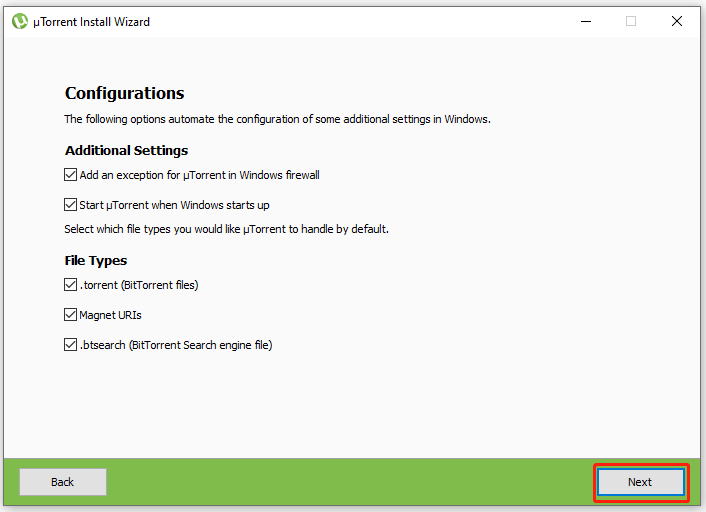 Step 7. Now, it will start downloading and installing uTorrent on your computer. Click on Finish to close the installer.
Tip: If you want to uninstall uTorrent later, right-click the Start menu and select Apps and Features, scroll down the list of programs to uTorrent, and click on Uninstall. Once uninstalled, restart your computer.
Of course, this program is not always running perfectly. Sometimes, you may encounter various issues while running uTorrent. Here we summarize several frequently-triggered problems and provide corresponding solutions. Click on the hyperlinks below o know detailed information.