A large number of users want to install Visio for the web and desktop. Where to find the Microsoft Visio download package? How to download and install Visio? If you are also trying to figure them out, this post of MiniTool is worth reading.
About Microsoft Visio
Before you download Visio, it's important to know some basic information about this program.
What Is Microsoft Visio
Microsoft Visio, also known as Microsoft Office Visio, is a powerful and multifunctional diagramming and vector graphics app. This tool can be used to create diagrams and flowcharts for various occasions. In addition, it has a user-friendly interface that can help you make your own professional results easily.
Can I Download Visio for Free
Is MS Visio free? The answer is "No". It is a premium software program that has many different subscription-based Visio plans. At present, Microsoft only gives users the ability to download a trial version of Visio freely. Thus, if you still want to upgrade its core functionalities after you get the Visio download package, you need to download some third-party add-ins.
Is Visio a Part of Microsoft Office 365
Although Visio is a Microsoft application, it is not included with the core Microsoft Office 365 package. It's equal to a plug-in that needs to be downloaded separately for Office 365. However, if you were a part of the Microsoft 365 subscription, you can use enjoy some core Visio capabilities without extra cost.
Which Version of Visio Should You Download
Another important thing is to figure out which MS Visio version works best for you. There are different versions like Visio 2016 Standard/Professional and Visio Office 365 Pro. However, the Standard version only offers the basic functionalities. If you want to use more tools, templates, and shapes, then a professional version is an ideal choice.
Microsoft now offers 2 Visio plans and only some versions include the desktop app. For that:
Visio Plan 1: If you choose this plan, it means that the only way to access Visio is via the Web app version. To access Visio on the web, you can visit visio.office.com and sign in with your Microsoft account if prompted.
Visio Plan 2: If choose this plan or has a non-subscription version like Visio Professional and Visio Standard 2013, 2016, 2019, 2021, you can download and install Visio as the desktop app.
How to Download and Install Visio
How to download and install MS Visio for the web and desktop? The steps may vary from different Windows versions. Here's we take Windows 10 for example.
Step 1. Click here to open the Microsoft Office download page and find the Visio version that you want to use.
Step 2. Sign in to Visio with your Microsoft account and enter your product key if prompted.
Step 3. Click on Install Office and find the correct MS Visio version depending on your Windows version. Then click on Install if you find it.

Step 4. Click on Other install options and select Apps & Devices from My Account.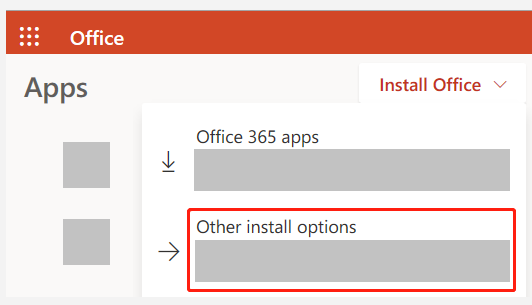 Step 5. Go to the My Installs section, then select Language and Version (32-bit or 64-bit), and click on Install Visio. Then this installer will start downloading Visio.
Note: If you have installed any other Office apps, make sure you select the same bit version for your Visio.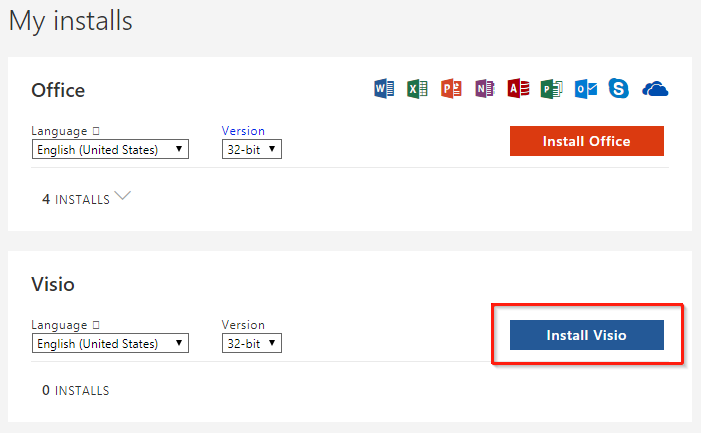 Step 6. Save the downloaded Visio file. Depending on different browsers, you may need to click on Run in Edge or Internet Explorer, Setup in Chrome, or Save File in Firefox. Click on Yes if you are prompted with the User Account Control window.
Step 7. When you see the message saying "You're all set! Visio is installed now", the installation is complete.