Recently, many users report uTorrent not downloading or stuck on connecting to peers. What can you do if you encounter the same problem? Don't worry. MiniTool Partition Wizard develops a simple guide to help you get rid the issue.
uTorrent is a proprietary adware BitTorrent client and it is very popular among users. uTorrent helps to download large files like movies, games, videos and so on within a few clicks. However, some issues might come up during the downloading, such as uTorrent stuck on connecting to peers or not downloading.
If you encounter uTorrent connecting to peers issue, it indicates that the BitTorrent client cannot connect to other BitTorrent users and you are unable to download a torrent. This problem might occur due to various factors but you can fix it with ease.
Keep on reading this article and you can get some effective solutions below.
Fix 1: Allow uTorrent Through Firewall
In most cases, the issue that uTorrent stuck on connecting on peers occurs because the client has been blocked by firewall. So, it should be helpful to allow uTorrent through firewall. Here's how to make it in Windows 10.
Tip: If you are using antivirus applications, you should also make sure they are not blocking your uTorrent.
Step 1: Press Windows + S, input control panel and click the search result to open it.
Step 2: Navigate to System and Security > Windows Defender Firewall and click Allow an app or feature through Windows Defender Firewall in the left pane.
Step 3: Then, click Change settings button to make the settings editable. Locate uTorrent and check its boxes under both Private and Public columns. Click OK to save changes.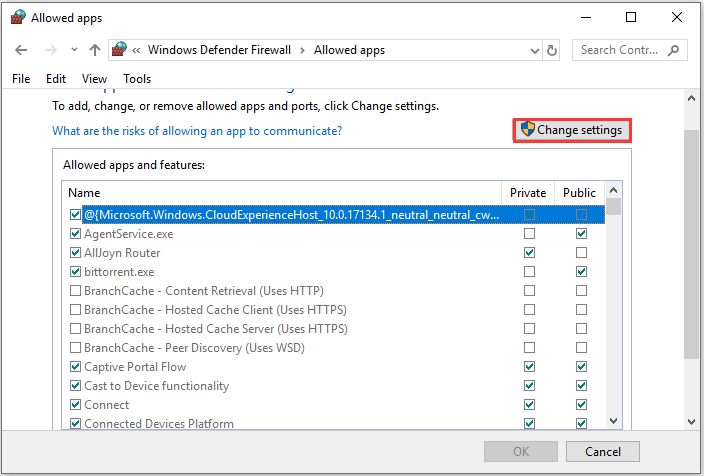 Fix 2: Run Tests in uTorrent
If uTorrent won't download due to stuck on connecting to peers, chances are that there are certain problems with your network configuration. In this case, you can run a test within your uTorrent.
Step 1: Open your uTorrent client, click Options in the upper left corner and choose Setup guide.
Step 2: Check both Bandwidth and Network. Select the nearest server from the drop-down list of Bandwidth.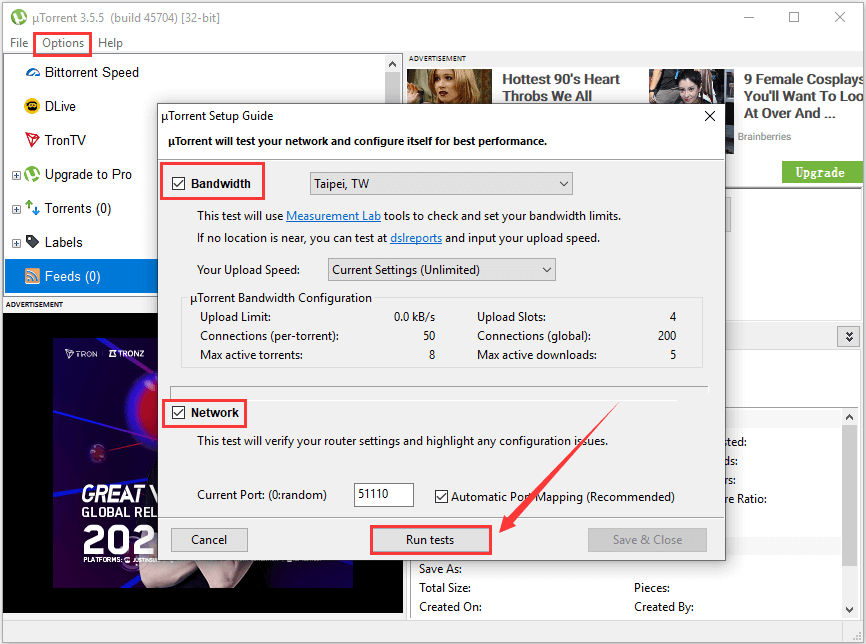 Step 3: Click Run tests and wait for the process to be completed. After that, some recommended configuration for your network connection will be listed under each section, and you need to click Save & Close button to apply the changes.
Fix 3: Change Your Preferences Settings in uTorrent
The Preferences setting in your uTorrent might also interfere with your internet connection and cause uTorrent not downloading issue. So, you might need to configure some related settings. Just open your uTorrent client and go to Options > Preferences and make following configurations.
#1. Connection Preferences
Click Connection in the left pane, check Enable UPnP port mapping and Enable NAT-PMP port mapping options. If you haven't configured Windows Firewall, you should also make sure Add Windows Firewall exception option to make uTorrent through firewall.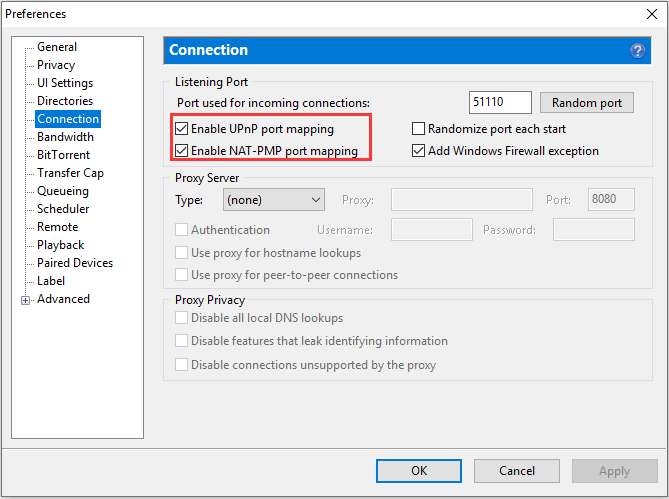 #2. Bandwidth Preferences
The bandwidth settings might also be responsible for uTorrent not downloading or uTorrent stuck on connecting peers. By default, the maximum download rate is unlimited, but you are recommended to set a limited value for it.
Choose Bandwidth in the left pane. In Global Download Rate Limiting section, change the value of Maximum download rate to the speed that matches with the actual download speed.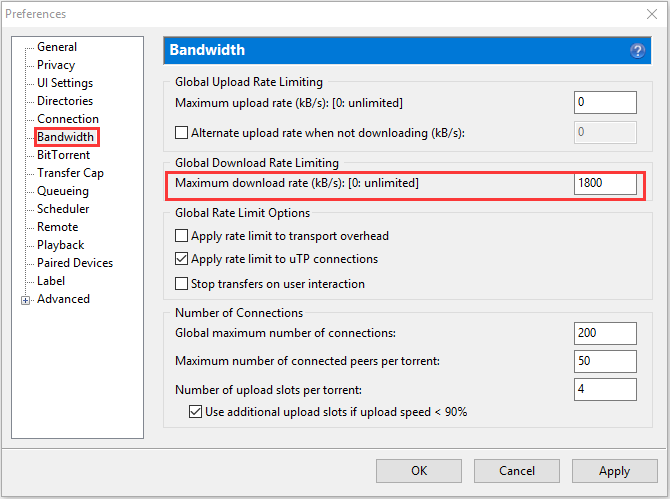 #3. BitTorrent Preferences
Commonly, the outgoing protocol encryption in BitTorrent is disabled, which has been proven to be a reason for uTorrent connecting to peers issue. So, you might need to change this setting as well.
Click BitTorrent in the left pane. Under Protocol Encryption section, choose Forced from the drop-down menu of Outgoing.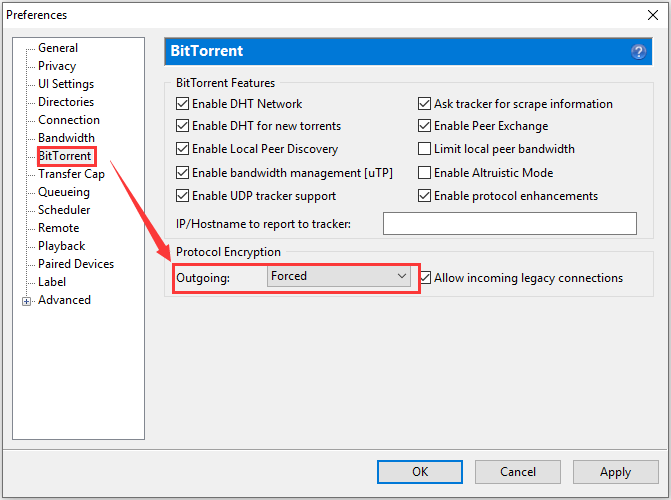 After you complete the configurations, don't forget click Apply and OK to save the changes. Then, you can try downloading with uTorrent again to check if the issue is fixed.
Fix 4: Use A Compatible VPN
If you are using a wrong VPN or Proxy, you will definitely encounter certain problems while downloading items with uTorrent or other clients. In this case, you are recommended to use a reliable VPN that compatible with your computer.