If you are going to get a free Minecraft Launcher download, you come to the right place. In this post, MiniTool Partition Wizard provides you with Minecraft Launcher download links for Windows/Mac/Linux/Mobile devices.
What Is Minecraft Launcher
Minecraft Launcher, a free game utility for Windows, offers you a way to manage and maintain some of your favorite Minecraft games. Besides, it allows for cross-play with friends no matter which platform they are playing the game on (like Nintendo Switch, PS4, and Xbox One).
With Minecraft Launcher, you can access the games below from the same location. Minecraft Launcher is not a necessity to play these games, but it can help you save time.
How to Get Minecraft Launcher Download
Where to download Minecraft Launcher? This section collects Minecraft Launcher download links for different devices. Click on the given link to get Minecraft Launcher for your device now!
Note:
Though you can get the Minecraft Launcher download free of charge, you need to buy games individually before playing them. Alternatively, you can subscribe to services like Xbox Game Pass for PC or Xbox Game Pass Ultimate to access Minecraft for Windows, Minecraft: Java Edition, and Minecraft Dungeons.
For Windows Computers
The official website of Minecraft offers you Minecraft Launcher download links for various systems, such as Windows, macOS, Android, iOS, and Linux distributions. If you run a Windows PC, you can download Minecraft Launcher by clicking on the corresponding links below according to your system version.
Tips:
1. Ensure that your system is Windows 10 version 18362.0 or higher and has x64 architecture.
2. To avoid any possible issues, you can install Minecraft Launcher on the C: Drive.
3. Try installing the old edition if you encounter the "Minecraft Launcher currently not available in your account" error while installing the newer edition.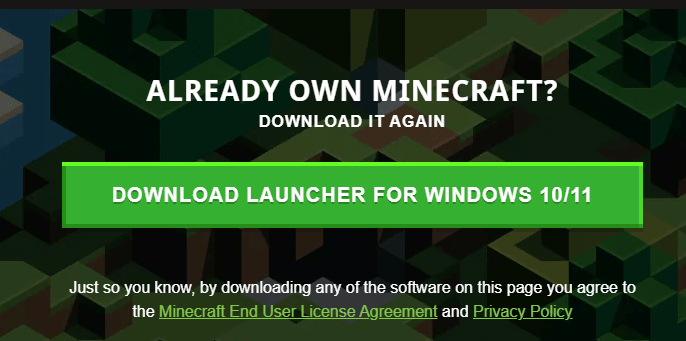 Alternatively, you can also obtain Minecraft Launcher downloads from Microsoft.com and Xbox.com (Microsoft Store). After navigating to the website, follow the on-screen instructions to download Minecraft Launcher. You may need to log in to your Microsoft account or sign up one from scratch if you don't have it.
For Mac Computers
If your device is a mac, click the link below to download and install Minecraft Launcher.
Download Minecraft Launcher for macOS
For Linux Distributions
Minecraft Launcher is also available for Linux distributions. According to the specific Linux distribution of your device, click on the corresponding links. Then set up Minecraft Launcher by following the prompted instructions.
For Mobile Devices
You can get a Minecraft Launcher download free of charge on your Android and iOS devices. There are the links for you.
Bottom Line
Through the offered links in this post, you can download Minecraft Launcher on platforms like Windows, Mac, Linux, and mobile. With the help of MiniTool Partition Wizard, you are able to create/format/extend/shrink/move/delete/recover partitions, copy disks, convert MBR to GPT, and execute other operations related to partitions and disks.