This post mainly shows you how to download Minecraft Bedrock edition, Minecraft Java edition, and Minecraft Java & Bedrock edition on computers respectively. If you want to download any of them, read this post of MiniTool and click on the corresponding links to download the desired edition.
Minecraft Bedrock Edition PC Download
The bedrocklauncher.github.io enables you to get the Minecraft Bedrock edition download PC version for free. However, you need to note this is an unofficial Minecraft Bedrock for Windows 10 Launcher. Just navigate to this website and then click on the DOWNLOAD button. Then you can get the Minecraft Bedrock edition PC download free.
Note:
You are required to install .NET Desktop Runtime 6.0.1 (x64) to run this application.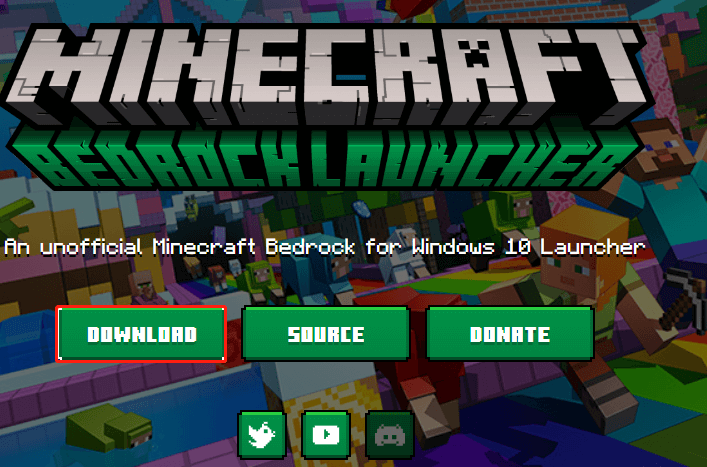 To run the Minecraft Bedrock edition, unzip the downloaded "build" folder and double-click on the BedrockLauncher.exe file after opening the unzipped folder. Then you may get the window below. If you are sure to run it, click More info > Run anyway.
Alternatively, you can move to the mcpehaxs.com to obtain the latest version of Minecraft Bedrock edition PC download free.
Minecraft Java Edition Download on PC
Minecraft Java edition 1.19.1 is the latest release of this edition. It adds Allay duplication and new Player Safety functionality. In addition to that, it has the features below.
Tips:
Allays will dance to a Record playing in a Jukebox. If the Allays is handed an Amethyst Shard while dancing, it will duplicate. The duplication has a 5-minute cooldown.
Tweaked Sculk Catalysts
Added Chat Trust status
New Options for Chat Preview
Added Player Reporting.
As the Minecraft Java edition is not free to use, you need to pay for it and then download it. You can buy the Minecraft Java edition from eneba.com or 7-eleven.com. After that, download the Minecraft Java edition by clicking the offered link.
Attention:
You should check if your computer meets the Minecraft Java edition system requirements before starting the download process.
Specs
Minimum Requirements
Recommended Requirements
CPU
Intel Core i3-3210 3.2 GHz/ AMD A8-7600 APU 3.1 GHz or equivalent
A10-7800 APU 3.5 GHz or equivalent
Integrated GPU
Intel HD Graphics 4000 (Ivy Bridge) or AMD Radeon R5 series (Kaveri line) with OpenGL 4.4*
Discrete GPU
Nvidia GeForce 400 Series or AMD Radeon HD 7000 series with OpenGL 4.4
GeForce 700 Series or AMD Radeon Rx 200 Series (excluding integrated chipsets) with OpenGL 4.5
RAM
4GB
8GB
Free space
1GB at least for game core, maps, and other files
4GB (SSD is recommended)
System

Windows: Windows 7 and above
macOS: Any 64-bit OS X using 10.9 Maverick or newer
Linux: Any modern 64-bit distributions from 2014 onwards

Windows: Windows 10 (64-bit)
macOS: macOS 10.12 Sierra
Linux: Any modern distributions from 2014 onwards
To learn the difference between Minecraft Java and Bedrock edition, please read this post: Minecraft Java vs Bedrock
Minecraft Java & Bedrock Edition Download on PC
The Minecraft Java & Bedrock edition is compatible with Windows, Mac, and Linux. You can get two editions in one purchase, so you don't have to no choose an edition from the two. Besides, you are able to access both Java and Bedrock editions from the same launcher.
Simply switch between editions with the unified launcher and cross-play. Then play with friends who have any current version of Minecraft. You can get frequent updates via the game launcher. Most importantly, you can buy it after using the free trial version.
You have three options to get the Minecraft Bedrock edition download PC version.
Option 1: Minecraft official website
Click this link to go to the official website of Minecraft.
Choose the version of the game to download.
Finish the payment process.
The download process will begin later.
Also read: Minecraft Education Edition Download for Windows/Mac/Mobile
Option 2: Get from the Store App
Click here to move to the Microsoft app page and then click Get in Store app. In the prompted window, click Open Microsoft Store. Pay for the Minecraft Java & Bedrock edition and follow the on-screen instructions to finish the process.

Option 3: Xbox.com
This website also allows you to buy Minecraft Java & Bedrock edition for PC. Click here to go to the website and choose a way to get it. You can get Minecraft Java & Bedrock by directly buying it or searching for it in the Game Pass service.
If you buy it separately, add it to the cart and then pay for it. You can buy as gift, add to wish list, or redeem a code based on your needs.

Further reading:
MiniTool Partition Wizard is an all-in-one partition manager that allows you to do various partition and disk related operations. For instance, you can create/format/extend/move/resize/recover partition, copy disk, convert FAT to NTFS (vice versa), migrate OS to SSD/HDD, etc.