Windows gives users the option to convert BIOS mode between UEFI and Legacy. However, some users report the issue "Legacy Boot is greyed out in BIOS". If you also run into the issue, this article from MiniTool Partition Wizard is what you need.
UEFI and Legacy are two modes of BIOS. If your BIOS supports both Legacy and UEFI modes, you can switch between the two modes. But some users cannot switch back to Legacy BIOS mode after enabling UEFI BIOS mode. And found that Legacy Boot is greyed out in BIOS.
There are several reasons why Legacy Boot is greyed out in BIOS. So, how to fix this issue? There are several methods to fix it.
Tips:
If you are using an Intel NUC product, you should check whether your model supports Legacy BIOS mode on its official website.
Method 1: Disable Secure Boot
The most common reason for Legacy Boot being greyed out or failing to switch from UEFI to Legacy is Secure Boot. Secure Boot is one of UEFI's requirements. You cannot switch from Legacy BIOS mode to UEFI BIOS mode until Secure Boot is enabled on your system. However, if you want to switch back to legacy mode from UEFI, you should disable Secure Boot on your device.
Before that, you can verify whether Secure Boot is enabled or disabled in your system. Here's how:
Step 1: Click Windows Search and type system information. Then select the best match result.
Step 2: Select System Summary from the left panel and check the Secure Boot State in the right panel. If it is On, you need to disable it in BIOS. To do this work, proceed with the following steps. If it is Off or Unsupported, skip to the next step.
Step 3: Press the Win + I key to open the Settings window, and then select Update & security > Recovery and click on Restart now under the Advanced startup section. Then your PC will restart right now and enter into BIOS.
Tips:
On Windows 11, you need to open the Settings window and select System > Recovery from the left panel and click on Restart now next to Advanced startup from the right panel.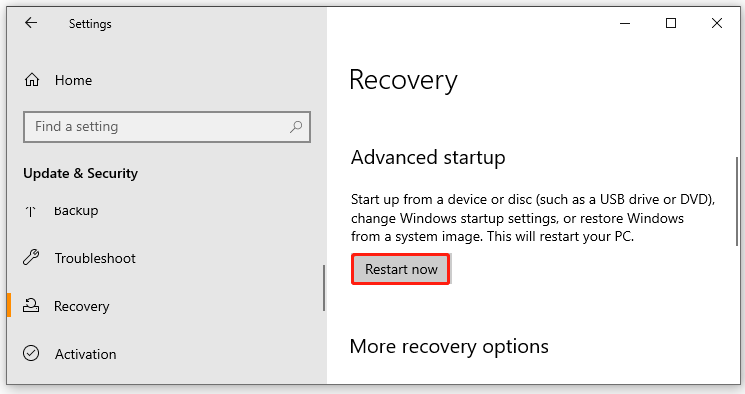 Step 4: Select Troubleshoot and then Advanced options in the Advanced startup menu.
Step 5: Select UEFI Firmware Settings and click Restart to boot your computer into UEFI BIOS.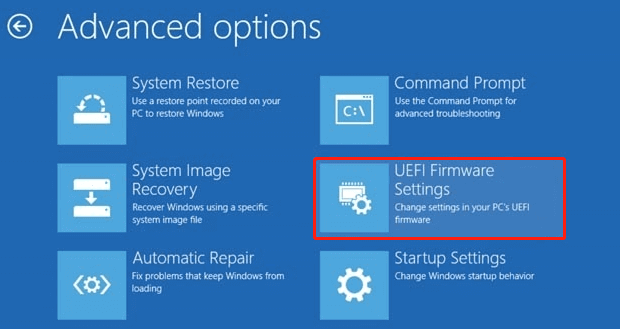 Step 6: When you access the UEFI Utilities screen, move to the Boot tab on the top menu. According to the information on the screen, use the arrow keys to enter the Safe Boot option.
Step 7: Use + or – to change its value to Disable.
Note:
The steps to disable Secure Boot may vary for different motherboards. If you can't find the option, check out the manual provided by your manufacturer. Be careful when you make some changes to BIOS settings, and make sure to follow the manufacturer's instructions exactly.
Once enabled, restart your computer and check if the "Legacy Boot is grayed out in BIOS" issue is gone.
Method 2: Change Chipset SATA mode
If the Legacy Boot option is still greyed out after disabling Secure Boot, it is your chipset SATA mode that is preventing you from enabling Legacy BIOS mode.
If the SATA mode is set to Intel RST, you can no longer switch from UEFI to Legacy BIOS mode. To fix this, you have to switch the chipset SATA mode from Intel RST to RAID or AHCI.
Note:
We recommend that you back up all data to an external hard drive.
Method 3: Disable Platform Trusted Technology (PTT)
If your system has Intel PTT enabled, you will find the Legacy Boot option greyed out in the system BIOS.
Step 1: Enter the BIOS setup. Then find the Security tab, or something that sounds similar, and select the option called PTT, PTT Security, or something similar.
Step 2: Select PTT Security and hit Enter, then select Disable to disable PTT Security in BIOS.
Step 3: Locate the Exit section and select Exit Save Changes to save your changes.
Method 4: Disable Modern Standby Mode
If your system has Modern Standby enabled, you may encounter the "Legacy Boot is greyed out in BIOS" issue. Read this article to disable it.
Further reading: If you want to convert GPT to MBR without damaging data, MiniTool Partition Wizard is the prefered. As a professional partition manager, it not only can help you convert GPT to MBR but can convert MBR to GPT. Do you want to try it now?
MiniTool Partition Wizard DemoClick to Download100%Clean & Safe