The following content mainly talks about the demands on high-capacity disk, the reliability of large-capacity drive and popular 10TB hard drive in the market. Finally, it teaches you how to format 10TB hard disk to GPT partition table of NTFS file system with MiniTool Partition Wizard.
Why Need High-capacity Hard Drives?
Nowadays, high-capacity hard drives, like 10TB, 12TB, 14TB, 16TB, 18TB and even more, are not mysterious anymore; they are widely used in data centers for servers. With the increasing of computer usage and data saving, the requirements for hard disks' capacities become higher and higher, especially for big enterprises such as Google, Amazon and Apple.
Besides the high requirements on the capacity of hard drives, the requirement for security is also critical. Since the data to be stored are vital to both those big names and their customers, it is of great importance to guarantee the safety of the files and folders of documentations, images/pictures/photos/graphics, videos/audios, programs/tools/software, etc.
Is High-capacity Hard Drives Reliable?
Many people think high-capacity drives like 10TB hard drives are reliable since the modern storage technology is greatly improved than before. If they are not reliable, why do so many companies make use of them? And, the hard dives of high-capacity will become more reliable in the future.
On the other hand, some people worried about the stability of those "big" storage devices such as the 10TB external hard drives. Since the capacities of those disks are far beyond what they use in their daily life, they have no idea whether such large disks can manage themselves well or not.
Anyhow, we can judge something only by our mind. Therefore, let's see how reliable the high-capacity hard disks are relying on the statistics related to "giant" hard drives' failure. The following is the high-capacity hard drive failure stats for Q1 2020 provided by Backblaze, a data storage provider of cloud and data center who owns over 100K high-capacity hard drives.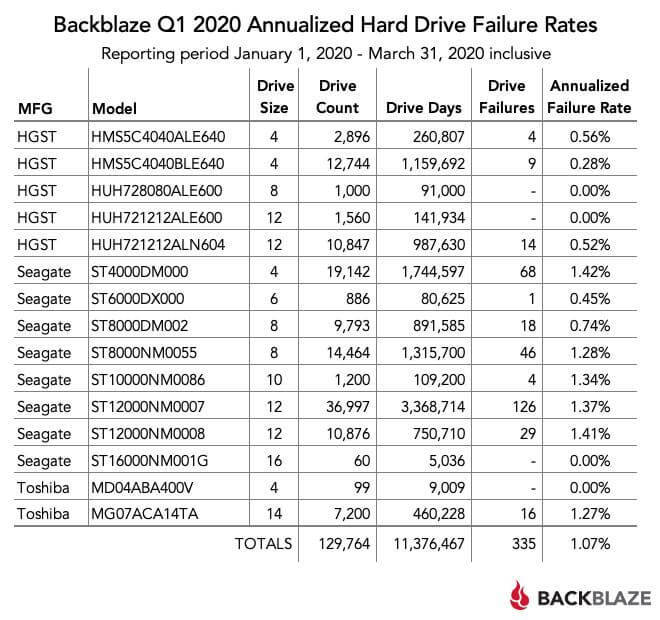 Kind reminder:
Drive Size – The drive size listed in the above picture is in TB such as 10TB hard drive of Seagate.
Drive Count – The number of drives is counted at the end of the observation period. That is March 31, 2020. During the observation period from January 1, 2020 to March 31, 2020, there are drives been removed and added in, but Backblaze ignores it.
Drive Days - The total days that the counted drives serve during the observation period.
Drive Failures – The number of failed drives during the observation period.
Annualized Failure Rate (AFR) - Drive Failures / (Drive Days / 366) * 100
From the above picture, Backblaze adopts almost 130K hard drives with capacities of 4TB, 6TB, 8TB, 10TB, 12TB, 14TB and 16TB. The manufacturers of those hard drives are the common Seagate, HGST and Toshiba. As you can see, the annualized failure rates of those drives are very low with a total 1.07% AFR of the three months.
The highest failure rate is 1.42% of Seagate 4TB desktop HD of ST4000DM000 model. There are several kinds of hard drives with zero AFR: HGST 8TB HDD (HUH728080ALE600), HGST 12TB internal HDD (HUH721212ALE600), Seagate 16TB enterprise HDD (ST16000NM001G) and Toshiba 4TB HDD (MD04ABA400V). And, among the 15 kinds of high-capacity hard drives, 9 kinds' AFRs are below 1%.
Let's take a look at the annualized hard drive failure rates of the past 2017, 2018 and 2019.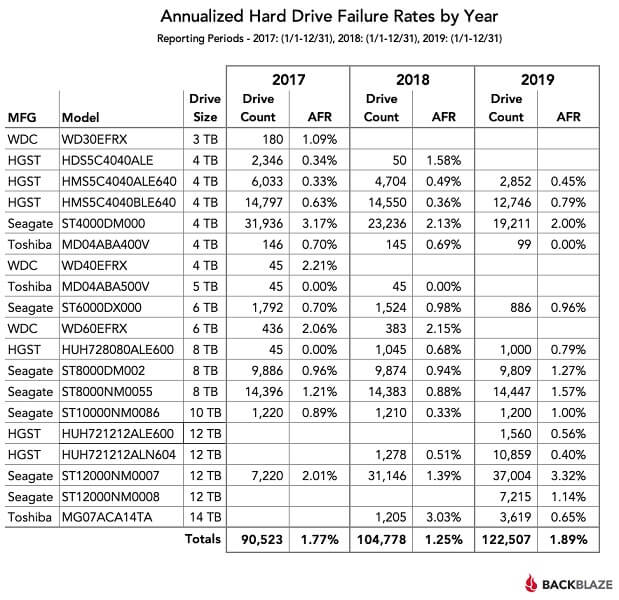 Within the past three years, the number of hard drives that Backblaze took into use is increasing from 90,523 (2017) to 104,778 (2018), then to 122,507 (2019). In 2017, the hard disk capacity ranged from 3TB to 10TB hard drive. In 2018, Backblaze started to try 12TB and 14TB hard drives while abandoned the use of 3TB hard drives. In 2019, Backblaze increased the usage of 14TB & 12TB hard drives while removed the 5TB hard drives. 
The total AFR is 1.77% in 2017, 1.25% in 2018 and 1.89% in 2019. They are all low. If you think the statistics of the above is not enough, let's see the hard disk failure rate since 2013 when Backblaze started to do AFR research.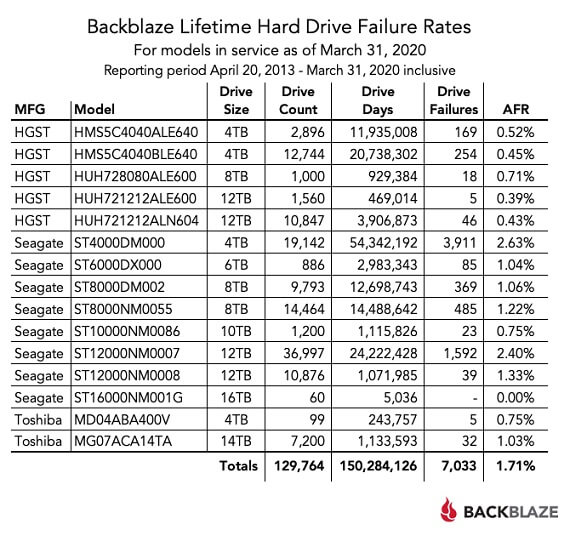 From April 20, 2013 to March 31, 2020, the total drive days reach 150 million and the total number of failed drives is 7,033. 7,033 is not few without comparison. Yet, compared with the number of total counted drives 129,764, it is too small to be count. And, the lifetime hard drive failure rate is 1.71%.
To sum up, high-capacity hard drives (e.g. 10TB hard drives and larger) are very reliable. Otherwise, cloud storage vendors (Google Drive, OneDrive, Dropbox, etc.) and data center organizers won't rely on them for data storage. And, high-capacity storage devices should and will be more reliable with the development of storage technology to meet users increasing concern on data security.
Related article: The Demands for Terabyte Hard Drive Are Increasing Nowadays
We won't dig deep on the mechanism that high-capacity storage drives use to ensure their reliability, its somehow too professional (difficult) to understand. The only thing you need to know is that both harddirve manufactures and users wish the devices to be reliable and safe.
Best 10TB Hard Drives
Next, we will talk about several popular 10 terabyte hard drives.
1. WD – Easystore 10TB External USB 3.0 Hard Drive
It is a black 10 TB external hard drive whose data transfer rates can reach up to 5 GB per second. Supporting USB 3.0 interface, when updating files, the WD Easystore 10TB hard drive allows a fast response speed. Also, its automatic backup options enable you to use compatible software to backup important files to the server. Finally, the Western Digital 10tb hard drive is compatible with both PC and Mac for flexible installation options.
The WD Red 10TB hard drive we will talk about here is the WD101EFAX model. This model is specially designed for small and home office NAS systems in a 24/7 environment with up to 8 bays; supports up to 180TB workload per year; and equips with NASware firmware for compatibility. The Western Digital hard drive owns SATA interface of 6GB/s transfer speed and 256MB cache.
The most popular one on Amazon is WD 10tb Elements desktop hard drive - USB 3.0 - WDBWLG0100HBK-NESN. It supports both 3.0 and 2.0 USB interface and fast data transfer rates. The black external HDD is of high capacity add-on storage, plug and play ready for Windows PCs. Its dimensions are 5.31 × 1.89 × 6.53 inches, and its weight is 2.09 pounds.
4. WD Gold 10TB
As for this type of high-capacity disk, the most popular one is the Western Digital Gold Enterprise Class 10TB internal hard drive (WD102KRYZ). With a SATA interface supporting 6.0 GB/s data transfer speed, it's rotational speed can reach 7200 rpm. The WD gold series adopt vibration protection technology and HelioSeal technology (for 12TB and above) which generates low power draw. It provides up to 2.5M hours MTBF and specially designed for use in enterprise-class data centers and storage systems.
5. Seagate SkyHawk 10TB Surveillance Hard Drive (ST10000VX0004)
This popular Seagate 10TB hard drive has the following advantages:
Customized built for surveillance applications with image perfect firmware for crisp, clear, 24×7 video workloads.
Maximum 180TB per year of workload.
3 times of the workload rating of desktop drives.
Reliable performance in write-intensive surveillance systems.
In RAID or multi-drive systems (4TB or higher), the rotational vibration sensors help to maintain performance.
6. Seagate IronWolf 10TB NAS Internal HDD (ST10000VN0008)
As for this Seagate IronWolf hard drive, it is equipped with 6GB/s SATA interface and 256 cache for RAID network attached storage. Here are its features:
Ideal solution for up to 8-bay, multi-user NAS environments craving powerhouse performance.
Less wear and tear.
Little to no noise and vibration.
No lags or down time.
Increased file-sharing performance.
Easily monitor the drives' health with integrated IronWolf Health Management system.
1M hours MTBF.
What You Should Do Before Storing Data to 10TB Hard Drive?
Though many 10TB HDD can be put into usage immediately when you take it out of the box and without any preparation work, there are still some pieces that need to be formatted before using. Due to the high-capacity, you have to format it to GPT (GUID Partition Table) for GPT partition table can support disk larger than 2TB while MBR can only support hard drive up to 2TB. Furthermore, you are recommended to format the file system of the 10tb disk to NTFS that supports partitions larger than 2TB.
To complete all the above formatting tasks, you can rely on the professional MiniTool Partition Wizard. Here is the step-by-step guide teaching you how to format or convert your 10TB drive to GPT disk of NTFS file system.
Step 1. Connect your 10TB hard drive to your operating machine. Download, install and launch Partition Wizard on your computer.
Step 2. In the main UI, you can see all the disks connected to the machine, both internal and external, including the 10 terabyte harddrive.
Step 3. Right-click on the 10TB hard drive and select Initialize to GPT Disk or Convert MBR Disk to GPT Disk.
Step 4. Preview the change and confirm it by clicking the Apply in the bottom left.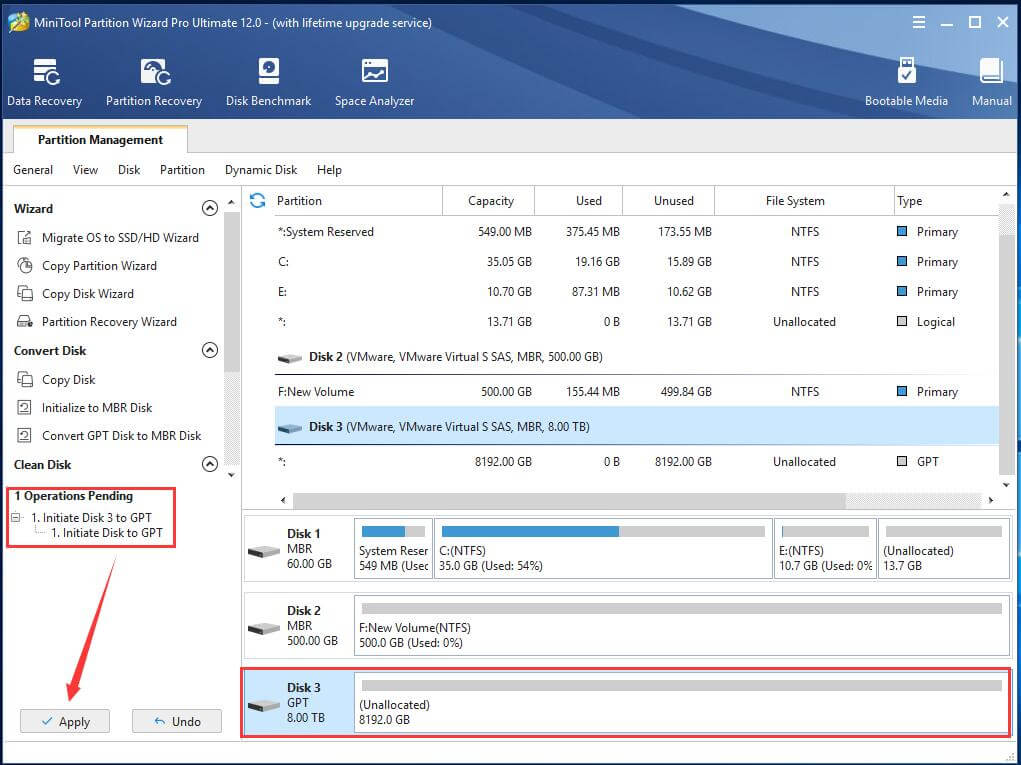 Step 5. When the initialization finishes, right-click on the unallocated space on target disk and choose Create.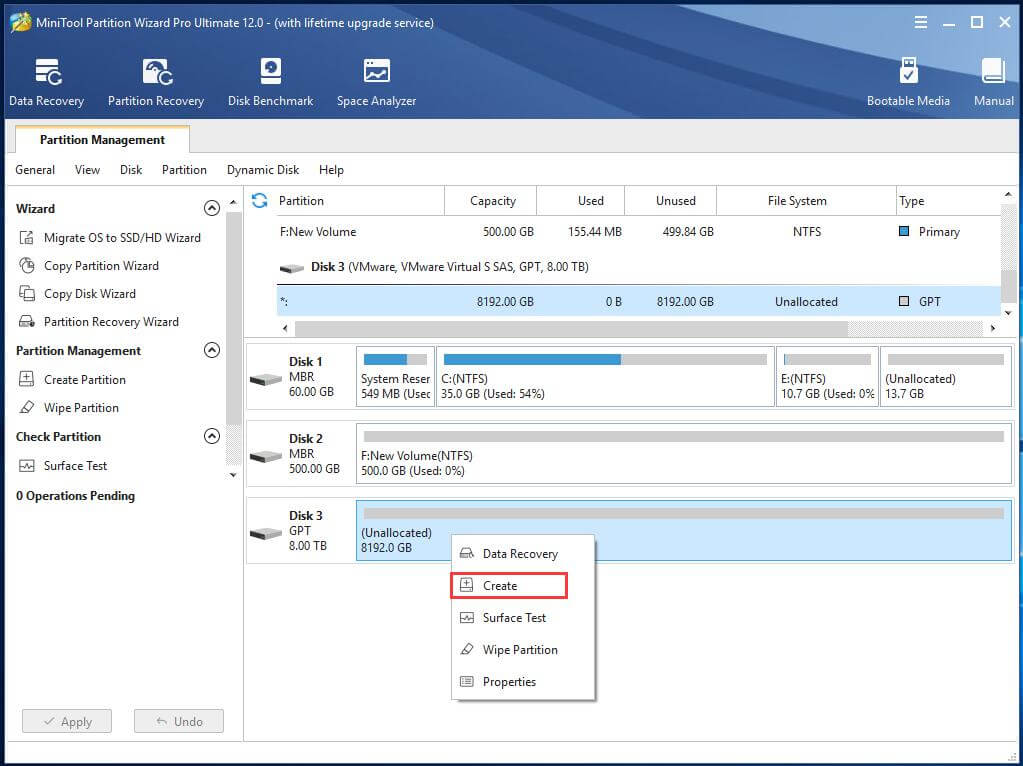 Step 6. Specify the details of the new partition like partition label, file system (NTFS), drive letter as well as partition size. By default, the new partition will occupy all the available size on the 10 terabyte hard drive. Yet, you can change that by dragging the graphic bar.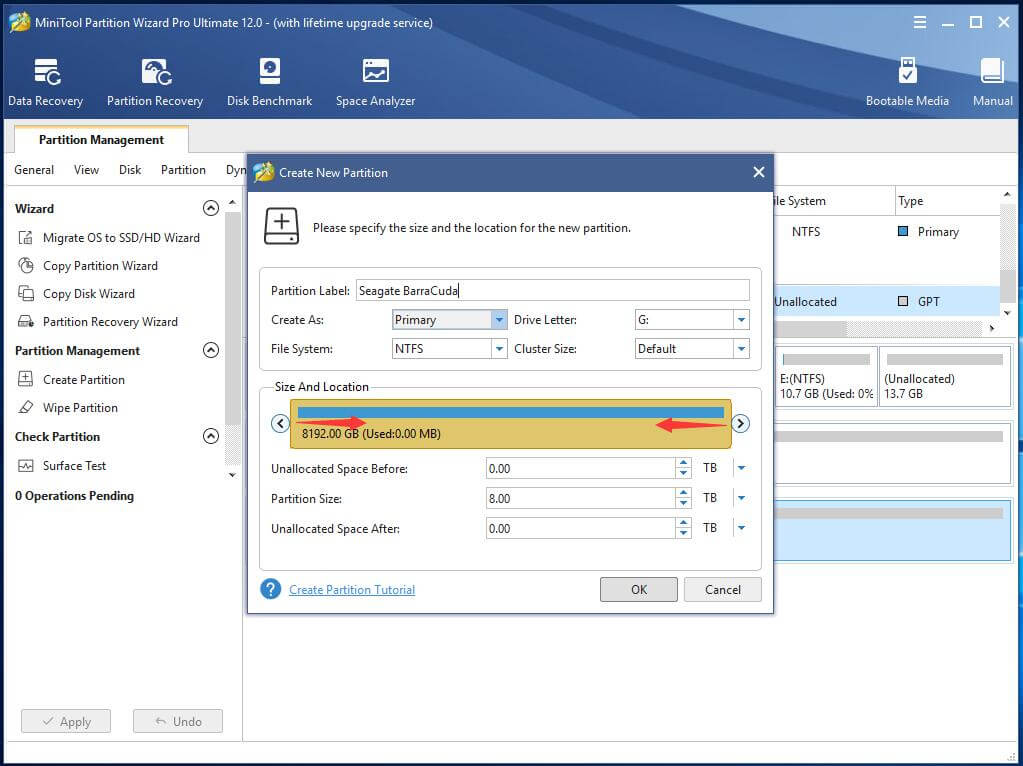 Step 7. Preview the change and click Apply.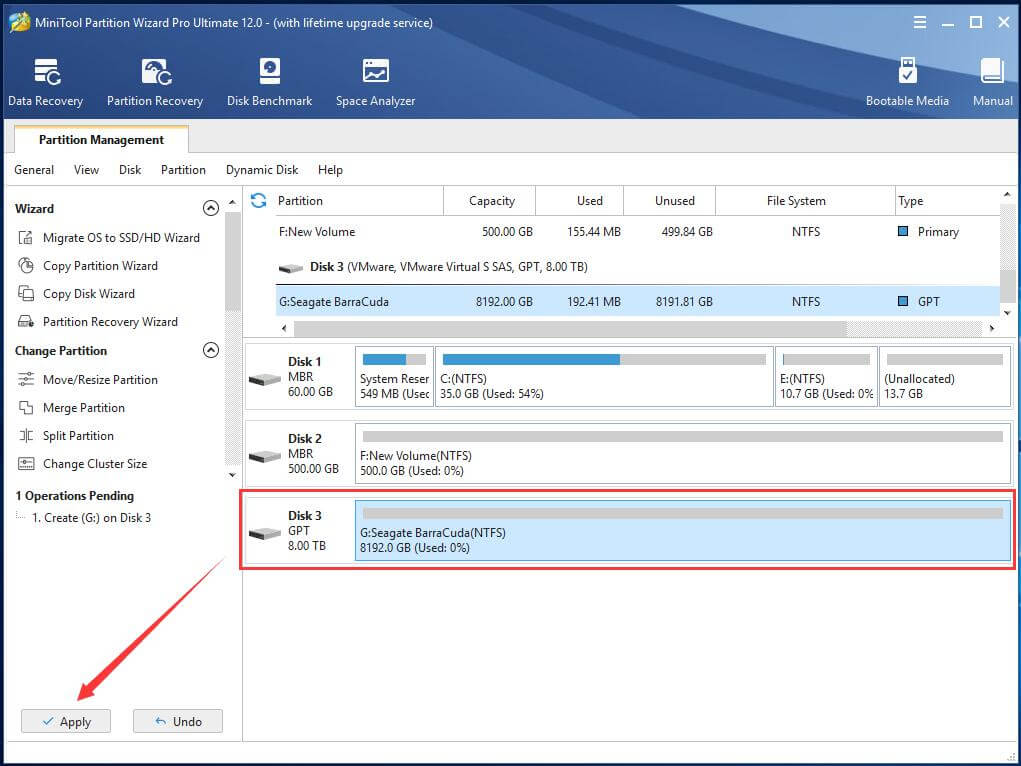 That is all about 10TB hard drive. Just as mentioned in the beginning of this article, there are other high-capacity hard drives that are larger than 10TB, like 12TB, 14TB, 16TB, 18TB, 20TB RAID, 28TB RAID, 32TB RAID, 36TB NAS, 48TB RAID, 64TB, RAID and 80TB NAS. As you can see, the large capacity hard drives tend to be RAID or NAS form. Also, we can expect 10TB SSD (Solid State Drive) in the future.
10TB Hard Drive FAQ
Why 10TB hard drive only shows 2TB?
Usually, it is because your 10TB drive is of MBR style. MBR disk supports disk space up to 2TB. Even though you have a disk larger than 2TB, if you use MBR style, you can only see and make use of up to 2TB storage space. To use the extra space, you can convert MBR to GPT by MiniTool Partition Wizard.
Why Windows can't be installed on the 10tb hard drive?
If you receive error message saying that Windows cannot be installed on this disk when you try to install OS on the 10TB hard disk, it probably due to your 10TB disk is of MBR partition table. On EFI system, Windows can't be installed on MBR disk while GPT disk can. So, you can fix the problem by converting your hard drive from MBR to GPT via MiniTool Partition Wizard.
Why Windows 10/11 cannot recognize 10TB hard drive?
There are three possible reasons:
The BIOS is out of date. If it's true, you can solve the problem by updating BIOS to the newest version.
The enclosure of the external HDD or the USB-to-SATA cable for the 10TB external hard drive can't be detected. If so, you can deal with the issue by connecting the drive through another cable or in other ways.
The 10 TB HDD is unproperly connected. In such situation, you can first disconnect it and then reconnect it again.