This post introduces top 8 Windows 10 themes that can make your computer screen look cooler. It also offers you 3 sources to get the best Windows 10 themes free download and 2 methods to apply the downloaded Microsoft themes for Windows 10. Explore the content with MiniTool now.
The Windows theme is a visual pattern that includes wallpaper, icons, pointer, screensaver, sounds, or any color style. If you want to replace the current theme with another one, you can pay attention to this post.
#1. Windows 10 Dark Theme
If you are interested in a dark & black theme, you can try Dark Space, Dark Fantasy Landscape, Grey Eve, Dark Amoled, Rose On The Moon, Ghostly Pink, Dark Cars, and Dark Abstract. These Windows 10 themes can reduce eye strain. They are good options if you have to often look at the computer screen for a long time.
#2. Windows XP Theme
Windows XP was a successful operating system. However, it officially retired on April 8, 2014. If you would like to make Windows 10 look like Windows XP, try using a Windows XP theme on your Windows 10 computer. To download and use this theme, you need to get the two add-ons on your Windows 10 PC.
Classic Shell: It allows customization of Windows 10 tools to change the appearance of icons, desktop, explorer menus, etc.
Classic Shell XP Suite for Windows 10: This enables you to get Windows XP classic theme on your system.
Free Download Windows XP ISO: Home & Professional (32 & 64 Bit)
#3. macOS Windows 10 Theme
Using a macOS Windows 10 theme enables you to enjoy a mac look without buying a new computer or performing a system switch. Here are some options for you.
macDocck: It comes with a host of Mac apps such as Widget, Launchpad, Siri, Finder, and Expose. It adds a Mac-like dock to the bottom of your screen and will replace the existing taskbar. Besides, you can customize the dock to show the apps you would like to see.
Sierra macOS Theme: It applies to both the desktop and internal folders, interface, and icons. For instance, you may see folders named About This Mac or Apple Software Update. It means that you can enjoy an entire Mac interface on your Windows 10 computer.
macOS Transformation Pack: Different from Sierra macOS Theme, this theme works on icons, login pages, themes, file menus, and wallpapers. It changes the style and font of the "This PC" menu, but it keeps the name of the system folders.
macOS Catalina: This will give you the latest interface experience from Mac to Windows. It works like the transformation pack, but it adds the dark mode.
#4. Windows 10 Ubuntu Theme
If you like the look of Ubuntu system, you can use a Windows 10 Ubuntu theme. Ubuntu SkinPack is a good option. This theme transforms your Windows UI and provides you with the experience of using Ubuntu on Windows 10. In a word, Ubuntu SkinPack refreshes your Windows interface with some great appearances.
Moreover, features of this software like color theme, keyboard shortcuts, and mouse gestures can be customized. Make your Windows 10 look like Linux with this SkinPack now!
Also read: How to Install Ubuntu on VirtualBox? Here's the Full Guide
#5. Simplify 10
As the name indicates, Simplify 10 is a clean and minimal Windows 10 theme. If you think that your Windows layout is messy, try this theme now! It stripes lots of unnecessary design elements leaving you a clean look. It includes four different versions (colorful, light, dark, and Maverick).
Tips:
Maverick theme is similar to Linux distro, Ubuntu.
#6. 3D Theme
3D Theme has interesting shapes and colors. You can show off your interest in science, technology, art, or other items using this theme. It can be found on ThemePack including 17 high-definition wallpapers. Another similar theme is Paint 3D Creatures, which consists of weird yet colorful 3D creatures.
Different from 3D Theme, Paint 3D Creatures can be directly downloaded from Microsoft Store.
#7. Anime Theme
You have multiple choices when selecting an anime theme for Windows 10. For instance, you can choose from Kakashi Hatake, Goblin Slayer, RWBY, Portgas D. Ace, Nico Robin (Devil Child) – One Piece, Solo Leveling, Tengen Toppa Gurren Lagann, and Castlevania.
#8. Meteor Showers
Meteor Showers includes 10 images of shooting stars. You can choose one from them or get Windows to cycle through all of them. It is one of the free Windows 10 themes and can be downloaded from Microsoft Store.
Where You Can Get Windows 10 Themes
themepack.me
On this website, Windows 10 themes are classified into categories like games, animes, sports, movies, nature, and so on. You just need to navigate to this website and then scroll down to the page to select a preferred category. After you find a desired theme, download it.
A direct way to get the Windows 10 themes download from this site is to click on the Search icon at the upper right corner of the page and then input your preferred theme and hit Enter. Then follow the on-screen instructions to download it. All the available themes on this site are free.
Tips:
Themes on this site can be used in Windows 11/10/8.1/8/7, so they are not merely Microsoft themes for Windows 10.

Where are themes stored in Windows 10? A lot of users doubt that. After executing some tests, I find that the downloaded Windows 10 themes are stored in the Downloads folder on the PC.
themes10.win
This website also includes various free Windows 10 themes. These themes are roughly divided into Animals, Anime, Art, Cars, Cartoons, Comics, Games, Movies & TV, Music, Nature, People, Places, and Sports shown on the top of the website page. You can click on one category to look for your desired Windows 10 themes.
Alternatively, you can click Best Themes to get its recommended Microsoft themes for Windows 10. You are able to click on the Search icon at the upper right corner, input your expected themes, and press Enter. Then the website will help you search for them. After that, get the Windows 10 themes download by following prompted instructions.
Tips:
Almost all themes on themes10.win are available on Windows 10 and Windows 11.

Microsoft Store
You can also get free Windows 10 themes from Microsoft Store or directly download themes online from Microsoft support page. Here's the Windows 10 themes download tutorial.
Step 1: Navigate to the Microsoft support page.
Step 2: Tap on the Windows 10 tab. Then you have two options to get the best Windows 10 themes free download.
Option A: Microsoft Store
Click on the Explore themes in the Microsoft Store
Click Open Microsoft Store in the prompted window.
Click on a preferred Window 10 theme in Microsoft Store and click Open.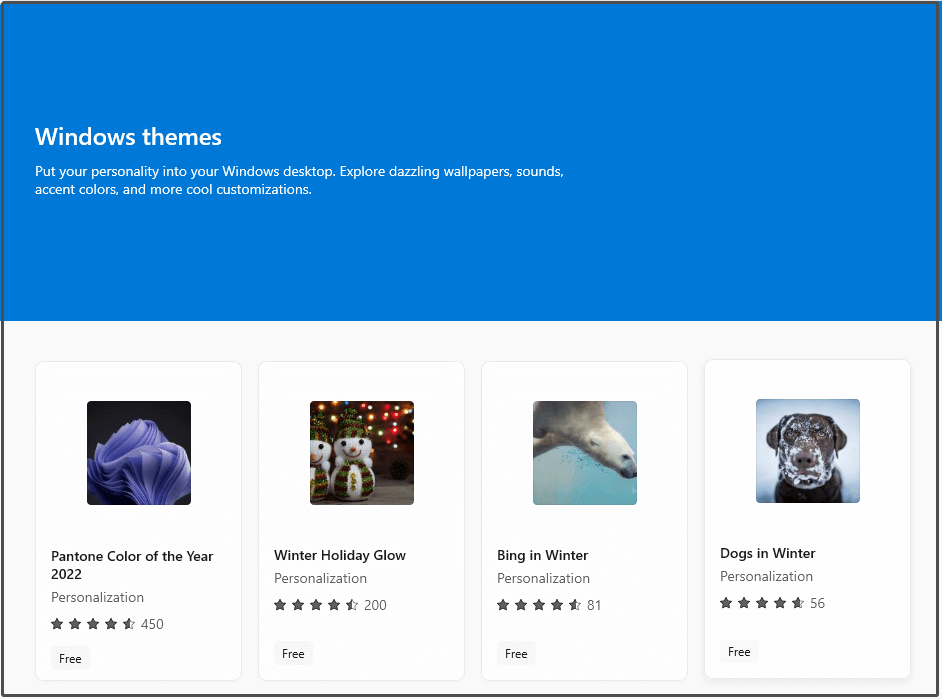 Option B: Download Windows 10 Themes Online
Scroll down the Microsoft support page and you can find that themes are classified into categories below. Click on the down icon to expand one category. Then click on the download link to get Windows 10 themes download.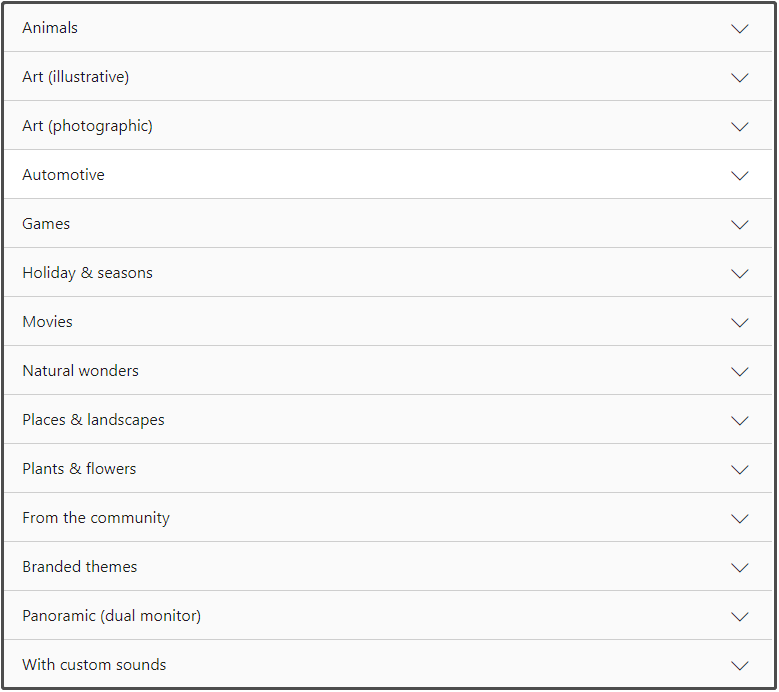 After you perform the best Windows 10 themes free download from above sources, you may wonder where are themes stored in Windows 10. Like other items downloaded online, Windows 10 themes downloads are included in the Download folder on the PC.
How to Set the Downloaded Windows 10 Themes as Desktop Background
After you get Windows 10 themes downloads, you can set it as your desktop background via two methods.
Method 1: Use Settings
Open Settings by pressing Windows and I
Click Personalization.
Click Background > click on the downloaded picture. If you don't see the downloaded Windows 10 themes, click Browse to find them.
Tips:
Alternatively, you can also click Themes, and then choose a preferred theme under the Change theme section.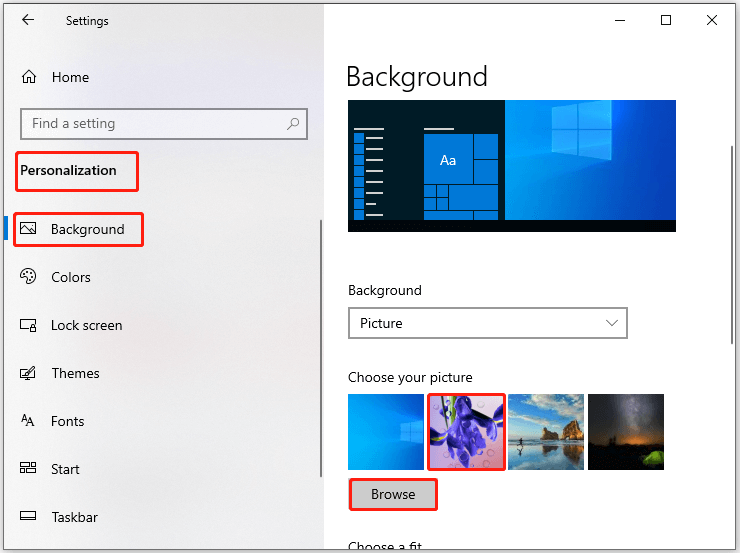 Method 2: Use the Set as Desktop Background Option
If the picture is on your computer screen, simply right-click on it and choose the Set as desktop background option.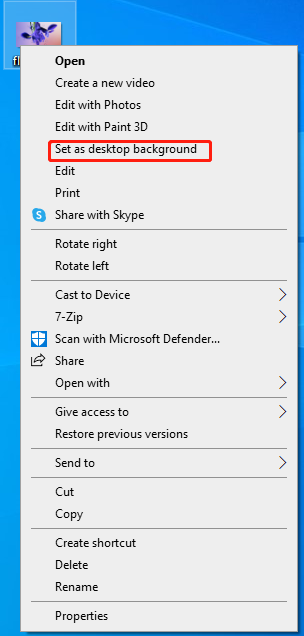 With this post, you can get the best Windows 10 themes free download and then apply them. Apart from that, I would like to introduce an all-in-one partition manager – MiniTool Partition Wizard. It can help you increase disk space, find duplicate files/folders, copy disk, migrate OS to SSD/HD, convert FAT to NTFS (vice versa), convert GPT to MBR (vice versa), recover data, etc.