Why Need a Windows XP Emulator?
Windows XP have reached the end of life (EOL) stage in its cycle for many years. This means there haven't been any significant security patches for Windows XP in years and software support is close to a decade out of date.
However, EOL doesn't mean that the operating system doesn't still have its uses. Whether it's for nostalgia or to run old software, there are benefits to running a Windows XP machine. But it's not recommended to run Windows XP as your only operating system, due to the following reasons:
It has been outdated and unsupported for many years, which means that modern drivers won't work with it and a lot of modern PC hardware won't run it.
It may be full of security risks, because no security precaution has been made for it in recent years.
Therefore, if you want to run Windows XP, Windows XP emulator is a good choice.
How to Run Windows XP Emulator for Windows 10
Usually, a virtual machine program can be a Windows XP emulator. Therefore, you can use Hyper-V, VirtualBox, and VMware to emulate Windows XP on Windows 10. But before you choose an emulator to create a Windows XP virtual machine, you should first download Windows XP mode and extract the file.
1. Hyper-V
Hyper-V is a tool built in Windows 10. If you want to use it to create a Windows XP virtual machine, please refer to the following steps:
Step 1: Enable Hyper-V in Windows 10.
Open Control Panel and navigate to Programs> Turn Windows features on or off, under Programs and Features.
In the new window, tick the box near Hyper-V, and then click OK.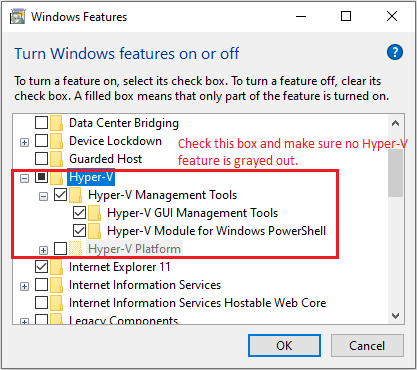 Step 2: Create a Windows XP virtual machine.
Open Hyper-V Manager.
Make sure the local virtualization server is selected and then click on Action > Virtual Switch Manager...
In the Virtual Switch Manager, create an external virtual switch and configure Virtual Switch Properties for it.
Back to the Hyper-V Manager window, click Action>New>Virtual Machine to bring up the New Virtual Machine Wizard.
Follow the wizard to create a Windows XP VM. In this step, you are required to import the Windows XP .iso file.
If you want to know more detailed steps, please refer to the following post:
2. VirtualBox
Another Windows XP emulator for Windows 10 is VirtualBox. Here is the brief tutorial on how to use it to create a Windows XP virtual machine:
Boot up VirtualBox and select Newin the top menu bar.
Give your virtual machine a name, choose VM version, and adjust memory size.
In the Hard Drivesection, select Use an existing hard disk file. In this step, import the Windows XP file.
Continue the wizard to create a Windows XP VM.
3. VMware
To create a Windows XP VM with VMware, please follow the steps below:
Launch VMware Workstation.
Select Player > File > Import Windows XP Mode VM.
Type a name for the new virtual machine, type or browse to the directory for the virtual machine files, and click Import.
Through the above methods, you can run Windows XP on Windows 10. But if you just want to run some Windows XP apps on Windows 10, you don't need to use Windows XP emulators. You just need to adjust the compatibility settings as follows:
Right click the app and choose Properties.
Skip to the Compatibility
Select the Run this program in compatibility mode for option, and then select Windows XP from the dropdown menu.