Do you want to download VirtualBox? This post of MiniTool is what you need. It explains the definition and versions of VirtualBox in detail. More importantly, you can get a full VirtualBox download/install guide for Windows, Mac, and Linux.
Overview of VirtualBox
Before you download VirtualBox, it's necessary to have an overall understanding of this software. Here we summarize several frequently asked questions.
What Is VirtualBox
VirtualBox is a powerful cross-platform virtualization program for enterprise as well as personal use. This software was initially created by Innotek GmbH and acquired by Oracle Corporation in 2010.
It is prepared for x86 and AMD64/Intel 64 virtualization and can be installed on many platforms, including Windows, macOS, Linux, and Solaris. With VirtualBox, you can extend your existing PC to run multiple operating systems and seamlessly switch between them. For example, you can install Linux on Windows 10 or macOS on Windows 10.
Now, the latest version of VirtualBox 7.0.4 has been released on 18 November 2022. This version. This version comes with higher compatibility and security such as support for Windows 11 guest, full VM encryption, 3D acceleration with DirectX 11 on Windows, and more features.
Can You Download VirtualBox for Free
Is it free to download VirtualBox? Of course, the answer is yes! VirtualBox is a free and open-source virtual machine management tool for the personal, enterprise, and educational use. You can download and install VirtualBox on Windows, Mac, Linux, and Solaris for free.  
What Package of VirtualBox Should You Download
When searching for the Oracle VirtualBox download guide, you may find there are various packages of the software. Which package should you choose? The answer depends on your needs. Here we summarize them as follows:
VirtualBox Base/Platform Pack: It is freely available for Windows, macOS, Linux, and Solaris x86 platforms under GPLv3.
VirtualBox Extension Pack: This pack offers support for USB 2.0/3.0, VirtualBox RDP, disk encryption, NVMe, and PXE boot for Intel cards. It is licensed under the VirtualBox Personal Use and Evaluation use. You need to install the same VirtualBox Extension pack as your installed version of the software.
VirtualBox Source Code Pack: If you want to get the source code of the VirtualBox base packages, you can download this pack.
VirtualBox Download & Install for Windows 11/10
This part will show you how to download and install VirtualBox for Windows 10/11. Here we take the VirtualBox 7.0.4 platform version for example.
Step 1. Click here to open the official Oracle VirtualBox download page, and then click on the Windows hosts link and select a location to save the download package.

–image from the virtulbox.org
Step 2. On downloaded, double click the VirtualBox-7.0.4-154605-Win.exe file and click on Yes to install VirtualBox on Windows 10/11.
Step 3. Click on Next and select the way you want features to be installed. Once confirmed, click on Next.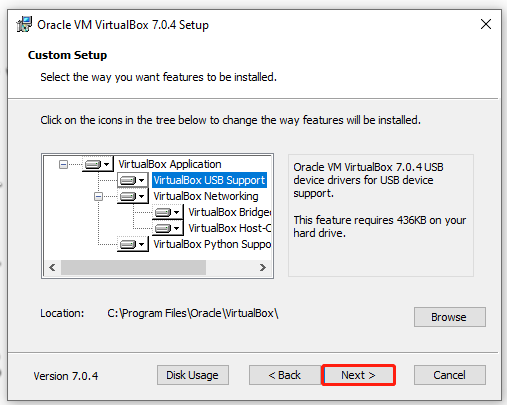 Step 4. Follow the on-screen prompt to confirm the features that you want to install by clicking on Yes.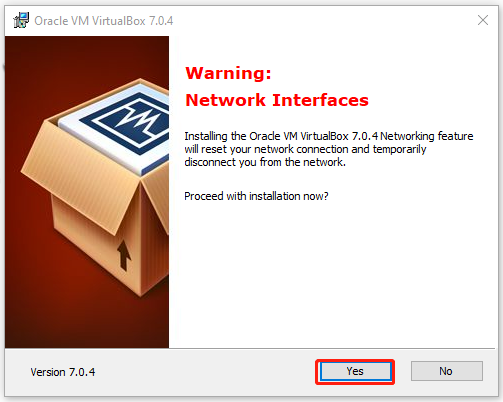 Step 5. Click on Install to start the installation. Once done, click on Finish.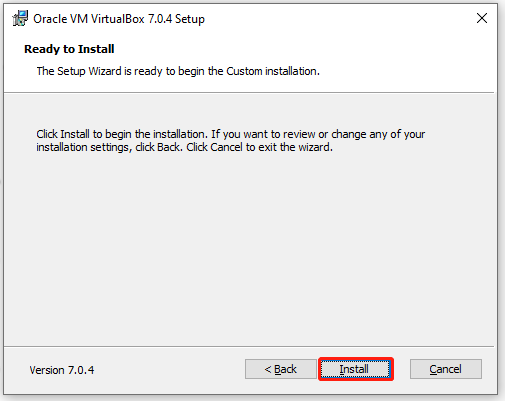 Tips:
If you want to uninstall VirtualBox on Windows 10/11 someday, you can press Win + I to open Settings and select Apps > Programs & Features or Apps & Features, locate Oracle VM VirtualBox 7.0.4 and click Uninstall. Then, confirm the operation by clicking Remove/Uninstall.
VirtualBox Download & Install for Mac
You can download Oracle VirtualBox and install it for macOS. To do this work, you can visit the official VirtualBox download Mac page, click on the macOS / Intel hosts link, and save the dmg file on Mac. Once downloaded, double-click the dmg file and click on Yes, and then follow the on-screen prompts to install the software.
VirtualBox Download & Install for Linux
To download Oracle VirtualBox for Linux, you just need to visit the official VirtualBox download site, click on the Linux distributions link, and then you will be directed to a new page. Download the VirtualBox 7.0.4 pack according to your Linux host and follow the on-screen instructions to install the program.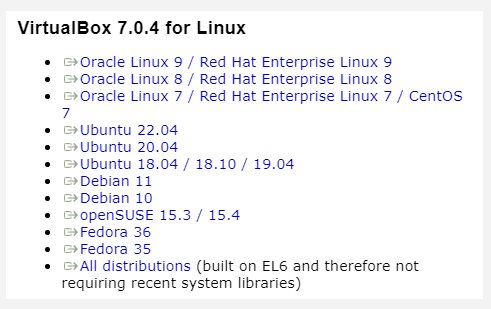 Further Reading: If you can't install VirtualBox for Windows 10/11 due to insufficient disk space, don't worry. MiniTool Partition Wizard can help you fix it easily by analyzing disk space, extending partitions, upgrading to a larger hard drive, etc.