A great many people are confused about the Advanced IP Scanner. This post of MiniTool introduces the definition of the tool and provides a full Advanced IP Scanner download guide for Windows 11/10/8/7. It also helps you fix the Advanced IP Scanner error.
Overview of Advanced IP Scanner
Before you get the Advanced IP Scanner downloaded for Windows 11/10/8/7, it's necessary to have an overall understanding of this tool.
What Is Advanced IP Scanner
Advanced IP Scanner is a free and fast network scanning tool that can detect all computers on wired/wireless networks and obtain access to them. This scanner can obtain access easily to various network resources, such as HTTP, HTTPS, FTP, and even shared folders. It can be used to scan all IP addresses on the local WiFi network.
With the IP advanced scanner installed, you can create a favorite list of computers for regular use. This tool also has many other powerful features such as the remote shutdown feature, which allows you to shut down any remote computers running on Windows. Its Wake-On-Lan feature enables you to wake other computers up remotely if their network cards support this function.
In addition, you can directly access the RDP resources from the IP advanced scanner and run ping, SSH, and tracert commands on the selected computers. It also integrates with the Radmin remote control software that allows you to scan and find all computers running on the Radmin Server and connect to any one of them with one click.
Is Advanced IP Scanner Safe to Download
Is it safe to download Advanced IP Scanner? Of course, yes! This tool is fully safe and reliable to use on Windows 11/10/8/7. It is compliant with the highest security standards of Microsoft. Of course, we highly recommend you download Advanced IP Scanner from its official website or Microsoft Store to avoid any suspicious trojan.
Advanced IP Scanner Download & Install for Windows 11/10/8/7
Now, you should have an overall understanding of this tool, let's see how to download Advanced IP Scanner and install it for Windows 11/10/8/7 PCs.
Step 1. Click here to open the official Advanced IP Scanner download page and click on Free Download. Then select a location to save the download package. Alternatively, you can search for the program from Microsoft Store.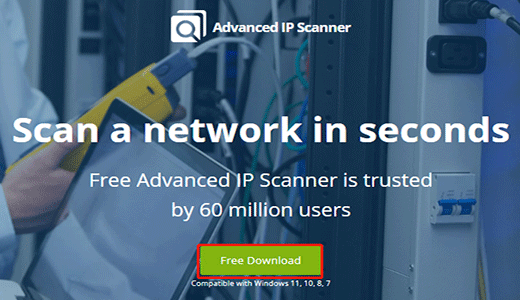 Step 2. Once downloaded, double-click the executable file to run the installer and select your desired Language and click on OK to continue.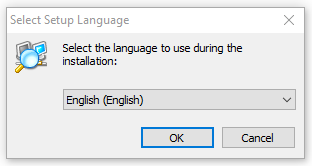 Step 3. Select Install and click on Next. You can select Run to launch the Advanced IP Scanner portable version.
Step 4. Tick the checkbox next to I accept the agreement and click on Install. Then click on Yes to confirm it.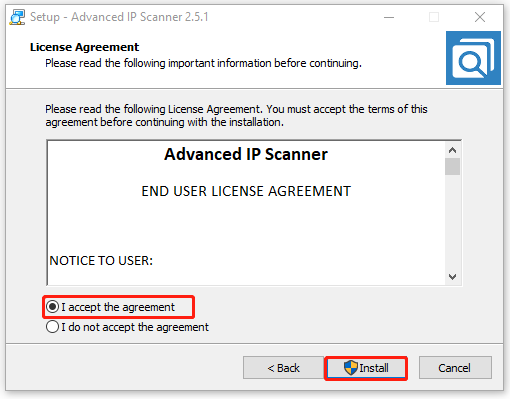 Step 5. Wait for the installation to complete and click on Finish to run the program. Also, you can untick the checkbox of Run Advanced IP Scanner to exit the installer.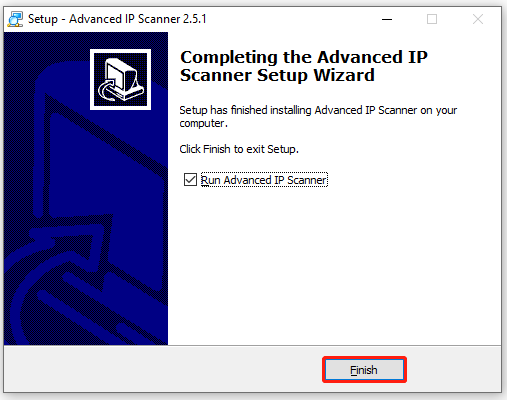 How to Fix Advanced IP Scanner Error
Sometimes the Advanced IP Scanner Windows 10 may get corrupted, causing some error codes. How to fix the Advanced IP Scanner runtime error on Windows 10? According to user reports, the most effective method is to reinstall the program. For that:
Step 1. Press the Win + I keys to open the Settings window and select Apps.
Step 2. Select Apps & Features from the left panel, locate Advanced IP Scanner from the right panel, and click on Uninstall. Then confirm the operation by clicking on Uninstall.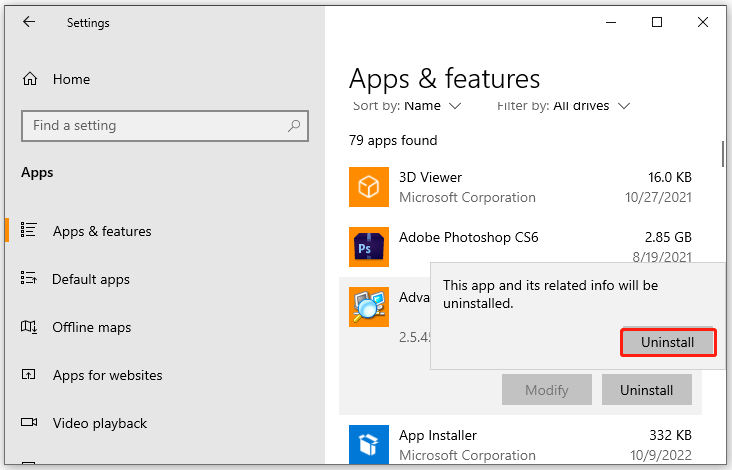 Step 3. Now, you can reinstall the program from the official website as we explained above, and check if the runtime error gets fixed.
If reinstalling the program can fix the Advanced IP Scanner error, you can try performing a system restore to revert to its previous state. In addition, you can install the latest system updates and allow the program through your Firewall or antivirus software.
Further reading: If you can't download Advanced IP Scanner Windows 10/11 due to insufficient disk space, don't worry. MiniTool Partition Wizard can help you fix it easily by analyzing disk space, extending partitions, upgrading to a larger hard drive, etc.