The USB C vs USB 3 topic has been heatedly discussed recently. Which one is better? The answers are various. Today, MiniTool will compare them from several aspects so that you can make a correct decision. Additionally, the post shows you how to test the speed of them.
Since here are multiple ports, many users feel confused when selecting a port. For instance, plenty of users wonder that USB C vs USB 3, which one should they pick. To get the answer, you should compare them on several aspects.
To compare USB C and USB 3.0, you need to figure out the definition of them at first. By doing so, you will have an overall understanding of the two devices. Now, let's explore them one by one.
What Is USB 3.0
USB 3.0 was released in November, 2008, which improves the data transfer speed significantly. It is capable of transferring data up to 5 Gigabits per second that is much faster than that of USB 2.0 (480 Megabits per second).
Sometimes, you will see the term USB 3.1 Gen 1 and wonder what it is. Actually, this is just a fancy name for USB 3.0. The USB 3.0 and USB 3.1 Gen 1 are almost the same thing. According to the USB Implementers Forum (USB-IF) that is charge for developing, publishing and certifying USB ports and standards, the USB 3.1 Gen 1 specification contains USB 3.0.
It indicates that the terms USB 3.0 and USB 3.1 Gen 1 are synonymous. In marketing materials, USB 3.1 Gen 1 is called SuperSpeed USB or simply SuperSpeed. This is a piece of good news for marketers, but it adds extra confusion for consumers.
What Is USB C
USB C also called USB Type-C is a new shape of port and cable plug. It was released and finalized by USB-IF in August 2014. It's small and compact, which is a great replacement for the USB Type-A, USB Type-B, micro and mini USB ports. In a word, the USB C can rule them all.
It brings lots of benefits for users. The first one is the reversibility. As it known to all, plugging in a USB device is difficult issue in the Internet field. It is no exaggeration to say that it is not easy to insert the USB cable correctly even just looking. As the USB C is reversible, you are able to plug it both upside down or right side up based on your demand.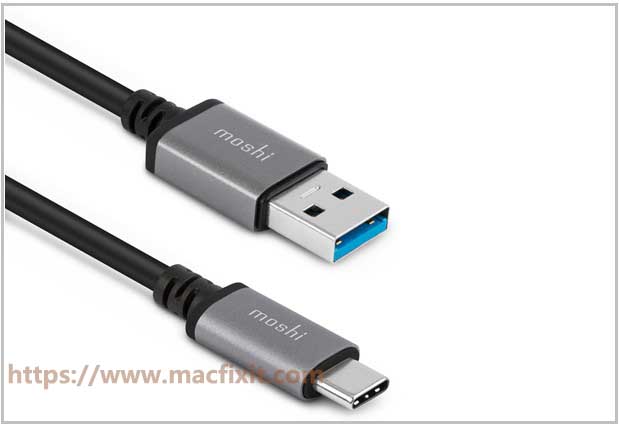 Besides, if you have a computer and an external device that have the USB C port, you can plug either end of the cable into the computer and the other end into the device.
The second benefit is that it has the same size with micro USB connections. Hence, it will fit in the smallest devices. What's more, the USB C is ideal for charging. Its bi-directional power enables you to charge a peripheral and vice versa (if the power runs slow).
In the coming years, you will find that the USB C is the general port for devices like desktop, laptop and mobile. Here's one thing you need to pay attention to. Though the USB Type-c comes with USB 3.1, they are not the same. In addition, the USB C doesn't run on the USB 3.1 either.
Instead, USB C is a connection type that may run on a lesser spec (even on USB 2.0 spec). So, you will not gain the benefit of USB 3.1 after getting the USB C.
Now, you may have a rough understanding of the two USB port standards. USB C vs 3, which one is better? You may have a clear understanding after viewing their differences. The difference between USB C and USB 3 will be talked about on 3 aspects: power delivery, data transfer rates and compatibility.
USB C VS USB 3: Power Delivery
The USB Power Delivery or USB PD refers to the ability to offer 100W of power. The USB PD is a specification for coping with high power on USB and allows multiple devices to charge faster through the USB connection.
The USB Power Delivery is helpful for the negotiation between two devices for a power contract. So, these devices can decide the power volume that could be pulled from the charger. The power delivery ranges from 5V to 20V.
When the USB C is combined with the USB PD, it will support as much as power output (up to 100W at 20V and 5A). The power is enough to charge smartphones, tablets as well as a notebook with USB PD and type-c.
However, this may increase confusion for you, because some USB 3.1 ports and USB 3.0 cables also have the 100W Power Delivery feature.
Tip: Not all the USB 3.1 ports and USB 3.0 cables have this feature. Therefore, you need to check it when using.
As for USB 3.0, the maximum currents and voltages it can maintain is 900mA at 5V for the maximum power output of 4.5W. It is about the twice the maximum power output of USB 2.0 ports. However, the present USB 3.0 port doesn't have sufficient power for the most external hard drives.
The newer USB 3.0 specification will offer 100 watts (the maximum volume) power to devices, which can support some power-consuming gadgets without the help of extra power supplies. The USB 3.0 Promoter Group also claimed that the standard may allow USB 3.0 ports to power and charge devices like notebook computers.
As the new spec puts USB 3.0 more than 20 times of input and output based on the old standard, the types of products that the port could power are much higher. The products include monitors, desk lamps and the notebook computers.
The beefier ports will clear up some crowding at wall outlets. If you adopted the port as the primary power connector for devices like laptops, it can help you eradicate the proprietary ports. The new USB 3.0 standard has been put into the market in early 2012.
You may like this: Why Does My Computer Keeps Crashing? Here Are Answers and Fixes
USB C VS USB 3: Data Transfer Rates
The main purpose of continuous development of USB forms is to provide better use experiment, such as a higher data transfer speed, more compatibility, much convenience, etc. According to the official statistics, the data transfer rate of USB 3.0 can reach 5Gb/s (maximum) to compatible components.
How about the USB C? As mentioned before, the USB C comes with the USB 3.1, but they are 2 different items. Its underlying technology could be USB 2.0 or USB 3.0. The data transfer speed of USB C varies according to different cable/port combinations. The maximum speed can reach 10 Gb/s if you have the correct cable/port combination.
Tip: You need to know that the performance of USB C will be affected by some elements like computer's source drive and the controller chip used for the port.
USB 3 vs USB C speed: which one wins? It is obvious that the USB C is the winner. As learned from the above, the 5Gb/s and 10Gb/s are the maximum speeds. What's the exact speed of the USB C and USB 3.0?
You should test it through a speed tester like MiniTool Partition Wizard. The Disk Benchmark feature of this program will tell you answers quickly.
In addition to that, MiniTool Partition Wizard enables you to detect the potential bit rot on the hard drive, copy disk, fix amifldrv64.sys BSOD error, etc. In a word, it boasts multiple features related to partition and disk management.
MiniTool Partition Wizard FreeClick to Download100%Clean & Safe
After downloading and installing MiniTool Partition Wizard Free Edition, launch it to enter its main interface and then begin testing the benchmark of your device.
Step 1: Connect your device to the computer and make sure that it appears on the disk list of MiniTool Partition Wizard. Click on the Disk Benchmark feature on the main interface to continue.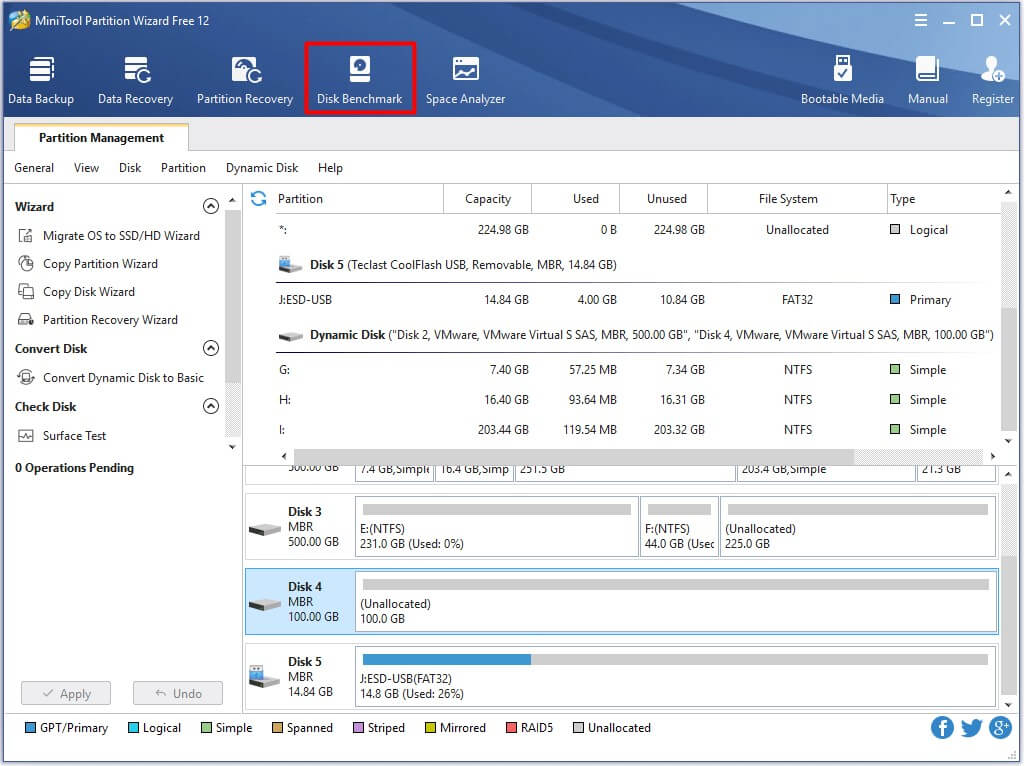 Step 2: Choose the drive letter of the target device, and then click on the Start button. Of course, you can also set other settings on the window based on your demand and then begin the operation.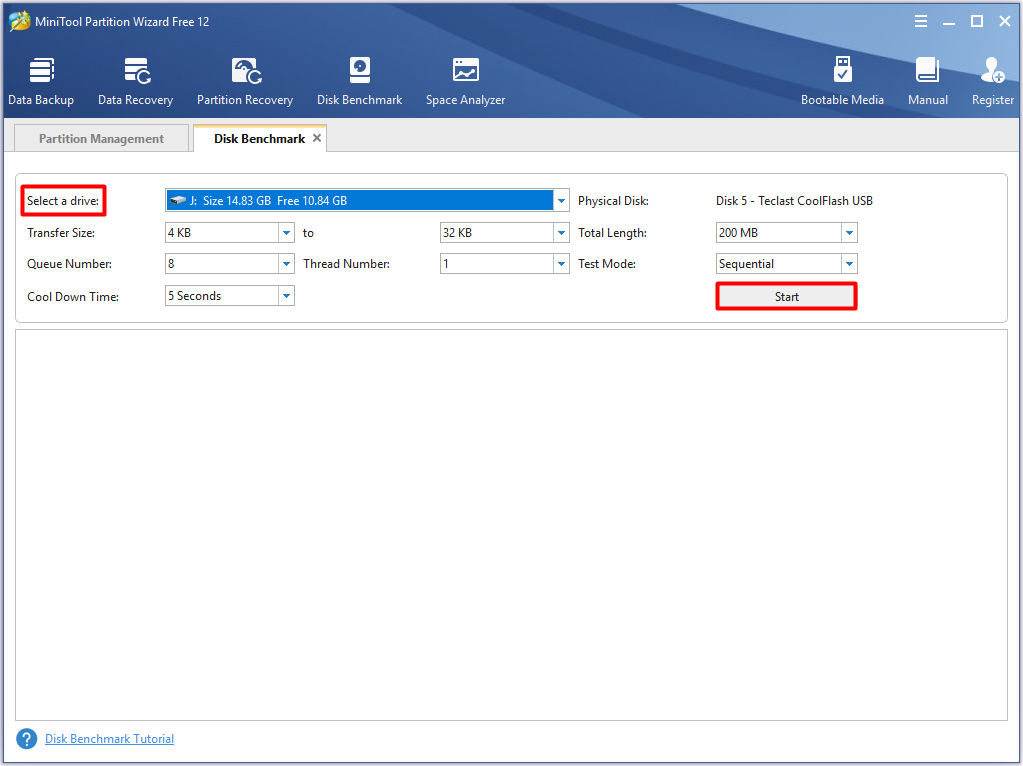 Step 3: You can get the result after the operation completes.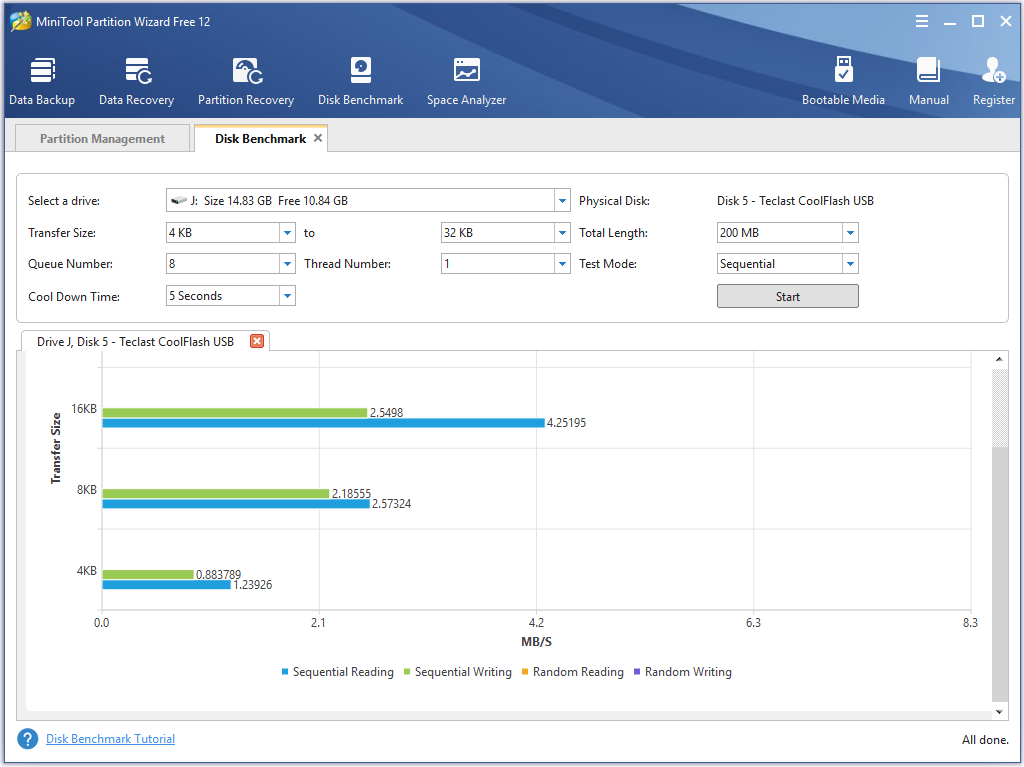 If you would like to improve your USB 3.0 speed, please refer to this post: The Guide to Test and Improve USB 3.0 Speed [With Pictures]
USB C VS USB 3: Backwards Compatibility
Compatibility is vital especially for the older device. Some new USB standards and ports don't support older cameras. So, obtaining the photos in the camera becomes a tough issue. If you use a USB Type-A or USB C, the situation is different.
Though you cannot get a fast data transfer speed when plugging USB 2.0 webcam into USB Type-A 3.1/3.0/2.0, you can use the device as usual. Similarly, you are also able to plug the device into the USB Type-C to get the support of USB device.
You are required to use a kind of adapter when plugging the device into the USB C. But you cannot plug a USB hub into the USB Type-C and keep space for multiple Type-A ports.
The USB 3.0 can be compatible with USB 2.0 drives or even older USB versions of drive. These old USB versions of drives can connect to the USB 3.0 and work well. So, you don't have to worry about the compatibility issue on USB 3.0.
You may like this: Windows 10 Compatibility Mode – How to Set and Change It
USB C vs USB 3.0: which one you should pick? I found the answer from this post. Besides, I tested the speed of my USB device by using MiniTool Partition Wizard. Click to Tweet
Conclusion
USB 3 vs USB C: which one is better? Do you have the answer now? According to user report, the USB C is preferred due to its high data transfer speed, reversibility feature. More importantly, USB C is being adopted by plenty of device manufacturers. Using USB C will become a trend in the coming years.
You can write down your thoughts on USB C vs USB 3 in the comment area below. If you have any issues when using MiniTool software, please contact us by writing an email via [email protected].
USB C VS USB 3 FAQ
Is USB 3.0 the same as USB C?
No, it isn't. USB 3.0 is the third leading version of USB (Universal Serial Number) standard for connecting computers and electronic devices. USB C is the newer standard that is used to charge and transfer data. Though the USB 3.0 and USB C share some similarities, they are not the same item.
Can I use a USB 3.1 device in a USB 3.0 port?
Can I use a USB 3.1 device in a USB 3.0 port?
Yes, you can. USB 3.1 has great backward compatibility. It is compatible with USB 3.0 and 2.0. Therefore, you can use the USB 3.1 device in a USB 3.0 port. If the USB 3.1 device that requires the high speed of USB 3.1 (10Gb/s), you are unable to use it on a USB 3.0 port.
How do I identify a USB 3.0 port?
You can check if the physical ports on the computer is blue or marked with SS (SuperSpeed) logo. Alternatively, you can identify the USB 3.0 port via checking Device Manager with these steps.
Right click the Windows icon on the desktop and then click on Device Manager from the menu.
Find and expand Universal Serial Bus Controllers.
Find the USB 3.0 port in the expanded list.
What is USB C VS USB 3?
The USB C vs USB 3 topic mainly introduces the differences between the 2 items. According to the most concerned issues, the USB C vs USB 3 talks about their power delivery, data transfer rates, backwards compatibility.