Summary :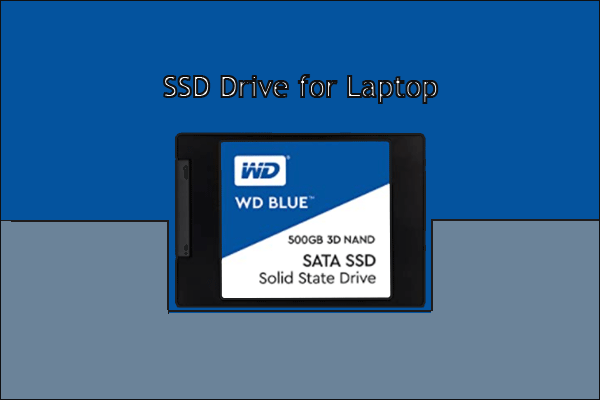 You may be considering buying an SSD drive for laptop, but you're confused about which one to choose. Right now, read this post carefully. It will introduce you the SSD drive for laptop in detail. And then your choices should be clear. Get more information from MiniTool.
What Is SSD?
An SSD (solid-state drive) is a type of solid-state storage device made from a solid-state array of electronic memory chips. SSD consists of control unit and memory unit (FLASH chip and DRAM chip). 
Have you ever heard of Samsung T1 portable SSD? It has been released for a few years and it once was considered a revolutionary portable device. Click here to know more details about it.
Application Fields
SSD is widely used in consumer devices such as smartphones, digital cameras, computer games, digital music players, PCs, laptops and thumb drives. At the same time, SSD is also used in military, vehicle-mounted, industrial control, video monitoring, network monitoring, power, medical, aviation, navigation equipment and many other fields.
Major Advantages of SSD
Why is SSD so widely used today? That's because SSD has many nice advantages over traditional hard drives.
Fast Reading and Writing Speed: SSD uses flash memory as the storage medium, and the reading speed is faster than the mechanical hard disk. SSD does not use magnetic heads and the seek time is almost zero, so the continuous write speed of SSD is amazing. It is also fast in random reads and writes, which is most directly reflected in daily operations. 
You can test SSD speed easily with Disk Benchmark function of best free disk benchmark software - MiniTool Partition Wizard. Click to see how to use this function.
Currently, SSD is faster to read and write and performs better than HDD. However, if the SSD is not aligned, the read-write speed of it will be affected. So how do you align SSD partitions? Click to get the method. 
Shockproof: Traditional hard drives stored data in the disk sector. SSD, on the other hand, is made of flash memory particles 
However, SSD has no mechanical components inside them, so even in the case of the high-speed move even with flip and tilt won't affect the normal use, and the possibility of data loss in the event of collisions and shocks is minimized. Solid state drives have an absolute advantage over traditional hard disks.
Low Power Consumption: Solid-state drives consume less power than traditional hard disks. 
No Noise: SSD doesn't have mechanical motor or fan, so it would not generate noise. 
Operating temperature range: Since SSD uses flash memory chip without mechanical parts, it has the characteristics of low heat emission and fast heat dissipation. The typical hard drive only works in the range of 5 to 55 degrees Celsius while most SSD can work at -10 to 70 degrees Celsius. Its chips can operate at a wider range of temperatures (-40 to 85 degrees Celsius). 
Lightweight: SSD is lighter in weight. SSD weighs 20 to 30 grams less than conventional 1.8-inch drives. 
Comparison of Different SSD Drives for Laptop
SSD now is a common type of laptop hard drive. To get the best performance for your laptop, you may be looking for the best SSD for laptop. This article will walk you through multiple aspects comparison of SSD drive for laptop. It could be a great reference when you select an SSD drive for laptop.
Comparison of SSD Drive for Laptop in Form Factor
SSD generally comes in three main form factors - 2.5-inch SATA, PCIe and M.2. 
2.5-inch SATA: 2.5-inch SATA drive most commonly found in laptops connects directly to the motherboard via dedicated links. The drive is actually 2.7 inches wide, 0.37 inches high and 3.96 inches long. This SSD typically has a capacity range of 120GB to 2TB. This is a cost-effective SSD. 
PCIe: It connects directly to the PCIe slot on a motherboard. It is more common in the workstation and enterprise market. Speaking of capacity, it is possible to reach 2TB, which is an ideal form factor if you want quick access to large data sets or large files. Another benefit of this drive is that you can add more drives to the system. PCIe-based SSD is also the best performance solution if space and cost are low. 
M.2: The rise of more lightweight laptops means the traditional 2.5-inch form factor is no longer the ideal choice in space-constrained scenarios. In addition, the SATA interface has become too constricting, so the M.2 form factor becomes more common and popular. The smaller shape and faster speed make the M.2 PCIe the ideal choice for any high-performance PC. M.2 is especially convenient for the laptop market because of the limited space of laptop computers.
Best SSD Drives for Laptop in 2019
The following section will recommend 5 excellent SSD drives for laptop and show you some basic information – SSD drive price, capacity and form factor. Hope this part will help you choose a good SSD. 
1. Samsung 970 EVO Plus
Price: $73.99/109.99/217.99/492.99 at Amazon
Capacity: 250GB/500GB/1TB/2TB
Form Factor: PCIe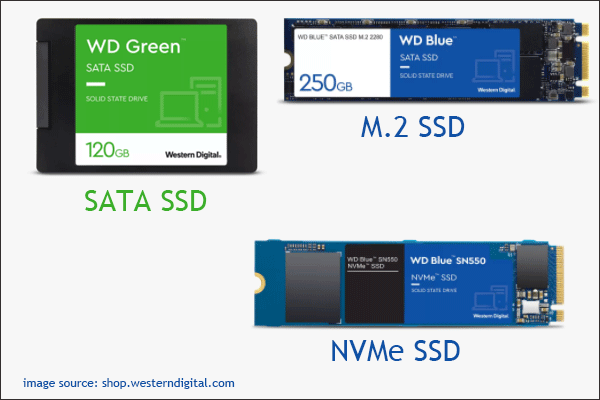 It is a Samsung SSD. When you need a new solid, reliable and fast SSD, you should consider the Samsung 970 Evo Plus. The Samsung 970 Evo Plus, small but powerful, offers very fast speeds without being too expensive. This is an SSD that combines performance and price well, which makes it one of the best SSDs in 2019. 
2. Crucial MX500
Price: $39.7/64.99/107.5/229.99 at Amazon
Capacity: 250GB/500GB/1TB/2TB
Form Factor: SATA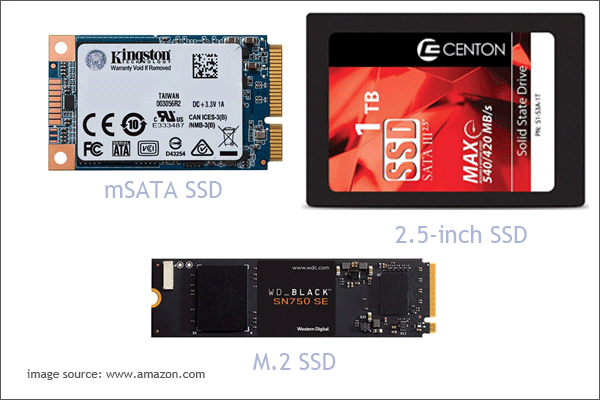 Choose Crucial MX500 and you can experience a quieter, cooler, and faster computer. It can save up to 2TB data and start your system in seconds. Crucial MX500 SSD drive is built on security, speed, and quality. It is accelerated by micron 3D NAND technology. Besides, if unexpected power outages occur, the Crucial MX500 integrated power loss immunity will reserve all your saved work. Thus, Crucial MX500 is worth recommending as one of the best SSDs in 2019. 
3. Samsung 860 QVO
Price: $99.99/199.99/399.99 at Amazon
Capacity: 1TB/2TB/4TB
Form Factor: SATA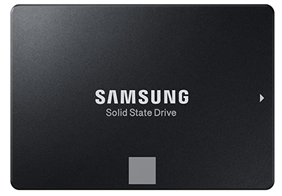 The Samsung 860 QVO comes in three terabyte-level capacity - 1TB, 2TB, and 4TB, providing enough memory to store data. Besides, Samsung 860 QVO supports hardware encryption. Meanwhile, the latest 4-bit MLC technology provides users with fast sequential read/write speeds up to 550/520 MB/s. 
4. WD Blue 3D NAND
Price: $39.99/59.99/109.99/199.99/549.99 at Amazon
Capacity: 250GB/500GB/1TB/2TB/4TB
Form Factor: 2.5'' 7mm/M.2 2280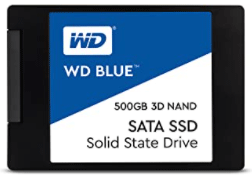 WD Blue 3D NAND, based on WD's Blue SSD, is a mainstream SATA drive that is overall excellent. It provides users with fast sequential read/write speeds up to 560/530 MB/s. Given that WD Blue 3D NAND uses the TLC memory model, it's impressive that the drive can maintain its performance over time. 
5. WD Black SN750 NVME
Price: $69.99/99.99/174.99/449.99 at Amazon
Capacity: 250GB/500GB/1TB/2TB
Form Factor: M.2

WD black SSD has a game mode on which firmware and SSD dashboards have been tweaked to provide good performance for PC games. Available in 250GB, 500GB, 1TB and 2TB capacities. It is one of the best performing M.2 SSD with a maximum capacity of 2TB. 
When it comes to recommending the most affordable SSD hard drive for laptop to any gamer looking for a new SSD, WD black SSD is definitely one of your best choices, regardless of their budget.
If you already get an SSD, but it doesn't show up in Windows, you can try methods in the article - Quick Fix SSD Not Showing up in Windows 10/8/7 without Data Loss to fix this issue. 
If you want to resize partition on SSD, you can read this post to learn how to do this work.
I am thinking of buying an SSD for my laptop, but I don't know which one is suitable. This post really helps me to make a clear choice.Click to tweet
How to Migrate OS to SSD
SSD has the advantages of fast reading and writing speed, shock resistance, low power consumption, no noise, and light weight. If you need SSD to improve the performance of your laptop, you need to migrate the OS to SSD. 
You may wonder how to install OS on new SSD. Don't worry. MiniTool Partition Wizard Free Edition offers you a simple and safe way to do this work. The following part will show you how to migrate OS to SSD step by step.
Before you try this function, please click the following button to free get MiniTool Partition Wizard. 
Step 1: Run MiniTool Partition Wizard and get into its main interface. 
Step 2: Click the system disk which you want to migrate. 
Step 3: Click on the Migrate OS to SSD/HD button from the left action panel.

Tip: Migrate OS to SSD/HD will only migrate currently running system disk.
Step 4: Select the option from the pop-up window about how to migrate your OS and click Next to continue. 
Step 5: Select a destination disk where you want to migrate to and click Next to continue. 
Step 6: Read the warning message carefully and click the Yes button. 
Attention:
You had better transfer data to another device or back up all the important data in your target disk in advance, because all the data will be destroyed. Yet, it doesn't have any effect on the data in the original disk. 
Step 7: You can make some advanced migration choices and changes. You can manually change the selected partition size by dragging the triangles or inputting exact partition size. And then click Next.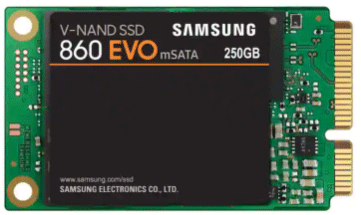 Step 8: Read the note message carefully and click the Finish button. 
Attention:
To boot from the new disk, please configure computer BIOS setting. Make sure the new disk is configured as the first boot disk. 
Step 9: Click the Apply button to execute all changes and tap Yes in the pop-up prompt window.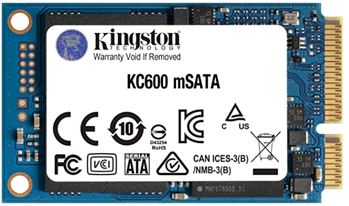 Maybe you are also interested in this article: Failed to Migrate Your Disk or System to SSD? Try This Way 
SSD data loss is a common and tough issue today. You can get the method about recovering data from SSD hard drive from this post: The Full Guide to SSD File Recovery on Windows 10/8/7/XP.
 I was looking for an easy and safe way to migrate OS to SSD. Thankfully, MiniTool Partition Wizard helps me do this work successfully.Click to tweet 
Conclusion
Now that you know major aspects of SSD drive for laptop, it should be easier for you to choose the right SSD. Meanwhile, this article also briefly introduces how to migrate OS to SSD. Hope this post helps you. 
If you want to migrate OS to SSD with MiniTool Partition Wizard, just follow the steps in this article. If you need any help when using MiniTool software or you have a better suggestion, feel free to contact us via [email protected].