Are there bunches of old hard drives sitting in your drawers? What to do with old hard drives? Desert, sell, or destroy them? This post focuses on the old hard drive disposal. By the way, MiniTool Partition Wizard, a professional partition manager for Windows OSs, is worth trying.
After upgrading to a new hard drive, you may have no idea of what to do with the old hard drive. As to old hard drive disposal, there are, generally, three methods — reutilizing, selling, or destroying. Go on reading to see which one you should adopt.
Reutilize Old Hard Drives (Especially Turn Them into External Hard Drives)
How to reutilize old hard drives? Turn them into external hard drives perfect for storing your extra files. Before converting the old hard drive into an external hard drive, you should definite if the old hard drive is OK. Old hard drives could come with various issues. This indicates that some issues like data loss will be on the way if using them as external hard drives.
Definite If the Old Hard Drive Is OK
How long have you used the old hard drive? If that is over 5 years, it is unwise to use it as an external hard drive. The average lifespan of a hard drive is 3 to 5 years and it will fail in the blink of an eye if the usage time is over the range.
Then, recall whether you received one of the signs for hard drive failure when you using that hard drive. If you frequently received these signs, then you should not even consider using it as an external hard drive. If not, your old hard drive might still be in a good state but it is still recommended that you check that drive health.
Turn the Old Hard Drive into an External Hard Drive
If the old hard drive is OK, then you can turn it into an external hard drive. Generally, the conversion can be divided into two stages: 1). Prepare a hard drive enclosure; 2). Reformat the old hard drive. Scroll down to learn more details about the two stages.
Prepare a Hard Drive Enclosure
A hard drive enclosure (also known as hard drive caddy) is a plastic, metal, or aluminum box. It is a converter for the internal hard drive that allows you to use your old hard drive externally for saving and backing up data. Additionally, a hard drive enclosure also plays as a protector and holder for the internal hard drive.
Purchase instructions for hard drive enclosures:
1. The interface of hard drive enclosure should match the interface of your hard drive.
The hard drive enclosure with SATA prevails in the market because SATA is the most usual hard drive interface. There are other types of interfaces like IDE and M.2.
Check the old hard drive or computer manual to figure out the type of interface of the hard drive and then pick up a matching hard drive enclosure.
2. The hard drive enclosure should be capable of accommodating your old hard drive.
The available physical sizes of hard drives are 3.5 inches and 2.5 inches. The former is used in desktop computers, while the latter is used in laptops. So, make sure the physical size of your old hard drive and then pick up a suitable hard drive enclosure to accommodate that hard drive.
3. The hard drive enclosure with USB connector is the top choice when purchasing.
Most external hard drives are connected to computers through a USB port. Moreover, the connector featuring USB 3.0 and USB 3.1 can deliver a high transfer speed up to 5Gbps and 10Gbps respectively.
4. The old hard drive you want to put in a hard drive enclosure should not be larger than 8TB.
The controller of most hard drive enclosure limits the maximum capacity of the connected hard drive and the limitation is about 4TB to 8TB.
Refer to the above instructions when you purchasing a hard drive enclosure.
Repartition the Old Hard Drive
When you get the hard drive enclosure, you can put your old hard drive in it and connect it to your computer.
Open File Explorer and you should see the hard drive. Since the old hard drive was partitioned before, you need to repartition it. Here it is highly recommended that you try MiniTool Partition Wizard. As a professional partition manager for Windows operating system, it can help you format partition, back up disk, recover data, check disk health, etc.
Download MiniTool Partition Wizard by clicking the following button and install it on your Windows computer by following on-screen instructions.
Step 1: Launch MiniTool Partition Wizard to access its main interface.
Step 2: Locate the old hard drive on the main interface, right-click it, and choose the Delete All Partitions option from the menu.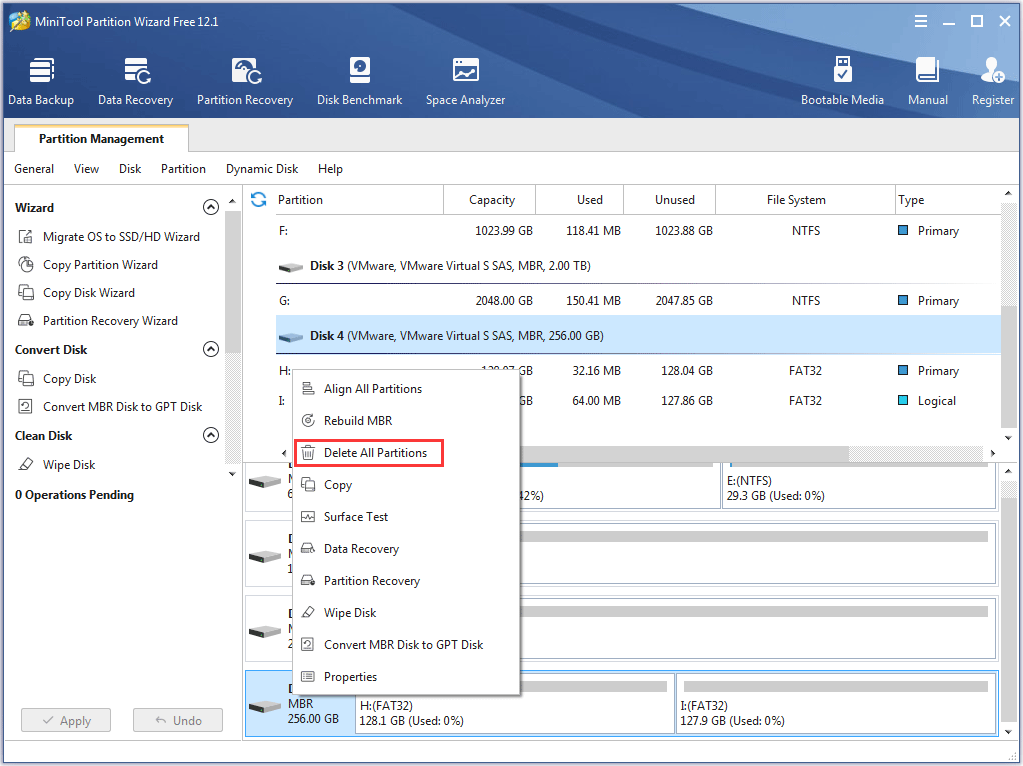 Step 3: Click the Yes button to confirm the operation.
Step 4: Click the Apply button to execute the operation.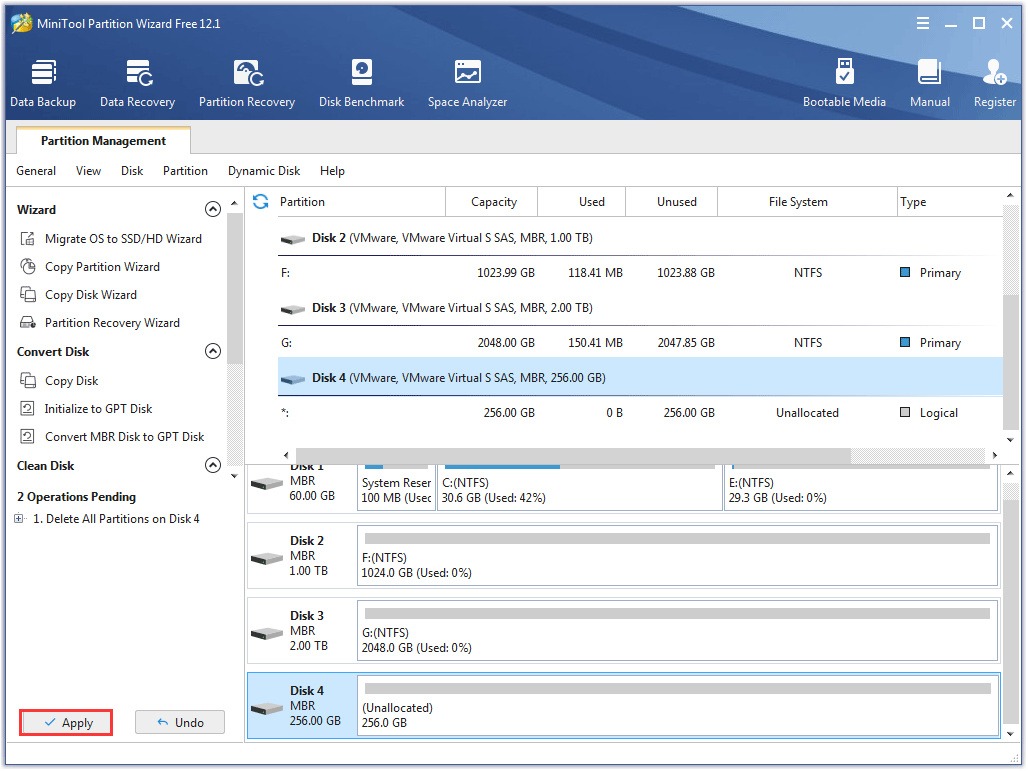 Now, you can create new partitions for the old hard drive based on your own demand. Note that it is best to create exFAT partitions if you want to connect it to other devices like set-top boxes for video playback.
In this case, MiniTool Partition Wizard is also helpful.
Right-click the unallocated space and choose Create.
Customize the partition you will create based on the on-screen prompt. After that, click OK.
Click the Apply button.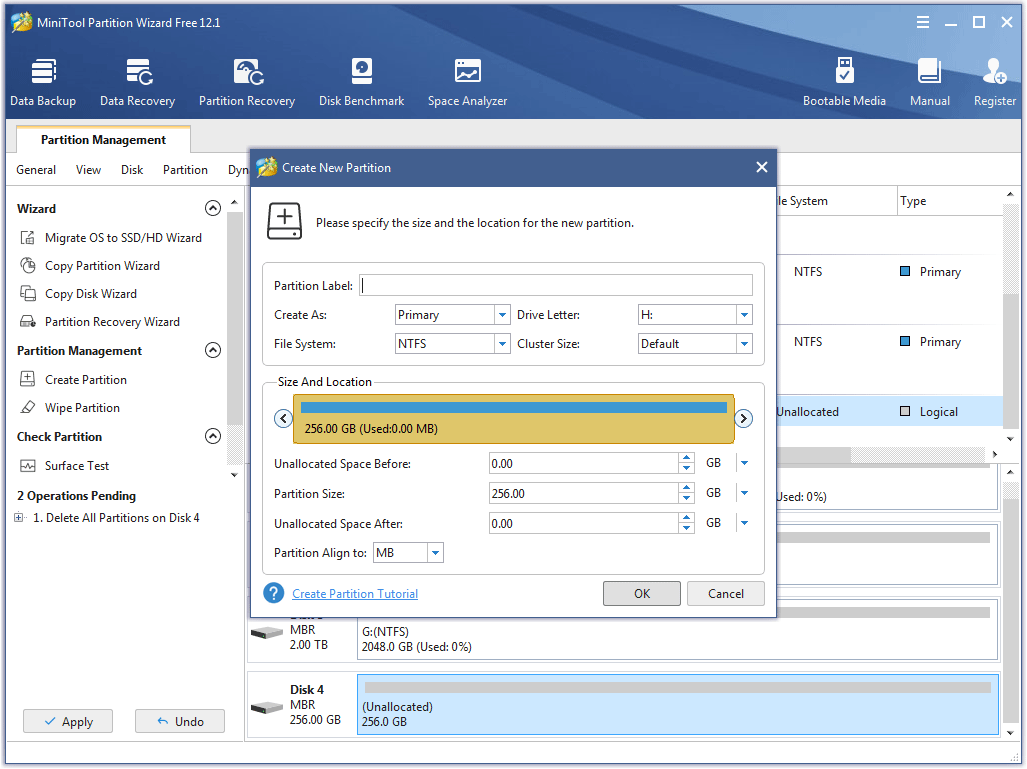 Aside from turning the old hard drive to an external one, there are some DIY projects for old hard drives.
Sell Old Hard Drives
You can also choose to sell the idle old hard drives for extra cash. Is it safe to sell the old hard drive? How much is your old hard drive worth? These two questions may hover in your mind. Keep reading to get the answers.
In 2016, Blancco Technology Group conducted a study based on 200 used hard drives they bought from eBay and Craigslist. They found most of these hard drives had residual data — 67% of the used hard drives contained personal data; 11% of the hard drives had sensitive corporate data… Click here to learn more about their findings.
Once the residual data was manipulated by digital hackers, property loss would happen and other serious issues would also happen.
What to do before you sell your old hard drive? Wipe it! Different from deleting or formatting, wiping is to overwrite data on the entire disk and this is the reason why data cannot be recovered (you might be interested in What Is Data Sanitization: Wipe vs Erase vs Format vs Delete).
To wipe an old hard drive, you can still try MiniTool Partition Wizard. There are 5 wiping methods provided by this software.
Step 1: Highlight the old hard drive you want to wipe on the main interface of MiniTool Partition Wizard.
Step 2: Choose the Wipe Disk function from the left panel.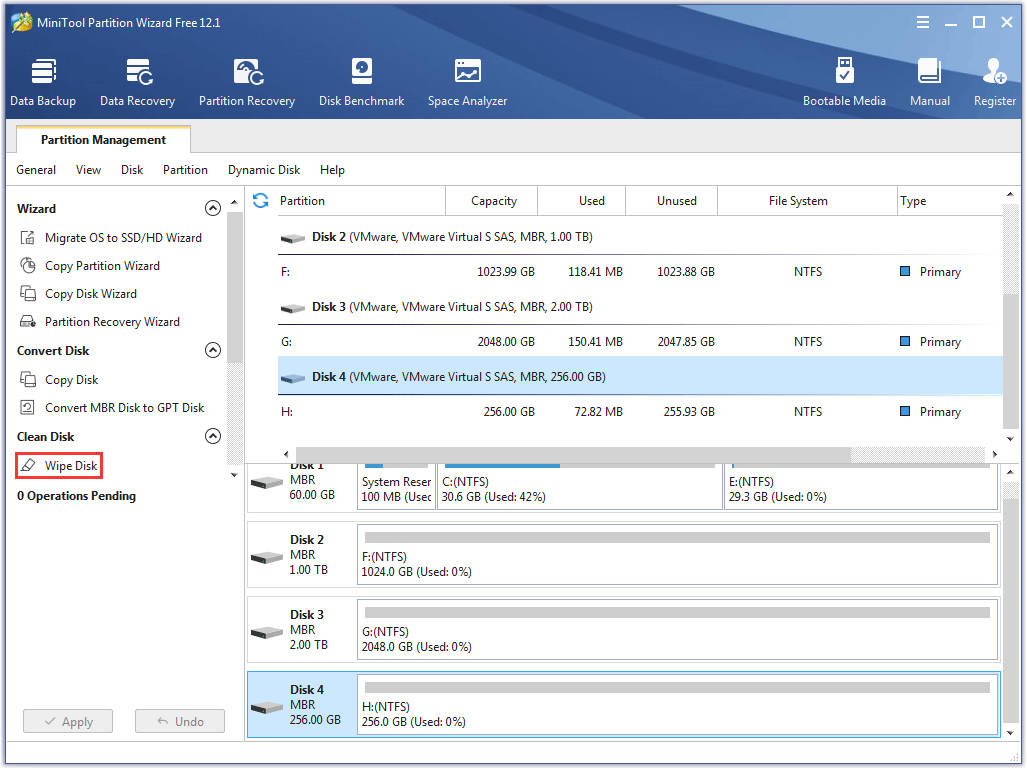 Step 3: Choose one wiping method from the provided methods and then click the OK button.
Note: The more time the method costs, the higher security you will get.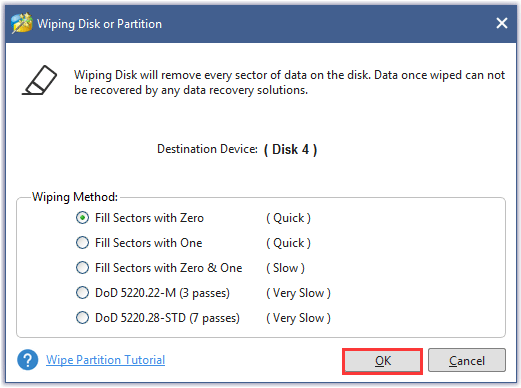 Step 4: Click the Apply button to let the software wipes the selected hard drive.
After wiping your old hard drive, you can sell it online. How much is your old hard drive worth? According to an old hard drive buyer "WeBuyUsedITequipment", the price for old hard drives it offers is based on the following factors:
Capacity: 500GB to 10TB.
Brand: Hitachi, IRB, Seagate, Toshiba, and WD.
Part numbers (PN). They appear on a label on the front of the disk carrier.
Disk density: 500GB to 30TB. It is the measurement of the amount of data a disk can hold.
RPM: 5400, 7200, 10k, or 15k.
Connector – SATA, SAS.
Destroy Old Hard Drives
If the old hard drive is unusable or it is at a low price, what to do with it? Recycle or dispose of it. But notice that you should destroy it as the data on the hard drive might be recovered by others.
What is the type of your old hard drive? An HDD or SSD?
If your old hard drive is an HDD, there are some ways that can make sure your data is unrecoverable from it. Take hard drive degaussing for example. In this method, a hard drive will be put in a high-energy magnetic field where all the particles of recorded bits of data will become random and completely unreadable configurations.
If your old hard drive is an SSD, the above destruction is not useful. As we know, SSDs use semiconductor chips rather than magnetic media to store data, which means putting SSDs in a strong magnetic field is nothing helpful.
HDDs are much easier to physically destroy just by drilling a hole through them, while SSDs contain multiple memory chips that all have to be individually destroyed.

Bischof
How to destroy an SSD? You can lock it and throw away the encryption key. BitLocker, a built-in encryption program for Windows, can help you lock your old SSD and then your data is safe from prying eyes.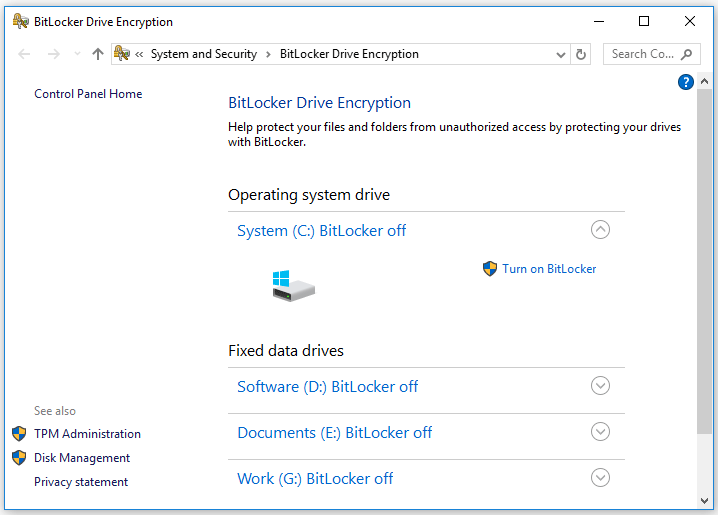 Alternatively, you can shred it with a hard drive shredder. The machine can shred hard drives into 2mm to 4mm particles. Therefore, it is incredibly hard to get data from these small particles.
What to do with old hard drives? If you have no idea, read the post that talks about how to dispose of old hard drives safely.Click to Tweet
Bottom Line
Have you determined what to do with your old hard drives? Reuse, sell, or destroy? You can share your choice with other readers in the following comment zone. If there is something unclear, you can also point it out in the sane zone.
Have you tried MiniTool Partition Wizard to reformat your old hard drive or wipe it? If you have some doubts about operating this software, please send an email to us via [email protected] and we will contact you as soon as possible.
What to Do with Old Hard Drives FAQ
What is the best way to destroy an old hard drive?
Can you destroy a hard drive with a hammer?
Although destroying a hard drive with a hammer is a money-saving and quick way. But this way is also dangerous — the bits of glass or metal will fly all over and can scratch you.
How do I recover files from an old hard drive?
What should I do with my old PC?