How to perform a Snapchat hack? If you also have such doubt, this post deserves your attention. Here, MiniTool tells you how to hack someone's Snapchat and answers some frequently asked questions about Snapchat hack. You will know whether Snapchat hacke, how to do after Snapchat is hacked, and how to keep safe.
As you know, Snapchat is an instant messaging application that works on both Android and iOS devices. With this app, you can share photos/stories, send videos, view Snapchat messages/conversations, make video calls, create emojis/cartoons/avatars, and so on.
Though Snapchat is highly encrypted, it is still possible to hack into a Snapchat account. How to hack Snapchat? This post would answer this question for you.
You may also like: How to Transfer Apps from Android to Android? [Top 4 Methods]
Though there are some free methods to perform a Snapchat hack, it is not recommended to do so. These ways may pose threats to your information and Snapchat account security. Instead, you should apply professional third-party programs to execute the Snapchat hacke operation. The content below shows you how to hack someone's Snapchat with them.
How to Hack Snapchat via mSpy
mSpy is a feature-rich cell phone tracking app, which allows you to hack into anyone's Snapchat through an Android or iOS device. It also enables you to monitor someone's activity on Snapchat remotely. For instance, you can view deleted, sent, and received snaps with mSpy.
Apart from Snapchat hack, it is also used to check the GPS location of the target device, call logs, messages, and social media accounts. Here's the guide on how to hack a Snapchat account via mSpy.
Step 1: Go to the official website of mSpy. If you don't have a mSpy account, click LOG IN at the top of the page. In the next window, click on Don't have an account yet to register an account and then log into it.
Tips:
You need to get a suitable plan.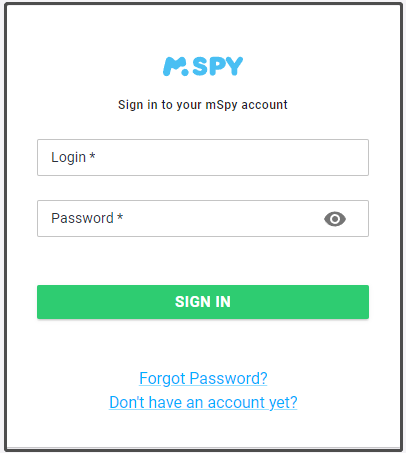 If you already have a mSpy account, click on the Try Now button in the upper right corner of the webpage. In the pop-up window, enter your email address, check the Terms of Use checkbox, and click TRY NOW.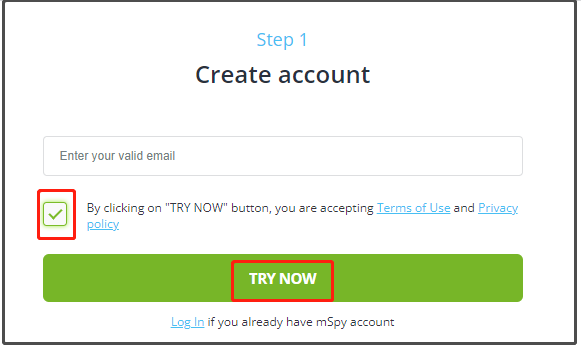 Step 2: Choose the type of device that you are going to hack (Android or iOS) and ensure that you have physical access to the phone. Physical access is only needed during initial installation. Here, we choose Android.
Step 3: Select the device manufacturer from the list and click on the Proceed button to continue. Manufacturers like Samsung, Huawei, Xiaomi, Moto, Google Pixel, and LG are included.
Step 4: Choose your Android version and disable Play Protect on the target device.
Step 5: After opening a browser on the target device, move to this site, draw the Captcha, click the Download button, and then press OK to skip the warning.
Step 6: After the download, open the APK and follow the prompted instructions to set up mSpy.
Step 7: Give some time to mSpy to record the activity and send it to the server.
Step 8: Log into the mSpy dashboard on the web and then details of the person you would like to spy on will be displayed including Most Messaging Contacts, Most Calling Contacts, Most Visited Websites, etc.
Step 9: Tap the Snapchat option on the left pane and then choose the search history of the target person on the right side of the screen. Then you will see images and chat details of that person.
Tips:
If you want to see the entire contact list of that person on Snapchat, simply click the Contact option.
How to Hack Snapchat via uMobix
uMobix is a cell phone tracking application that is suitable for parental control. With it, parents can hack Snapchat on the target device in real-time and record screenshots. This spy app tracks nearly all activities of the target phones like incoming and outgoing calls, read/received/sent SMSs, GPS location, web history, social media activities, etc.
Here are steps showing you how to hack into someone's Snapchat via uMobix.
Step 1: Create an account, select a subscription plan, and then access the account.
Step 2: Access the target device and install uMobix on it.
Step 3: Open a browser of the target device and enter the address app4space/12345678. After that, the files will automatically download.
Step 4: Then open the installation file and click Install. Once the installation is done, click open.
Step 5: Navigate to uMobix setup and click Agree and Continue to proceed.
Step 6: Check the Keylogger option, and then move to the Installed services or Accessibility services account to find User Accounts and turn on it.
Step 7: Choose Set-up automatically to finish the installation process. Then allow all permissions to kickstart the app.
Step 8: Log in to the uMobix dashboard on another device, and then scroll down to the Social Networks section and choose Snapchat.
How to Hack Snapchat via Hoverwatch
How to hack a Snapchat account? Well, Hoverwatch helps. It is a full-featured and easy-to-use phone spy app. It allows you to hack programs like Snapchat, Facebook, Whatsapp, Viber, Telegram, and so on. It tracks calls & messages, location, browser history, etc. It's worth noting that it is entirely invisible to the target device's owner.
If you want to do Snapchat hacks using Hoverwatch, install it from your online account. Then refer to the above steps to finish the process as the rough steps to hack Snapchat via Hoverwatch are similar to that of other spy apps.
In addition to the above apps, you can also use Mobilespy.at, Cocospy, eyeZy, or Spyine to do Snapchat hacks. If you don't know how to hack into someone's Snapchat, read this post now!
Snapchat Hack FAQ
How to know whether your Snapchat account is hacked?
Whether the Snapchat hacke? Actually, there are some signs of that issue. If you experience the following things, it is likely that your Snapchat account is hacked. You'd better change the Snapchat password immediately.
A warning that someone logs into your account from a different location, IP address, or device.
You are required to re-log into Snapchat continually.
You receive spam from your account.
New contacts are added to your list without your permission.
The mobile number or email address associated with the Snapchat account is changed without your knowing.
What to do if Snapchat is hacked?
After your Snapchat account is hacked, you can't access it anymore. In this case, you are able to contact Customer Support to seek help.
How to keep your Snapchat account safe?
If you get your Snapchat account back, refer to the tips below to keep it safe.
Set a strong password.
Set up two-factor authentication.
Verify your email and mobile number.
Forget unrecognized linked devices.