Is my Switch patched? If you wonder that like others, this post of  MiniTool is worth reading. In addition, it also tells you if your Nintendo Switch is hackable. For more information, read the content of this tutorial.
Is My Switch Patched
You can check if your Nintendo Switch is packed by yourself. Here are 3 options for you, but all of them need the serial number of Switch. Given that fact, check the Nintendo Switch serial number before starting the process.
Option 1: Check If Switch Is Patched via Online Program
There's an online program called "Is My Switch Patched" that can help you know if the Switch is patched. To do that, you can refer to these steps.
Step 1: Click here to see if my Switch is patched.
Step 2: Choose the prefix of your Nintendo Switch serial number and type the first six digits. Then hit Enter. After a while, you will get the result.

Also read: What Is PS4 Jailbreak and How to Jailbreak PS4
Option 2: Check the Status in the Sheet
Compare the serial number of your Switch with the table below to see if it is patched.
Tip:
1. Updated means the Switch is 100% hackable via rcm.
2. Patched indicates that the Switch is 100% unhackable through rcm.
3. Potentially patched implies that the Switch might be hacked via rcm, but may be not.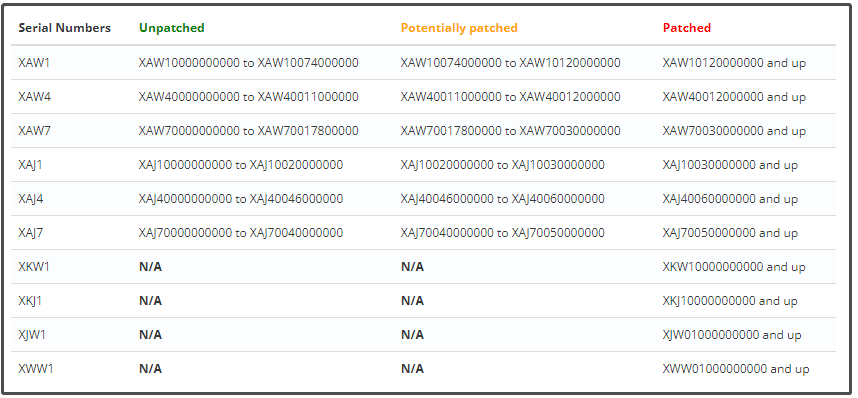 Option 3: Use SwitchScanner for Android
There is a program called SwitchScanner that can help you check if your Switch is patched. This app is available on the Google Play Store, which only works on Android devices. To see if the Switch is patched, you just need to scan or enter the serial number of your Nintendo Switch on the Android smartphone or tablet.
How to Jailbreak Nintendo Switch
Risks of Jailbreaking Nintendo Switch
Before jailbreaking the Nintendo Switch, you need to know the risks behind this operation. Most jailbreaks tweak the operating system in some way, so the biggest risk for Nintendo Switch jailbreak is bricking. This operation is against the T & Cs of Nintendo and voids the warranty too. Then you can't replace Switch.
Tools to Hack Nintendo Switch
To jailbreak Nintendo Switch, you need to prepare some simple tools. A simple way to do that is to use Homebrew Launcher. All you need to prepare is a laptop, a microSD card, as well as a Nintendo Switch and the latest version of nx-hbmenu from Github.
Note: The Homebrew Launcher is only compatible with Switch software 3.0.0. If your Switch system is older than that, you need to update to this version before starting the process.
Steps to Jailbreak Nintendo Switch
Then follow these steps to perform the Nintendo Switch jailbreak operation.
Step 1: Copy hbmenu.nro onto the root menu of the SD card.
Step 2: Plug the microSD card into the Nintendo Switch.
Step 3: Navigate to the connection settings and configure the DNS server manually. To be specific, enter the following DNS: 104.236.106.125 and conduct a connection test if prompted.
Step 4: Click Install to begin the process. After installation finishes, restart the Nintendo Switch console.
Tip: If you see 2000-1337 on the screen, it means that the installation has been successful.
Step 5: Run another new connection test.
Step 6: Move to the Home menu and tap the Album icon to browse homebrew apps and games.