Do you update your Windows 10? Do you encounter any issues? According to users reports, Windows crashing often happens after updating. So, how to prevent Windows 10 Update from crashing PC? MiniTool will introduce you some tips to prevent the error.
Windows 10 is a mainstream operating system now. Microsoft release multiples updates to meet users' demand, but these updates cause much issues such as adapter failure, Bluetooth speaker problems, 100% CPU core usage, black screen, night light not working, etc.
What's worse, your computer may crash after updating. However, that's not the fault of Windows Update but the incompatibility between the programs and OS. How to prevent Windows 10 Update from crashing computer? In the following part, tips to stop Windows Update from crashing computer will be talked about.
One-Time Preventative Tips
As you know, Windows 10 sometimes may crash due to accidents, inappropriate operations and issues with the OS itself. You need to take some measures to prevent the issue and protect your computer.
Back up Your Data
First and foremost, you need to back up data regularly. By doing so, you will not suffer from data loss even though your PC crashes. There are many methods to back up your important data like copying it to external hard drive, transferring to online storage service, etc.
You can also pick a professional backup tool like MiniTool Partition Wizard to back up your data. Here is the guide for you.
Change Windows Update Settings
To avoid Windows updates automatically, you can change update settings. After that, you need to download important security and other updates manually. This is a one-time change. If you haven't done it before, change the settings now. Here's how to do.
Step 1: Open Settings by pressing Win plus I keys. Then navigate to Update & Security. In this page, click on Windows Update in the left action panel. Next, scroll down the right side of the page to find and open Advanced options.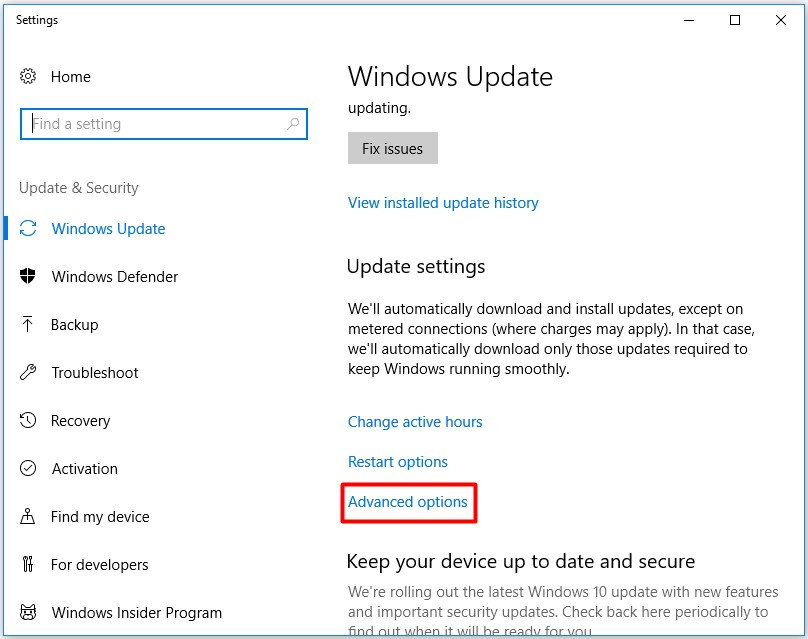 Step 2: Drop down the list of the Advanced options to locate and turn on the Pause Updates option. By doing so, you can stop Windows updates automatically.
Tip: This operation is valid up to 35 days, which means that your computer will continue to update when the setting gets expired.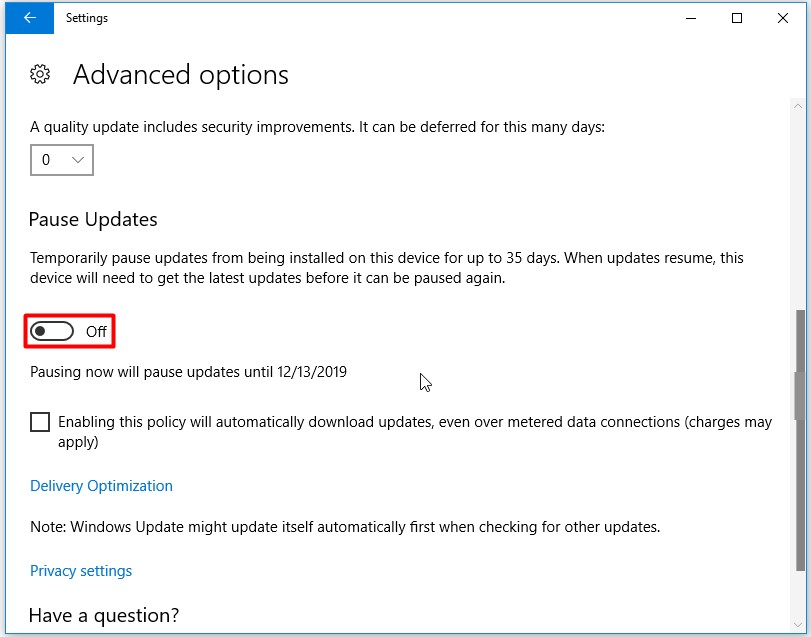 Check the Free Space on the Main Hard Drive
Check the available space on the hard drive. Then you need to make sure that there's at least 20% available space of total disk. This amount of space enables Windows and other programs to grow if necessary, especially during installation and recovery processes.
If there isn't enough free space on your hard drive, System Restore (the main recovery process) cannot create restore points when Windows Update causes a major problem.
Here, you need a professional disk space analyzer to check your disk usage. If there's not enough disk space, you need to free up some space by deleting space-consuming files or folders.
You may be interested in this: 10 Ways to Free up Disk Space in Windows 10 [2019 Update]
Tips for Updating Windows
Since your automatic update settings have been changed, your PC won't update unless you conduct that operation manually. However, you need to do some things before installing a Windows update.
Connect to the power source: If your computer is a desktop, it is OK. As for laptop, tablet and other mobile devices, the charge cable should plug in the power sources in the whole process. Similarly, you should avoid updating in thunderstorms, hurricanes and other extreme weather conditions that can cause a sudden loss of power. Your files being updated will be corrupted when your battery drains in the updating process.
Restart your computer: Windows 10 will automatically carry out some operations including installing Windows updates and security patches that you used to conduct them manually. To avoid this, you can try rebooting computer. You can refresh Windows after restarting and run it as usual.
Disable antivirus programs temporarily: This can prevent you from suffering installation failure when installing programs. It has been proved to be a wise operation. Click your antivirus programs and disable them.
Now, it's time to install Windows updates. As mentioned earlier, you should install the update manually. Click here to check for and install Windows Updates.
That's all the tips to prevent Windows 10 Update from crashing PC. If you are seeking answers to prevent Windows 10 Updates crashing computer, read the post carefully.
Choose one based on your demand. However, if your computer crashes, you need to reinstall Windows or restore your computer under the help of a Windows installation media.