Microsoft keeps pushing a number of amendment updates, but the latest V1903 KB4512941 Windows 10 update causes high CPU usage update, arousing hot discussion. As you know, high CPU usage has enormous impact on computers running speed and can further decrease your work efficiency. MiniTool introduces this issue in detail and offers feasible fixes.
An Introduction to Windows 10 V1903 KB4512941
It is reported that there's something wrong with Windows 10 Build 18362.329 (KB 4512941 cumulative update debut), resulting in excessive CPU usage.
KB 4512941 update was released on August 30. Microsoft said in a Knowledge Base article that the update should address many of the issues affecting remote desktops, Windows sandboxing, and other aspects of Windows 10.
Microsoft also claimed that it would disable Edge browsers' support for ePUB files step by step, which are commonly used in e-books.
However, users who install KB 4512941 soon discover this Windows 10 update causes high CPU usage which is mainly brought by the Windows Search Cortana (image from reddit).

Details about High CPU Usage after Windows 10 Updates
According to many reports, Cortana's SearchUI.exe process (located in C:WindowsSystemAppsMicrosoft.Windows.Cortana_cw5n1h2txyewySearchUI.exe) occupies the entire processor core after applying this update version.
The space occupied by Cortana's SearchUI.exe process is totally wasted because the Cortana opened from the taskbar cannot be loaded (due to an issue with Cortana).
Additionally, high usage of SearchUI.exe is possible to cause serious performance problems. More ironically, Cortana's search on the desktop no longer works. In a word, this is an error that will influence your entire experience.
You may also be interested in this post: Fixed – High CPU Usage for Update Orchestrator Service in Windows 10
Windows Latest said that many people complain that Windows 10 update causes high CPU usage after installing the KB4512941 update, and it is said that there is something wrong with Cortana.
The reason why Cortana consumes high CPU in the updated version of the KB4512941 is still not clear. However, it is clear that members of the Windows Insider Program reported these issues to Microsoft through the Feedback Center before Microsoft provides updates for the public.
Unfortunately, those reports were not taken seriously, so people who have installed optional updates suffered from the KB4512941 update causes 100% CPU core usage issue.
How to Fix the Issue
You may raise questions like whether the issue can be solved or how to fix Windows 10 1903 high CPU usage. Absolutely, there are something you can do to address this issue.
If you have downloaded this update version, you are able to change the registration table or uninstall this update. Windows Latest said that some users solved the Cortana issue by deleting the registration table.
To change the registration table, you need to enter the Registory Editor at first. Here are steps to change the registration table.
Step 1: Press Windows plus R key at the same time to open the Run window. Then type regedit at the window and click OK.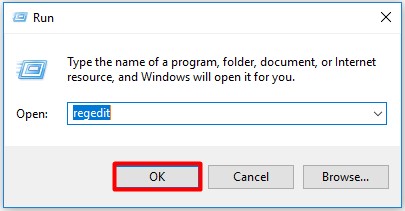 Step 2: Follow the path: HKEY_CURRENT_USERSoftwareMicrosoftWindowsCurrentVersionSearch to find the BingSearchEnabled DWORD file.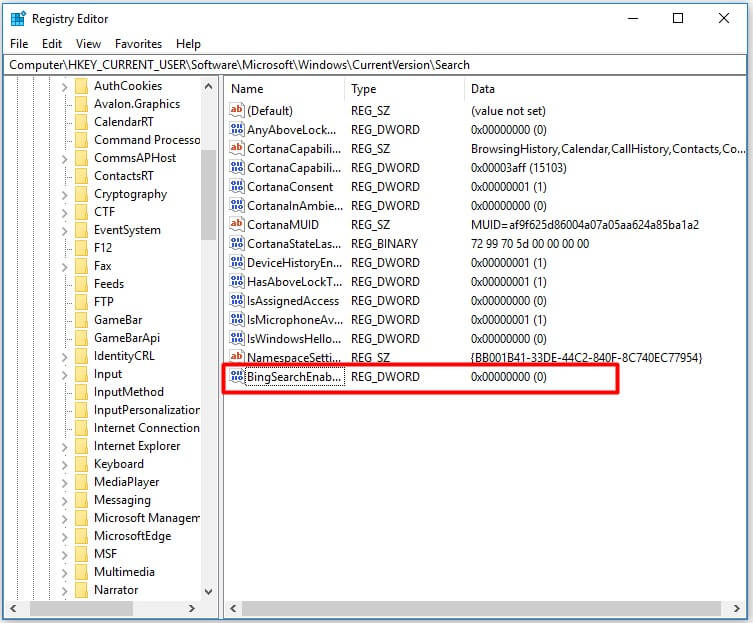 Step 3: Double- click the BingSearchEnabled DWORD and set the value from 0 to 1. After that clcik OK to finish the operation.
Tip: It has proved that right-clicking and deleting the "BingSearchEnabled" DWORD also fixes the issue.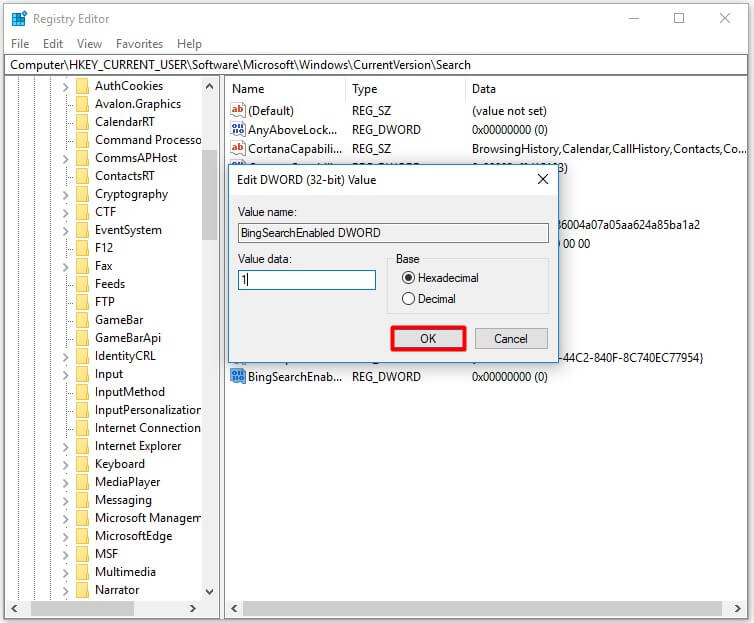 Step 4: Reboot your computer.
Tip: After Microsoft repairs the high CPU usage of this version permanently, you can revert the changes with the above given steps, but you need to set the DWORD value to 0 on step 3.
In fact, you don't need to delete the whole registration table to fix the issue. Uninstalling this update directly is easier, because you don't have to find the file in the registration table.
It is very easy to uninstall Windows 10 update with the following steps.
Step 1: Open the Settings, and then click Update & Security.
Step 2: After clicking Windows Update in the left side, click View installed update history.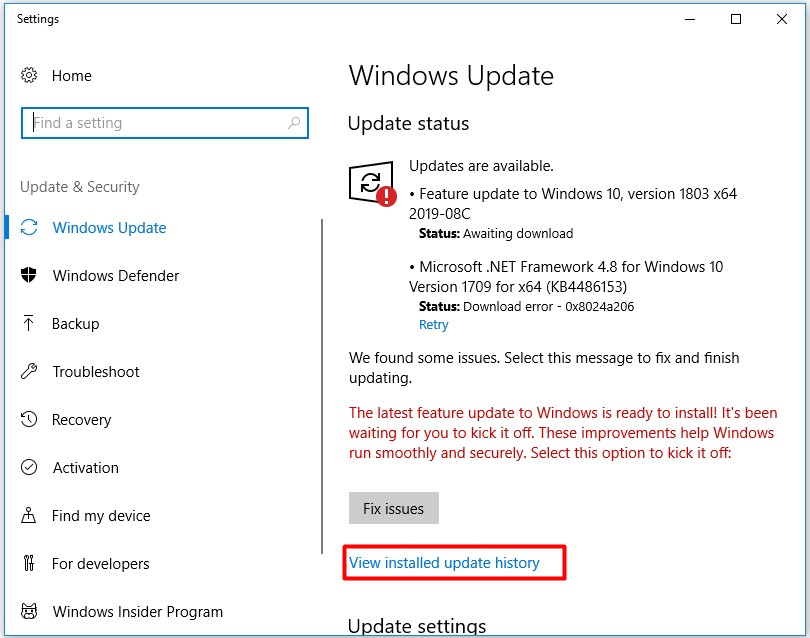 Step 3: In the next page, click Uninstall Updates.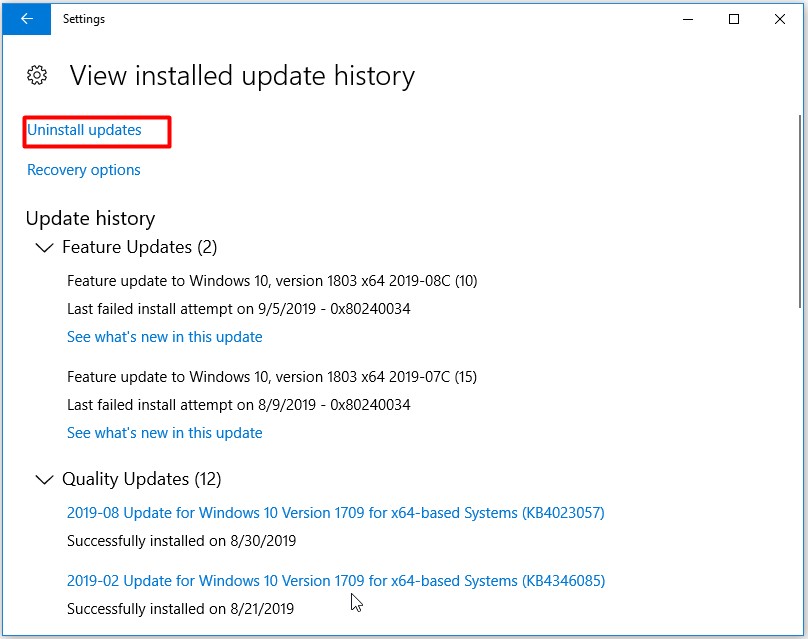 The KB4512941 update causes 100% CPU core usage issue is not surprising for such issues happened many times before. For instance, a few months ago, some updates even broke the compatibility with many antivirus programs. In addition, an update of Windows 10 released in April also brought some problems related to performance.
Therefore, the best way is to uninstall the KB 4512941 update before Microsoft solves this bug completely.