A great many users don't know how to find Minecraft server address on PC/PS4/Xbox. If you are trying to figure it out, this post of MiniTool is worth reading. It also introduces you several best Minecraft servers in 2022.
Minecraft is a widely popular video game where you can create a world for an adventure of limitless possibilities. For lots of novices and even experienced users, however, many operations on Discord are unfamiliar, such as how to set up Raspberry Pi Minecraft server, how to increase Minecraft FPS, how to make a Minecraft server, how to find server address Minecraft, etc.
What Is the Best Minecraft Server 2022
A Minecraft server is a player-owned or business-owned multiplayer game server that enables you to play the game online with other people. Users can create their own server on the computer by using the Minecraft Server software provided by Mojang.
In addition, each Minecraft multiplayer server owns different activities, rules, and customs. Some of servers can still use older versions of Minecraft, so you should check your Minecraft version before joining into each server.
What are the best Minecraft servers in 2022? After investigating extensive user reports, forums, communities, and posts, we summarize this best Minecraft servers list:
Hypixel
Mineplex
Grand Theft Minecraft
Minewind
Brawl
PixelmonCraft
Among Us Performium
MineHeroes
Minecraft Middle Earth
Manacube
Here we also summarize some other commonly asked questions associated to the Minecraft servers and provide corresponding guides that may help you.
How to Play Minecraft with Friends on PC?
How to Port Forward Minecraft Server? – Here's a Full Guide
How to Fix "Minecraft Server Can't Keep up" Error
How to Fix Minecraft Server Failed to Bind to Port [5 Ways]
How to Fix Minecraft Port Forwarding Not Working?
How to Find Server Address Minecraft
What is my Minecraft server IP? Mincecraft server address is the IP address or your Xbox/PS4's internet protocol address. It is a unique numerical code that can help you identify a network. Sometimes, you may need to know the Minecraft server address so that other players can connect to your server with the IP address.
Here we will show you how to find Minecraft server address on PC/PS4/Xbox.
# 1. How to Find Minecraft Server Address PC
You may wonder what is Minecraft server address. The answer is your computer IP address. So, it's very simple to find the Minecraft IP address on PC.
Step 1. Press Win + R keys to open the Run dialog box, and then type cmd in it and hit Enter.
Step 2. In the Command Prompt window, type the ipconfig /all command and hit Enter. Then you will see the IP address listed next to Default Gateway.
# 2. How to Find Minecraft Server Address PS4
Sometimes you may playing the game on PS4. In this case, you can follow the guide below to find the Minecraft server address on PS4.
Step 1. Turn on your PS4 and press the PS button on your controller to open the dashboard.
Step 2. Select the Settings icon on the Home screen.

Step 3. Select Network in the Settings window and then select View Connection Status.
Step 4. In the new screen, you can find the Minecraft server address next to the IP address section.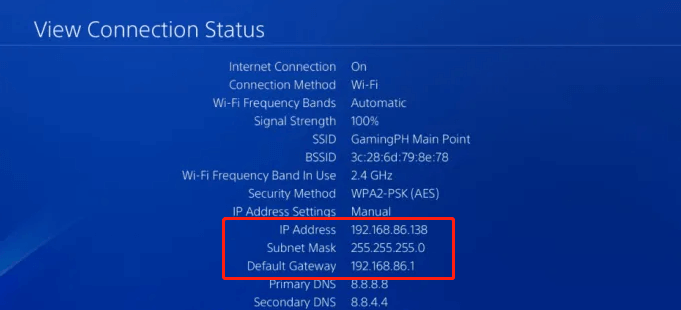 # 3. How to Find Minecraft Server Address XBOX
If you are playing the game on Xbox, you can follow the steps below to find the server address Minecraft.
Step 1.  Launch your Xbox and navigate to its Dashboard.
Step 2.  In the dashboard page, navigate to Settings > All Settings.
Step 3.  Then select Network > Network Settings > Advanced settings one by one.
Step 4. In the Advanced Settings window, select IP settings and you will find it under the IPv4 section.

What is my IP address for Minecraft? How to check it on PC/PS4/Xbox? Now, I believe that you already have known the answers.
Further Reading: Do you want to manage your partition and disk on Windows effectively? MiniTool Partition Wizard is a good choice that can help you extend/resize/delete partition, convert a disk to MBR/GPT, migrate OS, etc.