A great many gamers complain about the Minecraft low FPS issue. What causes the problem? How to get higher FPS in Minecraft? Now, let's explore the answers together with MiniTool.
Minecraft is a widely popular video game that was made using Java. With this game, players can create and break apart various kinds of blocks in three-dimensional worlds. However, many bugs and errors also come, such as Internal Exception java.io.ioexception, Minecraft failed to authenticate your connection, and the one discussed in this post.
Why do I have low fps in Minecraft with good pc specs? I somehow managed to fix it by putting it into windowed mode and tabbing out - IDK lol Hey, why do I have such low fps with my specs? A few months ago (before some updates) I had like stable 300 with 256x256 Sphax.

https://www.reddit.com/r/Minecraft/comments/5w9kx9/why_do_i_have_low_fps_in_minecraft_with_good_pc/
Why Are My Minecraft Frames So Low
It's so frustrating that the Minecraft low FPS even appears on high end PCs. Why is my Minecraft FPS so low? After analyzing extensive user reports and posts, we find the issue is often related to improper in-game settings. In addition, outdated graphics card drivers, third-party processes interferences, and insufficient RAM are also responsible for low FPS Minecraft.
How to Fix Minecraft Low FPS
How to get more FPS on Minecraft? Here we summarize 10 accessible ways to fix the Minecraft low FPS issue. You can try them in order until the problem gets solved.
# 1. Check If Your Computer Meets the Recommended System Requirements
Before you start trying other solutions, make sure to check if your computer meets the recommended system requirements. To know how to check PC full specs Windows 10, you can read this post.
CPU: Intel Core i5-4690 3.5GHz / AMD A10-7800 APU 3.5 GHz or equivalent
RAM: 8GB
GPU: GeForce 700 Series or AMD Radeon Rx 200 Series (excluding integrated chipsets) with OpenGL 4.5
Storage Space: 4GB of free space, better on SSD (see: upgrade to SSD without reinstalling OS)
OS (recommended 64-bit): Windows 10
If you encounter Minecraft low FPS on high end PC, you can skip this solution.
# 2. End the RAM-hogging Processes
One of the common reasons for the low FPS Minecraft problem is the third-party program interferences. If there are too many RAM-hogging tasks running in the background, you can close them and see if the issue gets fixed.
Step 1. Press Ctrl + Shift + Esc keys to open the Task Manager.
Step 2. In the Process tab, click the Memory tab to sort out all processes from high to low memory usage.
Step 3. Right-click the RAM-hogging process and select End task.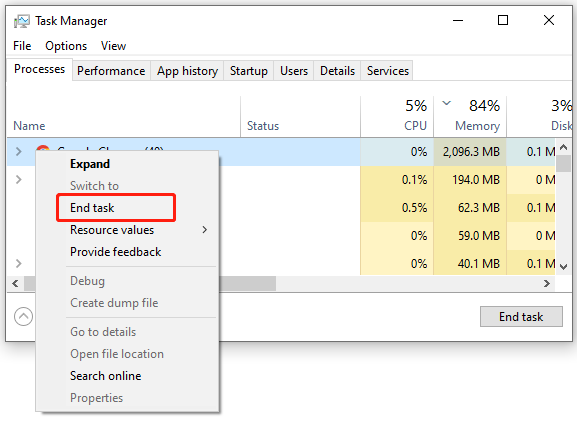 # 3. Adjust RAM for Minecraft
Some users from the Reddit forum reported that adjusting the RAM usage for Minecraft can help fix the low FPS issue. It's reported that allocating 2 - 4 GB RAM can resolve the low FPS Minecraft issue. If you don't know how to do that, refer to this post "How to Allocate More RAM to Minecraft on a Windows PC".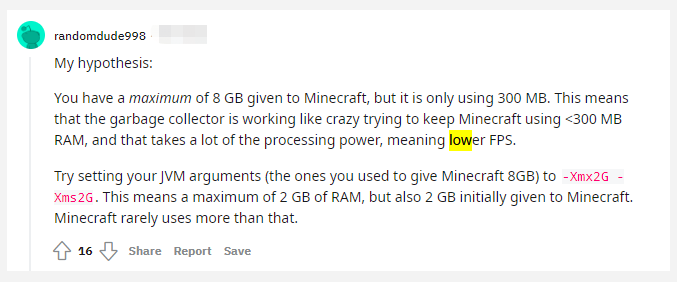 # 4. Change the Game Settings
As mentioned above, the Minecraft low FPS on high end PC issue is often related to inappropriate game settings. In this case, we recommend you adjust the Video settings of Minecraft. Press the Esc during the game, select Options, and then choose Video Settings, then set the following options:
Graphics: Fast
Render Distance: 4 or under 10
Smooth Lighting: OFF or Minimum
Max Framerate: Unlimited (note low-mid end PCs may experience stutter)
3D Anaglyph: OFF
View Bobbing: OFF
GUI Scale: Normal
Attack Indicator: OFF
Brightness: Proper
Clouds: OFF or Fast
Particles: Minimal or Decreased
Full Screen: OFF
Use VSync: OFF
Mipmap Levels: Proper
# 5. Disable the Fullscreen Optimizations
Another simple solution how to get higher FPS in Minecraft is to disable the fullscreen optimizations feature. If you are playing the game on Fullscreen, you can follow the steps below to disable it.
Step 1. Right-click the Minecraft executable file or shortcut and select Properties.
Step 2. Navigate to the Compatibility tab, tick the checkbox next to Disable fullscreen optimizations, and click on Apply and then on OK.
Now, you can relaunch the game and check if the low FPS Minecraft issue disappears.
# 6. Update Your Graphics Card Drivers
Outdated or corrupted graphics card drivers are also responsible for the low FPS issue. To increase Minecraft FPS, you can try updating the graphics card driver to the latest version.
Step 1. Press the Win + R key to open the Run dialog box, and then type devmgmt.msc in the box and hit Enter.
Step 2. Expand the Display adapters category, and then right-click the graphics card driver and select Update driver.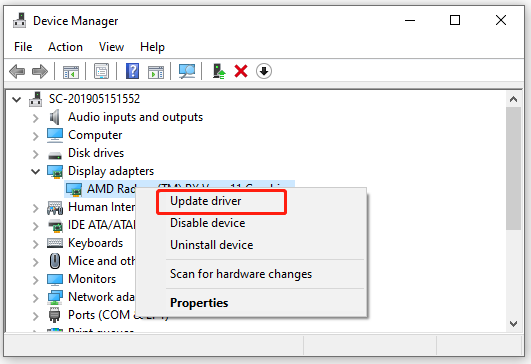 Step 3. Then you can select Search automatically for driver option to update the driver automatically. Alternatively, you can download the graphics card driver from the manufacturer's website and install it on your computer.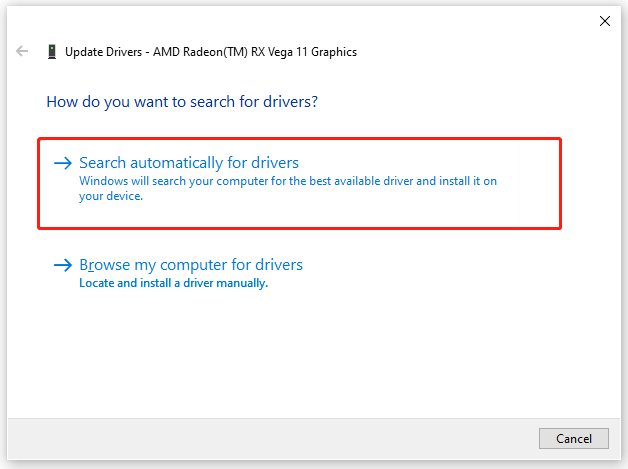 # 7. Set the Javaw.exe to High Priority
In addition, you can try setting the Javaw.exe to high priority to fix the Minecraft low frame rate issue. This method has been proven by some gamers to be useful. Let's try.
Step 1. Open the Task Manager by pressing Ctrl + Shift + Esc keys together.
Step 2. Go to the Details tab, right-click the javaw.exe task and select Set priority > High.
# 8. Try Using a Dedicated Graphics If Possible
Some users from the Reddit forum reported that using a dedicated graphics card can help improve game performance and increase Minecraft FPS. It may seem strange but worth trying. If this scenario applies to you, you can try using a dedicated graphics card instead of the integrated card.

# 9. Install Mods
As you might know, certain mods like BetterFps or Optifine can specifically increase Minecraft FPS. Here you can try installing them on the game to improve its performance.