What's the LGA 2011 Motherboard?
LGA 2011 motherboard refers to a motherboard whose CPU socket is of LGA 2011 type.
About LGA 2011
Socket LGA 2011 is a kind of Intel CPU slot. It is also known as Socket R and was made available on Nov. 14th, 2011. LGA 2011 replaces LGA 1366 and LGA 1567 in the performance and high-end desktops and servers.
Socket LGA 2011
LGA 2011 socket adopts flip-chip land grid array (LGA) chip form factors. It has 2011 protruding pins or contacts to contact CPUs on the bottom interface. LGA 2011 makes use of QuickPath Interconnect (QPI) front-side bus (FBS) to connect the main CPU to additional CPUs. It uses a direct media interface (DIM) 2.0 protocol of 1x to 2x frequency to connect the processor to the platform controller hub (PCH).
LGA 2011 CPU socket supports DDR3 and DDR4 SDRAM channels with up to 3 registered or unbuffered DIMMs per channel, as well as up to 40 PCI Express 2.0 or 3.0 lanes. The memory controller and the 40 PCI-E lanes are integrated on the CPU; and, on a secondary processor, an extra x4 PCI-e interface replaces the DMI. Be the same as its predecessor Socket LGA 1366, LGA 2011 has no provisioning for an integrated graphics card. LGA 2011 also has to ensure platform scalability beyond 8 cores and 20 MB cache.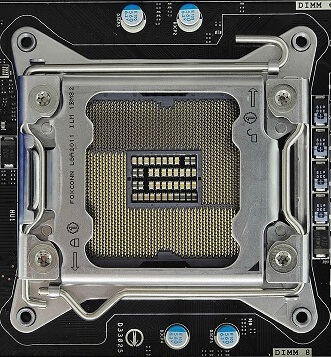 LGA 2011 is used by Ivy Bridge-E/EP and Sandy Bridge-E/EP processors with the corresponding X79 (E – enthusiast-class) and C600-series (EP – Xeon class) chipsets. Together with LGA 1155, they are the 2 last Intel sockets that support Window XP and Windows Server 2003.
LGA 2011 was succeeded by LGA 2066 in high-end desktop and workstation platforms, and inherited by LGA 3647 in server platforms. The Xeon E3 processor family was renamed Xeon E later and uses consumer-grade sockets.
LGA 2011-1
Also called Socket R2, LGA 2011-1 is an updated version of LGA 2011 and replaced LGA 1567. It is used for Ivy Bridge-EX (Xeon E7 v2), Haswell-EX (Xeon E7 v3) and Broadwell- EX (Xeon E7 v4) CPUs, which were published in Feb. 2014, May 2015 and July 2016 respectively.
LGA 2011-v3
Also known as LGA 2011-3 or Socket R3, LGA 2011 v3 is another updated version of socket LGA 2011. It's used for Haswell-E and Haswell-EP CPUs, which were released in Aug. and Sep. 2014 respectively.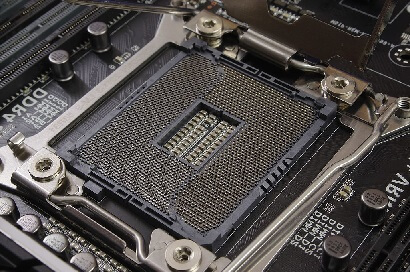 The above two updated socket generations are similar to LGA 2011 physically. Yet, they have different electrical signals, independent loading mechanism (ILM) keying as well as the integration of the DDR4 memory controller rather than DDR3 prevent backward compatibility with older CPUs.
LGA 2011 CPU List
The following are CPUs that are compatible with socket LGA 2011 and its updated versions for desktops and servers respectively.
For Desktops
Sandy Bridge-E series
Intel Core i7-3820
Intel Core i7-3930K
Intel Core i7-360X Extreme Edition
Intel Core i7-3970X Extreme Edition
Ivy Bridge-E series
Intel Core i7-4820K
Intel Core i7-4930K
Intel Core i7-4960X Extreme Edition
Haswell-E series
Intel Core i7-5820K
Intel Core i7-5930K
Intel Core i7-5960X Extreme Edition
Broadwell-E series
Intel Core i7-6800K
Intel Core i7-6850K
Intel Core i7-6900K
Intel Core i7-6950X
For Servers
Xeon E5-16xx
Xeon E5-26xx
Xeon E5-16xx v2 (uniprocessor)
Xeon E5-26xx v2 (dual-processor)
Xeon E5-16xx v3 (single socket)
Xeon E5-26xx v3 (dual socket / mainstream)
Xeon E5-26xx v3 (dual socket / frequency-optimized)
Xeon E5-26xx v3 (dual socket / low-power)
Xeon E5-26xx v3 (dual socket / workstation)
Xeon E5-26xx v3 (dual socket / storage & communications)
Xeon E5-16xx v4
Xeon E5-26xx v4
Sandy Bridge-EP 4600
Ivy Bridge-EP v2
Best LGA 2011 Motherboards
Below are 3 examples of popular motherboards of LGA 2011 by different motherboard manufacturers.
#1 ASUS DELUXE LGA 2011 Intel X79 ATX Motherboard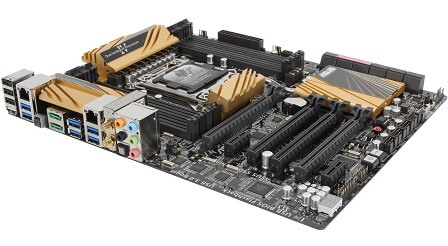 This system board's CPU type is Core i7 (LGA 2011) and its chipset is Intel X79. It supports DDR3 and has 8x240pin memory slots with up to 64GB memory and quad-channel supported. The expansion slots of this motherboard are PCIe 3.0×16 and PCI-E x1. Its storage devices use the SATA interface of up to 6Gb/s speed; and its panel ports are of USB 3.0.
#2 ASRock Rack EPC612D8 ATX Server Motherboard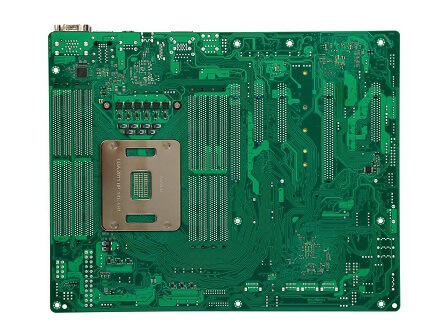 This motherboard is of SSI ATX size and it's an LGA 2011-v3 motherboard. It supports 8 x 288-pin DDR4 R DIMM slots (supporting NVDIMM), 2 x RJ45 Gigabit Ethernet LAN ports, 1 x RJ45 dedicated IPMI LAN port, up solution for the application server, GPGPU Server, high-end workstation, and Virtualization. 
#3 GIGABYTE G1.Assassin 2 (rev. 1.0)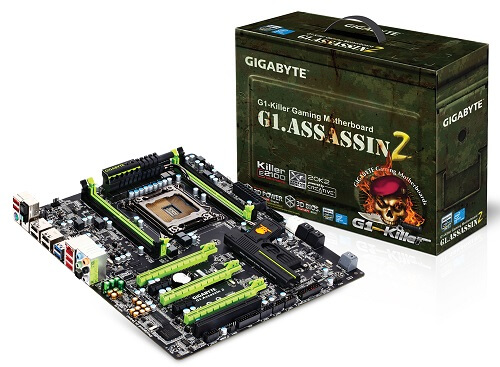 This dual LGA 2011 motherboard is of four-channel memory architecture and all-new digital power control for the memory and CPU. It supports PCI-Express 3.0, UEFI dual-BIOS technology, Gigabyte Bluetooth 4.0 and WiFi card for data transfer.