This essay mainly provides a list of motherboard manufacturers and special out the top 9 ones. Moreover, it gives an elaborate introduction to the 4 best motherboard manufacturers. View more related information by visiting MiniTool partition Wizard.
A motherboard is a sheet of circuit printed plastic board for connecting other peripheral computer components, such as CPU socket & chip, GPU slots & GPU chips, and RAM slots & memory cards. It is also known as a mainboard, main circuit board, system board, baseboard and mobo.
Top Motherboard Manufacturers
The following are the top-rated motherboard manufacturers in the market in modern times. They are listed in the order of letters A – Z.
2the Max
ASRock
Asus
Biostar
EVGA
Gigabyte (including Aorus)
MSI (Micro-Star International)
Intel
IBM
List of Motherboard Manufacturers
The following are a list of motherboard companies including that are still producing and that are ever exist.
Acer
ACube Systems Srl
Albatron
AMAX Information Technologies
American Megatrends
AMD (Advanced Micro Devices)
AOpen
BFG Technologies (defunct)
Chassis Plans
Colorful
DFI (industrial motherboards/defunct)
ECS (Elitegroup Computer Systems)
EPoX (partially defunct)
First International Computer
Foxconn
Fujitsu
Gumstix
Intel (NUC and server motherboards)
ISEE (company)
Lanner Electronics (industrial motherboards)
Leadtek Research
Lite-On
Magic-Pro
Merix
NZXT
PNY
Powercolor
RedFox (formerly SlySoft)
Sapphire Technology
Shuttle Inc.
Simmtronics Semiconductor
Soyo Group (defunct)
Super Micro
Tyan
Trenton Technology
VIA Technologies
Vigor Gaming
Walton Chaintech (defunct)
XFX
Universal Abit (formerly ABIT/defunct)
ZOTAC
Best Motherboard Manufacturers
Next, we will mainly introduce 4 popular motherboard manufacturers in detail; they are ASRock, Asus, Gigabyte, MSI and Intel.
ASRock Inc.
Relying on Wikipedia, ASRock is a Taiwan-based electronics manufacturer that focuses on the development of computer motherboards, industrial PCs as well as home theater PCs (HTPC). It was founded in 2002 (spun off Asus) by Ted Hsu and is owned by a Taiwanese electronics company Pegatron since 2010.

ASRock currently produces consumer, server, workstation and HTPC motherboards. It has distributors in more than 90 countries and branches in China, USA and Europe. Asrock is the world's 3rd largest motherboard manufacturer.
ASRock provides great value as well as strong performance and innovation via its mainboard lineups. Besides, it costs less for the same amount of performance. Yet, ASRock's RGBPolychromeSync software is really awful.
One of ASRock's most popular motherboards is ASRock X570 Phantom Gaming X (best AMD motherboard); it's an ATX sized motherboard with the best AMD chipset of Premium X570. This motherboard has 4 DIMM sockets supporting up to 128GB memory and support multiple GPUs. With top-notch features, an excellent thermal solution, beautiful design as well as easy installation, it is a favorite among game overclockers.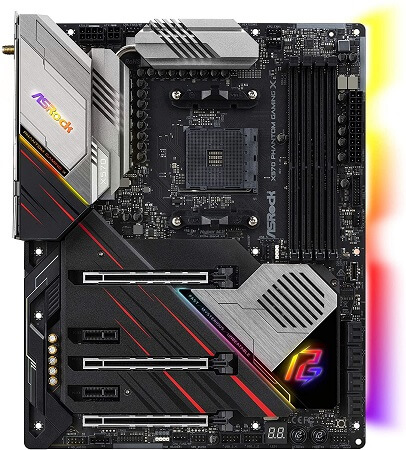 Pros
Cost-effective
Reliable
Quick BIOS updates
Cons
AsusTek Computer Inc.
AsusTek is a Taiwanese multinational computer & cell phone hardware and electronics company established in Taipei, Taiwan in 1989 by T.H. Tung, Ted Hsu, Wayne Hsieh and M.T. Liao (all four have ever worked at Acer as engineers). In January 2008, ASUS started a major reorganization of its operations and split into 3 independent companies: Asus (focuses on applied first-party branded computers and electronics), Pegatron (focuses on OEM manufacturing of computer motherboards and components) and Unihan Corporation (focuses on non-PC manufacturing like cases and molding). On 1st June 2010, Asus spun off Pegatron.

ASUS produces desktops, laptops, netbooks, tablet PCs, motherboards, graphics cards, sound cards, optical storage, monitors, servers, workstations, mobile phones, networking equipment, WiFi routers, projectors, multimedia products, peripherals and wearbles. It is the world's 5th largest PC producer.
As for motherboards, Asus has invested equal money into both design (RGB) and high-performance. Yet, to get a main circuit board with the most RGB and performance, Asus motherboards can be among the most expensive ones on the market.
One of the best Asus motherboards is Asus ROG Maximus XII HERO, which is the best Intel motherboard. It is an ATX board with an Intel Z490 processor. Also, it has 4 DIMM sockets supporting up to 128GB memory and supports multiple GPUs. This baseboard owns a high-effective cooling solution and charming design. With it, you can get easy AI overclocking.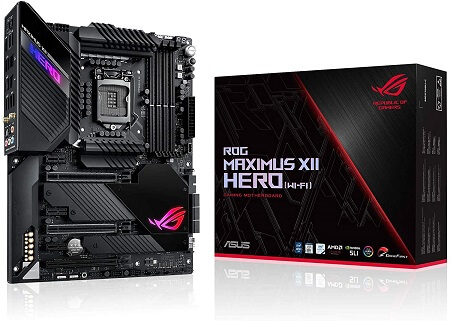 Pros
Good high-end motherboards
Good RGB software
Cons
Gigabyte Technology
Gigabyte Technology, also branded as GIGABYTE, GIGA-BYTE, formally Giga-Byte Technology, is also a Taiwanese manufacturer and distributor of computer hardware, including motherboards, custom graphics cards and laptops (including laptops under its "Aero" sub-brand).

Gigabyte was founded in 1986 by Pei-Cheng Yeh. It designs and produces motherboards for both AMD and Intel platforms. Gigabyte also has included desktops, tablets, ultrabooks, smartphones, personal digital assistants, server motherboards, server racks, networking equipment, optical drives, monitors, mice, keyboards, cooling components, power supplies and host cases.
Aorus is a registered sub-brand trademark of Gigabyte belonging to Aorus Pte. Ltd. It is specialized in gaming-related products like motherboards, graphics cards, keyboards, mice, headsets, CPU coolers, SSDs, cases as well as notebooks.
Gigabyte focuses on the manufacturing of motherboards and GPUs, especially the mobos. It should be noted as producing equally strong AMD and Intel motherboards with the recent X570 and Z390 series. Yet, Gigabyte's customer service is not always as good as others such as EVGA, but not the worst. However, its system boards look good and offer great value at both the budget level and the high-end level.
One of the gorgeous Gigabyte motherboards it will talk about here is the GIGABYTE Z490 Gaming X, which is called the best budget Intel motherboard. Still, it's an ATX board equipped with Intel Z490 CPU, has four DIMM sockets supporting up to 128GB RAM, and supports multiple GPUs like AMD quad-GPU CrossFire and 2-way AMD CrossFire.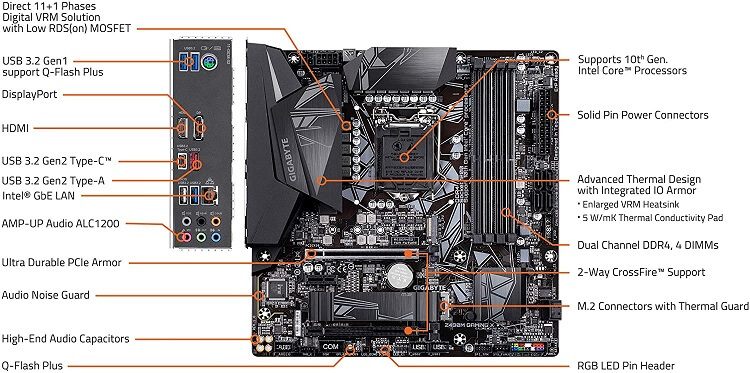 the GIGABYTE Z490 Gaming X is an entry-level motherboard for gamers and has decent features including three PCI-e 3.0 × 4 M.2 slots, six SATA ports as well as four RAM slots supporting DDR4-4600. The most important point is that it performs its best at a reasonable price.
Pros
Professional and reliable
Great value
Good design
Cons
Not strong customer service
Micro-Star International Co., Ltd (MSI)
MSI is still a Taiwan-based multinational information technology corporation founded in 1986 by Hsu Xiang, Huang Jinqing, Lin Wentong, Yu Xian'neng and Lu Qilong (all five once worked for Sony as engineers). It designs, develops and produces computer hardware, computer-related products and services, such as motherboards, graphics cards, laptops, desktops, All-in-One PCs, servers, industrial computers, PC peripherals and car infotainment products.

Though MSI has a variety of products, it has done well of keeping its lineup quite strong from top-to-bottom. Also, it covers all budget levels providing some low-level motherboards while also offering high-end choices for users with specific needs like overclocking.
There is an MSI MEG Z490 Godlike motherboard which stands out among other popular MSI mainboards. It is an E-ATX sized motherboard paired with Intel Z490 chipset. This system board supports four DIMM socket (up to 128 GB RAM) and multi-GPU, 3-way AMD CrossFire and 2-way NVIDIA SLI for instance.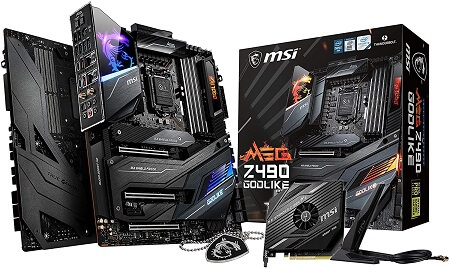 The MSI MEG Z490 Godlike board ensures you with optimized performance especially cooperating with Intel components. With an excellent cooling system, astonishing overclocking experience, and onboard thunderbolt video output, you can enjoy your game at the most.
Pros
High quality
Various choices of budget
Cons
Pricey for high-end motherboards
Finally, it seems that all the above four best motherboard brands and some other vendors come from Taiwan. Yet, some of them focus on providing gaming motherboards that have much space for adding GPUs and LED light system parts, while others mainly produce mainstream boards.
PS: Leave a topic for you readers to discuss in the below comment zone – Which one or two of the above four is the biggest motherboard manufacturers in the world? Or, you may propose other options.