This article from MiniTool partition editor site will tell you the basic knowledge about CPU socket LGA 2066 together with its compatible processors and motherboards. You can also learn more related info on this website.
What Is LGA 2066?
LGA 2066 is a kind of CPU socket that makes use of the land grid array (LGA) mounting surface. It has 2066 pins (contacts) for contacting with the bottom interface of its compatible CPUs. Also known as Socket R4 or Socket 2066, LGA2066 is an Intel CPU socket that was first released wit Skylake-X and Kaby Lake-X processors in June 2017.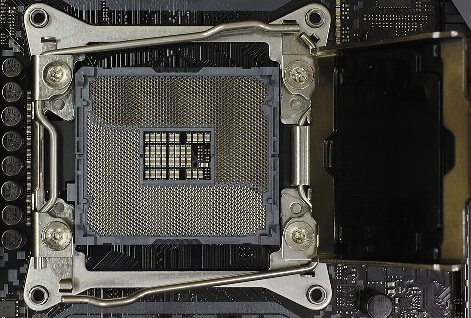 Intel LGA 2066 replaces Intel's LGA 2011-3 (R3) socket in the desktop platforms, including high-end desktop (HEDT) and workstations, based on the X299 "Basin Falls" and C422 chipsets. While Intel LGA 3647 CPU socket replaces the LGA 2011-3 (R3) in the server platforms based on Skylake-SP (Xeon "Purley").
Some Basic Information About LGA 2066 Socket
First of all, LGA 2066 is of LGA type of course. Then, its chip form factor is flip-chip land grid array (FCLGA). This socket has 2066 contact pins and adopts Intel QPI (QuickPath Interconnect) DMI (Direct Media Interface) 3.0 FBS protocol. Finally, its supported memory type is DDR4.
Tip:
Flip-chip is a method for interconnecting semiconductor devices like an integrated circuit (IC) or monolithic IC chips and microelectromechanical systems (MEMS) to external circuitry with solder bumps that have been deposited on the chip pads. Flip-chip is also called a controlled collapse chip connection or its abbreviation, C4.
FSB, front-side bus, is a kind of computer communication interface (bus) that was often used in Intel-chip-based computers during the 1990s and 2000s.
LGA 2066 CPU List
All high-end desktop processors that are compatible with the socket LGA 2066 require Intel X299 chipset to work; while all workstation processors that are compatible with the socket LGA 2066 require Intel C422 chipset to work. Therefore, the X299 chipsets are strictly limited to only work with high-end CPUs; while the C422 chipsets are strictly limited to work with workstation CPUs only.
Compatible CPUs for High-End Desktops
Kaby Lake-X processors: Core i5-7640X & Core i7-7740X (This type of CPU is discontinued in May 2018. And, starting from Oct. 2019, BIOS updates from most of the X299-based motherboards removed support for Kaby Lake-X processors.)
Skylake-X 7000 series: Core i7-7800X, Core i7-7820X, Core i9-7900X, Core i9-7920X, Core i9-7940X, Core i9-7960X & Core i9-7980XE.
Skylake-X 9000 series: Core i7-9800X, Core i9-9820X, Core i9-9900X, Core i9-9920X, Core i9-9940X, Core i9-9960X and Core i9-9980XE.
Cascade Lake-X series: Core i9-10900X, Core i9-10920X, Core i9-10940X, Core i9-10980XE.
Compatible Processors for Workstations
Skylake-W series: Xeon W-2102, Xeon W-2104, Xeon W-2123, Xeon W-2125, Xeon W-2133, Xeon W-2135, Xeon W-2145, Xeon W-2155, Xeon W-2175 & Xeon W-2195.
Cascade Lake-W series: Xeon W-2223, Xeon W-2225, Xeon W-2235, Xeon W-2245, Xeon W-2255, Xeon W-2265, Xeon W-2275 & Xeon W-2295.
Note: Certain types of Xeon processors won't work on socket LGA 2066 and all Skylake-P won't work.
LGA 2066 Motherboard
The following are some of the best LGA 2066 motherboards that are popular among computer users.
#1 ASUS Intel X299 TUF MARK 2 LGA 2066 Motherboard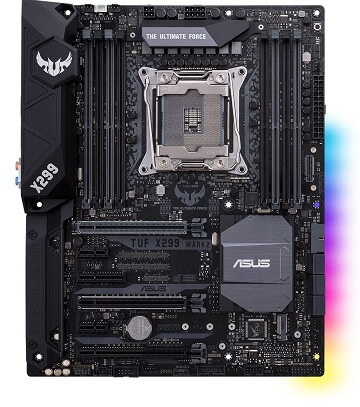 This Intel X299 motherboard has 16 available memory slots, 4 USB 2.0 ports and dual PCI Express x16 interface supporting the bridging of SLI graphics cards to deliver 1.5x greater transfer bandwidth. It makes use of Thermal Radar 3 to keep systems stable, Pro clock II for fine-tuning system overclock & T-Topology enhances memory (DDR4/SDRAM) stability.
#2 Gigabyte X299X AORUS MASTER E-ATX Motherboard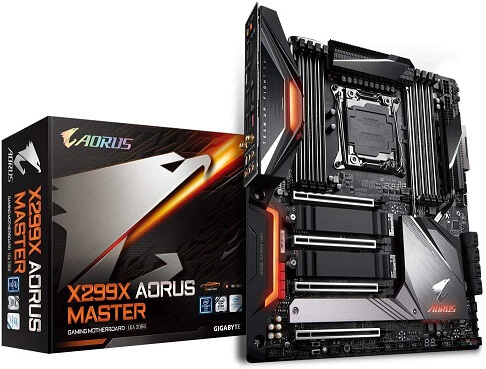 This motherboard supports Intel Core X series LGA 2066 CPUs and 8 x DDR4 Quad-channel non-ECC unbuffered DIMMs. It has 12 phases IR digital VRM solution with 70A power stage, triple ultra-fast NVMe PCI-e 3.0 x4 M.2 with triple thermal guards, onboard AQUANTIA 5GbE BASE-T LAN as well as Intel Gigabit LAN with cFosSpeed.
#3 MSI MEG X299 CREATION Motherboard
This model of the motherboard has a complete shield I/O cover protects ports including the graphics card PCIe interface, 4 memory slots, 2 USB 2.0 ports, etc. It owns three 8-pin power connectors to provide enough power supply for ultimate multi-core CPU performance.