Following contents are about what is LGA 117, its paired processors, chipsets and motherboards. In order to learn more knowledge about CPU socket, simply visit MiniTool partition master site.
What Is LGA 775?
LGA 775 is a kind of CPU socket for Intel desktops. It is also known as Socket T or socket 775.
The "LGA" refers to Land Grid Array. It is a type of surface-mount packaging for integrated circuits (ICs) that is notable for having the pins on the socket if a socket is used, rather than the IC. An LGA can be electrically connected to a PCB (printed circuit board, usually refers to computer motherboard) either by directly soldering to the board, or by using a socket, such as a CPU socket.
While "775" indicates the number of contacts (pins) the socket has. Therefore, LGA 775 refers to a CPU socket that has 775 pins and a land grid array mounting surface.
Unlike its predecessor Socket 478 or other earlier common CPU sockets, instead of having socket holes, LGA 775 owns 775 protruding pins that can touch contact points on the bottom of the CPUs.
Socket LGA 775 had an extremely long-serving time that it serves for 7 years until the last CPU supporting it halted producing in 2011. Thus, you can figure out that this socket was first launched in 2004. It was inherited by LGA 1366 in 2008 and LAG 1156 in 2009 respectively with the former was designed for high-end desktops (HEDT).
LGA 775 CPU List
All processors below can physically fit the LGA 775 socket, so they can be called LGA 775 processors.
Pentium 4 series
Pentium 4 Extreme Edition
Pentium D series
Pentium Dual-core series
Pentium Extreme Edition series
Celeron 400 series
Celeron D series
Celeron Dual-core series
Core 2 Duo series
Core Extreme series
Core 2 Quad series
Xeon 3000 series
The top 3 of the best LGA 775 CPUs are Intel Core 2 Quad Q9400, Intel Core 2 Quad Q9650 and Intel Pentium E6300.
LGA 775 Chipsets
The following chipsets are compatible with socket LGA 775.
Intel Pentium 4 chipsets: i8, i9, etc.
Intel Core 2 chipsets: Lakeport, Broadwater, Bearlake & Eaglelake
Sis chipsets
VIA chipsets: PT series, PM series & P4M series
NVIDIA chipsets: nForce series, GeForce 9300 & GeForce 9400
LGA 775 was the last Intel desktop socket whose chipset is produced by third-party companies. And, Nvidia was the last third-party company that manufactures chipsets for LGA 775. All chipsets for the later processor socket are designed and manufactured by Intel itself.
LGA 775 Cooler
As for socket LGA 775, the distance between the screw-holes for the heat sink is 72 mm, which isn't interchangeable with heatsinks for other sockets whose distance is 75 mm like the LGA 115x series.
LGA 775 Motherboards
Next, it will introduce some popular motherboards of LGA775 socket.
#1 ASUS P5Q LGA 775 Intel P45 ATX Intel Motherboard
This motherboard has 4 DIMM sockets that are designed to support up to 16 GB of DDR2 1200/1066/800/667 MHz. It supports Pentium Dual-core, Celeron Dual-Core, Core 2 Extreme, Core 2 Quad, Core 2 Duo processors, and 1600/1333/1066/800 MHz system bus. This LGA 775 system board is of ATX size, has 6 x SATA of 3 Gb/s ports, 1 x UltraDMA 133/100/66, as well as one PCI Express x16, two PCI-E x1 and three PCI ports.
#2 ASRock G41C-GS Micro ATX Motherboard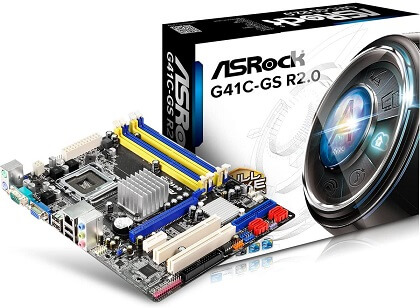 This type of mainboard is equipped with Intel G41 and Intel ICH7 chipsets; one PCI-e x16, one PCIe x1 and two PCI ports; as well as four USB 2.0 ports, one VGA port, one RJ45 and one serial port. It supports dual channel DDR3 1333 (OC) plus DDR2 800 memory up to 8 GB. This mobo transfer data with four SATA II of 3 GB/s and one ATA 100 (supporting 2 IDE).
#3 MSI G31TM-P21 LGA 775 Micro ATX Intel Motherboard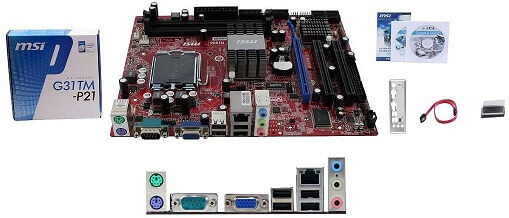 The processor types supported by this MSI micro ATX motherboard are Pentium, Celeron, Core 2 Quad, and Core 2 Duo. The number of memory slots it has is 2 x 240-pin; memory standard is DDR2; maximum memory support is 4 GB (dual-channel supported). The chipset of this system board is Intel G31.